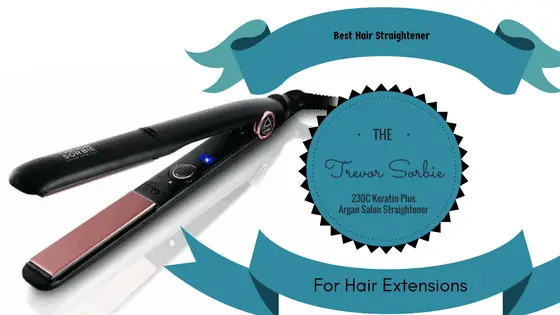 Last Updated on
Trevor Sorbie 230C Keratin Plus Argan Salon Straightener Review
The Trevor Sorbie 230C Keratin Plus Argan Salon Straightener is one of the best hair straighteners for hair extensions which can be a very niche product to find.
Hair extensions are made to fit your hair colour and length and this does not come cheap, so the last thing we would want to do it put a high heated product on them with the risk of burning or damaging them.
Therefore, it is so important to have hair straighteners you can trust have been specifically made for this use like the Trevor Sorbie 230C Keratin Plus Argan Salon Straighteners.
What is the best material ?
The Trevor Sorbie high performing hair straightener has ceramic Keratin and Argan infused floating plates that gently hug hair and surround it with heat to give you great control with results to match, the keratin and Argan plates produce a smooth, snag-free finish with reduced frizz. Beautiful hair is now so simple to achieve; these tools will give you the confidence to be creative, excellent for super straight styles, kicks and bouncy curls.
---
What features do these straighteners hold?
Hair straighteners that are made uniquely for hair extensions, or synthetic hair are hard to come by as there is a lot of testing involved to be able to be confident their product is 100% safe for your precious hair extensions.
Trevor Sorbie are a well trusted brand and is very confident that this will make your extensions smooth and healthy looking rather than ruining and burning them.
As this straightener is perfect for hair extensions I would also say it is suitable for synthetic hair including wigs which can be used for a range of reason, but whatever the reason for using a wig I am sure you still want to style your hair to how you usually would to make you feel fabulous so it is important to have the correct tool for the job.
---
What is the temperature ?
With variable temperature settings from 80°C to 230°C this means these straighteners are suitable for all hair types, including hair extensions by using it at a temperature of 110c.
It also features rapid heat up and recovery, meaning it's ready to use in 15 seconds which a quick heat up time, reduces your hair routines in the mornings. Furthermore, the automatic shut off function which activates after ten minutes helps to prevent overheating.
---
​Brilliant straighteners, leave my hair looking as sleek and straight as if I'd just left the salon. I definitely think these are as good as my hairdressers GHDs at less than half the price. Unlike my previous straighteners, after using these my hair seems to be resistant to humidity so the straight look really lasts.
LIZZIE88
Prices
The Trevor Sorbie straightener is usually sold for around £80 which is a medium ranged price, although currently there are many deals available making this deal even more appealing, as it is currently available for £38.99 well worth every penny when your making sure your looking after your hair extensions.
---
Our verdict
In conclusion, this straightener really proves itself with what it offers for such a reasonable price. It offers keratin and Argan infused plates, variable temperatures making it possible to use on your extensions. Quick heat up time and an automatic shut off function making your hair routine as easy as possible. If your searching for the best hair straightener for hair extensions, then this is the right product for you.
Things we like:
2 year warrentee
Short heating time (15 seconds)
Automatic shutdown safety option after 10 minutes
variable temperatures
best hair straighteners for hair extensions
Things we don't like:
Cant stand up by themselves so will need to purchase a heat mat and heat pouch