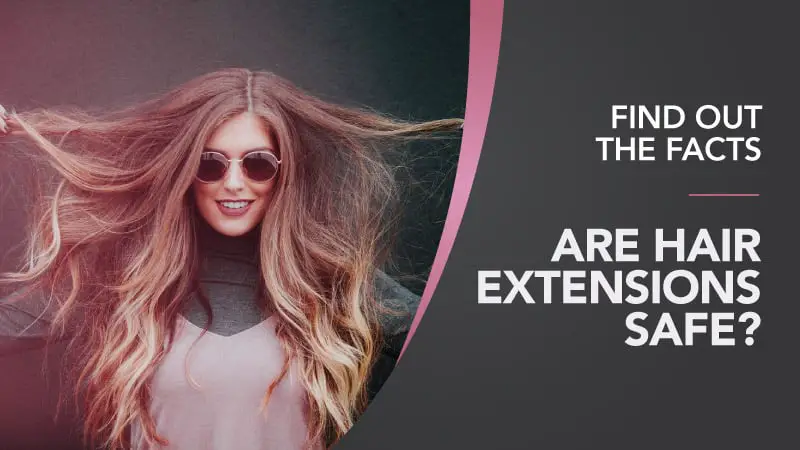 Are Hair Extensions Safe ? (Find Out The Facts)
Hair extensions, in all their many forms, have been around for a while now. This god-sent invention is the perfect way to increase the volume and length of your mane fast.
But, if you've never worn extensions before, you may be wondering if they're safe, and we're here to let you know!
Regardless of what you may have heard, high-quality extensions don't damage your hair. That said, if you buy extensions that are too heavy or poorly installed, you may lose hair or get a scalp reaction.
So, it is crucial to go to an experienced stylist to place your new locks in your natural hair.
Photo link: https://cdn.pixabay.com/photo/2017/08/06/15/13/woman-2593366_960_720.jpg
But what kind of extensions should you get? And what's the ideal weight of a hair set? We have the answers to all these questions below!
Are Hair Extensions 100% Safe?
As we mentioned before, hair extensions are completely safe. But, of course, there are a couple of catches.
The first thing you'll need to know is that you'll benefit from getting a high-quality product. Although more expensive, natural hair extensions will blend better with your hair. 
As a result, your hair will get the extra length and volume you want without looking fake, which is THE goal!
Another thing to keep in mind is how long you'll like to be wearing the extensions.
If, for example, you only need to get something for a special occasion, you could buy clip-in extensions. These temporary extensions are easy to install, which means you can do it yourself.
You'll only need to make sure the clip-in is in place; you don't want to end up losing it while you're dancing or walking!
Clip-in sets are great for volume and length and are the safest hair extensions in the market. Why? Because you don't need technical skills or products to attach them to your natural hair. 
Clip-ins tend to be the first hair extensions girls buy for several reasons. On the one hand, these extensions are cheaper.
But also, Clip-ins are easy to install and remove, so they're not a big commitment.
That said, you'll need to remove the clip-in extensions before going to bed, or they may lose their shape.
Sleeping with a clip-in extension can cause your natural hair to break too.
If you want a lasting option, you can get "permanent" extensions. With proper care and maintenance, you can rock these extensions for up to two months. 
These sets look more natural, and you can even sleep with them on your hair without ruining their shape.
But installing permanent hair extensions is trickier. Depending on what you buy, you may need to use special products, tape, or even glue. So, it may be better to visit a stylist who has experience with extensions.
Trust us; the extra bucks are worth it! If you don't follow the instructions correctly, you may end up wasting even more money. And, in the worst-case scenario, you could damage your natural hair and scalp. 
Another reason to let a stylist install the extensions is to, well, style them in the exact way you want. If you dye your hair, the stylist will be able to make the extensions match the rest as well.
Our View
Finally, if you suffer from alopecia, please ask a doctor before putting extensions on. Even safe clip-in extensions could make your already fragile locks fall faster. 
Also, to avoid headaches and migraines, try to limit the weight of your new extensions.
Whether you get clip-ins or permanent extensions, they shouldn't weigh over 200 grams. But, of course, there are exceptions, so you should ask for a stylist's opinion.
Always choose the type of extensions and their weight based on your particular needs. Take a look at our best hair extensions review guide to choose the perfect extensions.