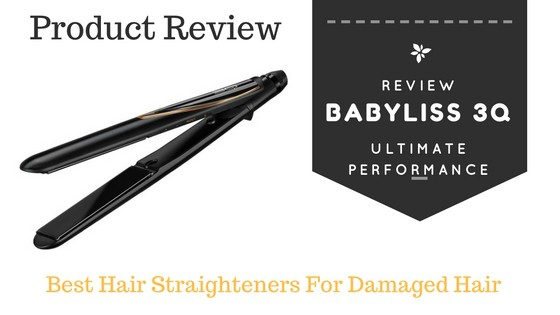 Babyliss 3Q Ultimate Performance Hair Straightener Review 
The Babyliss 3Q ultimate performance straightener has a feature that is unheard of and has got me really excited to review this straightener, it has something called "protect mode". It simply does what it says, protects your hair.
It has intelligent sensor technology that's analysis your hair type as soon as it touches your follicles, it then chooses which temperature to automatically switch to, correct for your hair type, amazing.
It also has an Advanced CeraTherm Heating System for superior fast-action heat transfer to your hair with precision regulated temperature for a consistent styling performance leaving your locks looking sleek and a professional finish.
Why not take a look at another hair straightener we may recommend also for damaged hair. 
Summary Review :
​
Product Name : Babyliss 3Q Ultimate Performance hair straightener 
​
Product type: Professional hair straighteners
​
Price: under £100
​
Summary: These Professional hair straighteners are great for Damaged hair and really have unique features that will benefit the health of your hair, it is glamorous and great value for money. 
​
What is the best material ?
With Super ionic conditioning technology, it actively eliminates static and tames frizz for a smooth, glossy finish. With a 3m length cord this gives you the freedom to style your hair without being restricted. It also has an automatic shut off timer when it isn't used for 60 minutes or more it will shut itself down which is a necessary feature for your safety. The curved housing design allows you to create beautiful curls and waves with a high-shine salon finish.
---
What features do these straighteners hold?
To be honest I think this is one of the best features I have ever heard of being used on a pair of straighteners to prevent damage to your hair.
As I well know from personal experience even though I have fine and long hair and realize that the higher the heart the more damage it will cause I always automatically choose the highest setting just because I think the hotter the better the results when this isn't the case, so protect mode would solves this problem that I'm sure many people are doing.
​
---
What is the temperature ?
The Babyliss 3Q has 12 different temperature settings it can adjust to, reaching a maximum temperature of 235c. With switch activation control once the protection mode has chosen the correct heat for you, after a few seconds it then locks onto that temperature so you can't accidently change it mid straightening.
---
​I bought these a few weeks ago and have been so in love since! Best straighteners I have had the ionic protection leaves my hair so soft and as I have thick hair they make my hair the straightest they have ever been!!!
Jess G- Amazon Customer
Prices
At the price of £90 I would say this is quite a highly-priced product for the brand Babyliss but is well worth while, with its unique features that can't be found anywhere else they have the right to put it on the higher end of the market. On the plus side, many retailers are selling it currently for half this price which is just amazing value for money. To view other straighteners similar to this price take a look at my best straighteners for damaged hair. 
---
Our verdict
Overall it is very easy to say how much I recommend this product as it does everything in its power to give you the professional salon result you are searching for, whilst considering the health of your hair. It is also considering the value for money mean you get more for your money. I think this straightener is without a doubt worth the price of £90, especially with a 5-year warranty. So, go in give it a go and see which temperature it chooses for your hair type.
Things we like:
5 year warrentee
Luxurious Quartz-Ceramic Plates glide effortlessly through hair for smoothness
12 different heat settings 
Super Ionic Conditioning to prevent frizz 
Intelligent Sensor Protect to prevent damage to hair
Auto shut off system 
Things we don't like:
Can make a noise unlike other straighteners