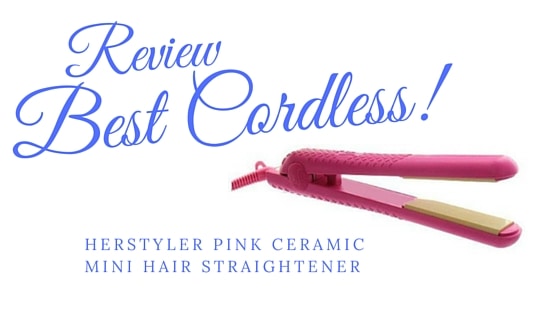 Last Updated on
Herstyler Pink Ceramic Plate Mini Hair Straighteners
The Herstyler Pink Ceramic Plates Mini Hair Straighteners is one of the best cordless hair straighteners because of lovely girlie pink mini design ready for you girls to tuck away in your handbags without feeling the weight whilst travelling around with them whether It may be a festival, camping or going abroad these will be suitable for all occasions.
The small size might not seem imposing but rest assured that the model is very interesting. It manages to deliver a very good value and in the end the experience will be amazing for sure.
Combine that with the fact that the model has a very good warranty and you will see how great of a value you can obtain from this device.
The design of this model is simple yet compact. This alone makes it a great investment for any festival but it also delivers some interesting features that are perfect for camping as well. That's what manages to deliver the utmost value and in the end the experience will be a lot more refined when compared to any other mini model.
What is the best material ?
Your hair will be three times smoother and silkier than with ordinary ceramic straightening irons.
Ceramic plates generate six times more energy than an ordinary ceramic straightening iron Negative ions renew your hair's natural softness and shine while eliminating frizziness.
The body of this straightener is constructed using light-weight, high-strength composite materials, commonly used in the aerospace industry. Ceramic is a very common trusted material used for the plates in straightener and is sure to give you the high professional outcome you are looking for.
---
What features do these straighteners hold?
The solid ceramic plates guarantee fast and smooth straightening results without pulling or breaking hair which is just what we're searching for in a pair of straighteners as this is what causes all the damage to your hair and all those split ends.
Although with these straighteners hair will be three times smoother and silkier than with ordinary ceramic straightening irons.
This product allows you to reach your desired temperature in 25 seconds, this is half the time of most of the other straightener we have recently reviewed. This in turn saves electricity and prolongs the lifespan of the product which is a great to know as we all know it's important we can trust that our beloved straighteners aren't going to break down on us when they are most needed.
---
What is the temperature ?
The temperature on this straightener is variable from 120c to 200c which is great as this means it can suit all the different hair types needs.
You can lower the temperature for those finer thinner types of hair but you also may need to put the heat up to the maximum for those thicker tougher types of hair to style.
---
I love these....I had these tested on my hair at shopping centres and were selling them for £120. I got these for a small price of £25 pounds, which I still can't believe. If you want amazing straighteners that are just as good as ghds and don't want to splash out on actual ghds, you should definitely buy these. I have very thick heavy wavey hair which as you can imagine is not easy to straighten and these make my hair poker straight. Buy them before everyone realises how good they are and the price goes up, I will be buying loads more as gifts & I love the colours they are available in. They definitely rival ghds!!!
Mrs E. Gill
Prices
​
This product is a great price at £52.75 down from £120.00 this is a massive saving of £67.23 this is 56% saving who can refuse this offer. Although it is over the average price mark for a cordless hair straightener it is well worth every penny even just on the high quality material this straightener is made from.
As it is 100 % solid ceramic this makes this product stand out from other straighteners that are just ceramic plated, you will defiantly notice the difference when easily and effortlessly gliding these through your hair.
---
Our verdict
Overall the Herstyler pink ceramic plate mini hair straighter is the must have tool for shorter hair styles and fringes, is ideal for touch ups, or whilst on-the-go, it won't take up much room in your handbag, and it's multi voltage so it can be used worldwide, meaning it's perfect for travel.
Although this is higher than average price bracket it is well worth the investment due to the solid ceramic plates, quick heat up times, light weight and portable you will be sure to receive the high professional finished style you were looking for, so go on give it a go!
Things we like:
Short heating time (25 seconds)
Lightweight and portable
100% solid ceramic plates
One glide through the hair is mostly enough to straighten that section of hair
variable temperature control
Things we don't like:
More expensive than some other cordless straighteners