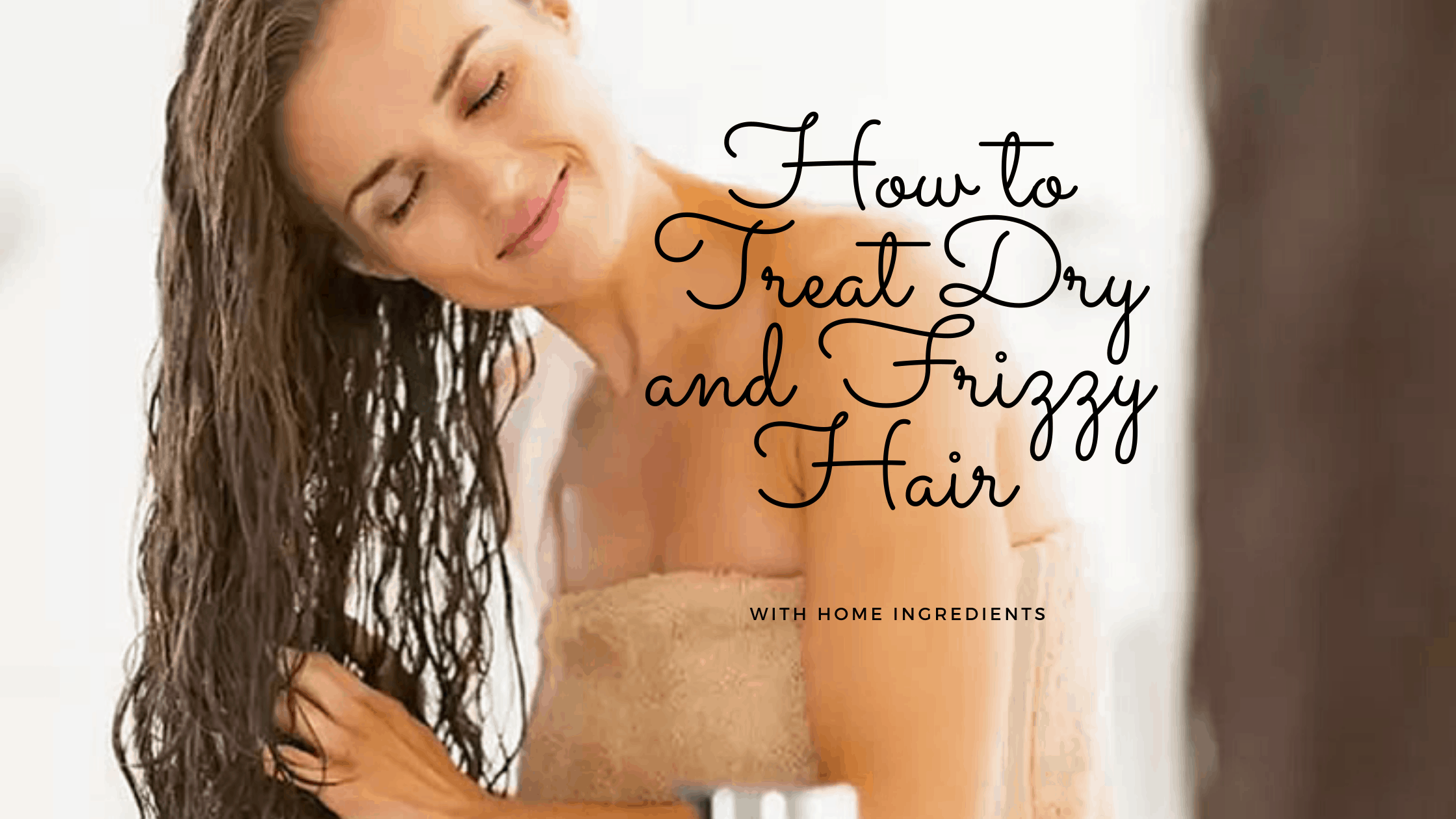 How to Treat Dry and Frizzy Hair with Home Ingredients
Your hair turning into a puffy mess can be the most stressful thing of your daily routine, especially when you have curly hair. You all may have a familiar cycle: Wake up, wash your hair, style it, and leave for the office. 
And what happens after reaching the workplace? Your gorgeous curls, along
with your morning efforts, are in ruins.The truth is you cannot ignore your crimped hair, but it's not even impossible to tame.
Though they are like annoying and uninvited relatives, you can show them the exit way. No, we are not talking about expensive products and salon treatments.
There are other ways too. You can treat your dry and frizzy hair with home ingredients, for that, stay tuned with us.
1. Give an excellent treatment
We know, eggs stink terribly, but it's worth it. They always lead in the race when it comes to glossy and soft hair. They can give life to your hair and that too in the cheapest way.
For an excellent treatment, you need to whisk two eggs with the yolk in a container. Add a tablespoon of lemon and water in it and mix it. Apply the paste with a brush and wear a shower cap.

Let it stay on your hair for 40-50 minutes and then rinse off the pack with the help of shampoo. And lastly, condition your hair as usual. You can even try it out with coconut or almond oil too, but make sure to execute twice a month.
Read Here: Best Protein Hair Mask Guide


2. Revitalise your hair with tea

Tea leaves can not only revitalise your day but also your hair. It is an excellent home remedy for damaged, kinky, and dry hair. So, boil some water and add one tablespoon of tea leaves.
Once you start noticing the water changing its colour to brown, add a few small drops of lemon juice in it. Then, switch the flame off and let it cool down. Pour this all over your hair after shampoo and leave it for some minutes to
soak.
After that, wash it with lukewarm water. Repeat every alternate day and observe the difference – healthier, shinier, and voluminous than before.
You can even use tea leaf water along with henna powder to add colour to your hair. But make sure that you know how often you should colour your hair as it can fasten the damage.

3. Wear an avocado mask

Avocado is not just famous for toast topping; it is also a popular remedy for hair treatment. It is a full package of moisture and nourishing supplements like vitamins A and E.

To make a hair mask, mash a medium-sized avocado and add a tablespoon of curd. Mix both the ingredients to make a creamy paste. Apply the paste to your hair with the help of your fingertips and keep it for 40-45 minutes.
Then rinse off your hair with shampoo and chilled water. Wear this mask twice a month and get frizz-free hair.

4. Make bananas your friend

You'll realise the true meaning of a familiar phrase, "A friend in need is a friend indeed" when bananas will come to your frizzly hair's rescue. They'll help you to add shine and moisture to your hair as they are rich in vitamins, potassium, carbohydrates, and natural oils.

So, make a fruity mask by mashing one ripe banana. Add one tablespoon of honey and almond oil in the paste. Blend the ingredients well and apply on your scalp and hair.
Let it dry for 30-40 minutes and wash it off with shampoo thoroughly. Make sure you rinse your hair properly as a banana hair mask is a bit difficult to remove.
If your hair is too crimped, then use this mask once a week, otherwise, two times in a month will work well.

5. Experience apple cider vinegar power

Healthy hair needs a balanced pH level (4.5-5.5), which apple cider vinegar can provide. It will seal the moisture by closing your hair cuticles and control the dryness and frizz on your hair.

You can experience the power of apple cider vinegar by mixing it (1/3 cup) with 1 quart of warm water. Pour it on your hair and leave it for 1-3 minutes.
Then rinse your hair with cold water and condition your hair. It can have a strong odour smell, therefore, wash your hair thoroughly. Tame your frizzy hair by repeating this remedy once a week.

Extra tips for you to follow

Those mentioned above were the remedies to try seldom, but there are a few ways that need to be a part of your daily regimen. Amongst all, the most important thing is to have a healthy and balanced diet. We've jotted down the rest of the five ways.

 Wash your hair with cold or lukewarm water
 Take off your cotton pillowcases and sleep on a satin
 Never shampoo your hair for more than twice a week
 Do not torture your hair with a towel-dry
 Always soak your hair in cold water first to protect your hair while swimming

There you go – a guide to rejuvenate your hair. These home-ingredient remedies, along with a few tips will never let your curls get ruined anytime and anywhere.