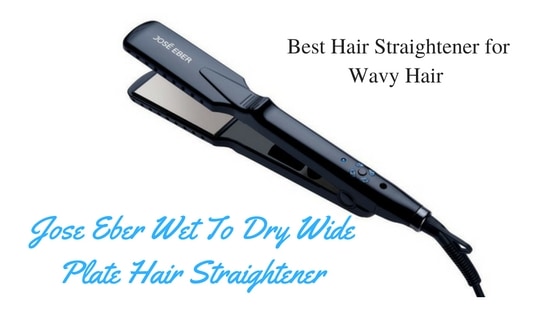 Last Updated on
Jose Eber Wet To Dry Wide Plates Hair Straightener Review
Jose Eber Wet to Dry Wide Plate Hair Straightener is such a well trusted brand. It is one of the most recognized brands in the hair industry.
He has also come up with a great design that eliminating the need to blow-dry your hair before styling. He has come up with one of the best hair straighteners for wavy hair.
Furthermore he's the guy who was trusted by notoriously picky celebrity clients like Cher and Elizabeth Taylor to take care of their hair many years ago. That has led to years of a well-known and trusted hair products.
​
Finally to finish of his line of products he has already received the Global Salon Business Awards Lifetime Achievement award in 2008. He's still doing well to this very day.
Therefore whether your hair is curly, wavy or long and voluminous, you can achieve a super sleep look with this pair of straighteners. The fact that you don't need to use the hair dryer on your hair this means less style time and less exposure to hair harming heat. This is all around a better option the wet or dry works great on all hair types.
What is the best material ?
In addition, the larger wide floating 1½" plates make straightening thicker, longer hair easier and faster than ever. The plates are also made from Korean tourmaline ceramic plates that use negative ion technology.
It is durable. This is indicated by the amazing manufacturer's lifetime warranty. Its counterparts may offer only a few years' worth of warranty. The industry standard warranty for this type of gadget is normally a single year.
---
What features do these straighteners hold?
Using the Jose Eber Wet to Dry Wide Plate Hair Straightener can be easy. It just may take a little bit of practice as before using it you need to wash your hair.
So therefore it's an idea to use it in the mornings after your shower. Then you need to towel dry your hair as much as you can and apply a heat protection product. This is quite important when doing wet to dry so that you don't damage your hair.
Therefore, all it takes is to use a comb and section out your hair enough. when you are straightening the section there's not too much in there that it's not drying or styling.
You will also need to start right from the roots all the way to the ends clasped by the plates of the straightener. You may here a bit of hissing when doing this process but don't worry that's just the hot plates hitting your damp hair follicles.
Make sure you keep the dry sections away from the damp sections to avoid causing frizz. The unique design uses steam and negative ions to lock in the natural moisture of hair. While banishing frizz and flyaway's, and preserving hair's natural colour.
​Styles -
To create waves, wrap the sections of hair around the outside shaft and quickly pull the Jose Eber Wet to Dry Wide Plate Hair Straightener away from the head. For curls, you wrap the sections of your hair around the outside shaft as you pull the flat iron away slowly.
Finally with that ergonomic design you have the freedom to style your hair in any angle needed with the 360-degree swivel cord. There is dual voltage 110-240 which means it is suitable for traveling. As it also has both EU/UK power plug included.
---
What is the temperature ?
Furthermore this product has temperature control between the ranges of 82˚C-221˚C. Which means it is suitable for all different hair types.
Also for those thicker tougher types of hair, you can turn up the heat to the maximum or 221c. Alternatively if you have fine or damaged hair you can turn it right down to the lowest heat of 82c. To avoid any more damage to you hair.
---
Prices
Finally the Jose Eber Wet to dry hair straightener is found at a rough price of £80 which we think is a great price with everything you're get included in this product. Also the fact that you don't need to blow dry your hair means you are saving time, stopping more heat damage and all for a great price.
---
Our verdict
Overall this is a great straightener to purchase for yourself, it would save you time and prevent any more damage to your hair. Also you won't need to use your hairdryer first before straightening your hair. Therefore not only this but the warranty offers a few years you know that you have security for the few years of using this product. In conclusion this amazing well known product has got to be worth a go!
Things we like:
2 year warrentee.
Also comes with its own comb.
variable temperature.
wet to dry so no need to use the hair dryer.
360 degree swivel cord.
Things we don't like:
You will also need to purchase a heat mat and heat pouch.