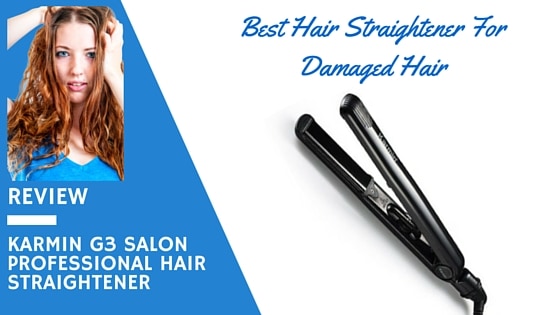 Last Updated on
Karmin G3 Salon Professional 1" Hair Straightener
If you are looking for the best straighteners for damaged hair, then the Karmin G3 Salon Professional 1" hair straightener could be the best investment you've ever made.
What makes this product stand out is the fact that it's a professional model that is said to be a very durable straightener.
It seems to have quite a lot of interesting, individual features that we don't always find on the more standard type pf straighteners and a great attention to detail that makes this product stand out.
What is the best material ?
It uses the tourmaline/ceramic technology in order to help you ensure that each and every time you are straightening or styling your hair it has a consistent, outstanding result. This straightener also has a stellar attention to detail.
It's very easy to use and brings a wide range of interesting tools to make the process of styling your hair, specific to your hairs individual needs.
It also integrates a negative ion technology that's not only one of a kind, but with this technology, it can help the hair to be modified in just about any way you want.
Yet the true benefit from the Karmin G3 Salon Professional 1" hair straightener is that it doesn't damage your hair at all. If you are a person that uses a hair straightener daily, then you may suffer with dry and damaged hair follicles but with this particular product it has been designed focusing on the health of your hair. You will definitely see a difference when you try this product!
---
​Name a hair straightener and I have tried it - none come close to my Karmin. The tourmaline ceramic plates glide through my hair like no other straightener out there, leaving my naturally wavy, crazy hair, silky smooth. I use my Karmin every day and unlike so many other brands have done in the past, my Karmin doesn't pull, break or damage my hair. It heats up fast and has an auto shut off mode after it hasnt been used for an hour - huge plus for busy, sometimes forgetful people like myself 🙂 Its well worth the money and I highly recommend it.
Kirsty Strong

What features do these straighteners hold?
Thanks to the far infrared heat, this is indeed one of the best hair straighteners for damaged hair just because it allows you to manage and manipulate the heat as you see fit and depending on your hair needs. It delivers an immense amount of value for the incredible possibilities this straightener brings.
The way it's created also makes the Karmin G3 Salon Professional 1" hair straightener stand out because it uses a solid ceramic plate and the integration of tourmaline crystals does offer a great attention to detail.
Not only can you find these straighteners in the sleek black design but it also comes in purple, teal, pink or white.
They all the same on the material for the plates inside it is just down the preference. No one can tell you which color is best so go for it and choose your color.
You can call this one of the best hair straighteners for damaged hair and one of the best hair straighteners we have yet to review, mainly because it limits the total temperature and the overall gradients as well as temperature limits, to bring in front great possibilities.
This technique of temperature control helps you because it puts you in constant control. This feeling of being able to modify the temperature and access all the features that you want is definitely one of a kind and it brings incredible results which is what matters the most in the end.
We were quite impressed to see that the product also has a micro-porous technology. This addition is new for many of us and individual to this product.
This technology offers the ability to lock in moisture which is a major plus when focusing on the health of your hair.
It's an amazing experience and one that offers an immense result in the long run.
If you are a fan of straightening your hair, then the Karmin G3 Salon Professional 1" hair straightener right up your alley because the professional appeal combined with the focus to maintain healthy hair whilst styling makes it a very appealing product.
Another extra to note is the extra-long 3m tangle free cord, this gives you the freedom to use it in any professional salon without any problems. There is also an automatic shut off mode if the straighteners are not used for more than hour, which is great for the safety of yourselves and others around you if your using this in a workplace setting.
That's what really pushes the experience forward and since you have the ability to modify the temperature settings you can really have fun with all the numerous possibilities that appear here.
You will be amazed with the great quality and attention to detail that you can get here, mainly because styling your hair with the karmin is so effortless and the results are very smooth .
The hair maintains a great quality and smoothness as a whole, something that does prolong as you continue to use it in the long run. Thanks to the tourmaline plating, this is one of the best hair straighteners for damaged hair and it really manages to outshine and outsell many of the similar models.
It's one of the best and perfect items for a girl to be using at home or in the salon, since it works great with silky and shiny hair alike, you will have no problem using it as you want regardless of your hair current condition with these straighteners they will soon help collect the moisture back into your hair. It really helps boost the experience to new heights and that's what really makes it special.
The product does heat fairly quickly which saves time on the overall time needing to style your hair.
This product offers a great perspective and results that you might want, all combined in a very professional package.
The straightener is stylish and sleek to look at with a streamline exterior and is very pretty to look at, perfect for you ladies out there that are proud of their straightening tools they use.
If you're thinking of going traveling and going anywhere that use high power, these straighteners are suitable to take with you as they have dual voltage settings and will adjust just fine, this is a great feature to hold, something we haven't seen before.
Added features like the microchip temperature, flash quick heating and the temperature control infrared heat are very good too and they do showcase the true power of this device.
You can rarely find devices that offer ion field based straightening, that's because they are very expensive and with that in mind it can show how these straighteners live up to their higher range of pricing.
---
What is the temperature ?
With this straightener reaching heats of 200 c, you should be able to keep total control of any hairstyle you are looking to create. As we are trying to restore your health of your hair and this is one of the best straighteners to use for this we wouldn't suggest going over 190c to keep any hair follicles from frazzling.
---
​This flat iron glides through my hair like silk- even at temps well above 400, there has been no burnt smell (my AA hair is 4C+ and very thick). I love that I can place it on the counter and it does not slide off to the floor! Heats quickly- looks very sleek (love the mat and carrying case). Awesome product- highly recommend!
Tina
Prices
It's nice to see how great the product fares when compared to others and when you see the quality delivered here you will be amazed with the stellar quality you can obtain.
Although the price is higher than many others we have reviewed this straightener is by far one of the best overall straighteners we have reviewed so with a price of around £140 they are well worth the value.
---
Our verdict
We really feel that these straighteners stand out from all the other straighteners we have reviewed with all its extra, individual features. All the reviews on amazon prove this to us as 78% of people rated these straighteners with 5 stars, this is a very high percentage that think these straighteners are a girl's best friend.
The Best hair straighteners for damaged hair Karmin G3 Salon Professional 1" inch hair straightener brings you the ultimate value at all times.
It's really exciting to access all the features and even if you might not need all of them most of the time, this is a very good purchase that's well worth investing in.
Moreover, the ability to acquire 3 years of warranty shows that the Karmin G3 Salon Professional 1" inch hair straightener does have a manufacturer who firmly believes in the product.
It's rare to see a lot of value like this in the palms of the user, which is why you should think about purchasing the Karmin G3 Salon Professional 1" inch hair straightener. This is a great product and it does indeed offer a great return on investment.
Things we like:
3 year warrentee
Short heating time
Automatic shutdown safety option
Solid ceramic plates with tourmaline crystals
It uses negative ions and infrared heat
Effortless styling
smooth results
Temperature control
Comes with a simple style booklet, how to achieve body, volume and soft curls using the flat iron (helpful tips)
Has a blinking light to signal that it is heating up and once it stops blinking you know its the temperature you set it at
Things we don't like:
Price is a little higher than the average straightener but well worth every penny