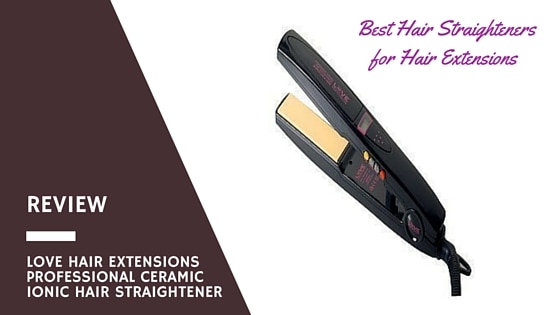 Love Hair Extensions Professional Ceramic Ionic Hair Straighteners
If you want to find the best straighteners for hair extensions, then the Love Hair Extensions Professional Ceramic Ionic Hair Straighteners is definitely one of the best products to keep in mind.
Starting with the interesting, high tech design and ending with a very good performance, this product brings in front just about anything that you might want from a professional straightener and it delivers the ultimate experience.
The reason why many consider this as being one of the best straighteners for hair extensions is that you don't have to worry about ruining or burning your hair extensions because these straighteners have been designed specifically to work with synthetic hair.
The design is stylish and modern, the experience is refined, very professional and the overall control is amazing to be honest.
What is the best material ?
These straighteners are created with a high quality material that allows it to seamlessly glide over your hair whilst straightening, mostly thanks to the ceramic used by it.
The overall ceramic plates are smaller when compared to other models, but they are functional and do bring in front a great set of benefits as a whole.
---
What features do these straighteners hold?
We liked the fact that you can also smooth and control frizz which can be a challenge for most straighteners out there, as that's really what's most important in the end, as not all hair extensions stay how you buy them.
They may need taming with a good quality pair of straighteners and we feel this product is just what you need to get the job done.
It also offers hydration which in the end is the ultimate value that you do want to have for the health of your hair.
The Love Hair Extensions Professional Ceramic Ionic Hair Straighteners heats up very fast and it allows you to maintain a good focus on the process. With a heat up time of 10 seconds, you don't really have to wait that long at to get styling and it does showcase a great appeal which is what matters the most.
The ceramic plates also glide through hair without snagging or pulling, minimizing damage.
This product has fine ceramic, one inch plates to give shinier, silkier results than regular ceramic hair straightener, giving every style that beautiful glossy finish that everyone is searching for.
The ionic technology and inferred heat that comes with this straightener means that it protects each hair follicles rather than It causing damage like many other straighteners do.
The visual design is great as well and well thought into because the temperature controls and other features are placed on the device on the sides which gives a very professional look.
You can easily see the temperature to understand when you need to stop and as a whole the device does offer a very good control to begin with, making it a powerful and close to perform straightener.
---
What is the temperature ?
Since you can control the temperature on these straighteners without a problem thanks to the integrated temperature controls, this does indeed show a great user experience and comes as the best straighteners for hair extensions. With synthetic hair the temperature control can be one of the main features designed for such fragile hair.
The flat screen monitor on this hair straightener means you can digitally see the exact temperature which is important when using the straighteners on the hair extensions as we all know they are not cheap to purchase them to suit your individual hair so it's important you get the temperature correct.
This design is excellent for Thermofibre Hair Extensions which can only be heated to 170oc, means you can monitor the temperature you are using them on your extensions.
---
Prices
At a price of £21.95 this is just a bargain you cannot refuse, not only are these hair straighteners design for a specific need but also has all the features integrated in to make it a great high quality budget straightener.
---
Our verdict
As a whole, we feel that the Love Hair Extensions Professional Ceramic Ionic Hair Straighteners hits the notes right when it comes to offering a very good quality, stellar attention to detail and great precision.
It's the best tool that you can use for straightening your hair on a budget and everything from the design to performance is spot on.
These are most defiantly one of the best hair straighteners suitable for your hair extensions, so trust us and give it a go.
Things we like:
Short heating time (30 seconds)
One glide through the hair is mostly enough to straighten that section of hair
Ceramic plates
Inferred technology
Great smooth and control for frizzy hair
temperature controls
Suitable for hair extensions
Things we don't like:
The digital controls are tedious and they can overheat fast