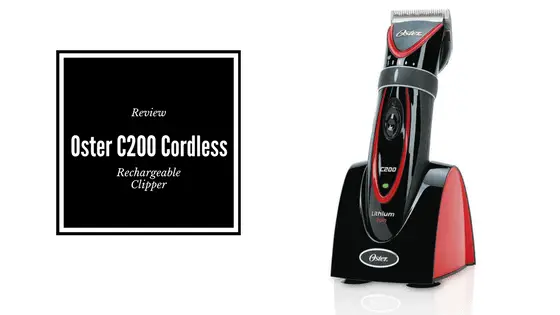 Oster C200 Ion Cord/ Cordless Rechargeable Clipper with Lithium Ion Technology Review
When it comes to hair clippers, customers are forced to choose from a plethora of products in today's market. Unfortunately, thanks to the recent advancements in technology, different types of brands will glorify their own products. Consequently, it leaves everyone in two minds when trying to choose the best hair clippers for men for 2017.
So, the whole process can become extremely confusing even for a professional barber, let alone a simple user. However, if you're one of those customers which are finding it extremely tough to secure a top-quality hair clipper, you've just come to the right place.
A famous brand, Oster have come up with yet another beauty in the form of Oster C200 Cordless Rechargeable Clipper. One of the best hair clippers in 2017, it has satisfied a wide range of customers with its superior functionality. It works great on all hair types, ranging from a barber to a simple user, everyone can use it with good effect.
Features Review -
Durable -
The Oster C200 Cordless Rechargeable Clipper a will charge up in just 1 hour and then, thanks to the Li-Ion battery, you'll get a massive 2 hours of full power usage from it. What's more, if you run out of charge mid-clip (and you'll get an early warning on that when the built-in LED changes from green to red), you can just plug in its cord and carry straight on.
In addition to that, such a housing make sure that this clipper won't heat up even if the barber keeps on using it for a long period. So when users are always looking for a reliable product, they'll have it in the form of this clipper.
Powerful Motor -
Equipped with a Powerful Motor, the Oster c200 runs at a higher speed than its counterparts in today's market. It can easily work through thick, wet hairs and still produce the desired result for barbers/simple consumers in a single try. There is no need to repeat the process as all your hair will be cut in an even manner on the first time of asking. So, if you're running late for work and want to quickly run over your hair, this hair clipper will be your best friend.
Size -
Thanks to the lightweight construction of this product, one Oster C200 Hair Clipper weighs next to nothing and will not ache your arm whilst cutting your own hair. For any customers having some sort of wrist pains, they will love this product as it is so light.
---
Noise -
Owing to the Powerful motor, the Oster produces a fair bit of noise at the time of usage. It's not a quiet model by any means, as it will assure you of its undeniable workability.
Lengths -
​The Oster c200 comes with 5 different cutting lengths, from 0.5mm to 2.6mm, using the ring selector wrapped around the c200 body. The blades are also detachable so they are easy to clean and maintain.
These clippers come with oil, a cleaning brush and 6 clipper combs. Lastly, these clippers come boxed with a blade guard, in order to save the blades from unwanted damage, as well as a soft travel case included.
---
Cord -
The Oster consists of a removable cord meaning it can become cordless which will give you the freedom whilst working and will provide maximum performance at all times. The wire is removable so it won't tangle during shaving or hair cutting. So, when they say that the Oster c300 is one of the best hair clippers in 2017, they really mean it.
---
​Remember when the red lights shows you need to get it back on charge, to get the LED back to green.
Prices -
For customers wanting to live within a budget, the Oster c200 might prove to be an expensive option. In sharp contrast to the other clippers, this one lies on the higher end of the price range. But if you look at its feature set, it's worth the money.
---
Our verdict -
One of the best hair clippers in 2017, the Oster c200 Ion Hair Clipper is definitely worth a shot by all means. Strong, Powerful and efficient, this product will last for years thanks to its unscathed construction.
Things we like:
Extremely Efficient, works well on all types of hairs
From professionals to newbies, it's the perfect purchase for everyone looking for a new hair clipper
Virtually Unbreakable, Strong and Long Lasting
Thanks to the Powerful motor, this hair clipper can work all day long
Things we don't like:
Price might be a distracting factor for some customers
Last Updated on