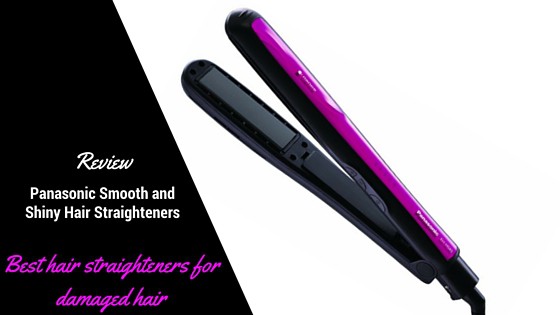 Panasonic EH-HS95 Smooth and Shiny Hair Straightener Review
When there is a hair straightener that claims to utilise a revolutionary technology, it is understandable that people are going to sit up and take notice of what is on offer. The Panasonic EH-HS95 Smooth and Shiny Hair Straighteners.
Therefore with the Panasonic EH-HS95 smooth and shiny hair straighteners with nanoe particles which are said to be generated from air particles that generate at the tip of the ceramic coated iron plates. Of corse this is said to prevent any damage to your hair follicles when styling.
Summary Review :
​
Product Name : Panasonic EH-HS95 Smooth and Shiny Hair Straighteners
​
Product type: Ceramic hair straighteners
​
Price: under £200
​
Summary: These Ceramic hair straighteners are great for damaged hair and really blow other products out of the water, it is reliable and great value for money. 
​
What is the best material ?
First of all revolutionary technology is all well and good, but it should serve its purpose. Furthermore it is said that this technological benefit helps to provide the user with glossy and straight undamaged hair.
In my opinion this is exactly the sort of finish that many people are looking for. In addition the makers of the Panasonic EH-HS95 Smooth and Shiny Hair Straighteners claim to be able to back up their claims with statistics.
Meanwhile that may not be too sexy or exciting but the claim that these straighteners can improve hair straightening performance by 35% is exactly what people are looking for.
In addition the nanoe particles are generated from air holes at the tip of its ceramic coated iron plates. Also nourishing your hair while styling and preventing damage caused by heat. In fact the particles tone your hair's cuticles and balances its moisture to create a lustrous appearance.
---
What features do these straighteners hold?
Furthermore one of the strongest aspects of these straighteners comes with the act that they have been found to maintain coloured hair. Therefore it manages to do thanks to the photoceramic coating. In addition this coating also plays a part in maintaining the natural moisture in the hair. Therefore these attributes also play a big role in ensuring these straighteners are the best straightening iron for damaged hair.
Therefore the advanced stable heater prevents the iron plates from lowering in temperature. In addition improving straightening performance. Although these straighteners are suitable for most hair types due to the variable temperature's available. Ultimately this styler reaches high temperatures and should not be used on synthetic or real hair extensions.
On the other hand we have reviewed 'best hair straighteners for hair extensions' if you would like read these reviews suitable for hair extensions.
Also turning themselves off after 60 minutes of non-use is a great safety feature for this straightener to hold. there is also a one year guarantee available with these straighteners. Ultimately there is no need to worry if you have left the house without checking if you have turned the straighteners off, perfect.
Therefore if you are looking for hair straighteners that provide you with peace of mind. Furthermore these straighteners are exactly what you are looking for. Moreover with a one year warrantee in hand, you know you can rely on this brand to replace them whatever the problem. In my opinion the straighteners are also perfect for travelling with the handy lock feature, so they fit perfectly into your suitcase.
---
What is the temperature ?
Above all there are 5 stage temperatures on offer with these straighteners, making them the ideal choice for people that like to share straighteners with friends or who take their straighteners to different places and may be asked for a borrow of them.
Of corse for many women, getting ready is a big part of the social atmosphere and interaction of life. Meanwhile having straighteners can be used by many people is a great way to ensure that you can be part of the gang, while making sure people get ready on time.
---
It's nice and light, and also has five temperature settings (from 300 degrees to about 400 degrees). A great feature is that it shuts itself off after an hour – I can't even count the number of times I have left hair irons on after I have left the bathroom where I do my preparing.
It's also a very nice iron and I am very glad to have it. I definitely recommend it!
Alice 
Prices
Above all although these straighteners original price is £199, currently on amazon you can save yourself an amazing £100 and are currently on sale for £99.00. In my opinion now this is what we call value for money. In addition you are receiving top end hair straighteners for half the price.
---
Our verdict
In conclusion when it comes to finding the best hair straighteners for the money. Also the strength and versatility of this ceramic hair straightener product should ensure that you get great value for money. Finally it can be difficult to say what offers the best value for every person due to the differences in hair styles but if you are looking for quality straighteners, you'll find that the Panasonic EH-HS95 are of tremendous value and benefit.
Things we like:
1 year warrentee
Great straighteners for damaged hair 
5 temperature settings making them also a great choice for many people
Also good safety features 
Utilities new technology to provide better results
Things we don't like:
The plates could also be wider for thicker types of hair