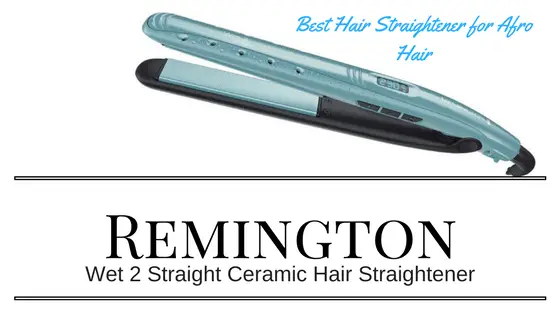 Remington 27300 230c Hair Straightener Review 
We can all be a little wary how well wet to dry hair straighteners really work, so here I am going to help give you all the fabulous features and advantages of this Remington s7300 Hair Straightener.
Firstly, this is a well-known for the great material this straightener uses, ceramic coated plates infused with frizz resistant micro conditioners. This is released when heated up and helps to deliver smooth, frizz free styles, with 80% of test confirming this result.
Next this straightener will cut down your routine hair time in the mornings by half by cutting out the drying section which in my opinion is what takes the longest.
So being able to jump out the shower towel dry your hair and put your Remington s7300 Straightener straight to your hair is easy and time saving.
Summary Review :
​

Product Name : Remington S7300 Ceramic Hair Straightener
​

Product type: wet to straight hair straighteners
​

Price: under £50
​

Summary: These wet to dry straighteners are the best we have found of its kind for afro-carribean hair. It is great value for money with the amount that is included all for under £50.
​

What is the best material ?
Another interest feature is it floating ceramic plates that applies even pressure on the hair for less snagging and more professional results. In addition, it also has specially designed vents that allegedly allows excess water to vaporise whilst styling your hair.
---
What features do these straighteners hold?
With this straightener, you no longer need to worry about straighteners damaging your hair as this wet 2 straight products, helps to lock in moisture as you style which helps to prevent any damage from happening to your hair follicles.
Moreover, it also has a turbo boost button which gives you that extra boost of heat when needed, for those tricky bits of hair that don't want to play ball. It is ready in 15 seconds which is very heat for such a product to heat up to such a high heat which shows it really is at a high quality.
This brand has also considered the safety of the service user and has made sure this straightener has a 60-minute auto-shut off system. So, if this product is not used for 60 minutes or more the straighteners will just go ahead and turn themselves off so there is no chance of a fire which is a possibility with such a high heat available.
---
What is the temperature ?
Furthermore, this straightener has 10 different temperature settings which allows you to change the temperature to your hairs individual needs, with a range from 140-230 degrees. When you have fine and damaged hair it is important to choose a lower temperature where as if you have thicker and more difficult hair types you will need to choose the higher hair heat.
---
​Really great quality straighteners. They are quick to warm up and being able to use them on wet hair is a life saver
Mrs S Warren
Safety 
With a 360 swivel cord this gives you the freedom to straightener your hair from any angle. It is also great for traveling with as it has worldwide voltage so will work wherever you are in the world, perfect. Above all the Remington s7300 Straightener comes with its own pouch for your to safely carry them around in without getting damage and when you're finished with them they can go straight in there as they are heat resistant.
---
Our verdict
In conclusion, I think this is a fabulous product and well worth the investment for under £50. Not only does it offer you ceramic floating plates with infused anti-frizz, it also has a range of temperatures to suit every hair type. If this isn't enough to persuade you to give these straighteners a go then a 5-year warrantee might, how can you say no?
​
Things we like:
Short heating time (15 seconds)
Automatic shutdown safety option 
86% quicker than your normal hair routine 
For wet and dry use 
longer length plates
Turbo boost function 
Things we don't like:
Will need to spend a bit more time sectioning your hair to get it fully dry