1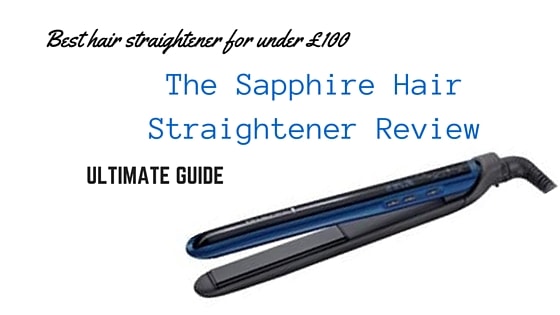 Last Updated on
Sapphire Hair Straightener Review
The Sapphire hair straightener review will help you find the best hair straightener on a budget on the market?. well here you have found a top quality straightener, with all the features integrated into one low-priced product .
Sapphire Hair Straightener review is all about one of the latest creations by Remington. The company did a great job with offering a high quality user experience and a compact ceramic hair straightener. It helps to combine all powerful features that you always wanted inside one unique, exciting adventure you will enjoy.
This product was created as a professional straightening iron and while it's a little more expensive than other products in the industry it really is the best affordable flat iron. Thanks to its great benefits and one of a kind features that can be seen here you will benefit from the iron.
Review Summary -
---
​Product name : Sapphire Hair Straightener Review
​
Product type: Ceramic Hair Straightener
​
Price: under £100
​
Summary: This straightener is just a great all rounder, with ceramic plates a well recognized brand, with variable temperatures all for great value these straighteners will style your hair whatever your hair type.
What Is The Best Material ?
The plates for this top of the line straightener are extra-long and very slim. This allows you to straighten the hair with a lot more efficiency and better results. Not to mention that the ceramic coating does make everything a lot easier and refined.
It's a smooth, sleek, modern straightener and definitely manages to offer the best value on the market for anyone looking for a refined product in this genre, with its individual professional standards.
It glides nice and easy through the hair due to its top quality plates and causes no snagging to the hair. Which is important as this isn't something we want as this is how split ends are caused. These straighteners provide 57% more protection from damage and breakage compared to an average ceramic 230c straightener.
With the high end ceramic plates, they are more than suitable for all challenging hair types like thick, curly hair. The high temperature still creates a high finish, without causing any damage to your hair.
---
What Features Do These Straighteners Hold?
You have a top, well recognized, straightener brand here with Remington. The main beauty with this device is despite the fact that the sapphire hair straightening design is normal, the product is far more durable than others. These hair straighteners only weigh 0.45g, which means they are lightweight and easy to use. It's created out of high quality materials that really manage to offer you reliability and quality in one complete package.
Using the Sapphire Hair Straightener is always a delight because you have lots of additional features integrated in the normal package. Unlike other products out there, it has a very good heat protection system and it's created specifically with safety in mind, which is what matters the most.
What's maybe the most interesting thing here is that the product is ready to use in 10 seconds, with a heat ready indicator. It also shuts down automatically after 60 minutes of no use. So in case you accidentally leave them on, you won't have to worry as the device does have its own automatic off-switch.
It also has a turbo boost button which allows you to reach the top heat in an instant, for those tougher more challenging types of hair.
Extras -
The sapphire hair straightener also come with a heat proof pouch and mat. This means you don't have to worry about laying them down on the carpet whilst in use. You can use the heat proof mat and when finished you can pack them straight away with the heat proof pouch. Very handy!
They also come with a hinge lock for storing them, which again is a very useful feature to make the use of these straighteners as simple as possible for you.
In my sapphire hair straightener review, we have proved that it might well be the best affordable flat iron. Not only does it have a 3m swivel cord, to give you the freedom you desire to create any hair style you are looking for. It also integrates a good set of ceramic heaters that are very hot yet safe for the user.
It also has a worldwide voltage so they would be compatible European countries. Suitable for travelling with which always a handy feature for a pair of straighteners to hold.
---
What Is The Temperature ?
Those that want the hottest hair straightener might like this model because it has a digital display. It clearly shows the heat that you project on your hair, which is a very important piece of information.
This way you know how demanding the entire process is for your hair and you can also make changes on the heat panel if you need to.
---
​Having used lots of other brands over the years, I couldn't believe how quickly these straighteners heated up. When it bleeped to let me know it had reached optimum temperature. It was only seconds after I'd switched them on!An excellent pair of straighteners, that deliver a great result that lasts all day! Great value for money.
Becky
---
Our Verdict
With a solid performance, interesting display, a long cord and the fact that you can use it in just a few seconds after turning it on, this product is indeed one of the best quality straighteners on the market.
It's a refined, high quality product with a lot of amazing features and the price of around £84.99 is more than worth it considering what you get in return.
This is a top selling hair straightener for a reason, because it backs up everything with great quality and astounding results. It's well worth the investment so you should totally give it a shot!
Things We Like:
2 year warrentee
Short heating time (30 seconds)
Automatic shutdown safety option
Very easy to use
Suitable for more challenging types of hair
Price range under £100
Things We Don't Like:
A little more expensive than other straighteners on the market, when on a budget