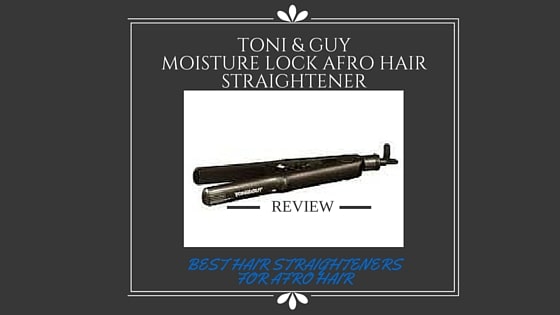 Last Updated on
Toni & Guy Moisture Lock Afro hair straightener
What you will like the most about this product is that it offers you an incredible value and a high quality right off the bat. It's a product designed with uniqueness in mind and that's why the design is nothing short of astonishing.
Of course, once you start using the straightener designed for Afro hair, you will be amazed with the great experience that it can deliver, and that's maybe the best thing about it!
What is the best material ?
The ergonomic grips also deliver a great value to the product, which is astonishing considering the price and value that you get here.
Of course, what really makes this product special is the design and quality that you obtain from the entire experience.
This straightener has floating 25 mm ceramic plates to allow closer styling and advanced ceramic heaters for ultra-fast heat recovery, exactly what is need for that tough crazy hair of yours.
---
What features do these straighteners hold?
Styling is easy with this straightener just because it's very easy to maneuver and the entire process is created with quality in mind. You will like the fact that the device also heats up insanely fast, in fact in less than a minute it can acquire the desired temperature.
Handling it is great as well because you have a ton of great safety features that help showcase the entire experience. It's a nice, relaxing and truly astonishing way to nurture your style the way you want.
The ionic technology that they use here offers a very immersive and fun experience to begin with and is a pleasure to use this best hair straightener for Afro hair because of that modern technology.
This also makes sure that they get rid of any dryness within the hair follicles and gets that moisture locked into the hair to improve the health of your hair.
---
What is the temperature ?
It's also nice that this hair straightener integrates a variety of temperature controls, and that's what really pushes the experience forward you can get anywhere between 80-200 degrees so there's no issue with modifying your style in a matter of seconds. With this high heat it can control wild, frizzy afro hair in one stroke, just what you need in a pair of straighteners.
---
​I've had some many brands and spent ridiculous money on straighteners, but these straighteners work well on my frizzy hair, glides so smoothly, leaving my hair shinny, soft and with loads of movement. Good for the money, and definitely worth buying, absolutely in love with these straighteners.
AJ
Prices
At a price of £59.99 we feel that these straighteners are well worth every penny, they may not be the cheapest in your search for straighteners, but finding straighteners that are pacifically designed to style Afro hair are very limited.
Therefore, we feel this price reflects the effort and time they put into this product to make it work for its target user.
---
Our verdict
In the end, this is one of the best hair straightener for Afro hair just because it manages to seamlessly combine quality with attention to detail and it delivers on its promise. The quality is nothing short of impressive and at the end of the day you receive the results you want.
It's refined, professional and maybe the ultimate tool you can use if you want refined, quality hair straightening even if you sport the Afro style.
Things we like:
Easy to maneuver
Short heating time
Automatic shutdown safety option
One glide through the hair is mostly enough to straighten that section of hair
High quality design
Things we don't like:
The cord is quite long and can get in the way whilst styling