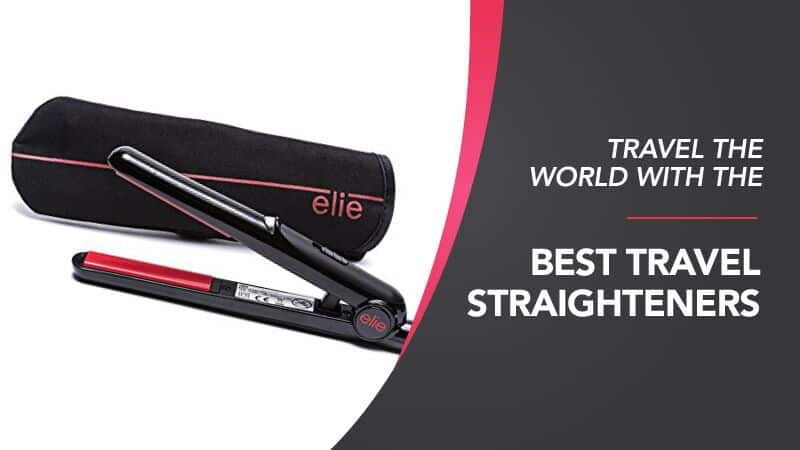 Last Updated on
Best Cordless Hair Straighteners for Travel UK - Review 2020
OUR REVIEW PROCESS ...
Hair Day reccomendations are based on more than 50,000 verified customer reviews and experiences. We never reccomend a pair of straighteners we haven't personally experienced and tested. You can rest assured that the straighteners you choose to buy will meet Hair Days standards.
This research is supported by our readers, you, through our independently chosen links. If you would like to read more about how we are supported then read here.
---
Finding the best pair of straighteners can be tricky so finding the perfect pair to take on your travels can be even harder. Travelling itself can be a stressful job in itself.
Trying to remember what to pack, writing list's, being organised, ironing, and folding your clothes beautifully, to cram it all into your suitcase in the end anyway. We all know there's never enough room for girls essentials when going away!
We're here to help you find the top cordless hair straighteners to take away with you, we have done all the research for you to make it an easier choice choosing your mini straightener.
Let's face it, its always the first thing you pack when you're planning your holiday abroad, seriously though it would be a disaster forgetting your number one essential – your portable straighteners!
Taming Your Hair on Your Travels -
Whether you're going abroad to a hot, humid country or just spending the weekend camping at a festival, it's inevitable that when temperatures soar, the likelihood of frizz is on the increase. The only way to keep this under control is to have your trusty size straighteners in arms length.

Although on holiday the majority of us will be staying in a modern hotel, most of us still need more than the just humble hotel hairdryer and your hairbrush to style your hair. This is why these battery straighteners are needed for the job and essential on your holiday list!

With that in mind, we've rounded up the ten leading buys, to ensure you are doing your foremost to enhance the health of your hair and achieve the style you are aiming for, whatever the weather.
Have a read through Hair Day's top picks to see our thoughts on our cordless straighteners, whatever your budget may be.
---
Best Travel Hair Straightener
---
Best Cordless Hair Straighteners for Travelling -
1. GHD Gold Mini Styler
Best Mini Travel Straightener
Highlights -
Cooler outer so easier to handle
Automatic switch off for safety
Contour plates and smoother plates
Lightweight and portable
The Good
The GHD Gold Mini Styler may be small in size but the performance is huge and is exciting to say the least. This luxury tool performs professionally. Although a mini ghd straightener, it is one of our favourite cordless straighteners we have found along the way.
The plates on the mini styler are only 0.5inch wide yet the GHD IV Styler the plates are 1-inch-wide, so you can see that these are half the width which makes them that much smaller.
The Not So Good
A bit Slower on the more thicker difficult hair types due to its slimer plates.
Our View
This product is great for shorter hair types.The design of the GHD Mini styler is outstanding as the smaller contoured plates give you more control and styling power more than ever before.
Good For:
Travel - Lightweight and slim to take on your travels
Styling Hair for all Occasions - 30 seconds heat up time
Curling - Creating Curls no matter where you are
Mini - All Hair Types
---
2. Cloud Nine Micro Iron
Editors Top Pick Travel Straightener
Highlights -
Versatile - works with all kinds of hair types
Small and portable
Great cord length
Well trusted brand
The Good
When you are searching for your perfect flat iron, you should always try to focus on value. This model comes from a well-recognised brand and is easy to use, with helpful features that work well.

The design of this model is compact yet straightforward. This alone makes it an excellent investment for any festival. It also delivers some exciting features that are perfect for camping as well.

When testing out this product, the first thing I was concerned about was the size of the straighteners when unboxing them.
The Not So Good
Although you order them on the basis they are described as mini; they seriously are mini the size of your palm. Never the less they instantly proved me wrong and straightened my fringe at a high standard.
Our View
The Cloud nine micro iron is a worthy investment, and some might consider it the desired model out there. A great little piece of kit to take on your travels these would weigh nothing in your luggage.
Good For:
Camping / Festivals
Suitable for taking on holiday
Great for thick/ long hair
Carrying - Lightweight & Compact
---
3. Elie Slim Mini Straightener
Top Value for Money Travel Straightener
Highlights -
Short heating time
Slim line design
Safety features
Under £30
The Good
If you're looking for a flat iron to take on holiday, whether it's for a festival, camping, or just merely a day in the office you are looking in the right place. The Elie Slim straightener is small and light, ideal for quick touch up's on the go, but with the salon-quality, you're looking for (and all for under £30).
This model is also great for styling your hair whether it's to curl, straighten or simply give it that wavy look, the Elie Slim is the straightener for the job.
The curved edges of this model make it easy to create beautiful curls, for styling shorter hair or even just quick touch up's — a very versatile hair straightener on the whole, with a great user experience all round.
This brand strives to make a difference and to create high-quality products that you will love using. It also has easy access on/off switch and a warning light on the exterior for safety which we feel is very important in a pair of straighteners.
The Not So Good
Customers were concerned how small the product is and it could slow down the process styling your hair if you have thick or curly hair.
Our View
I think these are an excellent straightening iron for smoothing the kinks out of my short hair, and an attractive price too. If like me, you have a short hairstyle with naturally straight hair, and you want something to fix your bed hair with or achieve a sleek look for a night out, you need nothing more than a cheap, practical pair of straighteners.

The Elie Slim straightener has been designed to make a difference with its unique design and high safety standards. You cannot go wrong with a pair of straighteners for this value, its a winner!
Good For:
Great for Curling and Straightening
Work Great for The Size
Camping / Festivals
---
4. Babyliss Cordless Straightener
Best Battery Operated Straightener
Highlights -
Small and portable
Ceramic Plates
Short heating time
High heat temperature
The Good
If you are searching for the greatest battery hair straightener to create a professional finish for your hair at home or on holiday, then the Babyliss Professional gas iron could be what you are looking for.
It really is the perfect companion - whether straightening your hair on holiday, staying at friends or attending a festival.
Take your sleek black BaByliss Pro on your journey, I can promise you it looks as good as it performs. Its enhanced natural gas powered heating design gives you salon quality straightening performance. Designed to be small enough to fit in a small handy size bag.
These battery operated straighteners are easy to use as babyliss provide your first energy cell to use instantly and then these will be available to replace from many suppliers.
The Not So good
You have to charge it up before using them.
Our View
Now as these are cordless straighteners they are designed for small areas of hair like a fringe or just to straighten the ponytail. It is also an ideal gas iron to take along when you are camping in the outdoors or roughing it at a festival as you don't need to find a charging point.
You may be coming away from the comfort of your own home but don't let your hair go wild, keep it tame and styled with the Babyliss cordless gas straighteners.
Good For:
Compact - Lightweight to Carry
Travel - Take it wherever you may be
Quick Touch ups - Great for fringes and touch ups
---
5. Quince Cordless Styling Iron
Best Travel Straightener for Fine Hair
Highlights -
Cordless - portable
Easy to use
High quality
3 variable temperatures for different hair types
The Good
Quince cordless flat iron rechargeable wireless styling iron is one of the most exciting models released from this brand. Not only does it offer excellent support for camping and festivals, but it's also fantastic for your trips on a whole which is promising.

Customers see it as one of the most popular cord-free straighteners on the market for thin hair, and at the same time, it also manages to deliver great features.
The Not So Good
You have to charge before being able to use them.
Our View
The design is fascinating, and the absence of a chord is astonishing, to say the least. You will like the great attention to detail and the focus on results.

The wireless option makes styling your hair that much easier not having to search for an electrical point while away is defiantly necessary to keep your hair up to your standards.
Good For:
Wireless - Very Handy
Versatile - Works well for thick/ long hair
Travel - Camping / Festivals
---
6. Babyliss 2860 Pro Nano Straightener
Best Professional Travel Straightener
Highlights -
Small and portable
Ceramic Plates
Short heating time
High heat temperature
The Good
The Babyliss 2860 Pro Nano may be small in size but makes up for it in its amazing ability to heat up fast. With its high temperature, it produces that professional finish, thanks to its high-quality ceramic plates.

It won't take up much room in your handbag, and it's multi-voltage so it can be used worldwide.

Combine that with the fact that the model has an outstanding warranty (in fact three years). It manages to deliver excellent value, and in the end, the experience will be fantastic for sure
The Not So Good
Only comes in the colour Purple.
Our View
The Babyliss Pro 200 Nano Mini is the must-have tool for shorter hairstyles and fringes, it is ideal for touch-ups, or getting rid of those waves while on-the-go.
Good For:
Versatile - Suitable for all hair types
Travel - Lightweight & Compact
---
Cordless Hair Straightener Buyers Guide UK
Theres a few quick aspects we need to consider before deciding which wireless straighteners are suited for your hair's individual needs.
· Size – Opting for a mini pair of portable straighteners will be key for slotting in your suitcase and will be ideal for long-haul trips.
· Weight – Lightweight models will be worth the spend as you should be looking for a portable option that fits in your bag. Making it suitable for camping, holidays or festivals.
· Cordless- It is not compulsory to have a cordless straighteners when on your holidays but is an option to make it easier than trying to find a power source, maybe opt for a rechargable model.
Depending on where you are heading to, if a hotel you may opt for a mini straightener still with a plug?
· Voltage – Not all electrical's will work internationally, so it's worth double checking that your chosen straightener has a worldwide voltage.
What you need to know about Travelling with your Straighteners
When choosing your straightener to take away with you mostly it comes down to preference to choice, wether you prefer it to be smaller or larger, corded but mini or cordless. Below we will give you all the information needed to help you decide which you prefer.
Size -
The size of the straighteners and the size of the plates is something you should take into account. You would need to consider what you would like to use the straighterners you are buying for.
Mini straighteners would simply be made more for touch ups and fringes, where as a cordless straightener that can be slightly larger and higher tempertures will mostly be used when wanting to style your head of hair, or even a battery powered straightener.
When buying your cordless mini straighteners you must also consider how durable the product is, this especially applies if you are planning on packing this on your hand luggage.
Dual Voltage

-

Dual Voltage straighteners are very commonly used nowadays. This simply means your products voltage will work just about everywhere and safetly. Although you may need to take a plug adapter for other countries, by buying a dual voltage straighteners you know that it will be safe to use no matter where you visit.

Some of the older models may take lomger to heat up when in a foreign county this will be due to the sudden change in voltage usage, but never the less will still do the job.
Cordless

-
Choosing to have a cordless straightener is simply down to personal preference. Do you find it easy to style you hair without a cord? its up to you, maybe rechargable straighteners might be for you. When dealing with a model without a cord you have no restrictions as to where you can stand and style your hair.
Choosing the Top Cord-free Hair Straightener -
Hair Type

-

Depending on your hair type will decide which cordless battery straightener is better for you. As one we may choose for thin hair will be a different type of product we would choose if you have long thick hair. Above we have chosen some straighteners for the most common hair types.
Price

-

Price is always about finding a product suitable to your budget. Yes the well known brands are particularly more expensive but if you are on a budget its about finding the leading straightener for its value.
Travel Straighteners Comparison Table -
Tips for Travelling With Your Straightener -
When you finally decide to buy your straightener for your holiday remember to consider these tips for using your straightener.
​

Check the fine print of the warrenty -

Sometimes products may not be covered abroad so it is worth checking the warrenty first.

Always use a heat-proof mat -

you would be suprised how quickly surfaces burn. (which is not a great start to your holiday, burning your hotel furniture)

Always use a pouch -

this will prevent your straightener from being damaged and broken whilst on your trip.

Remember to bring your travel adapters -

Even when you purchase a straightener with dual voltage this may still not have the correct plug on the end which would then be useless.

Always turn it off when not in use -

Alot of the products now are built in with an automatic switch of mode when they have been left on for more than 30 minutes, but its never worth the risk.

Dont leave it plugged in and forget it! -

One last tip to remember if you do choose a mini iron with a plud dont leave it plugged in when packing your case. (I have done this so many time)

​
To Conclude
With all the options out there, it can feel nearly impossible to choose the right iron for you, but with all our help and information we have given you we hope you have an idea of what you looking for.
I think overall your first choice is almost always going to be a lightweight, mini, battery straighteners or cordless straightener with worldwide dual voltage.
If you are looking for a hairdryer to take on your holidays then check out which we have chose.
We hope we have narrowed it down enough for you to be able to have an idea on which straighteners to choose for your travels.
Happy choosing and never have a bad hair day again !!