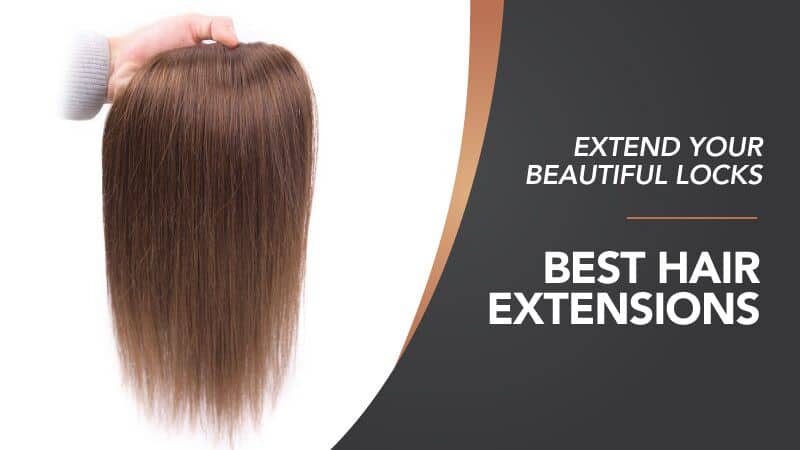 Best Hair Extensions Review - Guide (uk)
Long, Beautiful locks are the DREAM. Right?
If your hair is not naturally long, thick and luscious. The easy answer is EXTENSIONS. 
I know it can feel impossible to acheive this ourselves at home. But this is where your wrong, hair extensions can be easy to choose and install if you know how. 
So we know searching for the best hair extensions for your hair type can be daunting, but we have reviewed all hair extentions suitable for varied hair types and colours to give you the absolute best of the best.
We will includes all of the latest picks and leading brands as featured, plus much, much more!
For all extension lovers, admirers and about-to-be users, welcome to the essential UK hair-care bible of 2021. 
A safe space for hair extensions conversation, where we can go into dept about all the juicy details and various intricacies involved.
Make sure you find a moment after choosing your product to head over to our Hair Care guide for looking after your hair extensions!
Sego Tape-in Hair Extensions
Best Hair Extensions (In Order)
1. SEGO 24 inch Tape-in Hair Extensions Human Hair
Best Tape-in Extensions - Editors Pick
 Highlights -
Salon Quality
Easy to apply to home
Tape-in extensions
Enough for a full head
30 Hair Colours Available
Lasts up to 4-6 weeks
100% Remy Hair is reliable and silky smooth, with real-hair pieces for total head coverage.
As they come in a pack of 40 this is reccomened to be enough to cover a full head, and if you want a fuller thicker look then another 20 may be useful on top. 
The Good
The great thing about these pieces is that they can be easily applied bit by bit, for maximum styling impact and dynamic to suit each scalp and facial shape.
Available in colours from black to brown to ash brown to honey blonde and more, and with tangle-free science, buy these babies now before everyone else gets onto them!
The Not So Good
Some customers found that they needed the extra packet of 20 pcs to make it a full set.
Features - 
Brand : 

SEGO

Type : Human Hair
Attachment Type : Tape in
Set Includes : 40pcs(100g) Per Package (20 pcs for adding volume,40-60 pcs for a full head)
Lengths : 12 inch, 14 inch, 16 inch, 18 inch, 20 inch, 22 inch, 24 inch
Colours : 1. #2 Dark Brown 2. #1b Natural Black 3. #4 Medium Brown 4. #4/27 Medium Brown&Dark Blonde 5. #6 Light brown 6. #18/613 Ash Blonde&Bleach Blonde and more
Our View
This hair can also be styled with straightening, curling or even dye tools!
With the added high-value of noticeable real-hair, your look is enhanced into a chic, sophisticated style that is noticeable and designed for only the best of impressions!
Good For:
Easy to Use -

100% remy hair extensions,our tape is thin and transparent, with strong adhesive, can be re-used by changing new tape.

Full Head Coverage - 2.5g/pcs,40pcs(100g) Per Package(20 pcs for adding volume,40-60 pcs for a full head)
Versatile - Can be curled, straightened, dyed, highlighted, washed.
---
2. Sunny 35cm Clip in Hair Extensions Ombre Black Human Hair
Best Human Hair Extensions
  Highlights -
Human Hair
Comes in 11 colours
Comes in 6 lengths
Clip in - easy to use
Ombre colours
Easy 30 days refund.
The Sunny hair set of hair extensions is made from 100% human hair.These will give you the top quality product your looking for to help it blend naturally with your own hair. 
The Good
With it being salon quality hair, it means there will be no tangles and no shedding leaving the hair feeling silky and soft.This can easily be curled or straightened as often as you like as it will not damage the hair.
The Not So Good
We could not find any negative reviews from customers ... Bonus!
Features - 
Brand : 

Sunny

Type : Human Hair
Attachment Type : Clip in
Set Includes : 7pcs/120g Per One Set: the hair is 100gram, with 17 clips, total is 120gram
Lengths : 14 inch, 16 inch, 18 inch, 20 inch, 22 inch, 24 inch
Colours : 1. #1b / Grey, 2.#1b/4 / Chocolate Brown, 3. #1B/6 Naturel Black Ombre Medium Brown, 4. #2/8 Darkest Brown Mix Brown, 5. #4/6/22 Dark Brown to Medium Brown Mix Blonde, 6. #4/14/22 Brown with Blonde 7. #4/613 Dark Brown to Blonde, 8. #12/6 Ash Blonde with Blonde 9. #14/60 Platinum Blonde, 10. #20/60 Blonde Multi Color, 11. Noric
Our View
Although we do not suggest double dying these products as these could cause affect the quality and shorten its lifespan.
This brand offer an array of lengths from 14" to 24" to suit all different length and it is also offered in many colours to help match your natrual hair colour.
This means no matter the colour of length you are searching for these hair extensions will be perfect for you and with a 30 days easy returns policy this means if you feel you have ordered the wrong colour when it arrives you can easily return this product. 
Good For:
Returns 

- Easy 30 days return policy 

Human Hair - This hair type blends well with your own hair which makes it easier to use and apply yourself at home
Easy to Maintain - Can be washed, strengthened, curled.
---
4. HMT Afro Virgin Hair Extensions
Best Afro Hair Extensions
  Highlights -
100% Human Hair
Great Value for Money
Good for Braiding, Weaving and Bonding
7 days return
Can be styled
HMT are a popular trusted brand to purchase from. They guarantee that their products are all high quality hair, that has been directly cut from young ladies hair.
The Good
This means they promise there is no animal hair and no synthetic hair.
Knowing that it is real human hair this means it will be very clean, natrual and soft to comb. 
Also because there has been no chemical treatment involved, it will be easy to curl, straighten and style these hair extensions without causing any damage.
The Not So Good
Not a wide range of colour options.
Features - 
Brand : 

HMT

Type : 100% brazilian human hair
Attachment Type : Individual hair use
Set Includes : 3 x 8"
Lengths : 8 inch, 10 inch, 12 inch,14 inch, 16 inch, 18 inch, 20 inch, 22 inch
Colours : Natural Colours
Our View
Overall the versatility of the hair extensions makes them stand out, it means they can be used for so many different styles wether its to add hair whilst braiding or to add clips to to add thickness these hair extensions will work. They are also great value for money and well worth every penny. 
Good For:
Human Hair 

- 100% handselect human hairs without any synthetic or animal hairs

Versatile - This is adding hair to your own hairs by means of fusion(strand by strand), weaving, braiding, bonding. Seamless, clips and more. 
Styling - it will be easy to curl, straighten and style these extensions without causing any damage.
---
5. Remeehi Secret Wire Halo Real Human Hair Extensions
Best Halo Hair Extensions
  Highlights -
Halo Fitting
27 colours available
100% human hair
No damage
Easy to use yourself
Salon Quality
The name is Remeehi, because these hair extensions are angelic! Remeehi has become a well-known UK brand with lots of franchise bodies popping up all around major cities and for very good reason.
The Good
The Halo is an incredibly creative design for hair extension application and it's enjoying huge success worldwide.
It's a simple, award winning design that is based on a flexible wire (which comes with a warranty for life!) with luscious hair attached.
There's no taping or gluing, no uncomfortable tight pulling or bonding, it's a revolutionary product already changing the hair game!
You can wear this clip in ponytail as often as you like, this method is very gentle to your own hair.
The Not So Good
We could not find any negative reviews on these hair extensions...Result!
Features - 
Brand : 

Remeehi

Type : Human Hair
Attachement Type : Invisable Wire Halo
Set Includes : 1 full head set
Lengths : 14 inch, 16 inch, 18 inch, 20 inch, 22 inch, 24 inch, 26 inch, 28 inch
Colours : 27 colours available
Our View
Of course there's only one original Halo and that's from the originators at Halo , but there's also a lot of same concept types on offer at amazon.co.uk too.The choice is yours, although we recommend the original and the best!
Good For:
Saftey 

- No clips, no glue, no tape, no damage, tangle-free.

Easy to use - Attached with an invisible wire, very easy to wear and remove, stays in place, and blends perfectly with your hair.
Style - Can be curled, straightened, tonged, washed & dyed
First off, why don't we start with the absolute bleeding obvious question that we all have, and that is 'what's on offer?':
Types of Hair Extensions
Okay so first of all, there are multiple kinds of hair extensions (as you already know, you hair-care lover you!), so let's revise:
Naturally, human hair looks the most realistic overall and is the preference for most extension clients (where possible - it's more expensive than other alternatives).
Typically, it will take on average, 45 – 50 hair extensions to add noticeable volume to hair.
Though keep in mind, we all have a preference in terms of 'the look' we want to achieve.
So you can experiment with your own budget and extension framework, to achieve what works for you.
With average prices below per human hair extension type, you will be able to generate a pretty reliable ballpark estimate for yourUK salon, helping you come prepared and aware.
There are essentially three different kinds of human hair extensions and that's the:
i)

Euro Grade Hair (Indian

TempleHair)

We admit it, the name is misleading! It's not European hair, it's actually temple-offering hair fromIndia!

The reason it's called 'euro grade' is because it is identical in kind and texture to European hair, being that it is typically fine and high quality.

It's about £6 per 14-inch extension and the good thing about this type is that it is certifiably ethically sourced, so for those of you who are care conscious buyers, rest easyJ.
ii)
Russian Virgin Hair
The second most pricey human hair extension type, at approximately £8 per 14-inch extension, and yet it's the highest quality human hair extension kind too.
Expect fine, straight, smooth hair that can be adapted in colour to suit. While not guaranteed ethically sourced, it's guaranteed maximum impact due to excellent texture and density.
iii)
Brazilian Virgin Hair
This is the most expensive kind of the three and for good reason, as it's typically curly! This will set you back approximately £11 per 14-inch extension and happily there are no cuticle reduction chemical treatments in this kind.
As a niche product, it's going to require a little more emphasis on the consultation, around matching and impact on your natural hair type.
---
Otherwise known as 'artificial hair', this option is a more economical choice for pound prudent shoppers.
There are plenty of UK Salons and synthetic distributors willing to help with your synthetic styling.
Such as NewU in Leicestershire, the infamous Hershesons in London and Birmingham, Ombre and many more.
But there is your starting point covered!
Now let's cover the various kinds of Synthetic Hair, such as:
i.
Kenekalon Hair
The great thing about Kenekalon Hair is that, for a synthetic, it does closely resemble human hair to the look and touch.
These hair extensions are made from modacrylic fibers which contain vinyl chloride and acrylonitrile's. Most wigs and weaves are made from this material and the synthetic hair extensions will retail at around £4 per 14-inch extension.
ii.
Toyokalon Hair
It's not as user-friendly as Kenekalon and therefore more affordable too. If you get yourself a good detangler as preparation you're on a good path.
Being made from the same ingredients as Kenekalon and with less refining treatment before production, it's typically a £1-2 cost per extension. While not highly recommended, it will create volume and/or length!
---
c)

Mixed/Blended

(Human and Synthetic)

This is the obvious blended application between synthetic and human hair extensions. Brands like Milkyway do blended products so be sure to check them out online.

The goal is to optimize synthetic hair application with human hair blends, to soften and support a natural look, all the while, generating an overall cheap price-tag for the consumer.

There is an increasing amount of blended extensions on theUK market and most salons are even able to create bespoke solutions to suit your needs.

Don't be shy to ask, it might cut a hundred pounds off your extension appointment! 
---
Hair Extension Methods
Here are the most current and up-to-date hair extension methods for your consideration:
A)
Tape in Extensions
They have been getting a bad wrap lately but when applied with care and using high quality hair, they can look phenomenal. Wide bonds wrap around natural hair to clamp and secure.
Given, they do look 'tape-y' at the top, but if applied correctly with good coverage it's not noticeable.
Make sure you get a good extension specialist to apply these if you want them to last their maximum span of around 5 months.
B)
Keratin Bonded
This type is really popular! They are much less obvious than the tape-in kind, but do come with quite a few maintenance terms and conditions for optimum upkeep.
Your regular salon visits are a must for keratin (pre-bonded, glue-in) extensions.
You'll also need to avoid extension connection exposure with things like hair driers, stylers, oils, conditioners and any warming/wet applications (we don't want bond breakage!).
 With good upkeep these ones can last up to 4 months, though typically tend to de-bond around 3.
C)
Weave / Sewn
When you have really thick or coarse hair this is the most ideal type to use for grip and stability. The extension specialist will braid sections of hair in order to provide a stable platform to sew the weave to.
It's going to put considerable pressure on hair follicles and the head in general, so it's best to trial this kind with a lighter load and re-visit your technician in 6 – 8 weeks for an impact assessment.
With regular maintenance and tightening as needed, you can get up to a year out of a weave, however it is entirely dependant on application method and holding ability (pressure on natural hair). Be sure to have an in-depth assessment before committing!
D)
Clip-ins
Ah ye old faithful! The kind that is convenient and caring to the scalp and skin!
Clip-ins are the original in extensions and though they may be somewhat old, they are reliable and effective as ever.
They now come in not only synthetic brands and types but human and blended forms too.
This is the perfect type for incidental use and wear, for those one-off glamour events or occasions where natural hair simply won't do!
There are so many stores online and by foot in theUK that we don't dare to say who is best, but we can say that brands like Salon, Ombre and NewU provide excellent choices for your clip-in creative occasion!
---
Reccomened Hair Extensions for Thin Hair
The least damaging hair extensions for thin hair are tape-in because they are so light-weight and move just like natural hair. Water and warmth won't undo them like keratin kinds so they hold up very well for every day use.
---
Recommened 
Hair Extensions for Thick Hair
Just another great feature of having naturally thick hair is that this kind is more resistant to scalp and follicle damage due to strength of the hair.
All extension kinds are suitable for thick hair, but for maximum efficiency, you want to match your natural fullness and thickness with voluminous layers that should neither minimise or over-commit your natural locks.
---
Recommened 
Hair Extensions for Short Hair
Your extension specialist only needs a mere 3 to 4 inches of hair to work with for extension input. Dependant on your length and volume needs, tape-in hair extensions are your best bet (for the most part!).
Due to their light-weight density and ease for everyday wear, short hair can withstand the light pressure without excessive pressure that compromises further natural hair growth.
Consider clip-ins too, but for more medium to long-term solutions, tape-in is a go!

We haven't forgotten about you gentlemen either. What if your hair is thinning or you want to get on top of a balding situation? Fear not. Extensions are for you too!
Blending forms are highly recommended, as is human hair, and with bonds that can last up to months, with bespoke methods, suited to your lifestyle and exposure, why not visit an extension specialist today to feel more confident again? You're worth it!
---
Recommended
 Human Hair Extensions
Seeing as we already covered the different kinds, here we are going to have to say Russian Hair Extensions are the best on the market.
It's the beautiful natural hues they come in, texture and smooth feel that grab us. But each to their own! Brazilian Hair is also great, if you're blessed with naturally curly hair and want to amplify it further!

Brands like Milkyway and Halo have excellentUK hair extension products – be sure to check them out.
---
Best Brush for Extensions
Without a doubt, we must say it's got to be the amazing Tangle Teaser brush.
It is especially gentle and 'considerate' to bonds and tapes. If caught, it breezes past without heavy damage catching.

The Balmain Hair extension brush deserves a worthy mention also, with its soft bristles perfect for no-snag sessions and varied length reach for no-catch nonsense!
---
Best Shampoo and Conditioner for Hair Extensions
Let's start with the best leave in conditioner (which, if you have a keratin bond extension, is not for you!). We recommend the silicone coating products like Remy hair Soft Silicone.
Remy hair has a great range of hair-care products suitable for hair  extensions, so we recommend their shampoo and spritz sprays too.
These products are built to safely and softly coat, making your hair extensions shine with sheen! They also act as inbuilt heat protector due to the silicone layers.
---
Recommendation - 
Take a look at a few more hair extensions that we would highly recommend and read there full reviews below - 
---
Conclusion
Well there you have it ladies and gentlemen, your overall hair-care guide for 2021, specific to the wonderful land of extensions!
With all the options out there, it can be nearly impossible to choose the right pair of extensions for you.
We hope we have narrowed it down enough for you to be able to have an idea on which hair extensions to choose best for your hair type and which extension method to choose. 
Happy choosing !!
---