2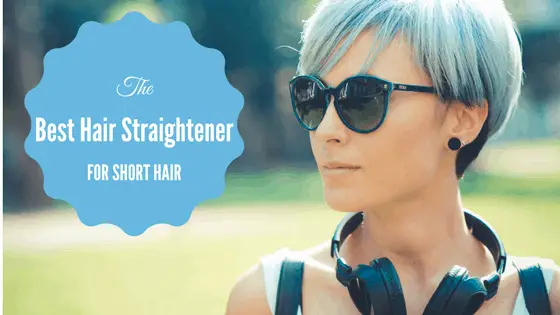 Best Hair Straighteners For Short Hair 2019 Ultimate Review
Sometimes when people have short hair you automatically think it just needs washing and drying as there not much to do with it but your wrong there is so many popular styles that you can create with a pair of straighteners even on short hair, all you need is the right pair of straighteners.
The straighteners that will be suitable for you your short hair come in sizes smaller than 1 inch, and they're best for your short hair as well as hair that require you to get very close to the scalp. This works for both thick and fine short hair whether you want straight or curly hair.
Short, fine hair requires you to be able to control the amount of heat you are putting on it, so smaller plates are better.
Thick hair that's short often requires slow movement and consistent heat which can be better controlled with small plates.
Plates that range from 0.5 inch to 0.75 inch are considered small, and these are generally used for precision.
Small irons mean straightening small sections, and problem hair often responds better to that while holding the style for longer.
If you have the opposite and have long thick hair then maybe you would like to read our review.
Some things to consider when choosing the best hair straightener for Short hair:
·
Plate materials
·
Width of the plates - slim
·
Length of the plates
·
How low the temperature goes?
·
Heat up time
·
Safety features
Ultimate Review Guide - Top 5 Hair Straighteners for Short Hair - Comparison Table
---
Product Summary -
One thing I automatically liked about the C3 straighteners is the wide array of zany patterns and colours you can choose from.
Especially the Corioliss C3 Rose Gold Hair Straightener looks very stylish and professional.
The lightweight and slimline design of the straightener is very easy to handle.
The extra-long plates allow for bigger sections of hair to be styled in one go, which could easily reduce your average styling time by half.
I would recommend these straighteners to pretty much everyone with any type of short hair- the broad range of temperatures mean that the straighteners are suitable for practically every hair type- no matter how fine or thick.
If you want to read the full review of the Corioliss Rose Gold Hair straightener then click here.
The Good
Customer reviews show how easy these are to use and how wonderful they curl as well as straighten!
The Not So Good
The buttons which control the temperature could do with being lightly bigger which would make them easier to use.
Features -
This luxury tool performs professionally although is a mini straightener designed for travelling.
This is one of the best cordless hair straighteners we have found yet, this product is also great for shorter hair types.
Great for straightening right from the root, which is especially needed for shorter hair getting right up to the roots.
It's also great for on the go so that you can keep your style all throughout the day no matter where you stop to touch up your hair on your travels.
The rounded barrel of the ghd mini styler means it's easy to create curls, waves and flicks and of course thanks to ceramic heaters and contoured plates you can glide through hair for smoother, snag-free styling.
If you would like to read the full review on the GHD V Gold Mini Hair Straighteners then click here.
The Good
Customers say the narrow plates allow for precision styling, such as smoothing out cowlicks, kinks and fringes... Perfect!
The Not So Good
Some customers feel that having different heat settings would be useful.
Features -
FAQ'S
Q. What size are the plates?
​

A. Actual surface of the plates is about 6.5mm. Brilliant for short hair - straightening or curling! Works fine with a bit of length too.
Perfect for men and women this TONI&GUY Slim Definer 15 mm Straightener creates definition where needed and straightens the shortest of pixie crops.
Developed as part of the TONI&GUY Creative Collection, the narrow plates ensure this straightener is versatile enough to be the ultimate unisex styling tool.
TONI&GUY Salon Tested Professional Performance is guaranteed, with a 3 m salon length cord for ultimate styling freedom.
The Good
The controls sit on the inside of the handle meaning that you don't knock them whilst in use, which is a good design feature. Overall customers feel these are great value for money!
The Not So Good
Some customers found the handle quite thick, so a little uncomfortable to hold.
Features -
Herstyler Colorful Pink straightener 1 inch Titanium Hair Straightener is creating a buzz in the style town.
You need to see this amazing tool! Its look is enough to explain its HerStyler straightener Reviews.
Sleek and elegant design with hot pink colour. What else you could ever want!
Herstyler Pink hair straightener Heating plates are composed of solid titanium.
Due to high-quality titanium, the flat iron heats up quickly for satisfying your styling needs.
The temperature control is adjustable. You can pick temperature between 200 – 460 degrees. It is a versatile range to cope with any hair texture, including short hair.
The Good
Customers would recommend this product. Its also great for also creating perfect curls!
The Not So Good
This product comes with a 2 pin plug, so you may need to also purchase an adaptor.
Features -
If your searching for a hair straightener best for styling your hair whether it's to curl, straighten or simple give it that wavy look then the Elie mini travel hair straighteners will do the job.
The curved edges of the straightener make it really easy to create wonderful curls, for styling shorter hair or just quick touch up's.
A very versatile hair straightener on a whole, with a great user experience all round.
The Elie Slim straightener has been designed to make a difference with its unique design and high safety standards.
They strive to make a difference and to create high quality products that you will love using.
If you would like to read the full review on the elie slim hair straighteners then click here.
The Good
This straighteners have a long lead, and a swivel cord.
The Not So Good
Customers feel these straighteners work best with short hair, these would take time to use on thick long hair.
Features -
With all the options out there, it can be nearly impossible to choose the right iron for you.
For Short hair though, your best option is almost always going to be an adjustable temperature setting and a smaller width plate so you can get closer to the roots of your hair.
We hope we have narrowed it down enough for you to be able to have an idea on which straighteners to choose for your short hair.
Happy choosing !!​
Last Updated on