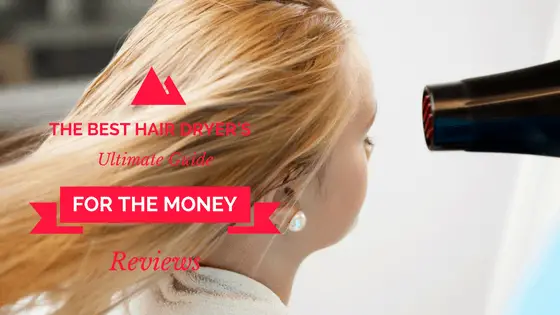 Last Updated on
Best Hair Dryers Whatever the Budget - 2020 UK Guide
For most women and even some men, using a hair dryer in their daily routine is essential, so to find the Best Hair Dryer whatever the budget is important to us all.
Not only are hairdryers used to dry your hair but quite often they are used to style your hair. you can to straighten it or curl it all whilst drying your hair.
Many people make the mistake of thinking a hair dryer is just a hairdryer, right? It just dries your hair, well until you have tried one of our top founded hair dryers then you will realise how much you have been missing out.
Yes, the quality really does matter trust me. Speed, durability and reducing frizz makes your experience of drying your hair all that different.
I want to find you the best hair dryer whatever your budget for 2018 but also considering which are best for the money.
Everyone has their unique price range so I have reviewed many from a range of prices. Cheapest to the most expensive but all great value for money and worth the investment.
Key Things to Look for When Buying Your Budget Dryer
Professional VS Retail -
There are two different styles of hair dryers, you have professional and retail.
Both have their benefits as to why each may suit your hairs needs better.
Professional blow dryers are designed to dry your hair quicker, increase your hairs volume and give it style in a matter of minutes.
What's more is that professional hair dryers are made with higher quality material to make them last longer for Salon use which means they are more durable than the retail type dryer.
The estimated working life in hours for a professional dryer is around 2,000 hours.
When looking at the difference, with the retail hair dryers they are much more affordable and a much more lightweight option as they are made from different materials.
This is fine if your not ready to part with the best part of £200 for a professional dryer.
The working life or a retail dryer is somewhat different to a professional as it will only last around 500 hours so around a quarter which shows in the difference in price.
Just because a retail dryer is cheaper doesn't mean it doesn't get the job done.
There are many different designs and features in the standard dryer like a travel hair dryer which you don't get in the professional as you wouldn't get the power needed for a salon so there are some benefits from the retail styles.
It all boils down to how much you are willing to spend on this product. Either way no matter the budget I want to find you the best hair dryer whatever the budget for the best value of money.
Wattage - ​
When looking at the correct wattage to use on your hair it should be 1,300 and above, to make sure you get the best results.
The higher the Watts the quicker it will dry your hair.
We all know how much of a tedious task drying your hair is at the best of times so choosing one over 1,300 is the best choice.
It is said in some reviews that it is necessary to go as high as 1,800 watts if you have longer hair, this could cause damage if going this high when it's not needed.
Remember if you have thick curly tougher locks then the higher option will work great for your hair.
Heats -
The best hair dryers whatever the money of 2017 are not only there to remove the moisture and water out of your hair but to improve the appearance and shine of your hair.
There are general settings for different common types of heat settings used which are all aimed for different hair types, some brands even combine the different heat settings to get the best results.
There are also different materials that the dryers are made from which give different results so below are the different options.
Ceramic Blow Dryers –
ceramic hair dryers help to retain moisture in your hair by removing the water from your hair.
Ionic Blow Dryers –
Ionic blasts negative ions and quickly breaks down the water droplets and allows your hair to dry a lot quicker.
Tourmaline Dryers –
Think of tourmaline dryers as ionic blowers on steroids as it throws out even more negative ions and are coated in a special mineral which helps to dry your hair with a better outcome.
Infrared dryers -
If a dryer's billed as infrared, this means it uses longer energy wavelengths to penetrate the hair and dry it from the inside out.
Titanium –
Titanium is used to distribute heat evenly and keep the temperate even. Although it is normally used on hotter dryers so would not be recommend for damaged hair.
Weight - ​
Weight is a very important factor when considering which dryer to purchase. We all know how much our arms ache from drying our hair especially those of us who have a crazy amount of thick hair.
Professional salon type hair dryers are normally a lot heavier than the average blower because of the motors in them.
Although we would all like to choose the top salon dryer if it takes you 20 minutes to dry your hair you may want to consider a more lightweight option.
Price –
The price of the dryer really does depend on how much you're willing to spend, as they range anything from £15 - £400.
It is said that the more expensive which are more likely to be the professional sailing style blowers are likely to have a longer life span compared to one that is in the lower price bracket.
Although in my personal experience I have the GHD air hairdryer which is around the middle of the price bracket and it is fabulous so follow our research and choose one that suits you best and suits your price bracket.
Bonus Features To Consider –
Cold Button –
Cold air is specially to seal the cuticle and lock the style you have created.
Adjustable Heat –
For fine more delicate hair a Lower temperature setting would be much more suitable and less damaging to the hair.
Accessories –
A diffuser is essential for the curls in your hair and a concentrator nozzle is key for straight hair.
---
Product Summary - Best Hairdryer's on a Budget (In order)
1. Toni & Guy Daily Conditioning Dryer
Editors Pick
Highlights -
Value for money
5 Year Warranty
Lightweight
Keeps hair looking healthy
3 metre salon cord
Hair dryers in this price range normally get to hot and then lack power which can cause your hair to become frizzy.
Although in my opinion this is an exception as it is kinder to your hair considering the health of your hair and manages to maintain its power to keep your hair looking shiny and healthy.
The Good
Customers like that this product is lightweight, so easy to take with you when travelling.
Sleek in design, the Toni & Guy hairdresser is quick to dry hair and leaves it shiny and without frizz.
It is lightweight, so definitely one you could take away on holiday with you.
The TONI & GUY Salon Professional Daily Conditioning Dryer has a Professional 2000 W with variable heat and speed which adapts to your specific hair needs for control.
The Not So Good
Few customers feel the control buttons are placed in such a way that it's difficult not to nudge them.
Our View
To find a hairdryer for such a low price that still offers everything a higher value product does - its a winner.
Its lightweight to use, with variable temperature options to make sure its on the right settings for your hair type.
Good For:
5 Years Warranty - The Daily Conditioning Dryer comes with a five year manufacturer warranty as standard.
Lightweight - Small and compact to take on your travels
Versatile - Tourmaline Colour Lock Technology and dual heat and speed for all hair texture.
Value - under £30
---
2 . TRESemme 2000 W Fast Hair Dryer
Runner Up
Highlights -
Price under £15
Lightweight and compact
2000W
3 heat/speed settings
Cool shot button
Concentrator nozzle
3 year warranty
This TRESemme Fast Dry 2000 W Hair Dryer has a compact design that keeps a salon professional standard about it.
Although it doesn't compromise on its power, giving you quick drying results with every use.
The Good
The lightweight nature of the dryer means it is easy to handle and blow-dry your hair, providing extra comfort when styling - even during prolonged use.
It has 3 different heat temperature settings with a cool shot button which is great for styling your hair.
It is lightweight and compact with a concentrator nozzle hinged rear filter.
It also has a hanging loop for tidy storage, as well as a 1.8m cord for tangle free styling. With a 3-year guarantee.
If you would like to read the full review of the tresemme 2000w hair dryer then click here.
The Not So Good
Few customers found this a little noisy.
Our View
The Budget Travel Dryer - Best Hair Dryer for Under £150
First of all, when looking at the Parlux Advance Light Hair Dryer it clearly is the best hair straightener for the money in 2018.
Above all this has been names the best hairdryer of 2017 by Marie Claire – wow!
Furthermore, this is a well-known Italian brand that have been loved by professionals since the 70's!
It has continued to win many awards and have fabulous top product ranges that we must have.
This hair dryer comes in an array of colours and a heat proof body considering the safety of the user.
It's also has different variable temperature controls.
In my opinion it is one of the lightest and quietest dryers I have ever used it will deserves it number 1 place of 2018.
The Good
This product comes with a long cord, dries hair quickly and is not too noisy!
The Not So Good
Customers feel this is not as lightweight as other hairdryers.
The new technology dryer - Best Hair Dryer for Under £80
This is professionally powerful tool with a 2000 watt motor your hair will dry before you know it.
It is well known for its amazing nanoe technology which essential allows water molecule's to be broken down into smaller nanoe particles.
Therefore, this means it would clear the water from your hair a lot quicker than the average dryer.
It is a Very effective dryer with three different heat settings which is essential if you intend on using your dryer to style your hair as well as dry it.
Quick dry nozzle emits alternating strong and weak airflow, which separate hair strands to dry hair efficiently and rapidly.
This blower mechanism dries hair from the roots to keep hair and scalp healthy and beautiful.
In conclusion, this is a wonderful dryer that is well worth its value for money!
Read here if you would like to continue reading the full review for the Panasonic Smooth and Shiny Hairdryer.
Features -
The Good
It has a very low noise, not heavy at all, long and flexible cable. Great value for the price!
The Not So Good
Other than a couple of comments this product is a little bulky, overall customers seem very happy with this product!
Best Hair Dryer Under £100
The GHD air dryer is a salon professional product that is now available to everyone.
When first looking at this product the first thing you think is, Class.
It looks such high quality and classy, with its black matte and metal trimmings it's amazing.
It has a high wattage of 2100 which is great it will get the job done a lot quicker than most dryers.
It has many features that are designed for the service user such as the air filter is removable so you can keep it clean and clear.
The handle design is also made for both left and right handed users, which means it is suitable for all.
The Good
Leaves your hair feeling smooth and glossy, the long lead is also a bonus!
The Not So Good
Few customers felt this hair dryer was uncomfortable to hold
Features -
The featherweight T3 dryer luxe 2 is a fabulous modern design that dry's your hair 75% faster than any other dryer.
It is lighter and easier to handle than any other dryers the T3 brand has ever created.
This dryer is designed to retain hair moisture and dry it quickly which will help to maintain the health of your hair.
This product has every feature you could imagine to be available for a dryer from having ceramic material, with a cool button for styling, the list is endless.
Regular dryers use a hurricane-like, chaotic windflow which can damage the cuticle and cause split ends, frizz and flyaways.
T3 Featherweight Dryers work differently
A specially-engineered fan generates a high volume of ion-enriched air that exits the dryer in a wide cone shape at a soft, gentle speed that dries large sections of hair—fast.
Negative ions in the airflow cancel static and quickly seal the cuticle, which helps hair retain natural moisture, reduces frizz and enhances shine.
In my opinion this dryer is absolutely the best value for money and is worth every penny.
The Good
Customers pleased with how quiet this product is.
The Not So Good
There are no negative reviews on this hair dryer... Result!
Features -
This dryer is a luxury product with a high gloss shine to give it the professional salon look It is aiming for.
It produces 2000 wattage which is a perfect power to help dry your hair in no time.
It a little heavier than the average dryer.
With real diamonds infused within the grille of this blow dryer, combined with ionic and ceramic technology to help lock moisture into your hair and keep it frizz-free with a super-smooth finish and maximum shine.
The styling concentrator directs the airflow for precision salon styling at home to give a better overall result.
With two speed and three temperature settings, this dryer adapts to your specific hair needs for ultimate control.
The Good
Customers found the cool shot feature is helpful to set your style.
The Not So Good
Few customers found this product slightly heavy.
Features -
The Budget Buy Dryer - Best Hair Dryer Under £120
BaByliss have really hit the nail on the head this time with this latest technology.
Although it has a higher than average price tag for BaByliss, it really is worth the extra spend.
As it has been designed to compete with GHD Aura and Karmin Salon Series very famous popular dryers.
The advanced brushless motor technology gives a fast, controlled airflow with exceptional Ionics for supreme drying and smoothing.
The lighter weight body gives greater ease and comfort during styling.
The 3 heat /2 speed settings with the ultra slim concentrator nozzle give you maximum control during styling and blow drying.
This is most definitely great value for money even though it is quite a high price it is worth every penny.
The Good
The double filter is easily removed to clean.
The Not So Good
Few customers found that the shape and size of the handle was a little uncomfortable.
Features -
The Low Cost Dryer - Best Hair Dryer Under £30
Thanks to the Remington Shiny Therapy Dryer's Ionic technology it helps to deliver beautiful glossy frizz free, glossy hair.
​The dryer harnesses a state-of-the-art ion generator, which emits 90% more ions* for incredible, long-lasting frizz-free results.
As you style, the hot air travels through the grille and releases more ions than a standard dryer.
This will leave you flyaway free with healthy-looking lustre with serious shire after every styling session.
No matter your style, with the Remington Shine Therapy Dryer you can effortlessly pull off a luxe blow dry worthy of any salon.
It is also a lot more lightweight than the average dryer which helps you shorten the amount of time you need to have the heat blasting on your hair.
Less heat means less damage in the long run!
The Good
Customers feel the long lead is beneficial.
The Not So Good
Few customers found this product a little noisy.
Features -
---
Conclusion -
With all the options out there, it can be nearly impossible to choose the right dryer for you. I hope I have narrowed it down enough for you to be able to have an idea on which dryer to choose for your hair, for the right amount of money.
Overall I would recommend when searching for the best Hair Dryer Whatever the budget to make sure it has variable temperatures so that you can choose a lower setting so it doesn't damage your delicate hair follicles.
You may also want to consider the weight of the device as the less pressure put into your hair the better it will care for your hair. So, I hope I have given you enough options to choose the best hair dryer for your hair for the best value for money.
Happy choosing !!​