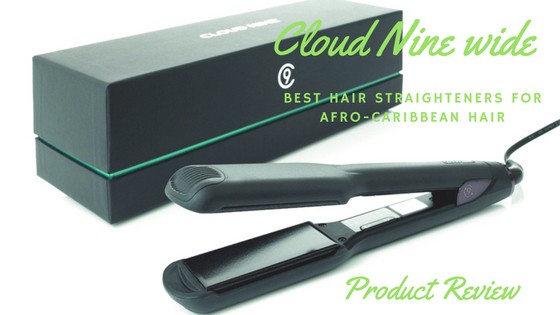 Cloud Nine Wide Black Hair Straightener: Best Ceramic Hair Straightener For Thick Afro-Caribbean Hair ?
Looking for the best hair straightener for thick afro hair? Cloud Nine wide plate black hair straightener might be right up your alley as this is a device that delivers high quality features and a stellar experience all while offering you a unique design and premium packaging.
What is the best material ?
The smooth and glossy black ceramic plates contain a special and mysterious ingredient to give your hair added shine and sparkle, each and every time you use your irons.
Ceramic is a well trusted plate and give top quality results especially when you are searching for those tougher hair types, like thick or Afro-Caribbean hair.
The black ceramic plates are offering a smooth gliding effect and the hair is shiny which is a major plus. It's also cool to see that there's no damage to your hair, as we said you obtain incredible value from this device and that on its own does help take the user experience to new heights.
---
What features do these straighteners hold?
The swivel cord is long and it won't be easy to tangle, something that does help you obtain a very good user experience. It's a great device that you can use anywhere you want as well because it's small and portable which is amazing in its own right.
It does have a hibernation mode which is surprising, but it also seems to be truly astonishing as well because this way you can maintain the device heated. It's simple, refined and a lot easier to deal with your straightening. You can also share it with a friend if you want without having to lose time, which is great if you want to go in town and you don't have time to waste.
Performance-wise, the device is impressive. Basically, you can create curls, flicks, sleek styles and a whole lot of other great features with just a few minutes of using this product.
The fluidity is great here and you won't burn your hair either because the device does integrate some very fast and professional features that you will enjoy using at all times.
The cloud nine comes with the luxury carry pouch and protective heat guard for maximum comfort and ease of use.
This straightener puts you in control of your hair no matter what hair type and no matter what style. The cloud nine gives you the wow factor in the straightener industry which is fantastic sleek outcome to your hair.
---
What is the temperature ?
The cool thing about this device and what makes it one of the best hair straightener for thick hair is that not only does it look professional and stylish; it's also integrated with a fast temperature control setting.
Basically, you just need to touch a button and through it you will be able to choose the desired temperature between one of the three available.
That helps you achieve better control as you straighten your hair, in fact you can do that while you are straightening it without having to remove the device from your hair.
Being able to control the temperature on hair straighteners is very important when dealing with more difficult hair types it needs to be able to reach the highest temperature to perform at its best.
---
​
Just received my cloud nine hair straightner. I have long thick wavy hair and wanted the look I got when I've been to the hairdressers. I've had GHD's for years and thought they did a good enough job but OMG cloud nine wins hands done. Lovely straight shiney hair and didn't even have them on the hottest setting. If your hesitating on buying these. DON'T. go for it , there amazing. One happy lady.
Mrs A Maulton
Prices
Although this straightener is currently on amazon for £100 which may seem a lot to begin with but when looking at all the integrated features and how well this straightener performs you will not regret spending this amount especially as it comes with a two year guarantee, it's got to be worth a go.
---
Our verdict
As a whole, this is one of the best hair straightener for thick hair. It's a refined product with great value and which is also quite portable which is amazing in its own right. We liked the great quality that it delivers, the attention to detail and everything is just right here.
If you are a fan of hair straighteners that deliver great quality for a stellar price, then this is a great investment.
Things we like:
2 year warrentee
Short heating time (30 seconds)
Automatic shutdown safety option 
One glide through the hair is mostly enough to straighten that section of hair
One touch temperture switch 
Hibernation mode
Things we don't like:
Can be a bit to bulky compared to what some people are used to