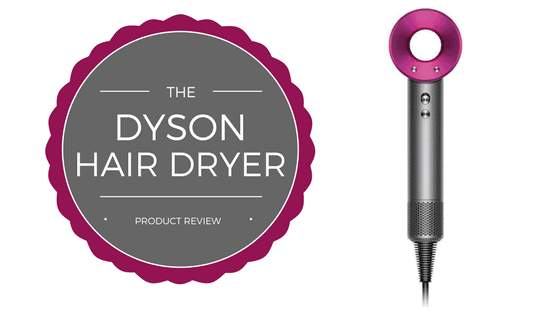 Dyson Supersonic Hair Dryer Review 
The Dyson Supersonic Hair Dryer is by far one of the coolest looking dryers I have ever reviewed. This dryer is by far one of the best hair dryers for the money, okay we all know this Dyson product is very pricey but I want to show you why it is one of the best for your money as I think it is worth every penny as this dryer is just fabulous.
Enlisting the help of some of the world's top hair stylists and engineers, Dyson have created a product that is light-weight, efficient and easy to use, yet still delivers powerful drying and styling results every day.
Powerful technology; Dyson has turned convention on its head and redesigned the hair dryer by putting the motor in the handle.
It's surprisingly quiet, too, making much less racket than you might expect for something so powerful. It still makes some noise, of course, the Supersonic barely registered with anyone else in my house.
What Is The Power Of The Dryer?
This change of design has rebalanced the dryer's weight and shape, allowing you to dry your hair for longer without getting that pesky arm ache.
The V9 motor also spins up to 110,000 times per minute at one inaudible frequency, making it faster, lighter and quieter than other motors.
The build quality is top-notch, too. Its sliding, metal power button feels like it's built to last, and the three other buttons that control heat and airflow all feel sturdy and well made.
It's unlikely you'll need to use them much, though, as the Supersonic automatically remembers your last-used settings each time you turn it on. These are helpfully indicated by three white and red LED lights on either side of the barrel.
---
What Features Does This Dryer Hold?
Only the Dyson Supersonic hair dryer comes with magnetic attachments - so you can adjust quickly and easily.
The Dyson diffuser disperses air evenly around your curls, helping to reduce frizz and improve definition. With the Dyson Styling concentrator, you can shape your hair one section at a time - without worrying about disturbing the rest.
While the Dyson Smoothing nozzle dries hair gently using smooth, wide air. With Heat Shield technology, the surfaces of the attachments stay cool. Even during close‑up styling.
Its long 2.7m cable also ensures you've got plenty of slack with all the freedom to reach your mirror to dry your hair. The only thing you must bear in mind is that the cable's fed downwards out of the plug connector, which may be a problem if your plug boards are low to the floor. There's even a removable filter at the bottom of the hair dryer for easy cleaning.
---
What Is The Temperature ?
A microprocessor measures and regulates air temperature 20 times every second, keeping the temperature under control, which helps prevent extreme heat damage to protect natural shine.
With the Supersonic Hair Dryer, heat and power settings can be adjusted quickly, ensuring controlled, high velocity airflow.
Four precise heat settings;
- 100°C Fast drying and styling
- 80°C Regular drying
- 60°C Gentle drying
- 28°C Constant cold
---
​As a professional hairdresser I am pretty hard to please and was very sceptical about this in view of the hefty price tag. I thought it would be style over substance...and I was very wrong. Having been bought it as a gift I have to say it is fantastic - and all of my family and friends who have tried it agree. It never feels hot on the scalp as so many dryers do, is easy to use, light, great attachments and delivers voluminous, shiny hair in super quick time....even my friend who is not great at blowdrying made her hair look amazing with this. Great for any hair, but this would be particularly good on thick hair that takes ages to dry - if you can get your hands on one I doubt you'd be disappointed.
Mooama 
Prices
So, the question is, is £300 too much to pay for a hair dryer? Ultimately yes, but this is no ordinary hair dryer. This is a modern, bold, bright coloured dryer, it's stainless-steel housing is beautifully designed. With its elongated handle and empty void-like barrel, the Supersonic looks nothing like a conventional hair dryer.
You're not just paying for the good looks for the supersonic dryer, but also its individuality, Dyson have decided to place the Motor in the handle rather than the head making it bottom heavy. This goes against the traditional hair dryer design, but the results are surprisingly effective.
This design allows the Supersonic to shed some weight, making it lighter to hold. Dyson says it's also in a better position to take advantage of the company's unique Air Multiplier technology to dramatically increase its overall power.
---
Our verdict
Overall when you look at all the fabulous features to the amazing Dyson supersonic hair dryer I really do think this is one of the best hair dryers for the money. It is stylish, quieter, lighter and overall better to use for the service user.
If this isn't enough to persuade you to part with this amount of money you are also guaranteed 2 years warrentee i think it is well worth the investment and you will be missing out if you don't give it a go. 
Things we like:
2 year warrentee
Dries in nearly half the time 
Hair appears smoother and straighter 
Quieter
Things we don't like:
Pricey 
No lighter than its rivals