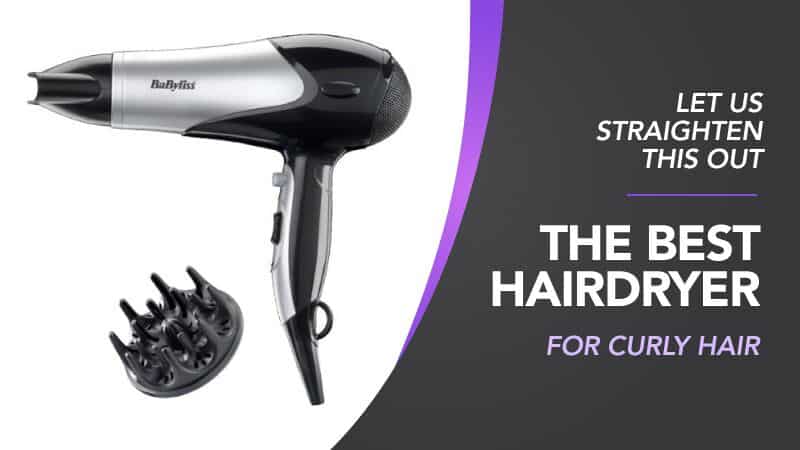 Best Hair Dryers for Curly Hair 2021
Curly hair is not always easy to deal with, especially if you are trying to tame it enough to style it.
We understand the struggle, and finding a hairdryer that can cope with your curls (especially thick ones) without taking hours to do the job can be pretty tricky. 
Dyson Supersonic Hair Dryers
Plus, there are so many different brands and models on the market that you can be left feeling a little lost and confused, especially if you don't quite know what your hair needs.
That's where we come in to offer some advice, and to help you find the best hair dryer for curly hair.
We have put this guide together, compiling all of the relevant hair dryers reviews in one place, so you can find the best model to tackle your curls.
---
Best Hair Dryer for Curly Hair
---
Best Hair Dryer for Curly Hair (In Order)
1. GHD Air® Drying Kit Professional Set
Editors Pick
  Highlights -
Suitable for all Hair types
Trusted Brand - GHD
Great Value
Ionic technology
Just about everyone has heard of GHD, and they are a successful brand because they know exactly what their customers want and when they want it.
Have a peek at the hair dryer foryour hair reviews below to see if this is the model for you.
This funky and well-designed hairdryer has a professional look and feel, as well as the strength you would expect from a salon model.
It uses ionic technology to provide you with smooth and silky hair that not only looks better, but feels healthier than it was before. Plus, you won't be left with any of that frustrating frizz.
It provides you with the option to choose the speed and temperature, allowing you to have control over how your hair is dried and styled.There is even a cold setting if you find that you need it.
The ergonomically designed handle also makes it comfortable for left and right-handed people alike to hold and use it, and it even comes with a brilliant diffuser.
Some customers have found this product a little heavier than others compared.
This reasonably priced hair dryer comes from a trusted brand in the hair and accessories industry.cIt offers you so many benefits when it comes to taking care of your curls without damaging your hair or leaving it dry afterwards.
While it can be a little heavy to hold, it is suitable for those who use their left or right hand, and also has a bunch of great features that will make your hair-drying experience a much nicer (and faster) one.


Good For:
GHD - Trusted Brand in the Hair Buisness
All Cury Hair Types - Variable power and temperature controls
Healthy - Ionic technology for smooth shiny hair
Quick Dryer - 100 Watt AC motor at 240 v
Styling - A cool shot button
---
2. Dyson Supersonic Hair Dryer
Runner Up
  Highlights -
Quick drying hair time
Variable temperture for different hair type
Professional
Trusted Brand
Accessoried included
Dyson is a big brand, and one that most people know. While their vacuum cleaners and fans are their most popular products, they have recently moved in hair care, and this hairdryer could be everything you wanted and more.
This hairdryer has a really funky and modern design that no other has. With the classic Dyson purple around the nozzle, it will fit right in with the rest of your products.
It comes with some brilliant attachments, including a diffuser nozzle, styling concentrator, smoothing nozzle, and a non-slip mat, so you have everything you need to start looking your best.
It has three speed settings and four superb heat settings, so you always have the exact speed and heat that you want when drying your hair.
The airflow is powerful as well, so you won't need to worry about it taking ages to get your hair dry. Plus, the cable is a great length, giving you more flexibility.
Customers found the price a little higher than others compared on the market.
While it is true that the price of this hairdryer is relatively high when compared to the rest of the market, Dyson always strives to be the best they can with all their products – and the hairdryer is no different.
For a truly amazing experience that will really work to get rid of the frizz and leave your hair beautifully smooth as well as healthy.
It may cost a lot, but it is worth the extra expense and might just be worth saving up for.
Good For:
Variable for all Hair Types - 3 precise speed settings & 4 precise heat settings
Accessories - Comes with smoothing nozzle, styling concentrator, diffuser, non-slip mat and storage hanger
Quick Drying Hair Time - 41 litre per second airflow
 Check Prices / Read Our Full Dyson Supersonic Hairdryer Review 
---
3. Wazor Professional Hair Dryer with Diffuser Attachment 
Best Hair Dryer for Curly Hair With a Diffuser
  Highlights -
Volumizing diffuser
Negative ions blow dryer
Options for different hair type
Cool shot button
2 year warranty
MHU Is a great brand to go for if you are searching for a hairdryer that provides excellent results and comes from a reputable brand. Have a look at the reviews below to see if this is the hairdryer that you need.
This hair dryer has a classic look and comes in black, giving you the salon feel at home.
It uses far infrared heat, which provides you with a faster drying hair time of up to 50%, so you don't have to spend ages waiting for your hair to be perfectly dry.
It also uses negative ions, which leave you with softer and healthier hair without any of the frizz. It comes with three heat settings and two different speeds, so you have more control over your hair and the drying process.
It also has a cold setting should you need it to help set your style. This hairdryer also comes with two attachments, a concentrator and diffuser, making it easier for you to achieve your desired look.
Some customers have found this product a little heavier than others compared.
This budget hair dryer comes with a superb diffuser that is sure to help you tame your hair in no time at all.
While there have been a couple of issues with the cord and weight, these are few and far between when compared to the number of customers who are thrilled with this model.
With some fantastic features that are sure to blow you away, this is one to watch out for.
Good For:
Quick - Far infrared heat, quick drying time by 50%
Healthy Hair - Negative ions, resulting in softer, healthier hair with no frizzy
Options for Hair type - 2 speed (high-off-low), 3 heating settings (high-medium-low)
Styling - A cool button
Curly Hair - Concentrator attachment (7.5cm) and volumizing diffuser attachment (13cm)
Guarentee -1 year replacement and 2 years warranty
 Check Prices / Read Our Full Wazor Professional Hairdryer Review 
FAQ'S
 Q. What length is the cord?
 A. Its very long, 250cms which is great for not getting tangled when drying your hair!
---
Further Models of Hairdryers
Here are some further models of hairdryers for curly hair, just in case the ones above do not quite meet your requirements.
4. JINRI 1800W Professional Salon Hair Dryer
This sleek and modern looking hairdryer uses infrared technology.
It works to reduce drying time by up to 50% and heating the core of the cuticle - so you can better utilise your time.
The negative ion technology that has been incorporated means that static and frizz are greatly reduced, leaving you with healthier and better-looking hair.
There are three heat settings, as well as two speeds and a cold function, giving you a little versatility when it comes to your style.
Plus, the rear filter is removable for a longer lifespan, and it comes at a seriously brilliant price.
5. T3 Featherweight Luxe Ion Hair Dryer
This hairdryer promises to give your hair more body, more shine, better style retention, and a massive reduction in the amount of frizz you experience.
It also improves drying time by up to 75%, so you don't have to spend the best part of an hour trying to get your hair dry.
You can choose the heat and the speed, allowing you to pick a method that works best for your hair.
Using advanced drying technology, it gets through each section of your hair quickly and without causing damage to your hair by using negative ions.
Available at a reasonable price, it's one that you will want to take a look at before you decide on a hairdryer. 
To Conclude 
Hopefully, this guide has helped you to find the best hair dryers for curly hair. It can be difficult to tackle frizz and curls, especially if your hair is thick, and that's why we collected the best options for you on the market.
Whether you have a low budget or are looking to go all-out on your next model, we have something here that fits in with your needs.
Plus, there is a range of brands to choose from, so you can go with big names or smaller companies.
We have also reviewed the best hair dryer for fine hair, this is important to read about because not only can you have thick frizzy hair but thin frizzy hair is possible to.
What did you think of our best hair dryers for curly hair guide? Are there any that you would have liked to see or recommended?
We love hearing from you, so make sure to leave us a message in the comments below. Take a look at our guide on how to keep your hair dryer clean.
---