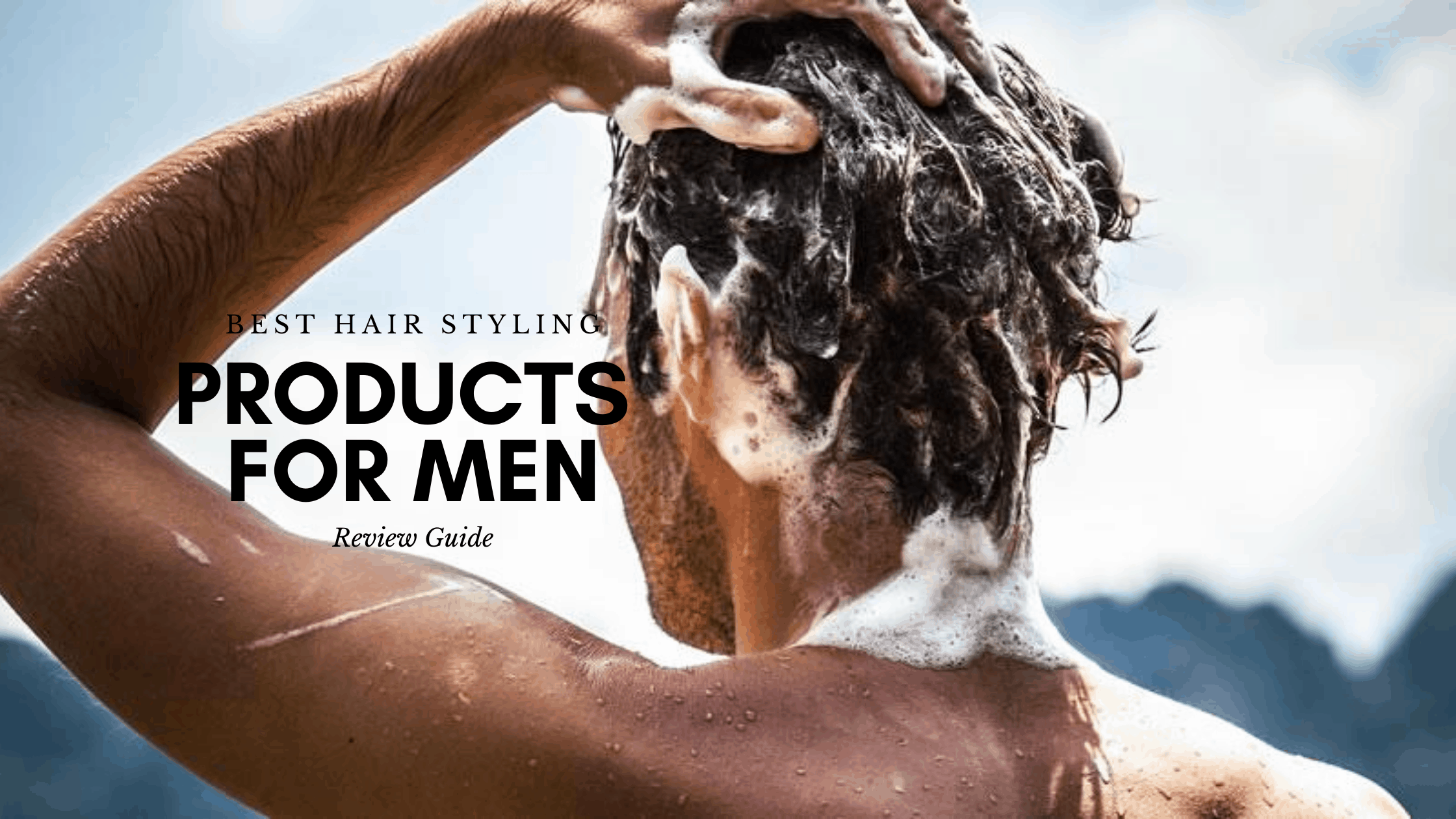 Best Hair Styling Products for Men - 2021 UK Ultimate Product Review Guide 
Good hair is the key to an amazing first impression, as well as helping you to feel good about yourself. It's important to take care of it every day, to help keep it healthy, but also to keep you looking great each day.
However, there are so many different products on the market that it can be impossible to determine what you need to keep your hair looking fantastic.
That's why we have put together this brilliant guide of the best hair products for men, helping you to decide what you need for your hair.
Take a look, we're sure you'll agree that this is one of the top 10 men's hair product guides.
---
How to Choose Hair Styling Products
As we mentioned before, it can be really tricky to figure out what you need for your hair. In this section, we look at some of the factors that can help you choose the right styling product for you, leaving you with great hair and boosted confidence.
The first things you need to think about are the price and the brand.
How much are you willing to spend on your styling kit? The prices can vary quite considerably, so this is an important feature to take into account.
Once you have set yourself a budget, the list of options can be narrowed to make the decision-making process a much easier one.
After that, you can put your focus on the brand. A lot of people have a favourite that they like to use for your hair, and if you don't have one yet this guide might be able to help you choose.
Of course, remember that brands come at a price much of the time, so keep this in mind when you go to set your budget.
So now you need to choose what kind of styling product you want, and there are a lot to choose from.
We will go through some of the most common ones to give you a good idea of what you need to be thinking about when you go to look for hair styling products.
First, you have gel. This is the one that people use the most, and the one that works hardest to keep hair still and perfectly styled all day.
When applied to wet hair, it helps it to keep its shape, and also keeps your hair shiny.
It comes in different strengths, which is good for different hair types, so you are sure to find something that is strong enough for you.
Next is wax. It may surprise you to know that this is a fairly new product in the big scheme of things, but it is also incredibly popular.
It's really versatile, allowing you to give yourself a style reminiscent of bed head, or one that looks a little more sophisticated.
It's definitely one of the best ways to style your hair, but if you have curly hair try to avoid it – it tends to clump.
Creams are the third most popular form of hair styling product, and for a good reason.
The great thing about creams is that you are able to fully control your hair and leave it with an amazing shine, all without sacrificing the natural look of your hair. It's perfect for hair that is thick, curly, or very coarse.
The final thing to remember when you are trying to choose styling products is that reviews are important.
 You should always read them before you make your choice, as customer feedback can often be very honest and helpful when it comes to seeing if a product is worth it. Of course, you have to make your own decision in the end, but customer reviews can definitely lend a helping hand.
---
Things to Look For
When you go to select your hair styling products, there are a couple of additional features that you might want to bear in mind – a few things to consider. Some hair styling products, especially creams, may contain moisturising ingredients like silk amino acids, olive oil, or chamomile.
These help your hair to become softer and brighter after application, which can be a huge bonus if you have particularly dry and coarse hair.
Some styling products have an added fragrance, and this can be a make or break feature for some people. After all, an aroma that is too strong can be lingering and off-putting.
Similarly, a pleasant scent can leave you wanting to make a specific product your regular one. It's all down to personal preference, and it is something that should be taken into account.
Now all that's left is to find the perfect product for you. Take a look at the detailed reviews below to see if the right one for you is here.
---
Best Men's Hair Products UK - In Order
1. Goldwell Style Sign Roughman Matte Cream Paste
Best Hair Cream For Men
  Highlights -
provides instant hold
Suitable for all hair types
Controls even stubborn hair
Provides colour protection
Hair cream is a great way to achieve the style you want with very little effort or mess.
This product from Goldwell can do exactly that for you, and all at a reasonable price. Take a look and see if this is the right one for you.
This cream could also be classed as a paste, and will give your hair a fantastic matte finish. So, if you are trying to avoid the shine, definitely think about investing in some of this.
Easy to apply, it provides an instant hold that will last you the entire day without hesitation. 
Suitable for all hair types, it doesn't matter if you have hair that is long, thin, short, or curly – it will work wonders for you.
With control for even the most stubborn hair, there is nothing that this cream can't conquer when it comes to style.With additional feature of colour protection, even dyed hair can benefit
It can leave a slightly greasy texture.
Despite the texture that some experience after using it, this cream is a great option for those that want a strong hold on their hair and to take advantage of a range of excellent styles.
Easy to apply and suitable for all types of hair, this well-priced product might just be the best for styling your hair.
---
2. Da Dude Da Hairspray for Men,Strong-Hold-Hair-Spray
Best Hairspray For Men
  Highlights -
Works with all lengths of hair
Leaves no flaky residues
value for money 
strong hold hairspray
matte finish
Da' Dude is a brand that pops up a lot, and this is because they are so popular and provide excellent quality hair products. This hair spray is certainly one of them. Take a look and see if it's the right choice for you.
If you are looking for a hair spray with a matte finish, then you don't need to look any further than here.
It has a unique design, which means that when you spray in layers you will find yourself with a stronger, more precise, hold that's unlike anything else.
It works for all hair types and styles, so it doesn't matter how thick, thin, long, or short your hair is, it's going to work amazingly.
There is no flaky residue either, which is often a welcome fact, and when you want to remove it, all you need to do is brush it out. Plus, it comes with a fresh fragrance that is sure to get you compliments.
The price can be a little high and the canister quite large.
The bulky size of the can and the slightly higher than normal price are the only two downfalls this hair spray really has.
However, if these things don't bother you too much, there are so many positives that this spray has.
From the incredibly strong hold to the lack of flaky residue, this is certainly the hair spray to go for if you want something that won't leave you itchy and irritated.
---
3. Toni & Guy, Styling Mattifying Putty For Men
Best Putty For Men
  Highlights -
Rough and disheveled
medium hold
trusted brand 
casual matte finish
more products available in this collection
Toni and Guy are probably the most well-known brand on the market. Practically everyone has heard of them, and most people have bought their products at least once.
A brand with trust and respect, there is very little that can go wrong with this hair putty.
This putty is easy to apply, allowing you to create a textured and medium hold style in a matter of seconds. Gentle on the hands, it is easy to wash off afterwards, so you aren't left with a residual feeling of being coated in putty.
If you are looking for a casual matte finish, then this is definitely the best product for you. It can be spread through hair that is damp or dry before you style, offering you a little more versatility when you go to sculpt your hair.
Some find the smell of the product to be a little strong and unappealing.
Reasonably priced, especially from such a large brand, this putty can fit into just about any budget comfortably.
A versatile putty, there is so much that you can do with it, and so many styles that you can give your hair. For those that want something strong and reliable, this is definitely the way to go for better hair.
---
4. Black and White Pluko Hair Dressing Pomade
Best Pomade For Men
  Highlights -
tried and tested brand
versatile hairdressing pomade
Lightly fragranced with coconut oil
Suitable to all hair types
If you are looking for a shiny and slick appearance that does not wear out over the course of the day, Pomade is what you need.
The best one, in our eyes, comes from leading brand Black and White. Take a look and see if it's the right match for you.
Tried and tested by hairdressers and barbers across the country, Black and White is a favourite for many.
Their pomade is just as popular as their other products, and the light coconut oil fragrance that comes with this one is one of its starring features.
The pomade itself is versatile, allowing you to sculpt, mould, and create your ideal style. It also allows you to add texture to your hair – making it thicker, more volumized, and generally better.
With light control, the finished results leave you with a shine that you are sure to appreciate.
It can be difficult to wash out. 
Reasonably priced, this affordable pomade is great for those that want a lasting shine when they finish styling their hair.
With a delightful yet light fragrance, this pomade smells amazing, and does an equally superb job of keeping hair in place and under control. Whatever the style, this pomade will do it for you.
---
5. Da Dude Da Wax, Hair-Wax-Strong-Hold Matte Finish in Bamboo Tub
Best Wax For Men
  Highlights -
all day long hold 
great value for money 
suitable for all hair types
super firm hold 
ability to sculpt and restyle
Da' Dude is a leading brand when it comes to hair products, and it is one that you should definitely take the time to look at.
If you are searching for an amazing wax that provides excellent results, this might be the one for you.
Easy to apply, this wax will give you an amazing finish, and one that will leave you telling your friends what you are using to style your hair.
It works to add texture to your hair, while also providing a level of separation so that you have the freedom to make your hair the way you want it.
It's perfect for hair that is either short or medium in length, and it works on all hair types.
So, whether your hair is thick or thin, straight or wavy, you will be able to use this wax to create the ultimate style. Just be careful if you have very curly hair as wax can be prone to clumping.
The price is a little higher than most, and it can struggle with medium length hair.
While the price point may be a little high compared to other products, this does not mean it isn't worth investing in.
With superb results, this wax makes a great companion to any stylish man who is looking for a firm hold on his hair. Easy to apply and suitable for all types of hair, you'll be looking fine and suave in no time at all.
---
6. Redken Aerate Body Mousse
Best Mousse For Men
  Highlights -
hold all day 
great value for money 
versitile for styling
lightweight on your hair
resistant to hot weather
Hair mousse is also known as styling foam, and it is a versatile way of keeping your hair looking and feeling great.
If you are thinking of using a mousse for your next style, look no further than this nifty product from Redken.
This mousse features an innovative and aerated texture, leaving it feeling light on both your hands and your hair.
It's easy to apply, and is sure to keep your hair and style in one place throughout the day. Plus, it washes off your hands and out of your hair easily.
It has been developed with an exclusive bonding system that provides long-lasting protection against humidity – so in the hot weather, you won't find your latest style melting in the heat.
It also helps to give your hair volume, making it appear bigger and better than ever before.
Some have noted that it can leave hair feeling a little pasty.
Reasonably priced, this mousse is good for those that want something a little different to style their hair, and something that will last throughout the day.
Resistant to hot weather, you won't find yourself needing to reapply this mousse in the heat.
Despite the pasty feeling described by the few, the majority of people find this to be one of the best styling products on the market – and definitely, one for you to look into.
---
7. Bed Head by Tigi Oh Bee Hive Dry Shampoo for Volume
 Best Dry Shampoo For Men
  Highlights -
Volumising dry shampoo



light matte finish

Absorbs excess oils

Leaves greasy hair feeling clean

Easy to reset hairstyles 

great for use on all hair types

TIGI are one of the best at what they do, and this dry shampoo is an excellent example of that.
Aimed at men and women, it is the dry shampoo that you will want to keep tucked away with you for those rushed mornings and last-minute remembrances.
This dry shampoo works easily, with a simple spray mechanism that covers your head without leaving a powdered residue after.
It works hard to remove the excess oils that weigh your hair down and give it that greasy look.
So, if you have no time for a shower before work, or forgot to wash your hair, this could be your new best friend. It creates massive lift at the roots, giving your hair a little more volume when you are finished with the application.
It also has a light hold, so your hair will generally stay in place throughout the day. Perfect for those with short hair, it's definitely one to look out for.
Some feel that it does not do a great job with incredibly greasy hair, and it can be a little trickier to apply to long hair.
Reasonably priced, this is a great option for those who often find themselves in a rush when it comes to leaving the house.
Despite its niggles and downsides, this dry shampoo offers an excellent solution to a surprisingly common issue. When you go to purchase a dry shampoo, make sure you check this one out first.
---
8. American Crew Fiber High Hold
Best Natural Look For Men 
  Highlights -
High hold with low shine.
helps thicken, texturize 
Provides a strong, pliable hold
matte finish
Sometimes the best look is a natural one, and it is often the best one to go with if you are unsure as to how to wear your hair.
For something subtle yet powerful, take a look at this product and see if it's the one that suits you best.
If you are looking for a matte finish, then you should definitely be considering this product.
 After all, part of a natural look is not having too much shine on the finished result. It has a high hold, keeping your hair in place without weighing it down too much, but also giving you the flexibility to change things up yourself.
The fibre-like ingredients in this product also mean that it helps to thicken your hair, increasing its overall fullness and feel.
It also helps to provide additional texture, with the addition of a pliable hold and overall smooth finish. It works best with shorter hair, so if you have long hair, it's best to avoid this.
It can be a little tricky to handle and sets quickly.
At a low and budget price, this is something that anyone can slot into their shopping when they are looking to buy affordable hair products.
It's great for those that don't want to spend a lot and still want something that provides excellent results. With a high hold and lightweight feel, this matte product will give you the natural look you want in no time at all.
---
9. Catwalk by Tigi Curls Rock Amplifier Curly Hair Cream for Enhanced Curls
Best Mens Product for Curly Hair
  Highlights -
define curls and waves
protects curly hair from humidity and frizz
 lightweight, long-lasting hold
Creates texture and shine
Another one from this ever-popular brand, the Catwalk amplifier is suitable for men and women alike – so don't let the name put you off. Take a look and see if your curly hair could benefit from this excellent product.
Curls can be hard to control, and they can be difficult to style – especially when so many products tend to clump in them.
It makes it harder to purchase products for styling, and that is where this spray comes in.
It has been made to protect and nurture your curls. It enhances your natural texture, while also giving you full control and the ultimate hold for your style.
You can use it alone or with a selection of TIGI serums, depending on the overall look you are hoping to achieve.
It can be a little greasy and sticky.
Reasonably priced, TIGI is the company to go with if you are looking for help with control and/or style for your curls.
Anyone can slide this lifesaver into their budget, and it works wonders for those with curled hair. Whether it's thick or thin, you will no doubt see a difference after using this spray on your hair.
To Conclude
Hopefully, this guide helped you to find something that was perfect for you. With a versatile range of products at great prices, you will be able to find a styling product that works for your hair and your wallet.
From waxes and gels, to creams and mousses, we have a little bit of everything listed here for you. When it comes to finding the best hair products for men, you only need this guide.
What did you think of our selection? Are there any products that you would have added to the list? We love hearing from you, so leave us a message in the comments below.