2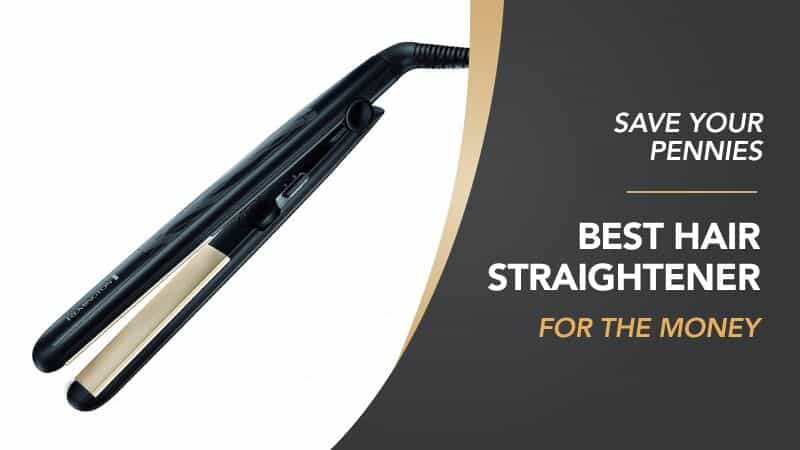 Save Your Pennys - Best Hair Straightener For The Money 
HAIR FRIZZ is now a thing of the past.
With the latest styling tools that are lightweight, sleek, and locks-friendly.
Sometimes you dont want to spend your life savings on the latest hair gadget. Well heres the thing. You dont need to. 
We have found plenty of hair straighteners on a budget, that will exceed your greatest expectations. 
Therefore the tools reviewed are arguably the most revolutionary styling tool to launch in the last 10 years.
As a result of the new technology, whether it's for short, long, thick and thin, there is also something that will suit you to join in. So lets be creative and be a part of the hair fashion this year.
TONI&GUY Style Fix Straightener
BaByliss Pro 235  Straightener
---
Finding Your Hair Type Needs -
In addition it can be difficult to determine exactly what straighteners you need. First of all a person with fine curly hair needs a different straightener to someone with thick coarse hair.
For this reason you will need to consider your hairs natural texture. From here on in once you have figured this out and know your hair type, searching for the perfect hair straighter will probably become a breeze. 
Similarly there are different types of material plates on straighteners and as result gives benefits to different types of hair for different reasons.
Therefore which we will cover within the website, there are also different size plates, thin and long, short and wide. In my opinion these all have their own reasons and will above all help you sway towards particular brands and models that will benefit your hair the most.
---
Prices - 
Next, straightener prices can range as much as £20 - £300, depending on the material of the plate and the reputation of the brand, hence why it is important that you spend the time to pick a pair that suits you best.
So let's get started, below we have helped narrow down the choices in detail, so you can match the right widths, plates, temperature limits according to your hairs needs and your budget.
---
Quick Reviews - 
In the meantime if you don't have enough time to sit and read the reviews for all the straighteners, to whittle down which is best for you, you don't have to.
All things considered i have created a handy guide below that can help you quickly sort through the top options we have recommended as some of the top available straighteners on my website.
Therefore if you fancy grabbing a cup of tea and spending some time with us just start clicking through the different options, read our reviews and get a more detailed picture of the model you're interested in and whether it suits your hair.
Also, just remember no matter which option you choose to find your perfect flat iron, ultimately this website is designed to be quick and helpful.
---
Furthermore you must understand that there is that many different styles of different brands and that some will overlap and you may end up falling into a few different styles of straighteners,therefore you will just have to choose your favorite.
Also if you have an idea on the straightening iron you would like to buy then continue on to read the different categories below.
Consequently if you are a novice and would like to know the different types of irons, then head over to our straightening 101 page to learn the basics of the information you need to know before reading the full reviews.
Best Hair Straightener for the Money (In Order)
1. TONI&GUY Style Fix Straightener
Editors Pick
  Highlights -
230 C variable digital temperature
25 mm floating plates
Tourmaline colour lock technology
Auto shut off
Temperature key lock
The Good
Create a professional flawless finish with the TONI&GUY style fix Straightener. Designed to deliver precision styling with ultra smooth, high shine results.
Featuring a variable 230°C digital temperature control, 25mm floating ceramic tourmaline plates, colour lock technology, an auto shut off feature and a 3m salon length cord for added styling freedom.
The Not So Good
There are no negative reviews from customers.
Our View
This professional straightener straightens with one glide through the hair, superior heater technology and 25mm floating plates result in flawless hair.
Designed to protect your hair & colour with the Tourmaline plates, its unique Colour Lock Technology is developed to enhance shine, smooth hair follicles and lock in colour as you style.
This Professional Straightener heats up in seconds with variable digital temperature controls and a maximum temperature of 230C.
Salon Tested Professional Performance guaranteed, with a 3m salon length cord for ultimate styling freedom and 5 year Guarantee. 
Good For:
Salon Quality - Salon Tested Professional Performance guaranteed
Reliable - 5 year guarentee 
Colour lock technology - Colour Lock Technology is developed to enhance shine, smooth hair follicles and lock in colour as you style
---
2. BaByliss Pro 235 Elegance Straightener
Runner Up
  Highlights -
Up to 235°C salon temperature
Ceramics heating system
Ionic technology
nano-ceramic plates
Three temperature settings
Firstly, the look of hair straighteners will play a part in a buying decision but when it comes to deciding what Titanium ceramic hair straightener is worth buying.
The Good
As a result you'll find that this BaByliss product is well worth checking out for under £50 yet with the quality of a top end hair straightener.
In addition, the Titanium ceramic hair straightener warm up in just 15 seconds, so are ready for action when you need them.
The Not So Good
Some customers feel these took a little while to heat up.
Our View
Good For:
Salon Quality - Up to 235°C salon temperature performance
Quick to use - Ceramics heating system, ready to use in 15 seconds 
Longer Plates - It is 25% longer nano-ceramic plates
---
3. Corioliss C1 Platinum Zebra Professional Titanium Styling Iron
Best
  Highlights -
professional 360 swival cord
perfect for all hair type
titanium floating plates
pro veriable temperture control
ideal for straighting curls or flicks
Firstly, hair straighteners have to be functional but there is nothing to say that they cannot be stylish as well.
This is  also why the Corioliss C3 Hair Straightener Silver Paisley design is regarded as a great option for anyone looking for the best standard of hair straighteners on the market.
Furthermore, these straighteners have slim line plates and are designed pacifically for shorter hair and close styling.
The Good
In addition, the Corioliss C3 Hair Straightener Silver Paisley product may not be the top selling brand but with an ergonomic design and very good quality, you'll find that these hair straighteners won't let you down.
The Not So Good
Few customers feel these straighteners did not glide through their hair as well as others.
Our View
Good For:
Thin plates - It also has long thin plates suitable for shorter hair
Variable - Next Variable temperature to suit different hair types
Short styling - It is also perfect for short hair and close styling
---
4. H2D Hair Straightener
Best Budget Wide Plate
  Highlights -
Tourmaline ceramic plates
40mm wide professional plates
Advanced ceramic heaters
Ultra quick heat up
Firstly, while there are some hair straighteners which are brilliant for a range of hair types, there are some people that need to call on specialist help to ensure their hair looks at its best.
The Good
Furthermore, the H2D wide professional hair straighteners have been specially created with thick hair or difficult to tame hair in mind.
In addition, the fact that these straighteners have been classed as one of the best hair straightener for Afro-Caribbean hair makes them an obvious choice for many people.
The Not So Good
They can be a little bulky to use whilst styling your hair. Customers feel an automatic turn off safety feature would be useful.
Our View
Also it isn't always easy to find hair straighteners that tackle wilder or tougher hair but the heat and power on offer from the H2D straighteners should ensure that people can be confident of looking at their best at all times.
In conclusion, please read here for a full review for the best hair straighteners for the money.
Good For:
Great for Fine hair - It also has 200C variable Digital temperature, which is great for fine hair as you can turn down the heat
One glide - Moreover one glide through the hair is mostly enough to straighten that section of hair
Budget - Ultimately the best hair straighteners for Afro-Caribbean hair for the money
---
5. Remington S9600 Silk Straightener
Budget Straightener for Curling
  Highlights -
Silk ceramic coating
ready to use in 10 seconds
Memory function
temperature display
Hottest straightener 
Firstly, Remington is a brand name that everyone associates with quality beauty products, and if you want to look and feel at your best, the Remington S9600 silk hair straighteners are the quality straighteners you have been looking for.
Furthermore, with an auto shut off feature after 60 minutes and a 5-year guarantee, there is a degree of safety and reliability on offer from these straighteners. 
Therefore you won't find with too many other similar products on the marketplace.
The Good
Straight, smooth glossy hair that shimmers like silk is always in style. Poker straight hair is easy to style and tease into up-dos and pony tails for a sleek, well-groomed look.
Achieve this with the Silk Ceramic Straightener – its Silk Ceramic coating means it glides effortlessly through hair and reduces static and fly-aways for silky-smooth results.


The Not So Good
Few customers found the controls are right where you put your hand to hold them, so they tend to be accidently knocked.
Our View
In addition this is a big reason why the Remington straighteners are considered to be among the best hair straighteners for the money.
Therefore this is a ceramic hair straightener that you can rely and if you are looking for a professional straightening iron that you can trust for home use, look no further.
In conclusion, please read here for a full review for the best hair straightener for fine hair for the money.
Good For:
Hottest straightener - variable temperature 150 to 235 degrees with turbo boost to 240 degrees for 30 seconds
Display - Informative digital temperature display indicates the ideal temperature for your hair type
Memory function - remembers the last temperature setting you were using
---
Conclusion -
Finally we have reached the end of this post but hopefully we have helped you decide which hair straightener is best for you.
Also depending on your hair type and budget you have chosen to spend. If you have any questions about any of the products we have reviewed please feel free to leave a comment below and we will get back to you as quick as we can. 
Happy Choosing !