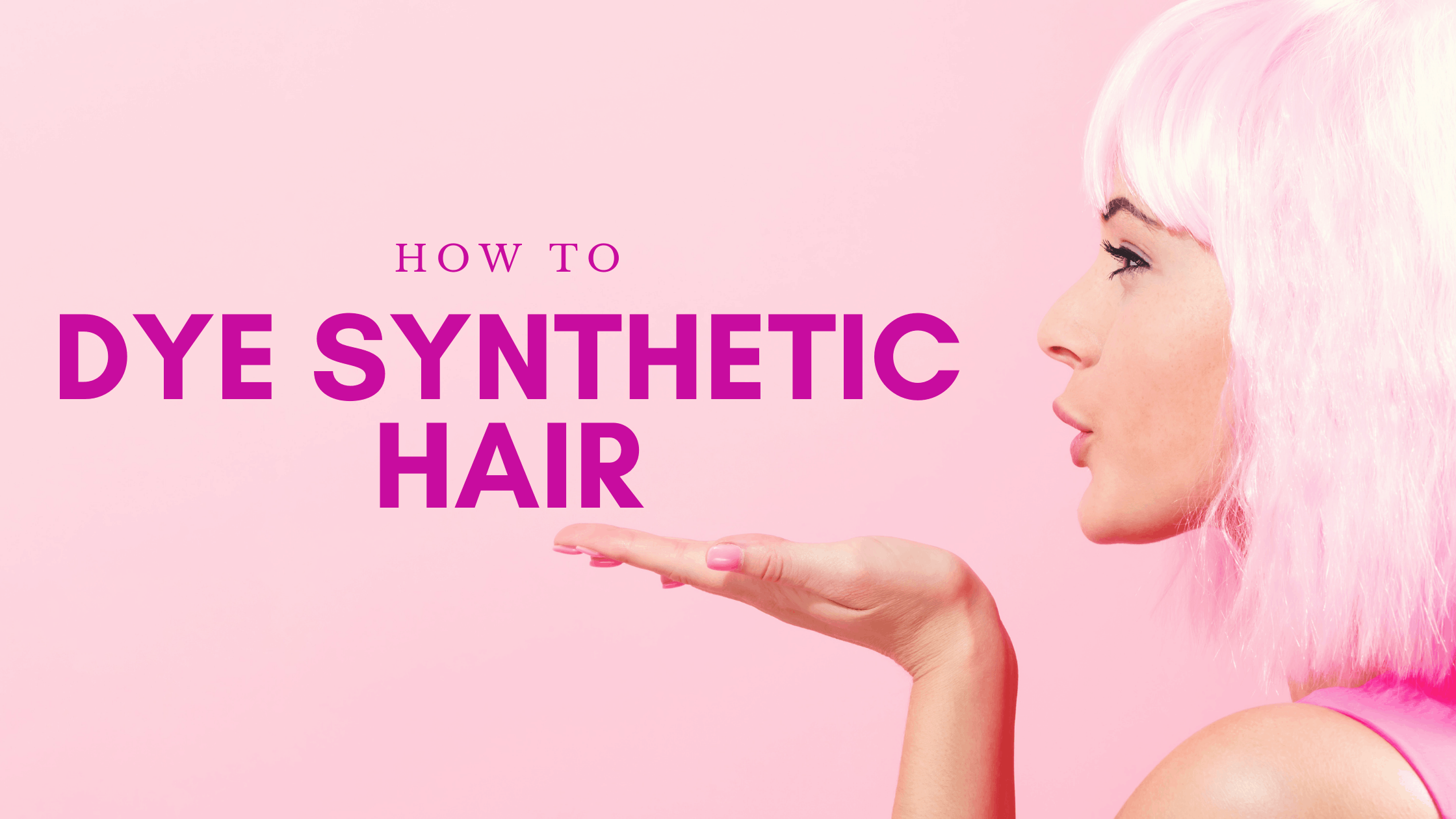 How to Dye Synthetic Hair?
Dye your synthetic hair in a snap of your fingers by following this simple
guide!

Synthetic hair is now considered an essential part of hair accessories. It
is enjoyable and currently on-trend in most parts of the world. But as
much as you love them, it is quite normal to want to spice things up a little
bit.

Contrary to popular belief, it is not that hard to colour synthetic hair.
At times, it also costs less, and you can dye it in any way you want to.
Before we look at some tips to help you dye synthetic hair, here are some
things you should know.
The Reality Behind Dying Synthetic Hair

You need to research even more thoroughly about the hair colour you want
when you are dying synthetic hair.
Most of the times, you must digest the fact that your synthetic hair might not turn out the way you wanted them to.For that, we suggest you use synthetic hair that you are not worried about ruining.

The kind of dye that you need to colour synthetic hair is different than the
one used on natural hair so research about that as well. Overall, we
recommend you to follow the right guide and have fun with the process.

So, is there a proper way to die synthetic hair?

Also, Read https://www.hairday.co.uk/how-often-can-you-dye-your-hair/.

You can apply some points from the above guide to the process of
dying synthetic hair, but there are other things to consider as well.
Synthetic hair is a lot different than your natural hair, so how can
you make sure you dye them the correct way? Here are some useful tips
that will help you to do it efficiently:-

1. Keep the temptation of bleaching miles away

This is a mistake you must avoid while you get yourself ready to dye
synthetic hair. Standard hair dyes are made for natural hair and won't work on wigs.
You will either end up getting a completely different colour than you expected or you will be left with damaged synthetic hair. To avoid that, it is better to keep yourself from the thought of bleaching.

2. Rock the dark coloured hair look

Now that bleaching is not an option, you might want to try some gorgeous dark colour options for your synthetic hair.
If you are thinking about dying a pastel wig, you might want to choose a colour option in the same range as the original. If you get a drastically different colour, the result might be unsatisfactory.

3. A clean wig is always good to start with

Dying synthetic hair is going to be a complicated process, so you have to try everything you can to make it easier.
Having dirty or oily synthetic hair can make the dying process tedious, which is why it's better to start with a clean wig. You should properly wash and dry synthetic hair before beginning the hair colouring process.

4. Decide on how you want to dye your hair

When it comes to dying synthetic hair, there are a couple of different options available. You can choose from alcohol-based ink, sharpie ink, etc.
If you wish to do it at home by yourself, it is essential to select an option that seems easier to you. The choice you choose might also depend on your budget.

5. Use the right tools and be patient

While you prepare to dye synthetic hair, make sure you wear some old clothes and have gloves on. Go layer by layer to make sure all strands are perfectly dyed.
Sometimes the hair dying procedure might take a while, so make sure you don't get frustrated. Be as careful as you can to make the hair colouring task easier.

6. Give your synthetic hair enough time to absorb the dye

Once you are done dying synthetic hair, you cannot just put it on your head. You have to give it enough time to absorb the new colour.
After some time, wash the hair with cold water to get rid of the extra colour on it. If you can, use a synthetic hair conditioner on it for better results.

Now that you know the basics of synthetic hair dying…
We hope that this article enables you to dye synthetic hair effectively. However, if you want to try the best hair colouring experience from the experts, visit KAPLANatelier, the best AVEDA salon in Nottinghill, London.