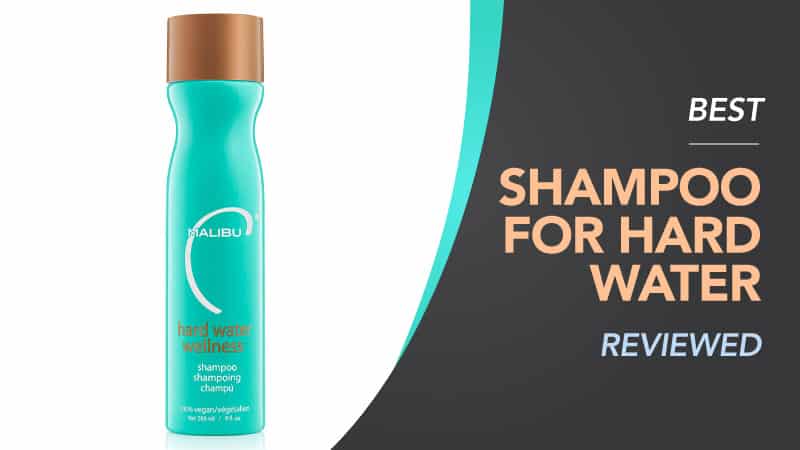 Protect Your Hair With the Best Shampoo for Hard Water
Hard water. It's a real pain when you are trying to get those silky locks looking their best.
It leaves our hair feeling dry, brittle, and our scalps itchy.
This is caused by the mineral buildup found in hard water on our hair and scalp. But how can you stop these horrible effects? 
The good news is that shampoo can help, which is why we have compiled this expert guide on the best shampoo for hard water.
It helps break down those pesky minerals and nourish your hair, so while you have to shower in hard water, your hair won't need to suffer any longer. 
Best Shampoo for Hard Water (In Order)

1. Malibu C Hard Water Wellness Shampoo
Editors Pick – Best Shampoo For Hard Water
Highlights –
100% vegan
Cleanses hair
Smells Citrus
Helps with hard water
Leaves hair softer and smoother
clarifying shampoo
A good vegan shampoo can be hard to come by, especially one that is made for dealing with hard water.
With this fantastic blend from Malibu C, your hair will be silky and smooth with no guilt because it's cruelty-free. 
The Good
This clarifying shampoo has a gorgeous fragrance that brings you to a tropical location and a smooth texture that feels good in your hands as well as your scalp.
Free from sulphates, it is kind to your hair and ensures that it is properly nourished without any oil stripping chemicals.
It's packed with natural vitamins that work to nourish your hair and replace what was lost due to hard water damage.
It uses surfactant technology to create something that is able to repair brittle and damaged hair while also cleansing it – leaving it soft, bouncy, and healthier than ever. 
Features
Size: 266ml
Hair Type: All
Cruelty-Free: Yes
Sulphate-Free: Yes
The Not So Good 
It can be a little hard to squeeze out of the bottle but works very well.
Our View
This is the cream of the crop and possibly the best shampoo for hard water on the market. It's fairly affordable, and the fact that it's cruelty-free offers peace of mind while cleansing your hair.
With this shampoo on your shelf, you can say goodbye to the effects of hard water and hello to hair that is silky smooth and healthier than ever. 
Read Here: How to protect your hair from hard water
---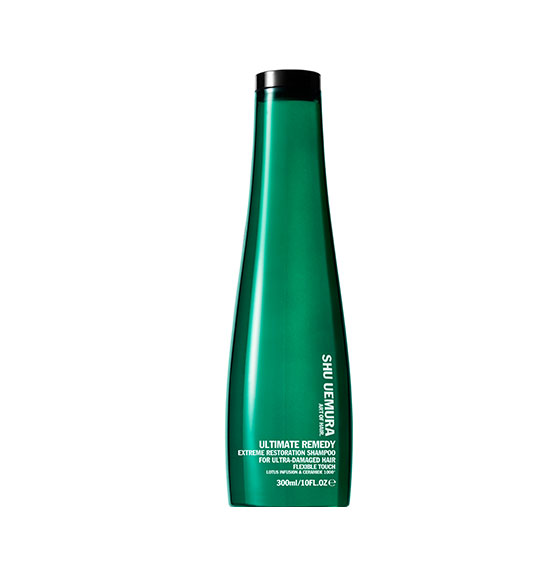 2. Shu Uemura Ultimate Remedy Shampoo
Organic clarifying shampoo Pick 
Highlights –
Restorative shampoo
Specifically for ultra-damaged hair
Strengthens the hair fibre
Gently purifying the hair 
clarifying shampoo
Offering peace of mind and gorgeous natural aromas, an organic pick often feels so much better than anything else. 
Packed with natural ingredients, this hard water shampoo is sure to leave your hair feeling silkier, stronger, and healthier than ever. 
The Good
This shampoo is the perfect remedy for hair that has been left flat and lifeless after prolonged exposure to hard water.
It contains the ideal balance of ingredients to remove mineral buildup on the scalp as well as on hair strands – all without damaging the follicles, scalp, or hair. 
It has been designed to strengthen the hair as well, providing you with a finished look that looks and feels better than ever.
It has a delicious aroma that lingers in the hair after use, and with regular application, you are sure to notice instant results that are here to stay – no temp fixes. 
Features
Size: 300ml
Hair Type: All/Dull
Cruelty-Free: No
Sulphate-Free: Yes
The Not So Good 
The only downside to this shampoo is that it's not cruelty-free, which means it is either tested on animals, or the company contributes financially towards animal testing. 
Our View
This shampoo for hard water isn't the cheapest on the market, but it is one of the most effective when tackling the effects of hard water. You don't need to apply much to your hair, and the results are practically instant.
It's a great way to boost your hair and add a little volume and shine to help you feel better about your hair. 
---

3. AreaH2o Hard Water Shampoo
Budget Pick for color treated hair
Highlights –
Gently Cleanses Hair
Shiner's hair
Causes fewer flyaways 
Removes Residue And Impurities
Improved lather using less water
Good for color treated hair
Affordability is key, and this shampoo for hard water review will show you that a higher price doesn't always mean a better product. 
Designed for those on a budget, this is the ideal option if you're looking to save some cash. 
The Good
One thing that this shampoo is able to offer is a lovely lather. It foams up wonderfully, really working into your hair and scalp so that all those nasty mineral deposits can be removed.
It is ideal for weekly use, maintaining hair that is shiny, healthy, as well as protected from hard water. 
It is free from parabens, which makes it much gentler on your head and safe for regular use.
It is also completely cruelty-free to offer you peace of mind and has a lovely tropical aroma. pH balanced, it also ensures that your hair is not damaged and maintains its natural properties. 
Features
Size: 250ml
Hair Type: All
Cruelty-Free: Yes
Sulphate-Free: No
The Not So Good 
It does contain sulphates, but it's still great for your hair and tackling hard water. 
Our View
This very affordable clarifying shampoo is the perfect choice if you are on a budget and want to keep your hair protected against hard water, especially for color treated hair.
While it does contain sulphates, it is free from parabens, ensuring that it is gentle on your hair and scalp for regular use. Just one application a week is all you need to fully benefit from this fantastic clarifying shampoo.
---

4. Color WOW Dream Filter Pre-Shampoo
Premium Pick
Highlights –
The filter collects and lifts off minerals
Protect optimal colour – color treated hair
Fragrance-free
Gluten-free
Phthalate-free
Good for chemically treated hair
We all need something a little fancy, and that includes clarifying shampoo. This pre-shampoo from Color WOW is the perfect way to start any day – helping you to battle against hard water to keep your hair looking and feeling as good as possible. 
The Good
This pre-shampoo comes in a spray form, which means it is applied to your hair when it is dry and left to sit for a few minutes before you shampoo.
It uses a completely unique formula that removes all the minerals and nasties from your hair quickly and efficiently when rinsed out. 
While you only need to use it once a week, it can actually be applied daily because it's so gentle on the hair. It even removes chlorine, which is awful for mineral buildup on the scalp.
Balanced and designed for the best results, your hair will be left looking shiny and feeling softer than ever.
Features
Size: 200ml
Hair Type: All
Cruelty-Free: Yes
Sulphate-Free: No
The Not So Good 
It's not the best choice for coloured hair, as it has been known to strip some colourants.
Our View
This hard water shampoo is a little on the pricey side, but it's also incredibly effective and does an excellent job.
It removes mineral deposits in record time, and while it isn't always best for use on coloured hair, natural hair is sure to benefit. 
You may even be shocked to find your hair a few shades lighter after using this clarifying shampoo regularly. 
---

5. KMS Head Remedy Deep Cleanse Scalp Shampoo
Anti-Dandruff Pick for Dry Hair
Highlights –
Removes mineral buildup
Gentle and light
 Lifts away dirt and impurities
Support internal reconstruction
Clarifying shampoo
Perfect for Dry Hair
Dandruff is often made a lot worse by hard water, and it can be a real pain to try and get rid of. 
So, why not find a hard water shampoo that will tackle the minerals as well as dandruff? That's why we have sourced this excellent option, helping you take better care of your hair. 
The Good
This clarifying shampoo will help you banish dandruff as well as the effects of hard water.
It works to actively remove the build-up from hard water, pollutants, minerals, and even past hair product that have decided to stick to your scalp and hair. The results? Silky smooth hair that you'll love. 
It is incredibly gentle on the scalp and hair, repairing damage as well as being safe for daily use as opposed to weekly.
It leaves your hair clean and healthy-looking, but most importantly, it also reduces and removes all dandruff that has been building up on your scalp – reducing itching. 
Features
Size: 300ml
Hair Type: All/Oily 
Cruelty-Free: Yes
Sulphate-Free: Yes
The Not So Good 
There have been no complaints about the effectiveness of this shampoo at the time of writing. 
Our View
This clarifying shampoo is fairly affordable and comes in an excellent size that is sure to last you a while.
It is easy to apply and lather, offering you a deep cleanse that takes care of every part of your head – from the scalp and follicles, all the way to the strands themselves. 
Perfect for all hair types, especially oily ones, it offers a balanced clean that will leave you feeling fantastic.
---
FAQs
Does vinegar remove hard water from hair? 
Yes, vinegar can remove hard water from hair. You can mix the vinegar with water to create a cleansing rinse that will break down the minerals and clean your scalp without causing it to feel dry, sticky, or greasy afterwards. 
It can also help to nourish and replenish your hair for a softer, silkier, and more natural look. If you don't want to use vinegar, you can use lemons and limes for a citrus rinse that is just as effective. 
Does hard water cause grey hair?
Yes, hard water can cause grey hair. While this is fairly uncommon, it does happen.
Similarly, hard water can contribute to the premature fading of hair dye – which means your roots will show faster, and you'll be back with your stylist more frequently. 
Does hard water cause dandruff?
Yes, hard water can cause dandruff as well as worsen existing cases. This is because hard water causes a build-up of calcium and minerals on the scalp, which can lead to dandruff or cause existing dandruff to become worse. As a result, it can also cause severe itching.
Read Here: Best shower head for hard water
Final Thoughts 
The best shampoo for hard water is fairly easy to find when you're using our guide.
Each product has been carefully sourced and chosen so that you can have the best results, and so that your hair benefits from excellent cleansing treatments. 
Our top choice would have to be Malibu Water Wellness for its superb cleaning capabilities as well as the fact that it helps to nourish and replenish your hair. 
However, Area H2O is just as good an option, caring for and repairing your hair but at a very affordable price. No matter which you go for, you are sure to experience a whole new level of love for your hair and yourself. 
What did you think of our shampoo for hard water review guide? Did you find what you were looking for, or are you still left wondering what the best choice is?
We love hearing from you, so make sure to leave us a comment as well as check out our hard water informational guides.