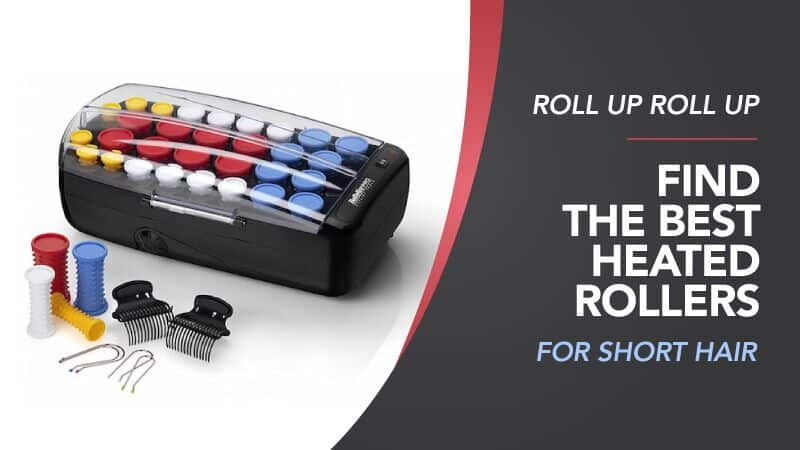 Best Heated Rollers for Short Hair
Short hair gives you so much FREEDOM when it comes to styling, despite what many others may think.
If you have kept your hair short but still want gorgeous curls, you can definitely achieve the look you want with a set of heated rollers.
Of course, it's not always easy to know which rollers to choose or which hot rollers are going to be best for your hair length and type.
Babyliss Pro Heated Rollers
Babyliss Thermo-ceramic Rollers
You'll be pleased to know that you're not alone. We are here to help you, and also to offer some advice, so that you can find the best heated rollers for short hair.
With so many heated rollers available on the market we really have put them through their paces.
With 40 hours of rigorous analysis, comparing 30 models to make sure they lived up to expectations. We are sure we have found the best.
We have put this guide together, compiling all of the relevant heated roller for short hair reviews in one place, so you can find the best set for you.  
Best Hot Rollers For Short Hair (In Order)
  1. BaByliss Pro 20 Piece Heated Roller Set
Editors Pick - Best Hot Rollers for Short Hair 
  Highlights -
Heated in under 5 minutes 
3 different sizes 
ceramic to help deliver frizz-free results
produce good, smooth, long lasting curls
BaByliss is a leading brand in the hair industry, which gives you the confidence to invest in a well known company.
This roller kit consists of 20 rollers, which are colour coded so that you know which size you are using.
So, whether you want small curls or jumbo ones, there is a roller in this box that will suit your needs.
It also comes with 15 clips, 30 colour coded metal pins, and a storage bag for you to put everything into safely.
It heats up 30% faster than previous models, and also gets 10% hotter for a firmer style that will last longer.
There are also two temperature settings so that you are in more control, and the indicator light will let you know when they are turned on.
Plus, you won't be left with any frizz once you take them out, so expect some seriously smooth results.
While it is quite a bulky piece of kit and one that can't really be carried around with you, it has so many great features and accessories that you won't think twice about picking it up for home use.  
This kit is perfect for those who like to create stunning curls with less effort.
It comes at a reasonable price, especially considering it comes from a leading brand, and has a load of great accessories.
Quick and effortless Curls 
Achieving multiple size curls 
Styling with ease (No need to be an expert)
Check Prices / Read Our Full Babyliss Pro Review 
---
  2. BaByliss Thermo-Ceramic Rollers
Best Budget Hot Rollers 
  Highlights -
Ceramic infused rollers
High temperature
Heat ready indicator 
Includes 20 fast-curl rollers
Another model from BaByliss, this kit of small heated rollers is sure to help you achieve the best possible style when you go to curl your short hair.
Take a look at the reviews for these heated rollers below to see if they are right for you.
These rollers are ceramic infused, which delivers heat quickly, but also ensures that it is evenly distributed for the best possible results.
They retain heat for around 15 minutes, but also cool down slowly for better results.
They are easy to wind as well, which means you won't end up frustrated that you cannot get them into your hair.
There are 20 rollers in three different sizes in this particular kit, so you are sure to be able to achieve your desired look.
It even comes with instructions on how best to use each size. Suitable for all hair types and with a secure hold, the style you choose is sure to last for hours on end, and the ready to use indicator will help to keep you safe.
This set of heated rollers is great for those with short hair that is on the longer side, especially since it means that they can utilise the entire collection of rollers.
However, for those who have quite short hair, the half that is usable is still worth every penny pain to purchase this kit.
With some great features and excellent heat retention, you will be left feeling quite impressed with the results.   
Good For:
Ceramic rollers helps to leave your curls looking smooth and shiny
They have been designed with cool ends so you can wrap the ends of the hair around
A plastic dot on the top which will turn from red to white when the rollers are ready to use
---
 3. Nicky Clarke NHS005 Compact Heated Rollers
Best Travel Hot Rollers
  Highlights -
Bag can heat up to 6 rollers at time in 10 minutes
Uses ionic technology 
Worldwide voltage
Another reputable brand, Nicky Clarke is able to provide some great heated roller so that you can create luscious curls and waves in your short hair.
Make sure you take the time to read the reviews for this model below before you buy.
These heated rollers come in a fantastic case that is portable and organised, so you can keep everything together in an orderly fashion.
It's a compact kit that makes it perfect for taking to a friend's house or on holiday with you.
Plus, it even comes with an instruction booklet that will help you to achieve your desired style.
The kit contains 12 thermoplastic heated rollers in one size, and they come in red and black so that you can mix things up a little.
There is also a selection of clips and pins for you to use. The bag is able to heat up six rollers at a time in 10 minutes, so you can get rolling in no time at all.
Plus, they use ionic technology to ensure that you are left with no frizz once you're done – leaving you with silky smooth results.
While they only come in one size, which can be a little disappointing, they still do an amazing job of curling your hair and also come in a nifty heated bag.
The bag makes it a compact and transportable kit, so you can take it with you wherever you go. It's a brilliant choice at an even better price.

This heated roller kit is highly affordable, making it perfect for those who are on a budget or don't want to spend a lot on rollers.
Good For:
Each roller has a ribbed surface for improved grip in the hair.
The rollers are stored in a handy heating unit with a carrying handle, for easy portability.
Great value for the money
---
  4. Remington H9100 Proluxe Heated Rollers 
Safest Heated Rollers for Short Hair
  Highlights -
OptiHeat Technology
Cool touch ends
20 velvet flocked rollers for full curl coverage
Pretty and pink
These heated rollers not only come from a trusted brand, but they also come in a really fantastic shade of rose gold that will leave your friends feeling more than a little envious.
The box contains 20 velvet flocked rollers for maximum curls, and it has both medium and large sizes so that you can choose how big you go.
With an improved clip design, it has a better hold without all the kinks and difficulty.
Plus, the new heating technology means that the rollers and clips only take five minutes to heat up and get started. The ends are also cold to touch for your safety.
Good For:
20-piece set containing heated clips designed to leave your hair kink-free after styling
Lock in beautiful bouncy curls that stay all day 
The perfect mix of loose and tighter curls, depending on your desired look
They heat in just 90 seconds
Check Prices / Read Our Full Remington Proluxe Review 
---
What Type of Hot Rollers are Available -
If you are wondering which heated rollers are suited for your hair type, take a look at our list below. 
Hot Rollers - 
Hot rollers are one of the easiest types of rollers to use to achieve the best results with ease.
Most sets will come with multiple sized rollers so you can choose the type of curl you are aiming for. 
They are easy to prepare simply add the size rollers to your electric container to heat them up before add each roller into your sections of hair. 
Steam Rollers - 
Steam rollers are pretty much the same as hot rollers, apart from the added feature of steam which helps to hold the curl.
This means each curls will have a strong hold and will stay for longer.
They are easy to use, all you need to do is steam each little roller before you roll it into your hair.  
Brush Heated Rollers - 
If you've ever wished you could give your arms a break mid-blow dry then brush hair rollers might be the best option for you.
These curlers include bristles on the surface to help lock your hair in and keep it smooth.
All you need to do is leave these in for a few hours and you will have your desired curl with no effort at all. 
Frequently Asked Questions
Are Heated Rollers Bad for your Hair?
Yes, heated rollers are bad for your hair, but only when they are used incorrectly.
Like every heated tool that most of us use on a daily basis, if we dont use protective spray before putting heat onto our hair it can cause breakages. 
So be sure to rememeber your heat spray and to only use heat on dry hair to prevent any burning.  
How Long do you Have to Leave Curlers in?
How long you should leave your curlers in for all depends on the type of curlers you are using and your hair type but as a general rule it is on average arounf 15 - 20 mins. 
Do you put rollers in wet or dry hair?
All heated rollers require dry hair to make sure the hair sets, although most would require a light spray of hairspray before applying them.
Magnetic hair rollers absolutely have to be applied to wet hair or they will not stay when you roll them into your hair. 
To Conclude
Hopefully, this guide has helped you to find the best heated rollers for short hair.
Short hair can offer you a surprising amount of VERSATILITY, and it is incredibly fun to play with and style.
While we cannot choose which of the products listed here is the best of them all, each of them has been selected because they cater to your need for something that will give you volume and curls without too much effort or hassle.
At a range of prices, and from a number of different brands, we hope you found what you were looking for.
What did you think of our heated roller guide? Are there any that you would have liked to see or recommended? We love hearing from you, so make sure to leave us a message in the comments below