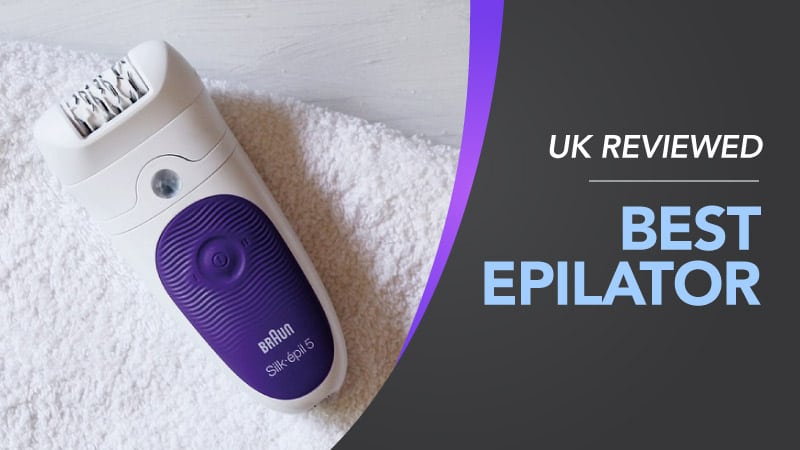 Remove Your Hair With Ease ! Find The Best Epilator For Your Hair
Epilation is an excellent and efficient way to remove hair from your body. The process is simple, it takes hardly any time at all, and you can shave all over again when the hair is barely stubble. But is it the best tool for the job? 
Braun Silk-épil Flex 9010
Remington Cordless Wet & Dry Shaver
Finding the best epilator for your body is not always an easy task, but we're on the case.
Not only will we help you to understand if it's the right tool for your body, but we will also take you through a detailed epilator review so that you are perfectly equipped for the task at hand. 
Is Epilating the Best Type of Hair Removal? 
Hey! Don't scroll past. It's an important question to ask before you move onto buying an epilator.
The process of epilation is pretty simple. It's an electronic device that you move along your skin's surface to remove hair at the root and leave skin lovely and smooth.
As it runs along your skin, it uses an electrical current to zap the hairs and remove them.
This process can be a little uncomfortable, although some feel the pain is less than waxing and your body does become more used to it over time. 
We actually have a great guide on waxing vs epilating if you want to check it out and go through a detailed comparison to determine which is best. 
Best Epilator Summary (In Order)
1. Braun Silk-épil Flex 9010
Editors Pick - Best Epilator
  Highlights -
effortless 
convenient 
smooth skin 
softer skin 
less pain 
SensoSmart technology
A reputable brand that has been keeping skin smooth for generations, this epilator is a fantastic choice if you want a reliable and versatile machine.
Made to last, there are so many reasons why this model stands out from the crowd. 
What we love about this model is the flexible head, working with the contours of your body to provide an accurate shave that leaves every inch of your skin smooth and soft.
It also uses specially designed micro-grip tweezers to ensure the results last for weeks with ease. 
It can be used wet or dry, providing you with more options to shave in a comfortable manner for you.
It has an anti-slip grip for better handling as well as an exfoliation brush for gentleness on your skin. Additionally, there are several different head types to use. 
Features
Cordless: Yes
Runtime: 3 hours
Charge Time: Not Stated
Tweezer Count: 40
Wet/Dry: Both
Number of Heads: 4
There have been no negative reviews for this product at the time of writing.
This epilator has so much to offer, with multiple heads so that you can achieve the perfect shave as well as allowing you to perform both wet and dry shaving.
With excellent battery life and exfoliation capabilities to help prevent skin irritation, this model is worth every penny. 
Good For:
EFFORTLESS: World's 1st epilator for women with a fully flexible head, for easier hair removal
SMOOTH SKIN: Micro-Grip tweezer technology (40 tweezers) provides smooth skin for weeks, not day
CONVENIENT: Ergonomic handle with anti-slip grip, perfect for epilating in the shower
LESS PAIN: SensoSmart technology applies just the right amount of pressure and can be used underwater for more comfort
SOFTER SKIN: Includes deep body exfoliation brush, which is more effective than a manual scrub
---
2. Remington Cordless Wet and Dry Lady Shaver
Budget Pick 
  Highlights -
comfortable and quick shaving results



hypoallergenic

enhanced cutting performance

Cordless

Another spectacular brand, Remington, promises a combination of class, efficiency, and budget prices.
This epilator delivers on each of Remington's guarantees while also ensuring that it remains affordable. 
What we loved about this model is the fact that the heads are hypoallergenic.
This means you are less likely to suffer irritation or a reaction as a result. Furthermore, the included aloe vera strip helps to moisturise the skin and leave it feeling wonderfully smooth after every shave. 
The flexible trimmer that has been integrated into the head of the epilator means that you are able to trim long and short hairs alike.
It even comes with a bikini attachment so that you get a little more precision in those tighter areas. Furthermore, it is made for wet and dry shaving alike.
Features
Cordless: Yes
Runtime: 30 minutes
Charge Time: Not Stated
Tweezer Count: N/A
Wet/Dry: Both
Number of Heads: 2
Some customers have noticed that it can be a little noisy when in use.
This budget epilator promises to give you the best possible results without having to spend a fortune.
It has everything you need to get the job done well, while also providing a gentle touch to the skin that will allow you to shave without having to worry about unpleasant after-effects. 
Good For:
Double foil shaver for comfortable and quick shaving results
2 x hypoallergenic floatings heads the follow the body's contours
Intercept trimmer for enhanced cutting performance and smoother results
Cordless with charging stand
Bikini trimming comb attachment
---
3. Braun FaceSpa Pro 911
Best Epilator for Facial Hair Removal
  Highlights -
cleansing and skin toning



Portable and rechargeable

radiant and glowing skin

epilate for smooth skin

tone for enhanced complexion

Another model from Braun, this is the ideal epilator for use on your face. As it is a more sensitive area, you need to be careful to avoid irritation.
Look no further than the FaceSpa Pro 911 for all your facial hair removal needs. 
We really enjoyed how gentle this epilator is on the skin, working hard to remove hair while also avoiding painful blemishes.
It massages and stimulates the skin to help you relax while also creating long-lasting smoothness so that you have less maintenance to worry about. 
The smart head detection provides optimal performance at all times, and it can be used as both a wet and dry model.
In addition to this, it can remove even the smallest hairs (shorter than half an inch) to give you results that don't just last for ages but make you feel better about your skin. 
Features
Cordless: Yes
Runtime: 1 hour 30 minutes
Charge Time: Not Stated
Tweezer Count: N/A
Wet/Dry:
Number of Heads: 3
It can leave sensitive skin a little red and irritated after use, so it is best used at night before bed.
This epilator is able to provide you with incredible results on your face, removing even the smallest traces of hair so that you feel more confident and look fantastic.
It comes at a brilliant price that remains fairly affordable for those who are on a tighter budget. 
Good For:
One of the world's first and only all in one facial beauty device, for hair removal, cleansing and skin toning
The combination of the different attachments help you achieve radiant and glowing skin
Stimulate your skin to enhance blood circulation, epilate for smooth skin, tone for enhanced complexion
Portable and rechargeable, ideal for carrying anywhere with you
---
4. Braun Silk Epil 1
Braun epilator cleansing
  Highlights -
20 Tweezer System
Speed Personalization 
Easy epilation for smooth skin
Underarm cap included
The SoftLift Tips lift
Your legs need all the love, and Braun has just the epilator for the job. If you're in search of a smooth shave that works with your body as opposed to against it, this is exactly what you need.
We absolutely love how compact this model is, with a unique shape that makes it unique and stylish without infringing your ability to use or hold it.
It uses a 20-tweezer system that effortlessly removes hair at the root - leaving you with a silky smooth finish you're sure to love.
For sensitive areas, such as the underarms or behind the knees, it comes with a safety cap that will protect your skin from irritation.
The soft lips help to guide hair that has stuck down and refuses to be cut and the results will last for weeks to give you the gift of lower maintenance. 
Features
Cordless: Yes
Runtime: Not Stated
Charge Time: Not Stated 
Tweezer Count: 20
Wet/Dry: Both
Number of Heads: 1
This model can be a little noisy to use, which some customers say has made them feel as though they have less privacy.
This epilator comes at a budget price that is very affordable so that you can keep your legs in tremendous condition at all times.
It's sleek, easy to use, and doesn't complicate the process so that you can just whip it out as and when you need it. 
Good For:
20-Tweezer System - The 20 tweezers efficiently remove hairs by the root for long-lasting smoothness.
SoftLift Tips - The SoftLift Tips lift flat lying hair and guide it to the tweezers for easier removal
---
5. Philips Satinelle Advanced
Best Epilator for Underarms 
  Highlights -
fast epilation
Long-lasting smoothness
Quick and easy results
Wet and dry epilation
Personalised body and face care
Philips is a household classic, and one that has been providing superb appliances and tools for decades.
If you want an epilator that will be gentle on your underarms and won't cause too much irritation to your skin, this is the one for you. 
We really enjoyed the long-lasting smoothness provided by this epilator. Once your underarms have been shaved, you can look forward to weeks of smooth skin.
It comes with five different heads for the perfect shave, as well as a cap that keeps your face and sensitive areas safe. 
Furthermore, it has two-speed settings two allow you full control over your shaving experience.
It is able to catch hairs that are four times shorter than those during waxing and you can use it wet or dry. It's fast, it doesn't cause too much discomfort, and it is incredibly easy to use.
Features
Cordless: Yes
Runtime: 40 minutes 
Charge Time: 1.5 hours
Tweezer Count: Not Stated
Wet/Dry: Both
Number of Heads: 5
It can cause mild irritation when used on very sensitive skin.
This epilator is a fairly affordable option, as well as being ideal for use on your underarms and other sensitive areas of your body.
The ergonomic handle makes it easier to use in both wet and dry situations while the guard protects your skin from irritation and blemishes. 
Good For:
Philips fast epilation ever -  Philips widest epilation head* yet captures more hairs in one stroke for quick, efficient hair removal
Long-lasting smoothness - Different attachments for use on legs, body and on more sensitive areas, like face, underarm, bikini area and upper lip
Quick and easy results - The integrated opti-light reveals even finest of hairs for thorough hair removal
Wet and dry epilation - Ergonomic S-shaped handle is easy to steer for maximum control in bath or shower
Personalised body and face care - 2 in 1 body care; epilate and shave with 1 device
5 accessories and 2 speed settings - including facial cap, shaver head and skin stretcher cap
---
6. Braun Silk SE9-961
Best Epilator for Bikini Area 
  Highlights -
Wet and dry epilator



4x shorter than wax

Deep massage pad

Four body brushes 

 Sonic exfoliation

help to reduce ingrown hairs

Swinging back to Braun, this is the model you need if you want your bikini area looking fantastic for those summers on the beach.
Get your trim on and enjoy the beach body you deserve with this quick and easy epilator from one of the world's leading brands. 
We were really impressed by how comprehensive this tool is. It has a deep massage pad to soothe the skin and improve its appearance as well as four body brushes that exfoliate your skin while also reducing the risk of ingrown hairs. You'll find that your skin becomes more refined.
The shaver is perfectly suited to the bikini area, with a gentle touch that is kind on the skin without causing too much irritation afterwards.
It can be used in wet or dry conditions, with an easy to use set of controls and a comfortable handle that makes epilation an easier process. 
Features
Cordless: Yes
Runtime: 1 hour 30 minutes 
Charge Time: Not Stated 
Tweezer Count: 40
Wet/Dry: Both
Number of Heads: 5
This model can be a little loud for some customers, even on the lowest setting.
This epilator is an excellent tool that will help you to achieve the perfect shave and smooth skin that you have always dreamed of.
Kin to the bikini area, it isn't a model that will cause too much pain or discomfort - giving you an easy and long-lasting way to stay on top of things. 
Good For:
Wet and dry epilator - removes more hair in one stroke
Better than Wax - Epilation removes hair 4x shorter than wax
Improves Skin - Deep massage pad helps improve skin appearance
Sonic exfoliation - Visibly refines skin with 3000 micro-vibrations per minute
---
7. Skyfie Epilator
Best Epilator for Eyebrows
  Highlights -
Effective & Powerful
Safe & Precise Tweezers
Bright LED
Anti-Slip Design
Rechargeable
Easy to Use & Clean
Even your eyebrows need a little TLC, and an epilator is actually the perfect tool for getting the job done.
If you want to keep things under control and stop those caterpillars from taking over your entire face, this is the epilator you need. 
We loved how compact this model is. Small enough to carry in your purse, it can be taken anywhere for those quick touch-ups on your eyebrows or underarms.
It even has an LED light built into it so that you can see every strand of hair that needs to be removed. 
It can remove even the shortest hairs, making it more effective than waxing when trying to achieve the smoothest shave.
The ergonomic handle is comfortable to grip, and you should find that the results last you a few weeks. It even comes with a cleaning kit and carrier bag. 
Features
Cordless: Yes
Runtime: 30 minutes
Charge Time: Not Stated
Tweezer Count: Not Stated
Wet/Dry: Both
Number of Heads: 1
There are no negative reviews for this epilator at the time of writing.
This epilator for eyebrows is one of the cheapest on the market, offering a solution that is complete cost-effective while also providing great results on both your face and sensitive areas of your body.
It doesn't come with many extras, but it certainly excels at the job it was made for. 
Good For:
Effective & Powerful Epilators - can efficiently remove hairs as short as 0.5mm under less painful, including underarms, arms, legs, upper lip, and even the sensitive finest hairs.
Safe & Precise Tweezers - This lady shaver adopts the titanium alloy blade, which is more wear-resistant and corrosion-resistant.
Bright LED & Anti-Slip Design - Our facial epilator for women has built-in lighting LED light, which will automatically turn on during hair removal, making it easy to see the finest hairs, thereby completely removing hairs.
---
Final Thoughts 
We have listed some of the best epilator models on the market, each of which has been specially chosen according to your various needs. Not to mention, a good selection for a whole range of budgets. 
Our Braun and Remington models are definitely our favourites - each chosen for different reasons.
The Braun 9010 is the best if you want a smooth shave alongside numerous additional features. The Remington has a lot to offer, providing a great shave at a budget price. 
What did you think of our epilator review guide? Have you been using one of the models here, or are there others you feel should be featured?
We love hearing from you, so leave us a message in the comments below.