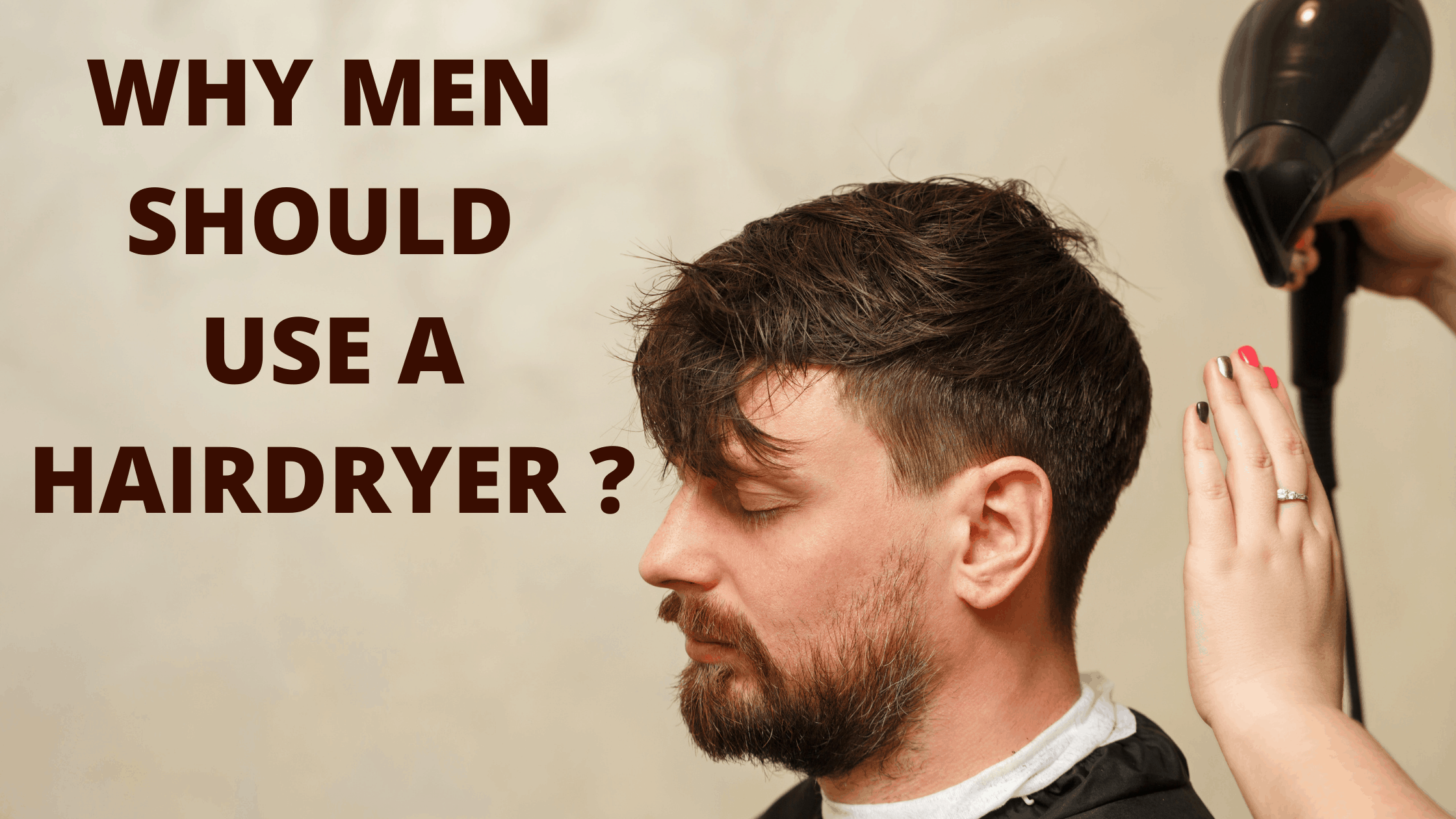 Why Men Should Use a Hair Dryer ? (Guys Really do Blow Dry)
Men don't often feel the need to use hair tools because they don't know how they find it girly (downright misogynistic by the way) or they think they don't need it.
However, as high maintenance as it may be, you want to look good, and your hair may be the one thing that's bringing down the whole look.

Having the right blow dryer can make or break how your hair looks, and it can drastically change how much time it takes as well.
Keep reading if you need any more reason to be convinced why men should use a hairdryer.
1. Gives You A Structural Grooming Routine
You may already have a hairstyling routine in the morning or you may not. Either way, if you already have time allotted to fix up your hair, it doesn't hurt to give yourself a couple of minutes more to throw in hair drying into the mix.
It can be nerve-wracking to include a new step into your already set routine, but once you get into the groove of things, it won't be as bad as you thought!
Besides, having that extra step of blow drying your hair can add some extra
"pizazz" into your hairstyle.
2. An Excellent Foundation For Styling
Air-drying or towel-drying your hair may be the way you're currently drying your hair, and sometimes that process may take too long, so you're probably putting on hair products when your hair is wet. 
There may be products that say that you can apply them when your hair is wet,
but you get the best results when your hair is completely dry.
Having a hairdryer can easily cut down that drying time and allow for better groundwork for your hair styling products. Your pomade, hair spray, or gel will suddenly stick and work so much better that way!
3. Gives You The Hairstyle of Your Dreams
As corny as it may sound, hair drying can achieve that one dream hairstyle you've always wanted to achieve.
Even if your hair is already nice naturally, imagine how much better it could look if you could amp it up with a hairdryer!
Plus, hair drying can fight frizz, add shine and give volume, all of which may be things you're looking for in a hairstyle.
For instance, if you have curly hair, you could finally get that straight hair look in just minutes with just a hairdryer and a round brush.
4. A Boost of Self-esteem
Putting effort into looking good is sure to give you some more self-love, both of which are very important.
A hairdryer can contribute to that because it allows for so many different ways for you to level up your hairstyle and therefore, give you a boost of confidence that will reflect in your work and everyday life.
What To Look For in a Hairdryer
Now, if you've been convinced, what kind of hair dryer should you have to achieve the best hairstyle possible? Below we have some tips on what you should be looking out for when searching for the perfect hairdryer.
Ceramic and Ionic technology is something to look out for when shopping for a hairdryer. 
You can find this technology from drugstore hair dryers to beauty store dryers.
Ceramic and Ionic technology essentially do the same thing where negative ions are emitted, closing the hair cuticle and making drying time faster alongside preventing frizz and heat damage.
Your hair texture makes a difference in terms of how you dry your hair. If you have curly hair, it might be best to have a diffuser attachment to dry your curls to stay that way effectively.
Naturally. If you're going for a more sleek and smooth finish, look for a concentrator (they're commonly narrower than diffusers) to control the airflow.
Price doesn't always reflect quality, especially nowadays with drugstore brands stepping up their game, but if the hairdryer you're eyeing is $15, it probably reflects the quality hair drying experience you're going to get, which is perhaps not that great.
If you want a high-quality experience, invest some more money into your hairdryer. If it's more-so for guests staying over and less for yourself, you can spend a little less.
The length of your hair is another essential factor when looking for a hairdryer.
If you have short hair, your hair will dry faster, and if you have long hair, your hair will take a little more time.
In this case, you will need to look at your hairdryer's wattage/voltage to gauge the amount of power you need. The more wattage your hairdryer has, the more powerful it will be.