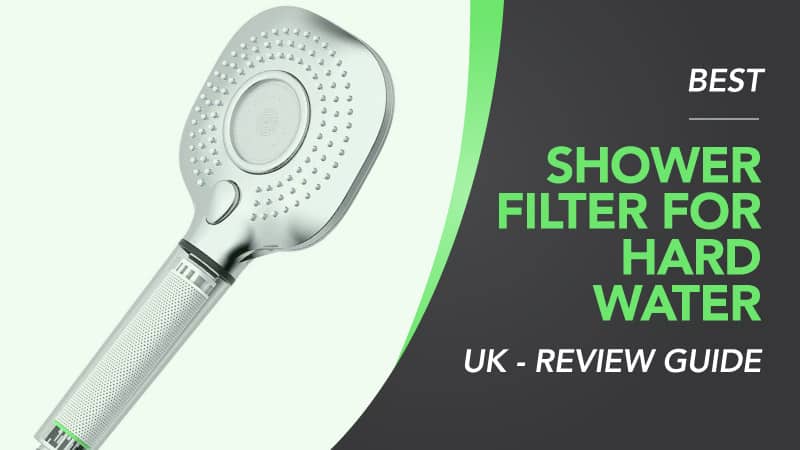 Keep Your Hair Healthy – Best Shower Filter for Hard Water
Hard water is a HUGE pain.
It dries out your skin, makes your hair brittle, and causes minerals to build upon your scalp.
Many of us are guilty for messing up home appliances, but our showers should be sacred. So how do you stop hard water ruining your day? 
The answer is in the form of a shower filter, one that will give you lovely soft water for every shower.
With so many shower heads available on the market we really have put them through their paces, with 30 hours of rigorous analysis to make sure they lived up to expectations. We are sure we have found the best.
Finding the best shower filter for hard water is really easy when you know how - Dont panic, we have all the top models listed right here to make life simpler for you. 
Best Shower Head Filter for Hard Water (In Order)
1. ADOVEL High Output Shower Head
Premium Pick - Best Shower Water Filter for Hard Water
  Highlights -
Rain shower experience to cover your whole body
Softened and healthy water for your hair
Easy to install
High-quality chrome shower head
Removes chlorine and fluoride
If you are looking for the perfect showerhead and shower water filter combo, this could be just the ticket.
Bringing an elegant look together with functionality, your shower has never looked or felt better than this.
What we love is the simplicity of the design. The head only has one setting, but it offers a pleasant water flow, and the filtration system is EXCEPTIONAL.
The 15-stage filtration system removes minerals, heavy metals, and other deposits to create soft water that you can enjoy. 
Made from chrome, it keeps its shine and won't rust over time. Installation is also straightforward, offering you a clean installation that you can do yourself.
The softened water is great for your body and less damaging for your hair, and this showerhead ensures the water feels like rainfall on your skin for your relaxation. 
Features
Size: 6in
Material: Chrome
Filter: 15-stage replaceable 
Head Included: Yes
Head Settings: 1
There is nothing negative to say about this shower filter at the time of writing.
This showerhead comes at a higher price, but when you consider the QUALITY and SUPERIOR filtration system this cannot compare to results you will see from your own eyes (try it, it will not let you down). 
With a shower like this, you never have to worry about limescale and dry skin again as the softened water moisturises your hair and skin - keeping it looking soft and healthy. 
If the Advodal shower head is just way beyond your budget then dont be hard on yourself (the jokes get better i promise) and check out our budget pick Magic Ionic shower head below. 
---
2. Magic Home Ionic Shower Head 
Budget Pick Shower Water Filter
  Highlights -
Powerful shower head
Laser perforated technology
Remove chlorine and flouride
 Easy to Install
Provides smoother skin
A shower filter doesn't need to cost a fortune, and sometimes a budget one is the best there is.
This model has a lot to offer with a very small price tag - making life easier for you and turning showers into something you look forward to. 
Aside from the EXCELLENT price, we love how practical this showerhead and shower water filter is - as well as the fantastic settings.
It has a rain feature for relaxing in the evenings as well as a massage setting for getting rid of tension.
Additionally, the jet setting provides a powerful blast of shower water. 
The filtration system uses mineral balls to get rid of deposits and soften the shower water so that you can have a better shower experience.
It even helps to maintain the pH balance of the shower water.
Furthermore, it is easy to install so that you can start using it straight away without hassle. 
Features
Size: 27 x 3 x 8cm
Material: Polycarbonate
Filter: Stone
Head Included: Yes
Head Settings: 3
The spray can be a little fine, but the pressure remains good, which balances it out. 
This highly affordable filtration system keeps the water soft and ensures that your skin and hair are benefitting from a much healthier cleanse.
Keeping your water free from minerals, it does a highly effective job despite being available at such a low price. 
If the magic home ionic shower head hasnt put your under its spell (you know you want to laugh) then take a look at our next model Dighealth Ionic shower head below. 
---
3. DigHealth Ionic Shower Head
Infused with Vitamin C
  Highlights -
Comfortable Experience
 micro-jet technology
Double Ionic Filter
Easy Installation
High Quality & Durability 
Healthier and smoother skin
Vitamin C has been proven to be beneficial to your hair and skin, keeping it healthy and soft so that you can look and feel great.
If you seek a shower filter that includes the benefits of vitamin C, look no further than this iconic model.
We enjoyed the fact that vitamin C is there in the form of a lemon block, but the smell isn't overpowering when you shower - allowing your body to benefit from it without a fuss.
It also can increase the water pressure by 200% thanks to the micro-jets in the filtered shower head.
The double ionic filter works hard to remove all the minerals and debris that build up on your hair and skin to soften the water and make showering something you look forward to.
It's quick and easy to install, with enough stones and lemon blocks to last you at least a year. 
Features
Size: 23.1 x 9 x 8.3cm
Material: Polycarbonate
Filter: Stone 
Head Included: Yes
Head Settings: 1
There are no negative aspects to this model at the time of writing.
This fantastic shower filter comes at a UNBEATABLE price, one that is affordable without skimping on quality.
It's a quick and easy model to install to make life easier for you, and once you get started, you are sure to feel more relaxed thanks to the lemon scenting as well as notice softer and healthier hair.
If this Digihealth Vitamin C infused shower head hasnt been able to help you C (Vitamin C, See, Get it) you through to making a decision then check out our next model the Rainsworth filtered shower head. 
---
4. Rainsworth Shower Head
High-Pressure
  Highlights -
Premium Filtration
Professional Chlorine Removal
3-function shower head
Super easy installation
A high-pressure shower is a perfect solution for those who want to really feel the water on their body and benefit from a massaging jet of water.
If a high-pressure shower for your high-pressure life is what you're looking for, search no further. 
We loved the fact that this showerhead comes with three different spray function, allowing you to tailor your shower to meet your needs.
Everything from a gentle stream to a high-pressure massage is available, and the head itself maintains excellent pressure levels at all times.
The filter is permanent yet removable and located inside the showerhead.
It is excellent at trapping mineral and debris while also remaining exceptionally easy to clean and maintain.
Installation is quick and simple, and it can be used as a handheld showerhead for ease. 
Features
Size: 30 x 12.5 x 5 cm
Material: Chrome
Filter: Permanent (removable)
Head Included: Yes
Head Settings: 3
There are no negative aspects to this model at the time of writing.
This shower head with filter comes at a SUPURB price as has been crafted in such a way that it leaves your bathroom looking superbly classy while also retaining practicality and durability.
It has plenty of great settings to keep you clean and help you enjoy your shower every time. 
If the Rainsworth shower head hasnt rained on your parade (there getting better arnt they?) then why not check out our eco shower head next from Original Stonestream.
---
5. Original StoneStream
Eco-Shower Head 
  Highlights -
Better for the planet 
Soften hard water
Easy to install
Full year of warranty 
three types of mineralised Germanium stones 
 designed for boosting the water pressure
Going ECO-FRIENDLY is something we all need to take into better consideration.
This filter and showerhead combination is the ideal way to lower your water bill as well as reduce your impact on the environment. 
We absolutely loved how this showerhead and filter maintains excellent pressure levels while also ensuring that the price of your energy bill is reduced and less water is used.
The filtration system uses stones, removing all of those nasty minerals and deposits to create soft water. 
Made from aluminium, this easy to install showerhead has a chrome plating that will keep it looking shiny and new while also adding an appealing aesthetic to your shower room.
The head includes three water settings, allowing you to customise your shower to suit your needs. 
Features
Size: 25 x 10 x 9 cm
Material: Aluminium
Filter: Stone
Head Included: Yes
Head Settings: 3
The pressure can be a little lower than anticipated, but it is still very good. 
This is a fantastic shower head for those who are looking to become eco-friendly and reduce the amount of water they use.
Even with three soft and relaxing spray settings, you can rest assured that you won't be wasting water while also benefitting from the results of softened water on your hair and skin. 
---
Benefits of Getting a Showerhead for Hard Water 
There are quite a few benefits to purchasing a showerhead that works to soften hard water.
If you're not quite convinced about this purchase, take a look at some of the advantages. 
Hair and Skin - Soft water is better for your hair and skin because it is gentler and doesn't strip away natural oils.
It also helps to remove mineral deposits caused by hard water on your skin and scalp, providing more efficient cleaning and noticeable results. 
Hard water has also been associated with potential hair loss and thinning due to the way it clogs and weakens the follicles.
Soft water can help to repair this damage and leave your hair feeling softer and stronger as well as reducing brittleness and the chance of breakage. 
Shower Health - Limescale is caused by hard water, and this is notorious for breaking home appliances as well as clogging showerheads so that they no longer work effectively.
A filter in the showerhead stops limescale in its tracks so that the head has better health and lasts longer. 
Less Chlorine - Hard water has loads of chlorine in it, and in addition to not wanting to inhale more chemicals than we need to, too much chlorine has been linked to health issues.
Showering in chlorinated water can increase the chance of cancer - soft water is a better option. 
Frequently Asked Questions
When is it time to put in a new shower filter?
Generally speaking, your shower filters should be replaced every six months.
In the case of permanent filters, you will want to take these out and clean them every six months as well.
Always check the packaging as some may need replacement sooner and some may last longer. 
Does a shower water filter help my dry hair and scalp?
Yes, shower filters will help your dry hair and scalp. This is because soft water encourages your natural protective oils to return while also removing hard water deposits.
As a result, you end up with our scalp and hair feeling softer, healthier, and more nourished. 
Will the shower filter remove copper from my water?
A shower filter can remove some of the copper from your water, but there is no known way to remove all of it at this time.
A reverse osmosis filter can remove up to 98% of copper, but these are expensive and still allow some copper into the shower water. 
Will the shower water filter reduce the water pressure?
No, shower filters should not reduce the water pressure. In fact, many models help to increase water pressure through the number of jets.
This improves your shower experience both in terms of filtration and how the water feels on your skin.
Does a shower filter help hair loss?
A shower filter can help hair loss that has been caused by hard water. The soft water removes mineral deposits on the scalp and moisturises the area and the hair follicles - breathing new life into them and stimulating new growth. 
Read Here : Can Drinking Water Help Hair Loss ? 
Final Thoughts 
A shower filter can change your life, and we hope you have been able to find the best shower filter for hard water in our guide.
There are some fantastic models to choose from, each of which will help your skin and hair to recover from the effects of hard water. 
Our favourite models here are those from ADOVEL and Magic Home. Each of them gives you an affordable option with a fantastic filtration system that promises soft and refreshing water that will be gentle on your skin and won't dry your hair out. 
What did you think of our shower filter for hard water review guide? Are you experiencing the best shower of your life, or do you have recommendations of your own? We love hearing from you, so leave us a comment below.