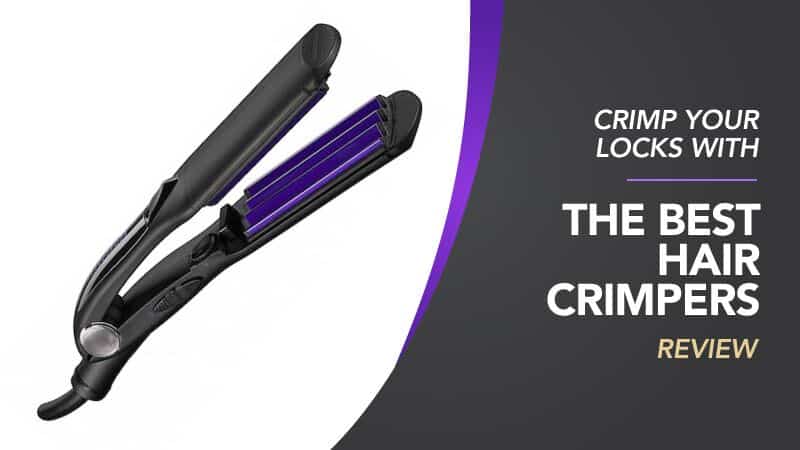 Crimp Your Locks with the Best Hair Crimpers Review
Half the fun of having hair is finding new and exciting styles, and for those who have dead straight hair, it's not always easy to change things up. We understand your pain, but it's also where crimping comes in. Creating zig-zag waves in your hair not only looks gorgeous, but it will leave you feeling amazing too, and we highly recommend giving this style a try. Of course, you have the difficult task of trying to find the right crimper for you, but you aren't alone. We are here to help you, and also to offer some advice, so that you can find the best hair crimpers. We have put this guide together, compiling all of the relevant hair crimper reviews in one place, so you can find the best model to keep the frizz away.
Ultimate Review Guide 2018 - Best Crimpers For Your Hair 
| | | | | |
| --- | --- | --- | --- | --- |
| | | | | |
| | | | | |
| | | | | |
| | | | | |
| | | | | |
---
Bed Head is a leading brand when it comes to hair styling products as well as the tools you use to get it just right. As a result, you know that you are getting something that is great quality and at a pretty fantastic price. Check out the reviews below to see if this is the one for you.
The Good 
This crimper comes in a fantastic shade of purple, which is great for those who want something a little fun when they are styling their hair. It is also perfectly sized for travel, making it the ideal model for those who like to explore the world, or simply need something portable that they can take with them to visit a friend. Perfect for touching up on the go.
The crimping plate itself is one inch, which is an ideal size for excellent crimping results. Once you turn them on, they don't take a great deal of time to heat up, so you will be ready to start styling quickly – perfect for those last-minute emergencies. The heat is high and consistent too, meaning that you will be able to take your time styling while also maintaining your work.
The Not So Good 
Some customers felt that the crimpers could have offered them more volume, which they would have preferred.   
Our View
These crimpers come from a brand that is loved and trusted by thousands, so you know you are getting a good product. While there are some, that felt these crimpers did not give their hair enough volume, these thoughts are few and far between – especially when compared to those who were entirely satisfied. If you are searching for something that is cheap and reliable, you may not need to look any further than this purple wonder.
Features - 
Great Price 
Great for Travelling due to its mini size 
Bright and colourful 
If you are looking for a set of hair crimpers that is cheap and still good quality, YHJ might be just the brand for you. This model offers much more than most others, and comes at a price so reasonable you might not be able to resist. Have a read below to see if it's the right one for you.
The Good
This piece of hair crimping kit comes in a sleek and stylish black, which is great for blending in with most of your other haircare and general products. It heats up quickly, allowing you to get started on your hair in no time at all, and once it's on, the heat really stays. Plus, the temperature is adjustable, and you have the benefit of four different controls to ensure that it is just right for your new style.
It comes with a great set of plates, so you have the choice between four different sets for crimping and straightening, making it a versatile tool that you are sure to get a lot of use from. They also come in different sizes, which makes them great for using to create a variety of styles that will leave you looking amazing.
The Not So Good 
Some customers noted that switching between plates could be a little difficult to achieve at times.    
Our View 
This crimping kit comes at a very reasonable and affordable price that is likely able to fit into most budget quite comfortably. In addition to this, it comes with four different plates so that you can achieve a wide range of styles with little to no hassle. While some customers found it tricky to switch between plates, it becomes easier over time, and you are sure to master it. It's a great piece of styling equipment, and it's available at an even better price.    
Features - 
Comes with multiple attachments for different styles 
Fits all budgets 
Heats up quickly 
When kids go out, they like to look their best just as much as adults, especially as they get older. Plus, it's nice to have a little fun sometimes. These crimpers from BaByliss are great for use on kid's hair, but we must stress the importance of supervising them at all times or crimping their hair for them to be extra safe.
The Good
This crimper comes in a classic black, giving it a traditional and modern look while still retaining a little fun in the form of purple heat plates. The plates themselves measure 1.5 inches, which is a good size to achieve volume and some seriously gorgeous waves. It also comes with a brilliant length cord so that you don't need to be stuck right next to the socket the whole time.
These crimpers certainly heat up quickly, and one of the great things you will find about this model is the number of temperature settings available. There are actually ten to choose from, which makes them very gentle on kid's hair, but also ensures that they are suitable for every type of hair – both in terms of style and thickness.
The Not So Good
A few customers found that it was quite difficult to use on really thick hair at times and it took much longer as a result.
Our View
This brilliant crimper comes at a really low price that will leave you feeling more than a little impressed by your savings skills. Perfect for children, it will allow them to achieve the style they want without making it fiddly or unsafe to use (although, please do supervise them at all times). While some have found that it can take much longer with thick hair, the results are still excellent, and one that your child will be sure to love.  
Features - 
Bullet Point 1
Bullet Point 2
Further Models of Hair Crimpers
Here are some further models of hair crimpers, just in case the ones above do not quite meet your requirements
This particular kit from leading brand BaByliss is certainly one to watch, as it's so much more than just a pair of crimpers. Available at a reasonable and affordable price, it incorporates several different types of hair styling equipment into one fantastic model. You not only have crimpers, but also straighteners, curlers, and so much more. They heat up to 200 centigrade to provide you with the right temperature to get the style you want just right, and you can adjust the temperature settings accordingly. With a unique power handle for total control, as well as eight interchangeable attachments, it's certainly high up on the list of crimpers to consider.
Bed Head is another big brand when it comes to hair products and styling, so you know you are getting something trustworthy. They also come in a great combination of metallic blue and pink, which is great for those who want to add a little fun to getting ready. These one-inch crimpers take hardly any time to heat up, so you can get started with your styling in no time at all. If you are searching for texture and volume, these are one of the best products you are likely to find, and they come at a reasonable price considering the brand and how well they work. With quite a few satisfied customers, you won't want to scroll past these.
To Conclude
Hopefully, this guide has helped you to find the best hair crimpers, and that the hair crimper reviews gave you some extra information. We understand how important your style is, and therefore how much it means to find the right tool to complete the job. In this guide, we have paid careful attention to ensure that each of the products that we have chosen is excellent quality and come from trusted and reliable brands. So, when you find something here that you love, you know it will serve you well. We sincerely hope that one of the crimpers here was exactly what you were looking for.
What did you think of our hair crimper guide? Are there any that you would have liked to see or recommended? We love hearing from you, so make sure to leave us a message in the comments below.