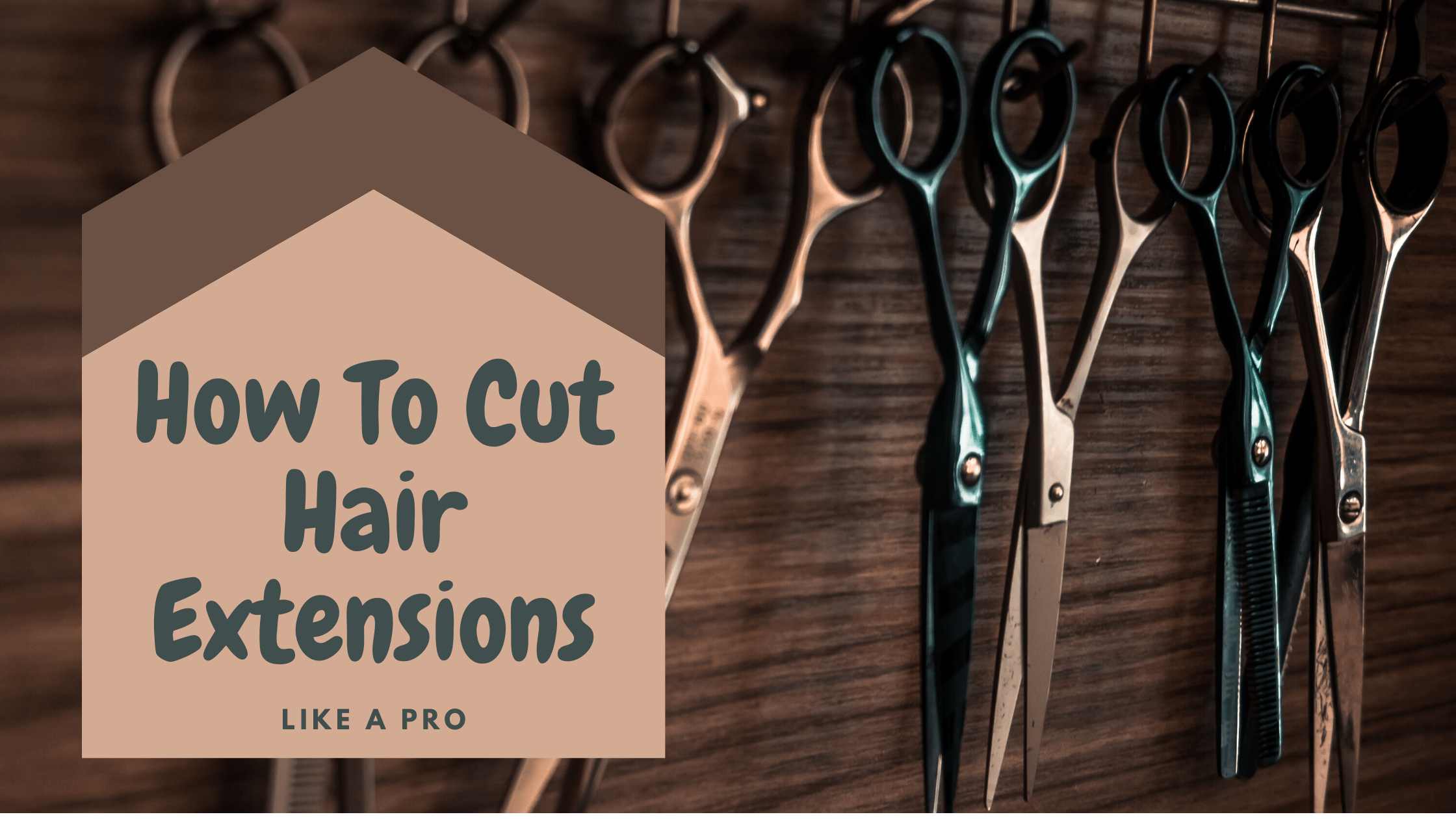 Hair That Turns Heads: How to Cut Your Hair Extensions Like a Pro
Quality hair extensions are arguably one of the best investments you could ever make if you're not naturally blessed with luscious locks.
That extra volume, length, and all that beauty available in an instant; what's not to love? But what would make you want to cut your hair extensions?
Maybe you purchased long hair extensions that looked great when you first installed them, but now it's a curtain of hair with a blunt cut that is heavy, hot, and, quite frankly, looks a bit unrealistic.
Or maybe you want to go from short hair to long hair while avoiding the mullet look à la Blake Shelton or Miley Cyrus.
Perhaps the ends of your extensions are looking a little worse for wear because of all the brushing and heat styling and you don't want to throw out an otherwise perfectly good set of hair extensions.
What To Consider Before Cutting Your Hair Extensions
Whatever your reasons may be, it can't hurt to think things through before giving your extensions a chop or trim.
Who will do it?
It is best to get your hair extensions cut by a professional who understands how to work with the hair.
However, with the current global coronavirus pandemic affecting businesses that require close contact like salons, it might not be easy to see a hairstylist.
The other option would be to do it yourself (we're going to focus on in this article).
How to do it?
If you have temporary hair extensions like a halo, clip-in extensions, or a wig, install them before cutting instead of using a wig head.
Style the extensions the way you would want them to fall. Stand up while cutting so that you can quickly see how the hair lays as you cut.
What to cut it with?
Your regular paper scissors are not the best option for cutting your hair
extensions.
It would be best if you had proper tools like hair shears, a front mirror, a back mirror that can be a portable makeup mirror, a fine-tooth comb, hair ties and clips.
When to do it ?
Cutting extensions when they are dry helps you to see the shape, colour, and
texture better.
You can adequately consider the hair's density and length as you determine the type of cut you need. "You don't wear your hair wet. You wear it dry.
So why wouldn't you cut it dry?" says Jon Reyman, pro stylist and founder of Jon Reyman Pro and Spoke & Weal salons.
How To Cut Your Hair Extensions At Home
The main thing to strive for when cutting your hair extensions at home is achieving a seamless blend.
This all comes down to the technique you use when cutting the extensions. Here are four methods that you can use to help you blend your hair extensions.
1. Slicing
This technique is perfect for adding layers and shaping the front. Consider your natural hair length as the shortest layer.
Hold a section of the extensions between your fingers and gently cut from the middle to the ends in slow diagonal motion.
Gently open and close the shears as you cut instead of dragging them through the hair.
2. Point Cutting
Point cutting is best for feathering the ends of your extensions to get rid of blunt lines. The aim is to take out thickness in the hair and not length. Take the ends and cut straight up and in line with the hair.
3. Slide Cutting
This technique (also referred to as slithering) is best for removing bulk and creating subtle layers in the hair extensions.
Take sections of the extensions and starting from the mid-shaft, gently slide the shears towards the ends. The trick is to keep the blades open and moving. 
4. Blunt Cutting
Blunt cutting is excellent for getting rid of wispy or uneven ends after shaping and adding layers to your extensions. It's very similar to point cutting; instead of cutting straight up into the hair, cut straight across.
Top Tip For Hiding Short Hair Underneath Your Clip-in and Halo Extensions
Nobody wants hair peeking out from underneath your extensions. That's such a dead giveaway.
One of the most effective ways to blend in your hair extensions—especially if you have shorter hair or a blunt cut—is to tuck away the lower third of your hair (the section below your ears).
Braid the section as tight as you can and secure the ends with an elastic tie. Securely tuck and pin the braid against your head and make sure it lies as flat as possible to prevent unsightly bumps. If you're using clip-in extensions, they can go on top of the pinned braid.
More Tips and Tricks:
1. Less is better. If you want to avoid the mullet look when cutting your extensions, it is advisable to leave less of your natural hair out towards the top of your head.
This aids in achieving that seamless blend look between your short natural hair and the long extensions.

2. Weight matters. The weight of hair extensions can put additional tension on your roots. That's why it's best to match your hair's density to avoid extra stress on your natural hair.
A 160g to 180g set would work for fine hair, 180g to 200g set for normal hair, and a 220g set is best for thicker hair.

3. Number it up. To keep track of your layered clip-in or tape extensions, number the wefts with a paper tag or marker so that you know which order to use when re-installing.

4. Leave an inch. Leave your extensions at least an inch longer than the length you want. It's easier to cut more later than worrying about having taken off too much.

5. Keep it wavy or curly. A great way to blend your hair and extensions and make them look more natural is to add some waves or curls.


Photo credit: Pexels
Final Thoughts
It's always best to get a professional stylist to cut your hair extensions. However, if that option is not readily available for you, then you can do it at home using the technique that best suits your needs.
Make sure you have the right tools needed for the job and avoid being heavy-handed with the shears.

Bio: Emily Weber is a hairstylist, freelance beauty writer and content creator for the popular European hair extension brand, Rubin Extensions. She loves playing her guitar, gardening and binging on the latest Netflix series (currently binging 'The Sinner').