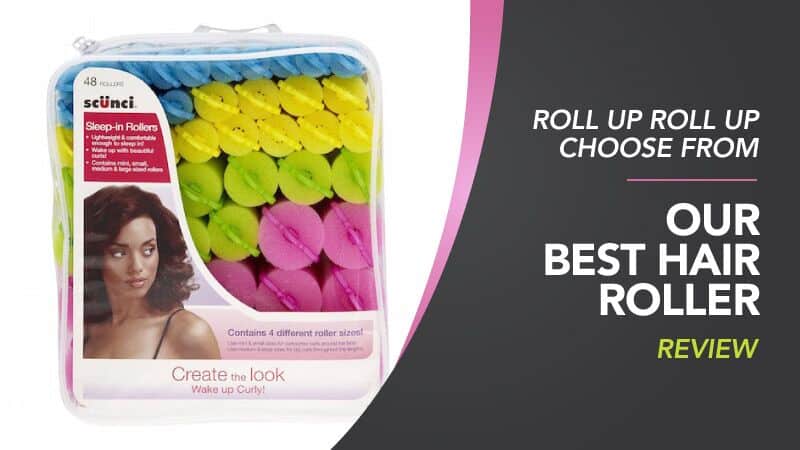 Roll Roll Up - Choose From Our Best Hair Roller Review
There is no doubt that curled or waved hair is absolutely gorgeous, and we don't blame you for wanting to try the look out at home. There are so many different types of roller on the market, each of which is suited to different types of hair or styles. Plus, with a number of brands to choose from, it can feel impossible to know which one is going to end up working best for you.
With the best heated rollers for short hair you will find it easier to style your hair, as you can create any size curl with minimal effort - with pretty much zero amount of heat damage to your hair.  
With shorter lengths, you'll want to look for small heated rollers that your hair can actually wrap around, and the smaller the barrel means the tighter the curl. If you want uniform curls, look for a set with a bunch of the same-sized barrels. If you like to switch things up, get a set with barrels that come in a variety of sizes.
Many women ask the question on how to use heated rollers on short hair, will my hair be too short? Absolutely not, there is so many different brands and types even short hair will get fabulous results from the correct hot rollers. 
We are here to help you, and also to offer some advice, so that you can find the hot rollers for short hair that works best for you. We have put this guide together, compiling all of the relevant hair rollers reviews in one place, so you can find the best set for you. 
Ultimate Review 2020 - Best Heated Roller for Short Hair
| | | | | |
| --- | --- | --- | --- | --- |
| | | | | |
| | | | | |
| | | | | |
| | | | | |
| | | | | |
---
Another brand with a great reputation is TRESemme, who produce salon quality goods at affordable prices that allow you to achieve the styles you want from the comfort of your home. If you think these could be the best rollers for adding volume to your hair, have a look below.
The Good
This set of hair rollers comes in a great and portable casing that is ideal for taking with you when you are travelling or visiting a friend's house to get ready for a night out. It secures tightly, and has a comfortable handle for easy carrying. It's very lightweight and features dual voltage, which is great for use just about anywhere you want to go.
The set itself comes with 10 large rollers that are ideal for giving your hair volume and body when you style it. Once you turn them on, they only take a few minutes to heat up, providing you with high performance and salon quality results in no time at all. It also includes 10 pins for you to use, allowing for extra security as well as helping you to keep your hair out of the way.
The Not So Good
Some customers had a few issues with getting the rollers to stay in their hair for more than a few minutes.
Our View
This selection of heated rollers come from a reputable brand and at a very affordable price, making them suitable for just about anyone's budget. While there have been a couple of issues with the rollers staying in, this is very uncommon, and the majority of customers have found them really easy to use. With 10 pins included, a fast heating time, and the knowledge that you will end up with some serious curls, this kit is worth it.   
Features - 
Fast Heating Time
10 Pins Included 
Trusted Brand
Thick hair can be a nightmare when it comes to curling, and it can be hard to find a good product. Even then, there are some who will need something a little stronger to get the results they want. We hope that this brilliant little kit from Hair Flair will do just the trick.
The Good
This set of hair rollers is another that does not rely on heat to curl your hair, so if you are afraid that it might end up damaged from exposure to heat, you don't need to worry at all with this kit. Despite not being heated, they have been designed to deal with long and thick hair, so you can have the curls you want without risking the health of your hair.
The set comes with 40 really long spirals, as well as two curling hooks, to help you achieve your desired look. They also come packed away in a neat little bag with a handle, which is great for travelling and going between homes. They come in pink and orange to help you tell which ones go in which direction, and there is a handy little instruction manual if you get stuck.
The Not So Good
Some customers found that the curls came out a little messy at times.  
Our View
This set curlers are great for those who don't want to expose their hair to high temperatures, and who want a safer way to style it. While some found that the curls were a little messy when they finished, practice makes perfect, and the instruction booklet can help you to perfect your styling skills. Plus, they come packed away nicely, which makes them suitable for travelling abroad or just to a friend's house to get ready.
Features - 
No electricity needed so fab for travelling 
No damage to the natrual hair
Remington is a popular and well-known brand when it comes to haircare products. If you are in need of some hair rollers for your long hair, these could be the ideal one for you. Take some time to read the reviews below and see if we're right about these.
The Good
This kit comes in a neatly packaged box that has a lot of space, but also a seriously stylish look. In a great shade of pink and black, it stands out for all the right reasons. It comes with 12 rollers in various sizes, which is ideal for a versatile range of looks, as well as 12 clips and 12 pins, so that you can keep your hair out of the way while you work.
Once you turn it on, it only takes ten minutes for the rollers to heat up fully, so that you can get started and styling as soon as possible. The rollers themselves are colour-coded, so that you know which size if which, and the core is filled with wax in order to retain the heat and ensure that your curls really last. It also features ionic conditioning for a frizz-free shine.
The Not So Good
Some found that the smaller rollers were a little time consuming and that the heating time did feel like it took a while.
Our View
This hair roller kit comes at a very affordable price that will likely fit into most budgets quite comfortably. While the smaller rollers can be a little fiddly, these feelings are rare compared to those who found that they were quite easy to use and roll. With a great range of accessories, as well as two different sizes of roller to help you achieve the look you want, you cannot go far wrong with a set like this.
Features - 
Ideal for Long hair ​
Affordable price 
Great range of accessories included 
When you think of hair styling products, it is likely that BaByliss is one of the first names that comes into your head. Since they are such a popular and trusted brand, it comes as no surprise. For hair rollers that will be kind to your fine hair, have a look at these ones to see if they will be right for you.
The Good
These rollers come in a really cool and unique pod for easy storage that is compact and easy to store away. The storage box itself is in black, while the rollers themselves are in black and pink, for a really great combination of colours. There are 18 rollers in total, which is great for those who really want to curl their hair, or if you have quite long hair that needs a little extra love.
The rollers themselves clip nicely into your hair, and feature advanced winding so that you do not need to worry about using separate clips and pins to keep everything in place. They heat up incredibly quickly, so you will be ready to get styling in a matter of minutes, and you will be left with an effortless set of curls that look absolutely amazing.
You will find the babyliss are neat small heated rollers which are easy use and also store away when you are finished with them - with the price they are it is important to make sure they are packed away correctly to avoid any damage. 
The Not So Good
Some customers felt that the price was a little high, and that it would have been better had they lowered it.
Our View
This pack of heated rollers for fine hair is heated and come in a brilliant casing that will make storage a much easier task for you to overcome. While they are a little on the pricey side, they come from a brand that is incredibly trusted and praised for their excellent products, so you will likely find that it is worth the extra cash. Ideal for fine hair, all you need to do is clip them closed, and you will have stunning curls by the time you're done.
Features - 
Just because you are travelling or going on holiday, it doesn't mean you have to leave your hair rollers behind. If you are in need of a set of hair rollers that is ideal for taking with you when you are on the move, these could be right for you. Take the time to read below and see for yourself.
The Good
Part of what makes these hair rollers so good for travel is the fact that they don't require any heat to give your hair the curls you want. That way, you don't need to worry about adaptor cables, safety hazards, or heat damage to your hair. It's filled with benefits, and the little carry case that it comes with is perfect for packing up and taking with you – as well as being compact and lightweight.
They are perfect for use with hair that is a little damp or dry, and are very easy to place in your hair. You don't need pins or clips to hold everything in place, as this fantastic model simply wraps around the desired area. All you need to do is leave it overnight and wait for the curls in the morning. Plus, they can work to straighten hair, and you can choose between two different sizes when you go to buy.
The Not So Good
If you have hair that is very long and thick, some customers recommend buying two packs for the best results.
Our View
This set of hair curlers comes at a very reasonable price that is likely to fit comfortably into most budgets, which is ideal for those who do not want to spend a great deal but still want a kit that they can travel with (as well as use at home). While some feel that those with very long and thick hair should pick up two packs, it was noted that one pack still did a great job of creating and holding the curls – for a look that lasts all day.   
Features - 
Great for travelling 
No damage to your natrual hair 
Well within most people budgets 
Further Models of Hair Roller
Here are some further models of hair roller, just in case the ones above do not quite meet your requirements
TONI & GUY TGS5620 Salon Professional Extreme Volume Hair Rollers - 38 mm
Toni & Guy is a trusted brand when it comes to haircare and accessories. These hair rollers have a professional quality and come in a pack of four, which makes them ideal for all hair types as well as taking with you when you go travelling. The Duo Heat technology ensures that the rollers are heated from the core, and they do so quickly, allowing you to get on with styling your hair in no time at all. With enhanced heated butterfly clips included and a very low price, this could have everything you need.
Curlformers Deluxe Range Styling Kit Corkscrew Curls for Extra Long Hair
This styling kit comes in a lovely and compact little bag that makes it ideal for taking with you when you go travelling. The corkscrew rollers have been designed to curl incredibly long hair, and you will find that they work a treat on yours. The set contains 40 curlers, so you will be able to achieve your desired look with ease. Plus, there is no heat with this model, meaning that you don't have to worry too much about potential damage to your hair. The lack of heat doesn't mean your hair won't look great though, you can expect some serious gloss, shine, and healthy feeling hair once you are done.
To Conclude
Hopefully, this guide has helped you to find the heated rollers for short hair you have been looking for, and the hair rollers reviews have helped you make an informed choice. Curling your hair is not always easy, nor it is a simple task to find the best hair rollers.
However, no matter your hair type or the kind of roller you want we are sure to have just what you are looking for here. Plus, there is no need to worry about going way over your budget, because we have the perfect range of products at a massive variety of prices.  
What did you think of our hair roller guide? Are there any that you would have liked to see or recommended? We love hearing from you, so make sure to leave us a message in the comments below.