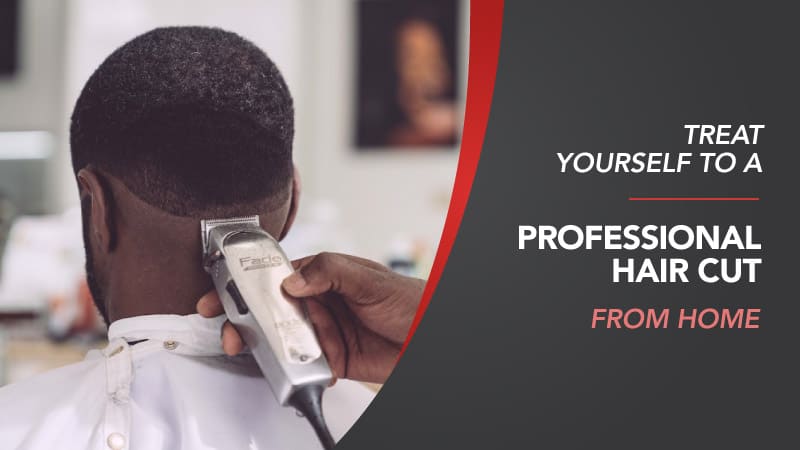 Best Hair Clippers UK - For Home & Professional Use
OUR REVIEW PROCESS ...
Hair Day reccomendations are based on more than 50,000 verified customer reviews and experiences. We never reccomend a pair of straighteners we haven't personally experienced and tested. You can rest assured that the straighteners you choose to buy will meet Hair Days standards. 
This research is supported by our readers, you, through our independently chosen links. If you would like to read more about how we are supported then read here. 
Sometimes, you can't get to the barbers, or you just don't have the cash to have your hair done by a professional. If this is the case, you might start considering doing it yourself and get cutting so that you are left with the haircut you desperately want for a fraction of the price.
What you need to achieve this is a good and professional set of hair clippers that are durable and robust enough to deal with your hair and help you achieve the style that you want. Before you make the choice to invest, you should ensure that you are selecting something that ticks all the boxes and has been designed with your comfort in mind. Plus, you want to make sure that it comes from a brand you know and trust.
We know it's not easy to choose the right hair clippers, but that's where we slide in and lend a hand. In order to help you find the best hair clippers, we have put this guide together, compiling all of the relevant hair clippers reviews in one place, allowing you to find the perfect one for you. 
---
Best Hair Clippers for Home and Professional Use - Product Summaries
1. Philips Series 9000 Hair Clipper
Best Budget Hair Clippers 
  Highlights -
Memory Function
Dualcut Technology
Titanium Blades
Auto Turbo
Phillips is a classic brand to go for, and one that instils confidence in those that use it. If you are looking for hair clippers that are soft and gentle on your skin so that you can shave your head, these might be it. Take some time to read through the reviews below and see if this is the perfect match.
The Good
These hair clippers come in grey and black for a classic, yet minimalist design. The handle is ergonomically designed for a comfortable feel and a solid grip when it comes to shaving your head.
The combination of features, like the digital swipe, motorised combs, and memory function, ensure that you are left with a precise cut and perfect control over what's going on.
Each of the three motorised hair combs come with a self-sharpening titanium blade that provides excellent results and consistent performance over time.
There is even a turbo button for a little extra speed and power when you reach those really difficult areas. Cordless and powerful, these hair clippers can last for 120 minutes without issue and only need an hour to charge.
The Not So Good
The plastic under the blade can cause some sticking.
Features - 
Brand: Phillips
Cordless: Yes
Charging time: 1 Hour
Charge time in use: up to 2 hours
Accessories: 3 motorised combs - digital swipe, and memorises last 3 cutting lengths
Warranty:

-

 
Our View
These hair clippers come at a reasonable price, and are perfect for shaving all your hair off without any hassle. While the plastic blade base can stick at times, it still makes for a very smooth shave and for excellent results.
There are a number of great settings to help you achieve the perfect cut, and the blade choices mean that you can use it for other styles if you ever want to experiment with something new. A close shave at a great price.
Good For:
Memory Function - remembers your last cutting length and can save three others for each comb attachment you put on
Dualcut Technology -  The cutting element is designed to perform time after time, cutting hair twice as fast
Titanium Blades - Titanium blades are harder than steel for ultimate durability
 Check Prices / Read Our Full Phillips Series Review 
---
2. Braun Series 9 Electric Foil Shaver
Best Hair Clippers for Head Shaving
  Highlights -
5 Shaving Elements
2 Specialised trimmers
Sonic and Autosense Technology
50 mins run time 
Clean & charge station
Braun is another big name, and if you are in search of some cordless clippers that really get the job done, you might want to stop scrolling here. Made for cutting hair in quick time, these clippers have everything you need and more – just read the reviews and see for yourself.
The Good
These clippers have a sleek and comfortable design that makes it easy to hold as well as smooth to handle. You will have no issues controlling the blade with these as it's so simple to do.
It's an efficient shaver that is gentle on your skin to avoid irritation and reduce the risk of cutting yourself. Plus, the auto sensing motor means that you get the best cut on every stroke of the blade.
It gives you just under an hour of cordless shaving, with a short charging period that will let you get back and shaving in no time at all. The flexible head can move in ten different directions for the best contouring results, and there are five shaving elements for the ultimate protection. Waterproof and with two specialist trimmers, it has everything you need for a cordless clean.
The Not So Good
Some customers feel that the price is too high for a razor.
Features - 
Brand: Braun
Cordless: Yes
Charging time: 1 hour
Charge time in use: 50 mins
Accessories: 5 included
Warranty: 2 years
Our View
These hair clippers are perfect for achieving a close shave that looks just like day one of your bear growth, but also for cutting your hair and giving you the style you want.
While there are some who feel that this model is overpriced, there are plenty more who strongly recommend this as their number one trimmer for head and facial hair. Cordless and with a great running time, you don't need much more than this to achieve the results you want.
Good For:
Clean & charge station - 5-action alcohol-based Clean&Charge station removes 99.99% of germs with the press of a button
50 minutes use time - The state-of-the-art Li-Ion battery keeps performance and fully recharges in one hour
5 Shaving Elements - 4 cutting elements and 1 SkinGuard work together seamlessly, for the best skin comfort
 Check Prices / Read Our Full Braun Series Review 
---
3. Panasonic ER-GB86 Wet & Dry
Best Wet & Dry Hair Clippers
  Highlights -
58 cutting lengths
Wet&Dry waterproof
1 Hour charge time
50 mins use time
60% wider pitch between blades
The Good
Panasonic creates more than just top quality televisions, you can also expect to find some really funk accessories too. These hair clippers are just one example, and one that you will want to stop and look at. Some of the best hair clippers around, all it takes is a quick read below to see for yourself.
These hair clippers have a really stylish and modern design, and are comfortable to hold when you are stylish your hair or trimming your beard. Cordless for your convenience, they have just under an hour of running time before you need to charge them. However, after an hour it will be ready to go again. Plus, it can be used in and out of the shower, and is also washable.
There are three fantastic attachments for you to use, the first of which is for achieving the perfect trim on your beard so that you are left with perfectly groomed results.
The hair trimmer allows for you to cut and style without any tugging, and the body attachments help you attain godly levels of smooth. Plus, it's really easy to use and get started, so there is no hassle.
The Not So Good
A couple of customers felt that the power level was a little low for cutting thicker hair in a timely manner.
Features - 
Brand: Panasonic
Cordless: Yes
Charging time: 1 Hour
Charge time in use: 50 mins
Accessories: 3 attachments 
Warranty: -
Our View
These reasonably priced hair clippers are perfect for trimming every inch of your body in a way that is both comfortable and effective, so you are always left looking your best.
While there are some who felt the power was a little low and that cutting took longer as a result, the end product is worth the time and effort that you put into trimming your hair (or the rest of your body). It makes for one of the best trimmers out there, even if it does take a little longer with thicker hair.
Good For:
58 cutting lengths - from 0.5mm to 30mm (in 0.5mm steps)
60% wider pitch - wider pitch between blades to catch more whiskers with a single stroke
High-Torque motor - ensures there is no power lost or hair missed while cutting, enabling smooth trimming of even hard, dense beards
 Check Prices / Read Our Full Pansonic Wet & Dry Review 
---
4. Wahl Groomsman 9906 Hair Clipper
Best Hair Clippers for Barbers
  Highlights -
Cordless - Battery powered
Easy to use
Variable lengths
Multi position comb
If you are a barber looking for the next best pair of trimmers for your shop, Wahl is one of the best names out there for a truly professional result. If you think these could be everything you wanted and more, why not take a moment to scroll down and read through the reviews? You might be left surprised.
The Good
These hair clippers have a professional appearance and are well-shaped to make them easy to hold and handle when you are cutting your client's hair.
The kit itself is packed full of useful accessories and equipment, with 10 premium guide combs, a barber comb, deluxe scissors, clipper oil, and a cleaning brush to keep it all maintained. There is even a soft storage pouch included.
The controls are really easy to use, with the taper setting activated at the press of a thumb, and the huge range of cutting lengths gives you flexibility that only a professional could dream of.
The blades themselves are self-sharpening, which means they are always ready to give you the best they can, and you are promised excellent power levels and performance. 
The Not So Good
It can be a little heavy, and some found that it makes more noise than they expected.
Features - 
Brand: Wahl
Cordless: Yes
Charging time: Battery Powered
Charge time in use: -
Accessories: 4 Guide Combs
Warranty: -
Our View
These affordable clippers come at a budget price that just about anyone could afford, and they are really durable and robust so they can withstand regular use.
While they can feel a little heavier when compared to a standard pair of clippers, and some have found them to be a little noisier than expected, they actually make for an absolutely fantastic option, and they come with a range of accessories that make the kit even better. Perfect for anyone to use with ease.
Good For:
Cordless - cordless operation for freedom of movement
Versatile - Ideal for beards, stubble, facial hair, necklines and sideburns
Multi Postion Comb - 6-Position Guide comb and slide up and down to your required length varying from 1.5 mm-13 mm
 Check Prices / Read Our Full Phillips Series Review 
---
Further Models of Hair Clippers    
Here are some further models of hair clippers, just in case the ones above do not quite meet your requirements.
5. Babyliss 7056CU Cordless Rechargeable 8 In 1
  Highlights -
Rechargable
Gentle Trimming
4 interchangeable cutting heads
Washable cutting heads
Cordless
45 mins run time
BaByliss is a leading brand in the hair care industry, and it's easy to see why when you take a good look at their products. If you are looking for a set of professional hair clippers, these could be just what you need, and they come at a pretty reasonable price.
It is both corded and cordless, with a face and body trimmer that allows you to achieve the ultimate levels of comfort with your body, and the lithium-ion technology used means that the battery life is excellent.
The precision blades have been made to cut corners smoothly and without irritation, and it all packs away nicely on the charging stand.
---
5. Elehot Cordless Hair Clipper
  Highlights -
Cordless
60 min run time
Anti-slip handle
USB charging cable
20 gear adjustable limit comb
These budget hair clippers are perfect for those who are on a tight budget, and they make the ideal set for absolutely anyone – whether you are a youth, adult, or even an elderly person who has trouble coordinating.
The body is comfortable to grip, and it is cordless with an excellent battery life that lasts past two hours. It comes with four different heads so that you can play with your style, and the blades themselves are incredibly durable and robust. Easy and safe to operate, it is also incredibly simple to clean after being used.
To Conclude
Hopefully, this guide has helped you to find the best hair clippers, and that the hair clippers reviews have provided you with everything you need to make the best possible decision with regards to which clippers are going to work best for your needs and style.
We have selected a brilliant variety of clippers that will allow you to achieve the professional look you want from the comfort of your home. With a range of top brands, you are guaranteed quality and durability no matter what you pick, and they have all been chosen with a number of budgets in mind, ensuring that there is something here that will slide in nicely. We hope that one of these ticks all of your boxes.
What did you think of our hair clippers guide? Are there any that you would have liked to see or recommended? We love hearing from you, so make sure to leave us a message in the comments below.