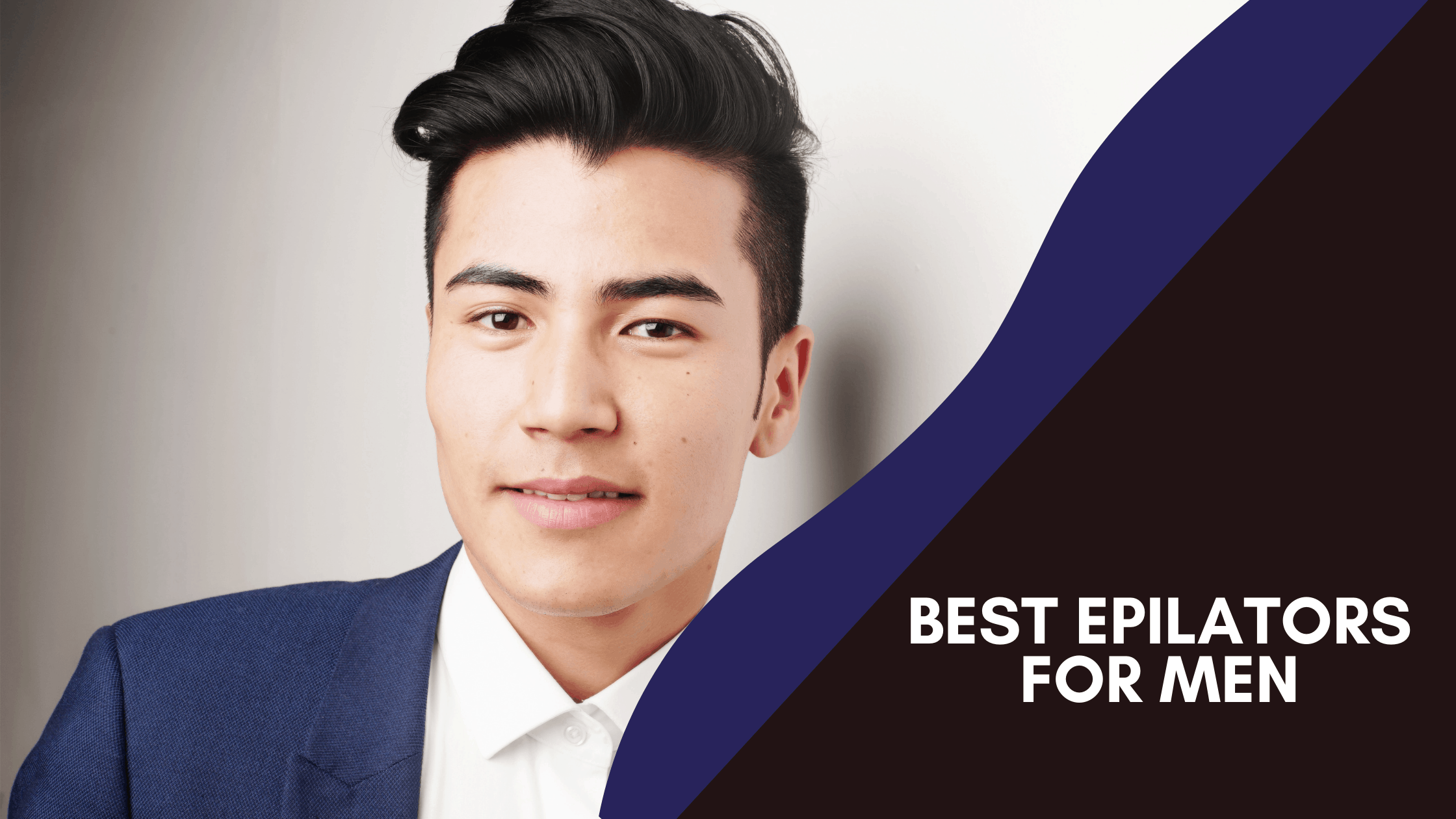 7 Best Epilators for Men UK (Pain-Free Hair Removal Guide)
Truthfully, men are the hairiest species, right?
Yet most of the information and products out there are not aimed specifically at men. 
WHY, you ask?
It is presumed that women remove hair more than men when actually men use shaving, waxing and other types of hair removal methods just as much as men. 
So why would you want to choose an epilator as a man?
Epilating is easy, pain-free and more effective. Find the best epilator for your unwanted hair as a man is a winner all around. They are versatile and can be used on many parts of the face and body. An epilator is also a one-off purchase, you just simply need to continue to regularly epilate – EASY. 
We have spent over 30 hours reviewing the top 40 epilators that would be suitable for men to remove unwanted hair. Looking at which accessories, price range and how well they perform. 
We have managed to narrow our top picks down to 8 winning products. Check out our list of the 8 best epilators for men. You won't be disappointed. 
Best Epilators for Men UK (In Order)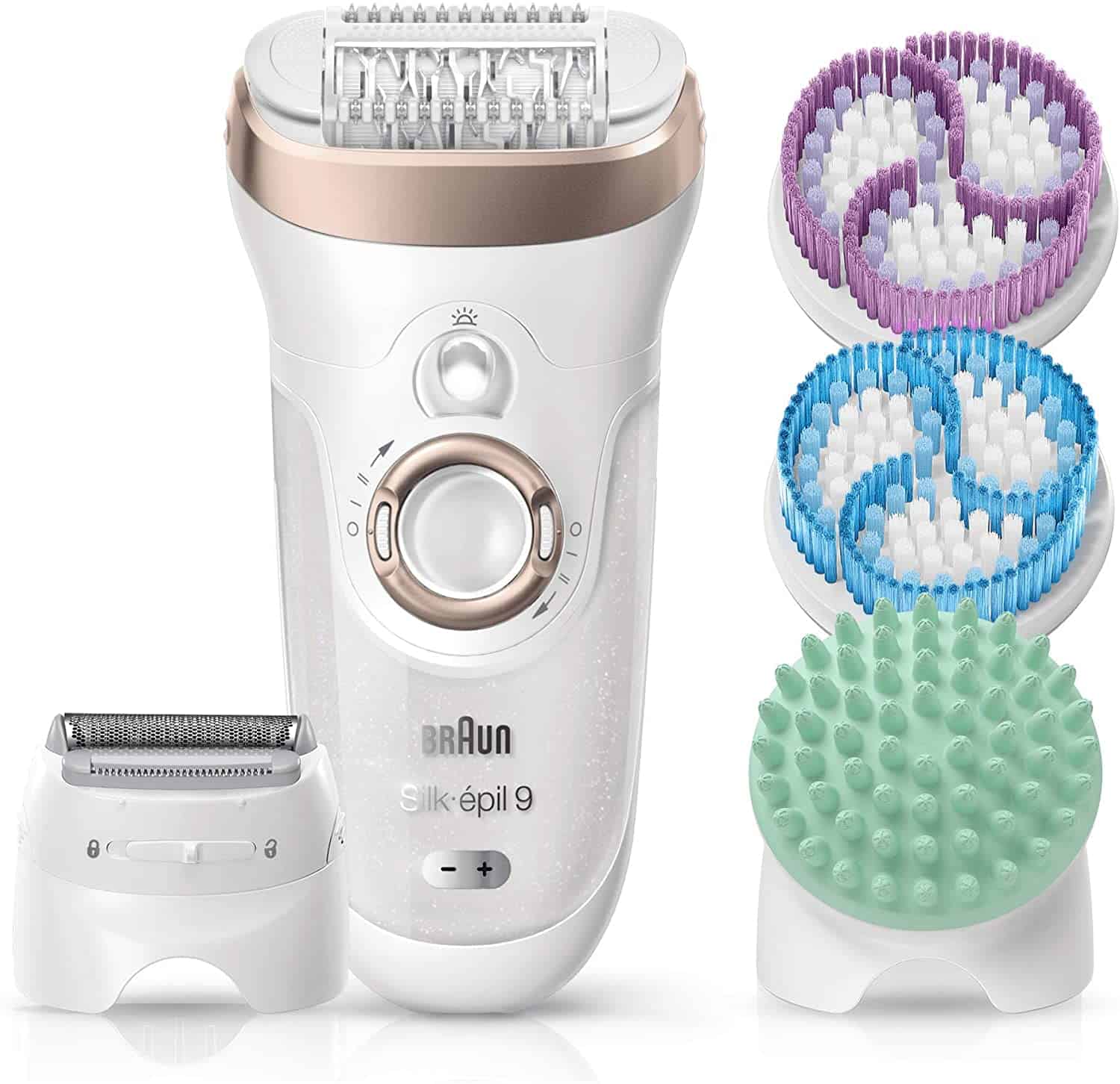 1. Braun Silk SE9-961 Wet and Dry Epilator Cordless Hair Removal 4-in-1 Epilator
Editors Pick – Best Mens Epilator uk
Features 
Brand: Braun 
Cordless: Yes
Run Time: 40 Mins
Accessories: 12 Extras, 4 Body Brushes 
Ideal For: Private Areas, Facial, Sensitive Areas
The Braun Silk-Epil SE9 is as fabulous as it looks. With 12 extra attachments and body brushes, they have an attachment for everything, massage, soft exfoliation and deep exfoliation which is all essential for a successful hair removal session. 
The Good
This epilator has an efficiency cap meaning it will be able to fit in smaller areas. Perfect for private parts or even getting close to your facial features when epilating your face. 
It is called a wet and dry epilator meaning it can be used in and out the shower which is handy. Using your epilator in the shower or bath will help your hair removal to become pretty much pain-free. 
For those of us that are losing our eyesight with age (or is that just me), there is a smart light that can be used to find out even the finest of hairs to remove. 
With a pivoting head it is easy to use, and easy to get to those uneven areas such as knees or your jawline. 
The Not So Good 
If you are buying for the UK then you will need an adaptor as it comes with an EU two-pin plug which some customers have found a pain. 
Our View
With the Braun Silk-Epil SE9 being fully washable and easy to clean under running water this has become our clear winner. 
Its wet and dry options mean you can choose how you use the epilator, with 12 different attachments to choose from you will have endless fun and all for a reasonable price.
---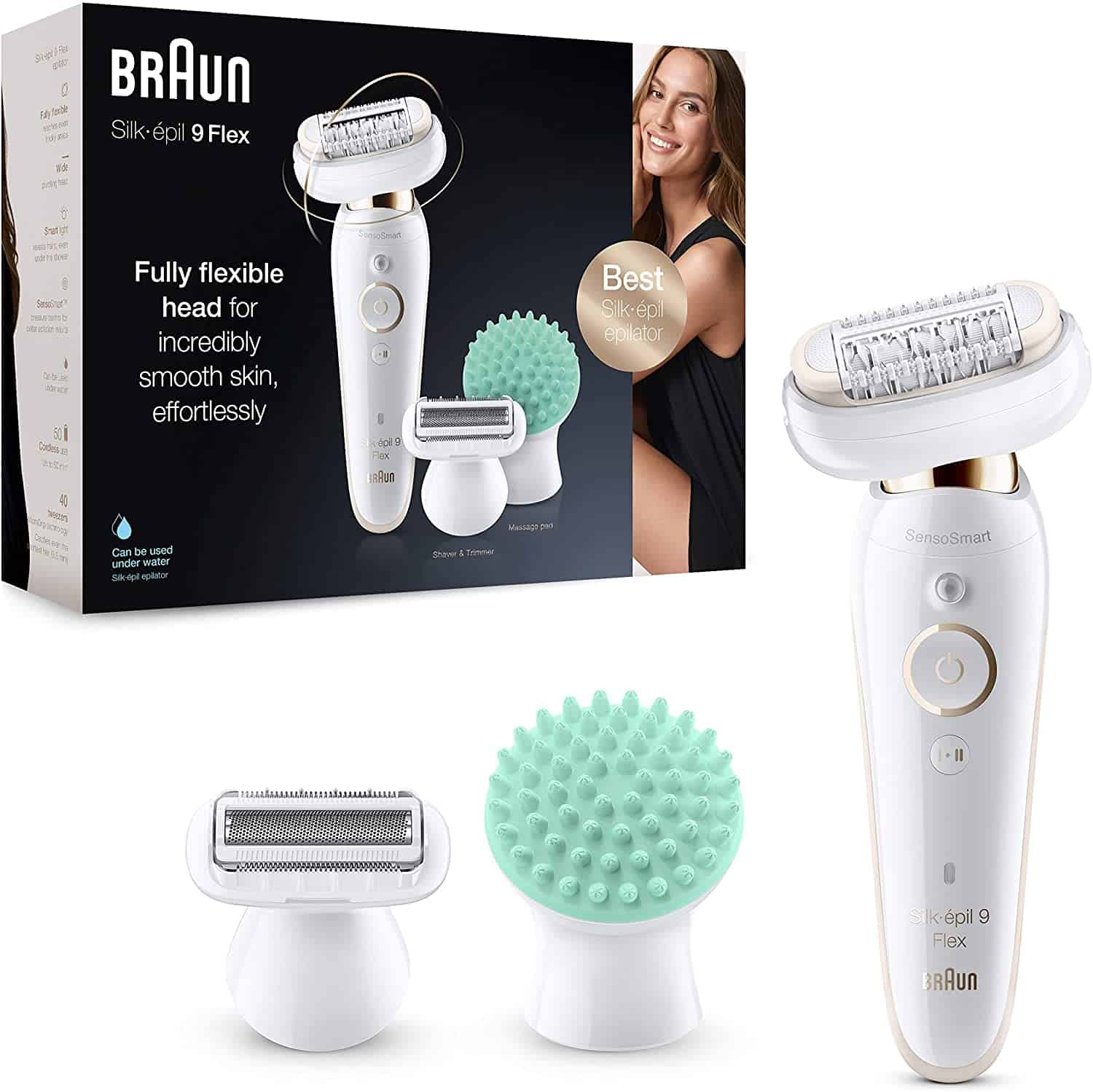 2. Braun Silk-épil 9 Flex 9-020 – Epilator
Premium Pick – Long Lasting Mens Epilator
Features 
Brand: Braun 
Cordless: Yes
Run Time: 30 Mins
Accessories: 1 Body Massage Pad, 1 Cleaning Brush
Ideal For: Lasting Longer Hair Removal
This lightweight Braun Silk-Epil 9 flex epilator comes at a premium price – but sometimes you get what you pay for and this is it. You really are getting the best of the best when it comes to finding the best epilator. 
The Good
With its fully flexible head, it moves so smoothly when removing your hairs. Thanks to the micro-grip technology and a 40% wider head on the machine it removes even the tiniest of hairs, even down to 0.5mm (Impressive, right?). 
As it comes with the option of both an EU plug and a UK plug, this gives versatility when travelling with your epilator. This means it will work wherever you may go, with no need for a travel adapter (BONUS). 
The Not So Good 
The price is higher than some men would want to spend on an epilator (We all have our own budget, so make your own mind up). 
Our View
This epilator offers effortless epilating with top results. Removing the shortest hairs we have ever tested when trying out many epilators, this is a top winner. The price is high but you are getting the top results from your hair removal. Remember you only need to make the purchase once. 
---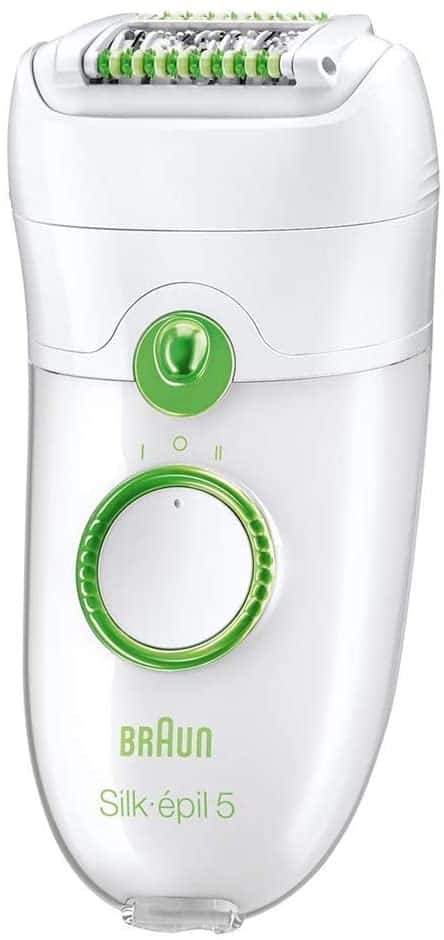 3. Braun Silk-Epil 5 Power 5780 Epilator
Our Pick For A Facial Epilator For Men
Features 
Brand: Braun 
Cordless: No
Run Time: N/A
Accessories: 7 Extras
Ideal For: For Beginners, For Facial Hair
If you're new to this type of hair removal then take a look at this Braun Silk-Epil 5, it's so easy to use that every beginner can use this. With 40 up close tweezers within the epilator, it will remove the shortest of short hairs which are perfect for facial hair.
The Good
Epilation is one of the least painful hair removal methods and now this Braun epilator offers a high-frequency massage system that stimulates skin for an even more comfortable epilation. 
It also comes with a pivoting head that follows every contour of the body for skin contact and this helps to give an even gentler performance, which is why it's great for those more sensitive areas like your face. 
Don't worry if your eyesight isn't the best to spot those tiny hairs as this epilator has a smart light that reveals even the tiniest of hairs. 
Not only is this an epilator but the shaver head and the trimmer can turn your epilator into a full performance electric shaver for depilation (Handy, right?). 
The Not So Good 
This epilator comes with a two-pin plug so if you are in the UK you will need to purchase an adapter to be able to plug it in.
Our View
At a reasonable price for such a handy product for hair removal, pain-free, multiple attachments included it's most definitely worth every penny. 
With a smart light to spot out those tiny hairs and a pivoting head to give a gentler performance, you are getting the top end results from your hair removal method. 
If you are not keen on the thought of just using your epilator as a dry shaver (it can't get wet) then take a look at our wet and dry mode coming up next, Braun Silk-Epil 7. 
---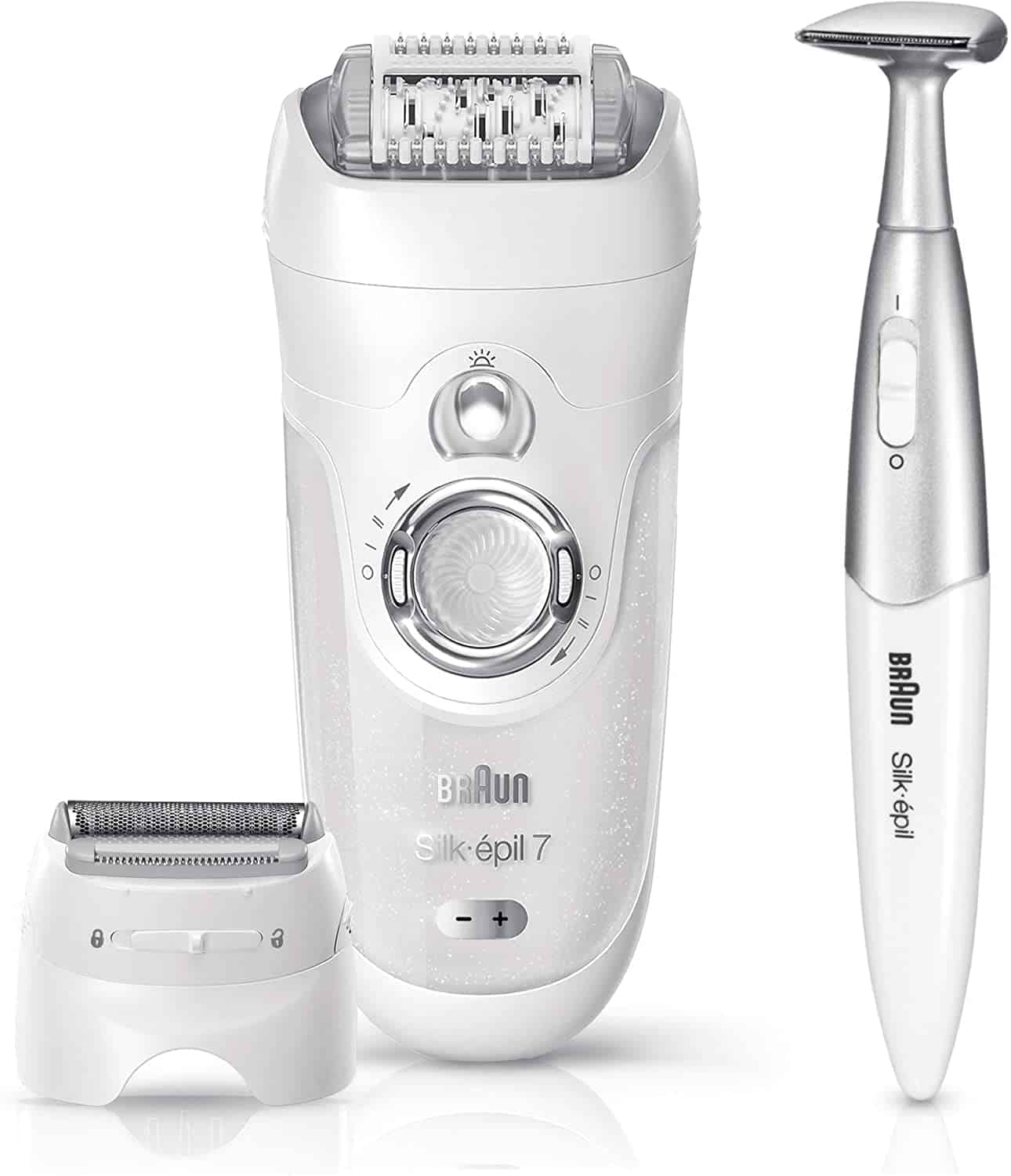 4. Braun Silk-Epil 7 7-561 Wet and Dry Epilator
Our Pick For Cordless Epilator + Great For Travel
Features 
Brand: Braun 
Cordless: Yes
Run Time: 40 Mins
Accessories: includes a trimmer head 
Ideal For: Private Areas, Facial, Sensitive Areas
Don't be alarmed by most of the epilators advertised being aimed at women as really they are made the same design for women as they are for men. Really they should be stated as unisex as they all do the same job, 
This Braun Silk-Epil 7 is easy to use being cordless as well as a wet and dry design this means it is a virtually painless method of hair removal even when you are regularly using it, there really is no irritation caused by epilating. 
The Good
Known as one of Brauns most efficient epilators, as well as being one of the most gentle on your skin. 
Being from one of the most reputable brands out there (as you can tell from our last 3 picks) it's one you can trust is going to get the job done. This model is designed to provide silky-smooth results that last up to 4 weeks. The Silk-épil 7 removes hair as short as a grain of sand (0.5mm), 4x shorter than waxing (Seriously, impressive).
The Not So Good 
Come with just a 2 pin plug so if you are in the UK then you will need to purchase an adapter plug. 
Our View
From a trusted brand this Braun epilator has its name to live up to. It's cordless, easy to use and at a value price. It leaves your skin fresh, smooth and silky as it's able to remove short hairs and at no expense of your pain (WINNER). 
---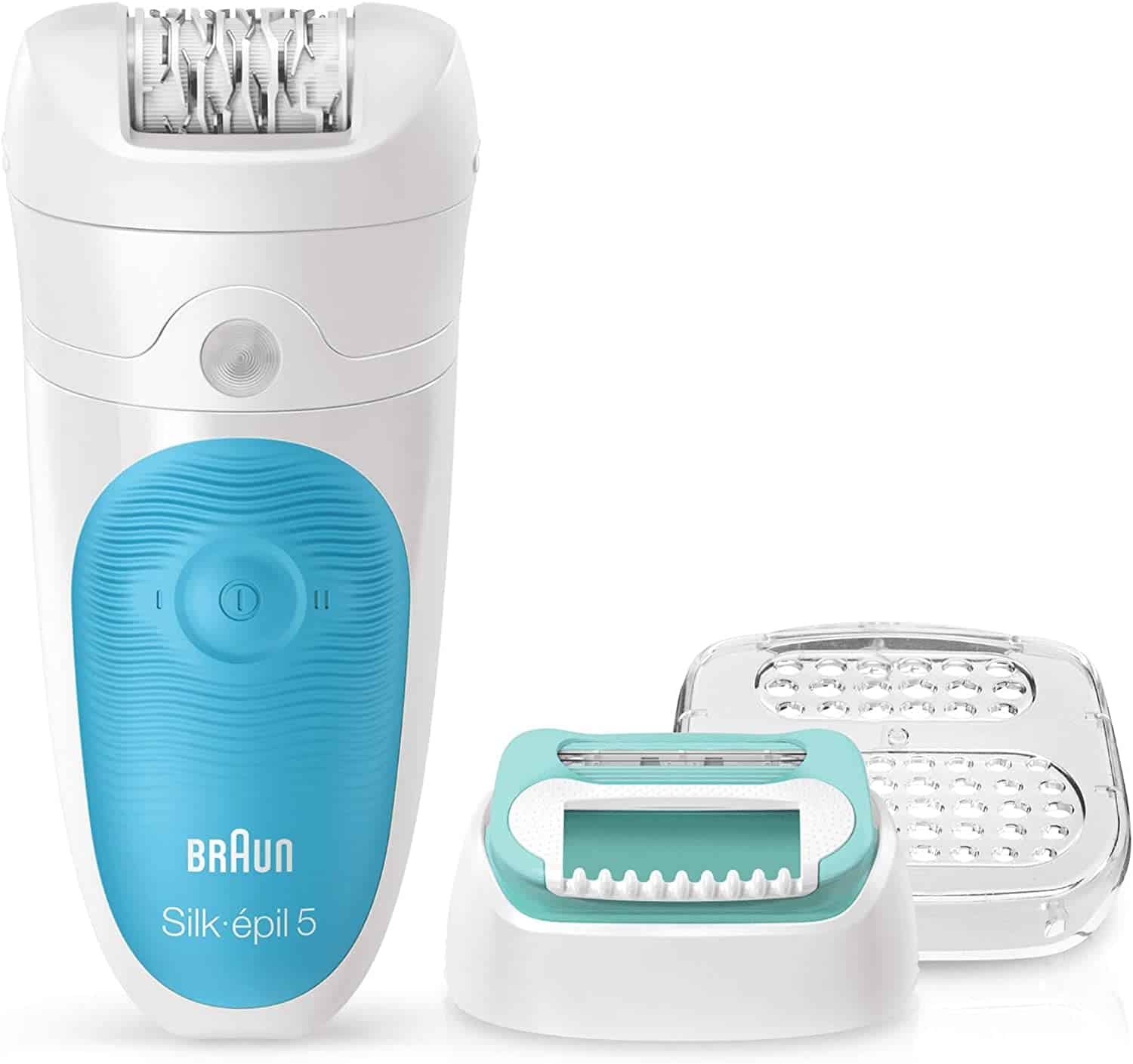 5. Braun Silk-épil 9 9-561 Wet and Dry Cordless Epilator
Best Mens Epilator For Beginners + Easy To Use
Features 
Brand: Braun 
Cordless: Yes
Run Time: 30 Mins
Accessories: 2 Extras, plus beginners cap 
Ideal For: Beginners
This modern-looking Braun 9 epilator is easy to handle and flexible to use to get to those tricky areas such as the face and your private areas. 

This well-trusted brand offers Up to 100 percent gentle hair removal in one stroke, this will lead to top results for hair removal. At Around £50 this is also great value for money on Amazon, unlike some other companies who are selling this product at a slightly higher price (don't be fooled).
The Good
The Silk-épil 5 Wet & Dry Starter Kit is ideal for first-time users, with a special beginner cap that helps you get used to epilation, this way you don't need to be a pro before purchasing this product. 
This epilator is designed to be used in the shower of the bath for added comfort and convenience, with a special anti-slip grip for easy handling. 
If you use it in warm water with Braun's high-frequency massage cap system it will help to soothe and relax your skin, making epilation more comfortable. 
The Not So Good 
This is one of the only Brauns models that doesn't offer sensosmart technology – which helps to apply less pressure for less pain.
Our View
Overall this is a great product to purchase to remove hair especially if you're looking to remove facial hair and private areas hair, as this model is designed to work well with the more sensitive areas. 
For great value for money, you will not be disappointed with this wet and dry cordless epilator. If Braun is not the brand you want to go for then take a look at our next model from Panasonic which is proven to be our top pick for wet and dry epilators. 
---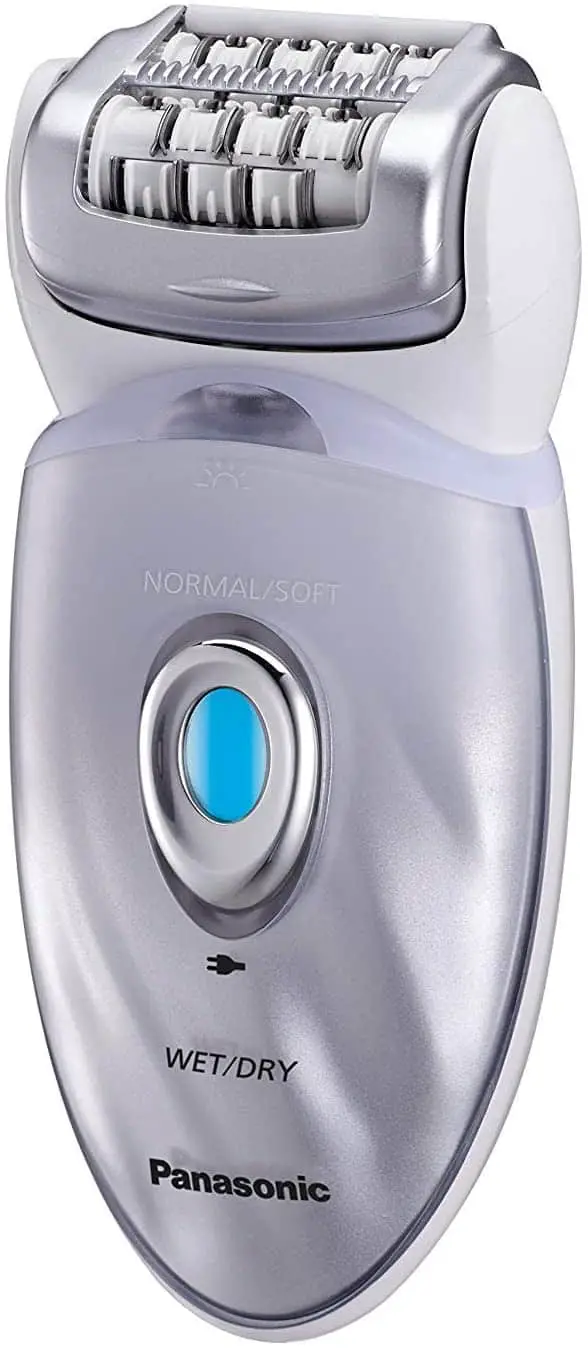 6. Panasonic ES-ED96 Epilator Wet/Dry
Our Pick For Top Wet And Dry Epilator
Features 
Brand: Panasonic 
Cordless: Yes
Run Time: 40 Mins
Accessories: 8 extra attachments 
Ideal For: Private Areas, Facial, Sensitive Areas
From the Panasonic company, this is a high-quality epilator one of the top wet and dry options on the market today. You're able to enjoy weeks of smooth skin.  
The Good
The Panasonic ES-ED96 is suitable for your whole body hair removal including legs, arms, face and private areas. From hair removal to exfoliation all within one product. 
This epilator gently removes hair whilst protecting the skin. The eight different attachments available with your gadget means it's the perfect tool for all. 
You can exfoliate, care for your feet, cleanse your face and scrub your body. Incredibly all from your one epilator just simply changes your attachment needed. 
This product offers dual discs where two hair removal discs are aligned evenly making sure even the shorted hairs are not missed when pulling them up from the root. 
It also offers 48 tweezing discs to avoid contact with the skin causing less pain and irritations, perfect for the most sensitive skin. 
The Not So Good 
Some customers found this epilator a little wider than other epilators, which makes it a little awkward to hold when removing your hairs.  
Our View
As this Panasonic epilator is perfect for using wet and dry this gives you the option for your preferred option. Most men would choose to use a wet epilator as this means you can use it underwater and this is usually less painful and prevents any irritation.
---

7. Ma Devlins Epi Travel Slim Compact Epilator
Our Pick For The Top Travel Epilator
Features 
Brand: Ma Devlin's 
Cordless: Battery Powered
Run Time: –
Accessories: Pouch to store whilst travelling
Ideal For: Hair removal on your travels
If your looking for a travel epilator that is light and easy to use then the Ma Devlins epilator is the product for you. 
This compact epilator removes hairs from roots from delicate areas like underarms and facial hair. Ideal for those hard to get areas around the chin area and around the mouth without causing any irritation.  
The Good
No need to remember to put this epilator on charge for us as it simply runs on battery power. It is suggested that you should use batteries like Duracell to get the full power out of the travel epilator. 
Ma Devlin's epilator removes hair from the roots for up to 6 weeks, this is an incredible amount of time to be smooth and hair-free.  A light on the unit helps to guide and highlight the hair to be removed (great for those with poor eyesight, LIKE ME). 
The Not So Good 
As it is battery run, you will need to replace the batteries regularly which some customers find frustrating.
Our View
Overall this compact epilator is perfect for taking on your travels, it's slim and lightweight to use. You dont need to charge this epilator, simply replace batteries when you need to up the power to its full potential. 
---
Frequently Asked Questions
Can men epilate the pubic area?
Men can use an epilator to remove hair from their pubic area. Generally, it is safe to remove pubic hair by using epilator devices. However, it is a sensitive area and you may need to be careful how much you epilate at first, you may want to have breaks in between. 
How often should men epilate?
Men can use an epilator for facial hair at least once a week, But if you are epilating other areas you may want to go a little longer in between hair removals. 
Conclusion
As you can tell our top choice for epilators brands is Braun, Braun offers the best epilators for men. They have all the options for corded, cordless, wet and dry and they are great for value for money. 
Hopefully, you have found the right epilator for the job, wherever you want to remove hair from we have the right model for the job.
What did you think of our best epilators for men's guides? Are there any questions you feel haven't been answered? Feel free to message us, we love to hear from our readers.