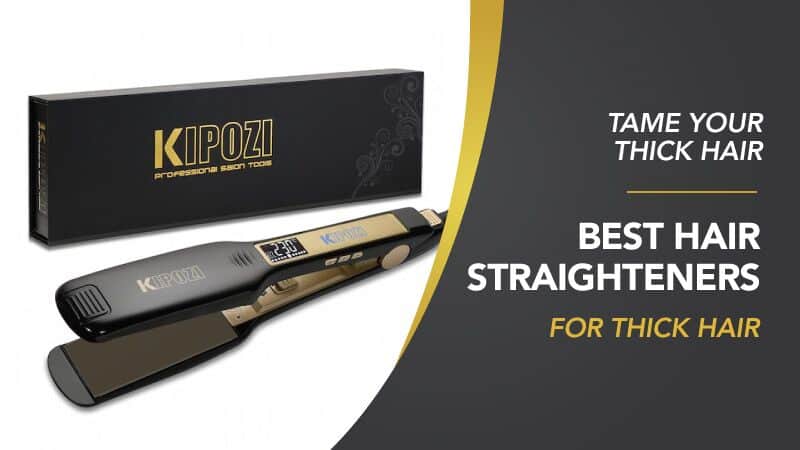 Last Updated on
Tame Your Thick Hair - Best Hair Straighteners for Thick Hair
First of all are you looking for Best Hair straighteners For Thick Hair that will get through your thick, difficult, time consuming hair? We are here to help.
Moreover thick hair can be beautiful to look at it can be very hard to maintain, especially if you prefer your hair to be straight and well maintained when you have thick, frizzy out of control hair.
In addition this seems to be a real problem that people have when trying to purchase a suitable pair of straighteners, making sure that the hair straighteners meet your hairs particular needs.
Therefore when you have thick hair you need to consider the different aspects that can make them suitable for your needs such as;
· Plate materials
· Width of the plates
· Length of the plates
· How high the temperature can reach?
· Heat up time
· Safety features
Best Hair Straightener for Thick Hair - Comparison Table
Product summary's :
Firstly, Diva professional styling feel the heat S3 argon gold wide straightener is a new, high quality hair straightener unit.
It emphasises on attention to detail and at the same time it focuses a lot on performance.
Next this product produces top results, with a professional finish.
It's also has a modern, sleek design with quality kept in mind, which does help take the experience to new heights.
However it's nice to see that the design does complement the results of your hair and it's amazing to see how refined and detailed this product really is.
The Good
Six variable heat settings ranging from 120°C for artificial hair extensions to 220°C for thicker hair.
The Not So Good
Customers feel a lock to keep the straighteners together when not in use would be helpful for safety and storage.
Features -
First of all the Voss Dual Voltage Extra Smooth Ceramic Wide Plate is one of the latest products on the market that is designed with conditioning and colour protect in mind.
No doubt it's a very interesting, refined product that does help address many of the challenges that comes with a regular hair straightener and the results you get here are very good.
Therefore the technology for this product is very professional, one of a kind and suitable for all types of hair.
In addition this particular model is one for stylists because not only is it durable, it's also designed with professionalism and ease of use in mind which is always a major plus.
Of corse the product does come with plaques that have a very interesting colour and you can choose to have it with either medium or wide plates which is a plus.
You will also like the fact that this model heats up very fast, this is a must have when you are rushing and trying to get out that door in the mornings, that on its own can be very persuasive for sure.
Finally if you would like to read the full review on the Voss dual voltage ceramic wide plate hair straightener then click here.
The Good
Customers found 360 degree rotating cord useful for ease and speed.
The Not So Good
We could not find any negative feedback for these straighteners.... Bonus!
Features -
The She Hair brand have a good reputation in many countries for being top of the line, high quality and very good products.
But are these products really delivering the quality and results that you expect from them.
The she wide hair straightener benefits from having extra wide plates.
It is able to straighten the tougher more thicker types of hair and can cover a lot more hair in a short amount of time.
The performance you get with this product is really astounding and quite extraordinary to be honest.
You get all the features you might expect from a very expensive high end product, but they are packaged in a great, low priced, neat and tidy design that really manages to give the finish you are looking for.
The Good
Customers feel these are great value for money, easy to use and straighten your hair very quickly!
The Not So Good
Some customers feel a temperature control feature would be beneficial.
Features -
Are you looking for the best hair straightener for thick afro hair ?
Then the Cloud Nine wide plate black hair straightener might be right up your alley.
This is a device that delivers high quality features and a stellar experience all while offering you a unique design and premium packaging.
The smooth and glossy black ceramic plates contain a special and mysterious ingredient to give your hair added shine and sparkle, each and every time you use your irons.
Ceramic is a well trusted plate and give top quality results especially when you are searching for those tougher hair types, like thick or Afro-Caribbean hair.
The black ceramic plates are offering a smooth gliding effect and the hair is shiny which is a major plus.
It's also cool to see that there's no damage to your hair, as we said you obtain incredible value from this device and that on it down does help to take the user experience to new heights.
If you would like to continue to read the full review on the Cloud Nine wide review.
The Good
This product has 7 heat temperature settings, you can set the iron from 100°C to 200°C and choose the heat that's best suited to your hair type. The Wide Iron takes 20 seconds to reach maximum temp!
The Not So Good
Few customers feel it would be useful if the heat settings and on/off switch were more accessible rather than being on the inner part of the straighteners.
Features -
FAQ'S
Q. What is the maximum temperature of these straighteners?
A. 250 degrees. Highly recommend these straighteners there great!
Our best hair straightener for thick hair for the money award goes to....
The GHD IV styler , this is without a doubt the most ground-breaking straightener that has the ability to style fast but with less heat.
The GHD IV Styler was named "Best Flatiron" by Allure Magazine in their coveted Best of Beauty Awards.
GHD IV styler offers unprecedented styling performance and delivers gorgeous shiny, healthy results that last up to 12 hours longer.
Although this is the higher end of the price range when considering the amount you want to spend on a pair of straighteners, at £100, these straighteners will show you the high end in the straightening range, it will be well worth the money.
These straighteners are particularly good for all different types of styling due its round barrel which gives it the ability to create curls, waves and straight styles.
​This latest model of the GHD is well known for its ceramic heater technology plates which gives it the ability to make light work of styling the toughest textures, such as very thick, curly or afro hair.
The high technology ceramic material plates, keeps the straightener at constant temperature to avoid hot spots which damages your hair.
Lets say the GHD IV Styler is the 'Ferrari' of the hair straightening world.
Click here to read the full review on the GHD iv styler review.
The Good
Includes universal voltage so you get optimum performance wherever you travel.
The Not So Good
We could not find any negative feedback for these straighteners... Bonus!!
Features -
Is the Phillips care thick & long hair straightener one of the best and most interesting hair straightening products on the market?
Does it help you deliver the best hair straightener for thick hair experience or not? Let's find out right now.
One thing to note about the Phillips care thick & long hair straightener is that it causes less damage to your hair when compared to other similar tools.
This product was specifically created in order to help you style your hair effortlessly. The straightener heats up quick which is great help when you're in a rush to style your hair. The power cord has 1.8m and its long enough.
Phillips care thick & long hair straightener does come with a key lock function so you won't be able to lock your site by accident. That's what makes it so reliable, the fact that you can obtain incredible results fast and with great results.
The Good
Customers were impressed with how quick this product heats up... ready in no time!
The Not So Good
Customers would prefer it if these straighteners had a longer cord.
Features -
We all know that finding the best budget hair straightener is no small feat, mainly because most models tend to focus quite a lot on giving the best value for a lot of money.
Thankfully, Nicky Clarke NSS087 Frizz Control Hair Straightener is a top selling product.
It really manages to be a top of the line hair straightener and still deliver a very good user experience at all times.
It's by far the best product on the market thanks to the features that it delivers and at the same time it also manages to integrate features that many quality straighteners do not have.
The long ceramic plates on these particular hair straightener help promote healthy hair and prevent fizz with its ionic emitted features.
They are also suitable for all hair types which means it can fulfill a wide range of needs for peoples different hair types.
The Good
These do get very hot, customers found the cord to be plenty long enough. They also like the safety 1 hour cut off if they are left on accidentally. You can also 'lock' the straighteners after use (whilst they cool) to stop little fingers from getting burned - very helpful if you've small children around.
The Not So Good
Few customers feel the areas above and around the ceramic plates get very hot.
Features -
Many people are saying that the Remington S8500 Moroccan Oil Shine Therapy Straightener might be the best hair straightener for thick hair.
But is it? Let's find out!
Right from the start Remington S8500 Moroccan Oil Shine Therapy Straightener comes with a great professional design.
It looks a lot better than other models and the fact that it's a Remington speaks a lot about the quality you will receive with this product.
The visuals are very good and the attention to detail is quite extraordinary which we like a lot.
The product also comes with a digital temperature display that makes its use very professional and easy to use, as it shows you the exact temperature you would like to choose for your hair type. #
The heating process is also fast (only 15 seconds) and very reliable but in the end this is what we're aiming for quick and easy hair straightening.
If you would like to continue to read the full review on the Remington shine therapy straightener then click here.
The Good
The cable is nice and long so no need to crouch on the floor next to plug socket. The on/off and temperature variation buttons are on the side which prevents you accidentally turning down the temperature.
The Not So Good
Few customers feel these tend to pull a little on your hair whilst straightening.
Features -
If you are on a budget and you are looking for the best value straighteners, you will find that these are amongst the top selling straighteners, and with very good reason.
If you are the sort of person that is looking to achieve the style of professionally straightened hair from the comfort of your own home, this is a brand that you should be looking out for.
With these straighteners having wide plates they are more suitable for those tough coarse hair types that take a lot of time and effort to straighten, with these it will turn into an easy, effortless task.
There is a lot to be said for finding reliable straighteners that can work at high temperatures and also be relied upon if you are out and about.
With this in mind, you should be looking for a good quality ceramic hair straightener and these are among the best hair straighteners for thick hair.
The Good
The extra wide floating plates are 42 mm, make it easier to straighten thick hair, saving lots of time!
The Not So Good
This product does not come with a heat pouch/bag, so you may want to purchase one.
Features -
If you're looking for a reliable straightener for thick hair, then the Remington S8590 Keritin therapy pro straightener can be a very good product to focus on.
Aside from the fact that it comes with a very appealing price, the product actually manages to deliver an interesting set of features.
It's just a great pleasure to use right from the start.
The Remington S8590 Keritin therapy pro straightener has ceramic coated plates.
The plates are actually infused with top quality keratin based micro conditioners which is a very unique feature.
These features mean this straightener manages to deliver a very good experience, making the outcome well worth it.
These conditioners transfer to your hair follicles as you style it which makes sure you keep your hair in great condition and prevents any damage to your hair as it avoids any snagging or pulling to your hair.
If you would like to continue to read the full review of the Remington keratin pro hair straightener than click here.
The Good
Customers would highly recommend this product. These straighteners come with a small pouch to store them in, great for when going away. There is also a lock so when you finish you can put the lock on to close them and leave them to cool down.
The Not So Good
Customers would prefer a longer cord.
Features -
With all the options out there, it can be nearly impossible to choose the right iron for you. For thick hair though, your best option is almost always going to be ceramic plates and a high temperature setting.
We hope we have narrowed it down enough for you to be able to have an idea on which straighteners to choose for your thick hair.
Happy choosing !!​