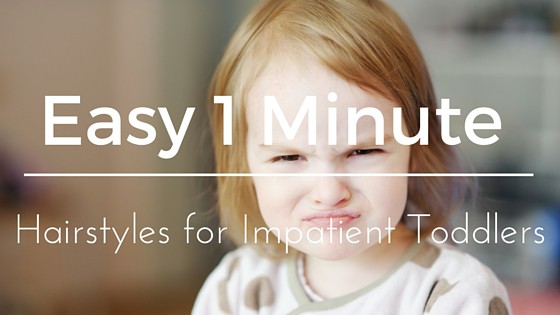 Easy 1 Minute Hairstyles for Impatient Toddlers 
I have created some hairstyles on my 20 month old, who as you can see from the following videos can not sit still for longer than a minute, hence why i felt it would be great to show the quick and easy styles i use on my daughter, Mia day to day! enjoy.
1. Bunches 
Bunches are a nice and easy hairstyle to complete watch the video below to see how i completed this style.
2. Layered Ponytail
i love this hairstyle as its new and different. Its not just the average hairstyle everyone uses on their child under 2 but its still quick enough to achieve before they get bored and get on the move. Watch the video below to see how it is done. 
3. Posh Ponytail 
This is one of the quickest and easiest hairstyles yet but gives a lovely twist to an average ponytail watch the video below to see how its created. 
4. Bun Bows 
Such a simple but pretty hairstyle, two buns with added bows how simple can it be ?
5. Ponytail plait 
This is a simple plait with an added pink bow - very quick and pretty !
6. Colorful Bunches 
Now this hairstyle took just over 2 minutes so although its not fallen in the under 1 minute category i really liked this style and it was a new one tested on Mia and i love it !! 
7. Fancy ponytail 
Now as you can tell Mia was being extra impatient today and i didn't quite make it in under a minute but i still manage to finish the hairstyle before she had a breakdown so i thought i would share with you guys anyway. It simple entails sectioning the front of her hair and putting the rest into a ponytail, the bows just give those finishing touches - love it ! (best video yet)
8. Messy Bun 
9. Half sectioned ponytail 
10. Half up half down 
11. Birthday hair for Mia 
So today 05/-8/16 Mia turned two, so i thought i would make up a different hairstyle for her birthday (i almost made it up as i went), so i call it the birthday style ! enjoy. 
12. Lace Braid 
This is a new style for us i have never heard of a lace braid before but this is so much easier than a french braid ! instead of taking hair into the plait from each side to create a french plait you only add hair in from side and just continue the plait on the other its so simple, watch the video below to watch how it was created. 
13. Staircase Ponytail 
This hairstyle is simple what the title describe's, stair cased layers going into a ponytail simple but different.  
14. Plait within a plait 
15. Ladder braid into pigtails
i hope this has given you a few ideas how to create a few different hairstyles for your toddler, even if they cant to sit down longer than a minute. 
Happy creating !!​