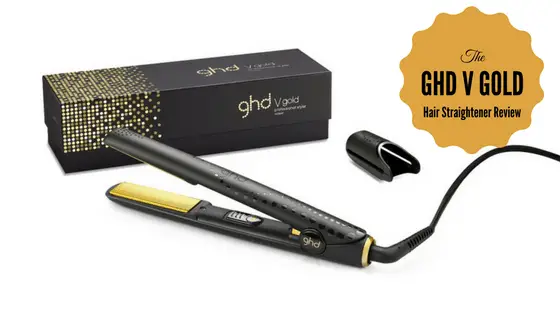 GHD V Gold Classic Hair Straightener [2020 Product Review]
The GHD V Gold Classic Styler has been found to be one of the best hair straighteners for curling your hair.
Many people think that you can use any hat straightener to style and curl your hair when in fact there are many individual features that will help to create the perfect curl like rounded edges and longer plates.
Product Rating :
Product Name : 
Product Type : 
Product Price : 
Product Summary : 
GHD V Gold Hair Straightener
This hair straightener is stylish and professional all in one. With high quality ceramic plates it gives smooth, frizz free results. 
---
Presenting the GHD V Gold Hair Straightener
To look at this product it is certainly a glam looking straightener with its black matte body and gold accents.
The styler boasts ceramic heaters and smooth ceramic plates with contoured edges that offer the versatility to both straighten and curl, along with a cooler, lighter body for ease of use.
With its ceramic smooth plates this means there will be no snagging and damage to your hair when curling your hair.
As this product has a lighter body as mentioned above when curling your hair the task becomes a lot easier when you don't have so much weight in your hand whilst styling, we all know how much your arm can ache whilst styling your hair.
The GHD V Gold Classic Styler should be able to withstand even the hardest of spills and falls. 
This tough tool can go through tough styling jobs, rough handling, and all those Clumsy women that can be thrown at it.
---
Features & Benefits
Furthermore, with a Universal voltage, this ensures you'll get the same styling performance wherever you are in the world, making this styler a great choice if you travel frequently.
 The styler is super easy to turn on with only a single switch on the inside which lights up when pushed into position.
The straighteners then helpfully beep when they're ready, so you can avoid haphazardly holding them near your hand to guess the temperature. 
We were pleasantly surprised at how quickly the plates heated up after waiting a matter of seconds.
It also comes with a handy protective plate guard which also allows you to pack up your styler straight after use.
Therefore, while an automatic sleep mode is activated if the styler isn't used for 30 minutes, which is a great feature to have, so you know you can't leave it on by accident causing any damage.
---
Value
At the price of £116 this is reasonable for the GHD brand and what they can offer.
The GHD V Gold Classic Styler is extremely good value for money, with the price including; the styler itself, a protective plate and likely to have free delivery from Amazon.
---
Our verdict
In conclusion, this straightener really fits the job of styling your hair and would be one of the best hair straighteners for curling your hair.
It has all the correct features to fulfill the needs to get the best curls for your hair. With an average price, with a well trusted brand it is well worth the investment especially when it comes with 2 years' Garantee.