1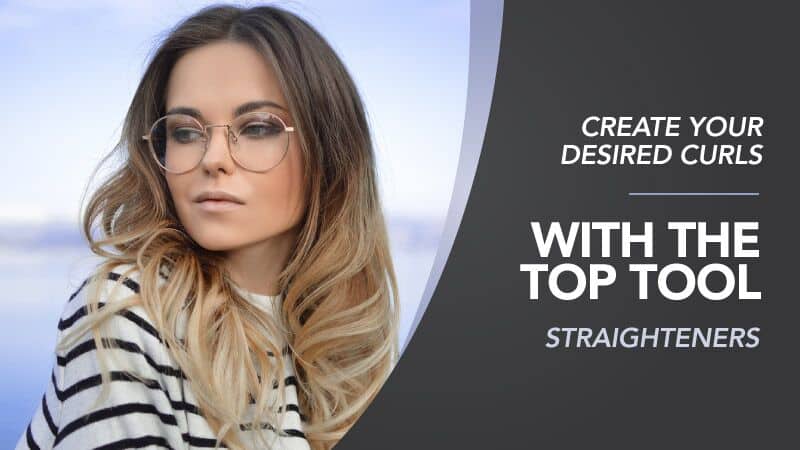 Last Updated on
Create Your Desired Curls - With The Top Tool ... Straighteners
It is a common misconception that you need to purchase the latest curling tongs to get the latest bouncy curls, well your wrong, straighteners can give a fabulous curl you just need to know which are the best hair straighteners for curling hair.
If your still trying to master the art of curling your hair with your straighteners then you tube is the best option for you as there are many videos available that will give you a step by step guide.
Below is my top 5 pick of best straighteners for curling your hair. Enjoy.
Best Hair Straighteners For Curling - Comparison Table
---
Although the Elie Slim Hair Straightener is designed for travelling as it is so small and lightweight it also perfect for curling your hair.
Especially if you have short or fine hair this is exactly what your looking for.
The plates are longer and thinner. This means on shorter hair you able to get right to the roots, to give you a full length curl instead of starting a few inches away from your scalp.
This is what can happen when you don't have much hair to work with.
The curved edges of the straightener make it really easy to create wonderful curls, for styling shorter hair or just quick touch up's.
A very versatile hair straightener on a whole, with a great user experience all round.
If you would like to read the full review on Elie Slim Hair Straightener Review the click here.
The Good
The good length swivel lead makes curling hair easy!
The Not So Good
Customers with long thick hair did not recommend this product due to the size of the plates.
Features -
The Babyliss Diamond hair straightener is a salon quality product that offers a Stella performance.
With diamond ceramic infused plates combined with diamond radiance shine system gives your hair the best chance to becoming healthy and smooth.
With the active ionic conditioners that release frizz-controlling ions hair is visibly healthier and calmer. ​
This product is perfect for curling your hair.
It has longer straightening plates which allows your to straighten a larger section of hair at one time, which is ideal for those of you with thicker hair.
With its curved housing like design it makes it ideal for both curling and straightening meaning when your styling your hair you wont get any unwanted kinks when gliding through your locks.
The Good
Customers were impressed with this product, they heat up very quick and very to use within 15 seconds!
The Not So Good
Few customers feel these were a little heavy.
Features -
FAQ'S
Q. Do these have dual voltage for travel?
A. Yes they are universal voltage so will work abroad.
This Toni & Guy Limited Edition Metal Fluid Hair Styler has been designed with iridescent titanium plates for ultimate heat transfer.
This has been developed to make the hair follicles shine and become smooth as you style.
This professional straightener heats up in a matter of seconds with its variable temperatures.
This is important so that you can choose the right temperature for you hair type.
It has a maximum temperature of 230 which is high enough for curling those more difficult hair types.
This straightener can curl and wave your hair in one glide due to its fabulous superior heater technology and its 25 mm floating plates which helps to give a perfect end result.
The Good
There is a lock and unlock switch which makes them more compact when travelling.
The Not So Good
There are only 4 heat options which for some people may be limiting. There is 150, 190, 210 and 230 degrees settings.
Features -
If you have heard of the Nicky Clarke brand then you may already know that the Nicky Clarke Desired Hair Straightener is part of the next generation DesiRED range.
It has been changed and improved to make these products perfect for you.
​Real black pearl improves the glide of the plates through the hair – smooth styling, less snagging.
Tourmaline, Moroccan oil and nano silver leave hair smooth, sleek and glossy.
Advanced ceramic heating technology offers fast heat up and constant temperatures.
As this straightener has longer plates and curved edges it is perfect for curling and styling your hair.
If you would like to read the full review on the Nicky Clarke Desired Hair Straightener review then click here.
The Good
They are very light and comfortable to use. The cord where it meets the straightener swivels which stops tangled wires and makes it easier to move around your head. The cable is a very good length too.
The Not So Good
The temperature settings are on a manual dial which is easily turned.
Features -
The ghd Gold V Classic Styler is certainly a luxury number, with high performance for all hair types.
It has a black matte outer layer with fabulous gold accents it just looks luxurious from the word go.
​The ghd V Gold Series stylers are designed to operate at 175°C – 185°C.
The brand have found that this is the optimal temperature for creating superior results whatever the hair type.
The styler boasts smoother plates with ceramic heaters and contoured edges.
Which means it can offer the versatility to both straighten and curl, along with a cooler, lighter body for ease of use.
The Good
These come with a bag, which when it folds out it doubles as a heatproof mat.The design of the GHD V is curved which is great for waves and curls, they heats up very fast too!
The Not So Good
Customers were so pleased with these, we could not find any negative reviews... Result!
Features -
​

Hopefully this has given you a little insight into which features are best for curling your hair and have helped you to choose a favourite straightening curling iron.
Happy choosing !!​