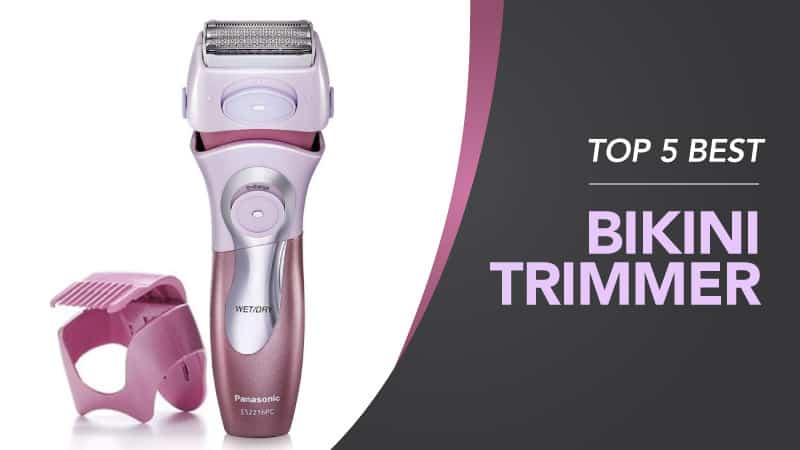 Keep It Neat & Give it a Trim – Best Bikini Trimmer
Getting that bikini line in good shape is something we all want to achieve just as that warm summer weather hits.
Who doesn't want to show off their brand new swimsuit? But to achieve the perfect shave, there are two things you need at your side. 
Brori Electric Lady Shaver
Wilkinson Sword Bikini Trimmer
The first is a good bikini trimmer, which will get you results and last a long time. The second is knowing how to use it, and it's your lucky day.
Why? Not only do we have the best bikini trimmer guide, but we also give you top tips on how to use it correctly.
Best Bikini Trimmer (In Order)
1.

Brori Electric Lady Shaver
Editors Pick - Best Bikini Trimmer
  Highlights -
Seamless Close Shaving
Hypoallergenic
Painless
Wet & Dry Safe to Use
Low Noise 
USB Quick Recharging
If you are searching for a lady shaver that knows precisely what it's doing, the bikini trimmer review below should be more than enough to show you just how sleek, efficient, and smooth this model is.
We love about this bikini trimmer because it is entirely hypoallergenic, making it exceptionally gentle on your skin.
The flexible head means that it glides over your body's contours with ease, which means it is suitable for every inch of your body. 
It can be used wet and dry, creating a versatile bikini trimmer that allows for full grooming as well as little touch-ups.
Featuring quiet running, it will enable you to be discreet for maximum privacy while also featuring an LED light that will guide you for those tough spots like the underarms.
Features
Cordless: Yes
Battery Life: 3 months
Charge Time: 60 mins
Wet/Dry: Both
Heads: 1
There is currently nothing negative to say about this model.
The significant think about this bikini trimmer is that it comes at a fantastic price that makes it highly affordable while also offering high-end brands' quality.
It has everything you need for a smooth shave, including a contoured head that helps you reach every corner.
Good For:
Seamless Close Shaving - The razor uses 3 ultra-sharp blades delivering 27° perfect cutting angle for as close a cut as you're going to achieve.
Hypoallergenic - Adopts hypo-allergenic 3D floating foil that is gentle on sensitive skin
Low Noise -  Low noise design offers you a cozy mood while shaving
---
2.

Wilkinson Sword Hydro Silk Bikini
Budget Pick 
  Highlights -
one simple tool
Five curve blades
waterproof
6 Hydro Silk blade included
refreshes dry skin
Finding a bikini trimmer that fits in with your budget can be tricky, but this model from a trusted and the leading brand has everything you need and more. Going budget doesn't always mean going cheap. 
We enjoyed the moisturising features that this razor offers, with a cool gel that leaves skin soft and smooth after every use.
The blade is contoured so that it glides over your body without issue, and the base of the handle has a precision trimmer that excels at getting it perfect. 
The comb itself comes with four different length settings, allowing you to choose your style. All you need is a AA battery, and you're good to go for weeks on end.
Furthermore, its compact design allows you to carry it around with you - helping you avoid those beach bikini faux pas. 
Features
Cordless: Yes
Battery Life: AA batteries
Charge Time: N/A
Wet/Dry: Both
Heads: 1
The gel does run out quite quickly, every 5-10 uses, which means you will need to replace the blades regularly.
However, you can find them in an affordable multipack. 
This bikini trimmer is incredibly affordable, offering an ergonomic design that is comfortable to hold and easy to use across your entire body.
Waterproof, simple, and superb at getting rid of that pesky hair, the summer has never been easier on your body and your bank. 
Good For:
One simple tool - provide a smooth shave and leaves skin looking fresh and healthy.
Five curve-sensing blades - conform to your skin, giving an ultra-close shave.
Safety - Skin guards keep blades away from skin, reducing the chance of cuts. 
---
3. 

Panasonic 

BikiniGenie 

ES246AC
Best Bikini for a Close Shave
  Highlights -
Comfortably shave

Close shave 

Lightweight and portable


Avoids irritation

Shapes hair quickly

Durable, stainless-steel

Hypoallergenic  
A close shave is everything we want for bikini season, and if there is one trimmer that will help you succeed here, it's this one.
This trimmer will glide its way to success from top brand Panasonic and leave you feeling better than ever. 
We love the fact that this trimmer comes with five different positions, using an utterly adjustable head so that you can achieve your desired length and style effortlessly.
You'll get the close shave you want without the irritating lumps and bumps that come afterwards. 
It's lightweight and portable, with a comfortable handle that helps you follow your body's natural shape while you shave.
Maintenance is easy thanks to the included brush and the fact that batteries power it means that you will always be able to use it when needed. 
Features
Cordless: Yes
Battery Life: AA batteries
Charge Time: N/A
Wet/Dry: Dry
Heads: 1
It can only be used dry, which means you cannot clean it with water or shave in the shower while the water is running. 
This delightful shaver is the perfect accompaniment to anyone seeking the ideal bikini finish.
Using a model that isn't just excellent quality and easy to take with you on those lovely summer beach trips when you might find yourself in need of a quick fix. 
Good For:
Close shave - Provides close, convenient personal shaving, trimming and shaping. 
Durable - stainless-steel hypo-allergenic blade is protected by an adjustable five-position bikini trimming and shaping head to let you set the precise lengths of hair you want to keep.
Easy to use - smartly angled waterproof bikini trimmer head also helps remove any stray or unwanted hair more easily along the bikini line. 
---
4.

Remington Cordless Wet and Dry
Best Electric Bikini Shaver
  Highlights -
Double foil shaver
hypoallergenic floatings heads
Cordless with charging stand
Intercept trimmer
Bikini trimming comb
Sometimes, an electric bikini shaver is exactly what you need, and a model that can work in both wet and dry conditions is an even better choice.
Remington is one of the best beauty brands out there, so you know you are in safe hands. 
We enjoyed the fact that this model has two floating heads, each of which is hypoallergenic and designed to ensure the hair is removed and the skin hydrated after use.
The intercept trimmer helps to enhance the shave but also keeps things close for smooth results. 
The bikini trimming attachment provides extra precision when dealing with this area, and you will find that the results last for weeks with no issue.
The ergonomic handle provides comfortable use in the shower with the power button remaining in reach at all times. 
Features
Cordless: Yes
Battery Life: 30 minutes
Charge Time: 1.5 hours
Wet/Dry: Both
Heads: 2
It can be a little rough on the underarms if you have very sensitive skin, so take extra care in these areas. 
This highly affordable bikini trimmer is one of the best electric models out there, bringing you the close shave and style that you want in one effortless motion.
It's hypoallergenic, moisturising, and features two heads so that every inch is covered for quick and efficient shaves. 
Good For:
Soft Skin Loving Results - double foil Cordless Lady Shaver is ideal for comfortable and quick shaving results. 
Comfortable and Quick - integrated flexible trimmer that trims the finest hairs before smoothly producing a soft and polished finish. 
Ease of Use - Handling of the shaver is easy to use for anyone wanted to use a bkini trimmer
---
  Highlights -
compact trimmer 
smooth shave
ergonomic handle
dry and wet
protects the skin
lightweight
The bikini line is our greatest enemy, and it can crop up at the worst times. With a portable trimmer that specialises on the line, you'll never have to worry again. Coming from Philips, it oozes both quality and affordability. 
We really enjoy how smooth this model is to use, with two different heads included that allow for a standard or close shave - the choice is yours.
It even comes with several guards so that you can dictate the length you want and excellent skills when keeping the bikini line in order. 
The fact that the trimming head is so small makes it ideal for the bikini area and spaces such as your underarms.
It's also portable and lightweight so that you can take it along with you no matter where you are. Additionally, there is a great cleaning head for quick maintenance. 
Features
Cordless: Yes
Battery Life: AA batteries
Charge Time: N/A
Wet/Dry: Both
Heads: 2
It can feel a little complicated to use when you have it for the first time, but you quickly get used to the process. 
This excellent bikini line trimmer will keep everything tidy and just the way you want it with minimal effort.
The battery will last a good few weeks thanks to the AA's used, and it is relatively gentle on the skin to reduce the risk of bumps and irritation after use. 
Good For:
Compact trimmer - especially suitable for shortening the hair in very sensitive areas - the easy and safe way to a silky smooth shave.
Ergonomic handle - makes it easy to trim and shave your bikini zone and can be used anywhere thanks to battery operation
Smooth shave - allows the included mini shaving head / The trimmer can be used both in dry and wet - the result is always top!
---
How to Trim Safely and Properly
One of the essential aspects of shaving the bikini area is knowing how to do it correctly. So, before you press that power button and get things buzzing - why not take a look at how to get it right? 
#1 Keep it Clean
Your tools should always be kept clean and maintained. This ensures they are ready for action and reduce the risk of you getting ingrown hairs and keeping your blade efficient. 
#2 Trim, Trim
If the hair down there is looking a little long and forest-esque, you will want to trim it with a pair of scissors first. This reduces the risk of tugging and pulling for you and prevents it from getting stuck in your trimmer. 
#3 Bathe and Exfoliate 
A nice soak in the bath will open up your pores and soften the hair to ensure that they are soft enough to shave efficiently.
Combined with exfoliation, dead skin cells and sebum are removed to unclog the hair follicles and make shaving smoother. 
#4 Lather it Up 
Make sure you lather the area nicely before you shave. The lubrication makes shaving easier while also reducing the risk of nicks, cuts, and irritation.
It also helps you see where you have just shaved to keep an eye on your work and what you have left to do. 
#5 Go with the Flow 
Shaving hair growth direction will reduce the risk of lumps and ingrown hairs for a much more superior finish.
Take your time and go slow - you'll reduce the risk of hurting yourself and do a better job overall. There's nothing worse than having to go over the same area several times. 
FAQs
Is it healthy to trim pubic hair?
Yes, it is healthy to trim your pubic hair. The hair becomes home to bacteria that ends up smelling when left, and trimming the hair gives it fewer places to live to reduce the odour.
Of course, having a little pubic hair is useful for reducing friction and keeping things comfortable. 
What should you use to trim pubic hair? 
To trim pubic hair, you should have a small pair of scissors as well as a trimmer and plenty of lotion or gel to lather yourself with.
The scissors are ideal for prepping the area while the lather makes the job easier and far less risky for you. 
The trimmer is just as important, and you will want to choose a model that suits your desired style (shaved or trimmed) as well as offering a gentle touch for sensitive skin. 
Should I trim or shave my pubic hair? 
Both shaving and trimming your pubic hair is a great choice - it is all down to personal preference.
Trimming is good for keeping things tidy and allowing for a little style while shaving gives you a clean finish perfect for bikini weather. 
How do you shave your bikini area without getting bumps? 
To shave your bikini area without getting bumps, you should always exfoliate first and lather the area to make the shaving experience a smoother one.
Additionally, shaving along the grain and moisturising the area afterwards can be a massive help. 
Read Here : How to use an electric shaver on legs
Final Thoughts 
Everyone deserves to look and feel incredible when showing off their bikini. Our guide to the best bikini trimmer UK has presented you with a delightful selection of quality trimmers. All you need to do is choose your ideal companion. 
Brior and Wilkinson remain our favourites, offering quality and affordability so that you feel confident in the results before you even get started.
They are gentle on the skin and offer you a close shave as well as the flexibility to choose your style. 
What did you think of our bikini trimmer review guide? Did you find something that helped you keep things under control, or do you have other recommendations?
Take a look at our best lady shavers guide for more trimmers for your pubic area.  
We love hearing from you, so leave us a message in the comments below.