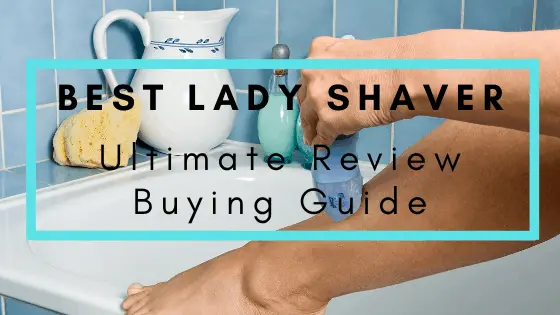 Best Lady Shaver - Ultimate Review Buying Guide UK 2021
OUR REVIEW PROCESS ...
Hair Day reccomendations are based on more than 50,000 verified customer reviews and experiences. We never reccomend a pair of straighteners we haven't personally experienced and tested. You can rest assured that the straighteners you choose to buy will meet Hair Days standards. 
Love having smooth legs and a perfect bikini line? They can be hard work to achieve and maintain, especially if you are using a conventional razor, we feel your pain. We have discovered for you the convenience of the electric lady shaver. 
Having an electric model is so much easier, and it achieves results faster with a closer shave. It can be frustrating to be left with harsh stubble after spending so long removing unwanted hair, but the electric shavers will leave everything perfectly smooth and ready to face the world. But how can you be sure you are making the right choice? 
We are here to lead the way, helping you to find the best lady shaver UK with the assistance of detailed and authentic lady shaver reviews. Everything you need to know is in this handy guide, packed with all the details so that you make the right choice for you, your body, and your wallet.
---
Best Electric Lady Shaver
---
Best Lady Shavers of 2020 - Hair Days Picks Comparison Table
Phillips SatinShave Prestige Electric Lady Shaver
Editors Choice Lady Shaver
  Highlights -
Editors top pick
Cordless - 1 hour charge time
Includes 4 accessories
Wet or dry shave
Great value for money
Phillip is a trusted and recognised brand, so you know you're in good hands with these guys. If you're looking for the best shaver this year, then you don't need to look further than this. Have a peek at the reviews below and see what you think. 
The Good
The key feature here is that it is gentle on the skin, providing a soft touch in even the most delicate places (such as your bikini line and behind the knee). Backed up by safe blades that give a close shave without causing skin irritation, it allows for a comfortable shave that glides as opposed to drags.
It even gives you the choice between a wet and dry shave for convenience. 
It comes with four great accessories to make shaving easier. These include a skin stretcher cap, bikini trimmer head, bikini line comb, and a pouch to store everything in.
After charging, the battery will last for around an hour, which is plenty of time to get everything done. If it does run out of charge and you have a little left to do, a five-minute charge will give you some extra time. 
The Not So Good 
It can be tricky to get under the arms with this one, especially if you use a downward stroke which can cause the skin to break. 
Features - 
Brand: Phillips
Cordless: Yes
Charging time: 8 Hours
Charge time in use: up to 1 hour
Accessories: 4 Including skin stretcher cap, bikini trimmer head and comb, ideal to shape and trim your bikini area and storage pouch

Our View 
This is a fantastic and reasonably priced shaver, and certainly one of the best female hair trimmers we have seen. The only downside is that the underarms can be a fiddly place to shave, but if you use an upward stroke you won't have any issues with it at all. It's perfect across the rest of the body and comes with some superb accessories to make life easier. 
Good For:
Comfortable shave: The single-floating foil ensures close skin contact
Quick and easy: Able to acheive a close shave easily
Hygienic: Includes cleaning brush to ensure your shaver head is clean every time you shave
Convenience - offers 5 minutes quick charge to make sure you always finish your shave
 Check Prices / Read Our Full Phillips Wet and Dry Lady Shaver Review 
---
Remington Cordless Wet & Dry Lady Shaver
Best Electric Shaver for Women
  Highlights -
Comfortable shave 
Cordless
Smooth and silky results
Shower-proof
Aloe Vera Strip

Remington is another excellent brand, and if you are in search of the best ladies electric shaver, you are in luck. If you want to learn more about why this could be the one for you, keep reading and see how you feel. 
The Good
Comfortable to use and made for shaving that is both quick and effortless, there is nothing the Remington can't handle, and it is able to trim even the finest hairs smoothly. The aloe vera strip and hypoallergenic foils on the blade provide an added layer of comfort and softness to the process, preventing skin irritation and also reducing the risk of cuts and grazes. 
The flexible trimmer is an integral part of the shaver, cutting long and short hairs with superb precision. You have the option to wet or dry shave with a firm grip to prevent it from slipping out of your hands in the shower. It comes with some great little accessories, like the bikini trimmer, to help you get perfect results, and it is completely cordless for easier use and handling. 
The Not So Good 
This model is a little rough on the underarms, and many customers say that they would not recommend it for this area. 
Features - 
Brand: Remington
Cordless: Yes
Charging time: 20 Hours
Charge time in use: up to 30 mins
Accessories: Bikini trimming comb attachment

Our View 
Cheap and cheerful, this shaver really does the job across most of the body. Yes, it's rough on the underarms for many customers, but they all agree it works like a dream on the rest of the body. Offering a clean and comfortable cut, you are sure to find that this hypoallergenic shaver leaves no irritation behind on most of the body. A fantastic choice for those on a budget. 
Good For:
Comfortable and quick - Double foil for comfort
 Bikini Lines - Bikini trimming comb attachment
Hypoallergenic - for sensative skin
---
 Misiki Women's Razor Rechargeable Shaver
Best Rechargeable Electric Shaver 
  Highlights -
Ergonomic Shaver Head
Waterproof for Wet & Dry Use
2 Rechargeable Modes
Low Decibel
LED Light
Another one of our favourite electric models, this could be the perfect shaver for those who need a little more flexibility in their lives. Easy to use and ready for action, have a read below and see if this model ticks all of your boxes. 
The Good
The ergonomic head means that it is completely flexible when running along your body, providing a smooth finish that you won't be able to resist touching. It's effective at shaving every area of your body, with careful attention to the more delicate areas that need extra care.
The curved blade also makes it easier to reach difficult parts of the body like the underarms. You can switch between the curved and straight blades as you need, and the floating foil removes residual hair.
One of its most interesting features is the LED light that will help you locate hair that would otherwise be difficult to see. It's perfect for wet and dry use, and after only two hours on charge, you will get two hours of running time - perfect for shaving every inch. 
The Not So Good 
There have been no complaints about this shaver at the time of this review. 
Features - 
Brand: Misiki
Cordless: Yes
Charging time: 2 Hours
Charge time in use: up to 2 hour
Accessories: Charging stand, storage bag and cleaning brush
Our View 
Affordable and lightweight, this shaver is really easy to handle and the choice between blades means that you have the ability to reach areas like the underarms without issue.
With no customer complaints at the moment, it's a solid choice for those who want to experience something that will give them a close shave without the irritation and potential cuts. 
Good For:
USB Charging Design - Enviromently Friendly
Easy to see - Built in LED Light
Good for the whole body - Keeping your body smooth and silky
Hypoallergenic 3D floating foil - Painless and Pain free shaving
---
 ADOKEY Electric Lady Shaver
Best Lady Shaver for Legs
  Highlights -
Painless and Hypoallergenic Blades 
Fast Charging
Wet & Dry Shaving
LED Battery Life Display
One of the most common uses for electric razors is as a leg shaver. If you want the best of the best, this is the perfect model for you to consider. Stick with us for a moment and have a read to see if it's the perfect match. 
The Good
This is where shaves get fancy, and this one has a sleek LED screen. It displays the battery life, whether it is in wet or dry mode, and includes a travel lock that will pop up on the screen when locked.
The power button sits comfortably above it, and you can use this to turn the shaver on or off. A quick two-hour charge period will provide you with a good 70 minutes of battery life. 
The floating foil combined with the hypoallergenic blades creates the perfect environment for a clean shave that doesn't lead to rashes or skin irritation. It comes with a comb and cleaning brush so that you can stay on top of maintenance. There are also three different blades that you can use; straight, curved, and floating foil. This way, your whole body is taken care of. 
The Not So Good 
It can take a couple of passes on some areas to get things nice and smooth instead of leaving stubble behind. 
Features - 
Brand: Adokey
Cordless: Yes
Charging time: 2 Hours
Charge time in use: up to 70 mins
Accessories: USB charging cable(without adapter), protective head cover, cleaning brush
Our View 
This electric shaver is fantastically priced, making it a very affordable option for those who don't want to spend a fortune. It might not always leave the skin silky smooth right away, but a couple of passes will ensure you have that irresistibly soft feel. Packed with great features and some fancy tech, it certainly manages to live up to expectations and provide a fantastic clean. 
Good For:
Fast Charging - built-in 600mAh Lithium Battery only 2 hours charg needed
LED Battery Life Display - Intuitively display battery status in percentage which can know the battery life clearly. 
Hypoallergenic Blades - safe & comfortable shaving without pain or irritation worries on any sensitive skin. 
---
 DynaBliss Rechargeable Razor for Women
Best Lady Shaver for Sensitive Skin
  Highlights -
Wet & Dry Easy Shave
Painless Shaving
Ideal for On-the-Go 
Fast Charging
Intelligent LED display
It's tough to shave when you have sensitive skin because everything seems to irritate it. However, there is a shaver out there for you, and this could be the answer to your shaving problems. Why not take a look and discover more?
The Good
The important thing is that this shaver is really gentle on the skin, and perfect for those who are sensitive to shaving. The blades are stainless steel and hypoallergenic for your comfort, and the floating foil blade is ideal for sensitivities.
You also have the option to choose between the floating foil, straight, and curved blades depending on where on your body is being shaved.The LED display is located beneath the power button, and this shows you how much battery is left, cleaning indicator, charging indicator, and if the travel lock is on.
It takes two hours to charge, you will get 70 minutes of battery life as a result. It can be charged via the mains or with a USB cable. Plus, it's easy to clean and maintain, with an accompanying brush for the blade. 
The Not So Good 
While it does provide a relatively close shave, you may need to pass over the same space a couple of times to get that silky smooth feeling. 
Features - 
Brand: DynaBliss
Cordless: Yes
Charging time: 2 Hours
Charge time in use: up to 70 mins
Accessories: Charging USB Wire
Our View 
This cheap lady shaver is perfect for those who want to save some money while also receiving a quality shaver that will be kind to their sensitive skin. There are some areas where you may need an extra run to get the skin feeling nice and smooth, but it is a generally good piece of kit that will serve you well. With some fun tech added to the mix, it's worth trying. 
Good For:
Wet & Dry Easy Shave - No matter wet shave with foam or dry shave can achieve equal perfect effect
 Fast Charging - Two-hour fast charging providing 70-minutes cordless using
Efficient & Painless Shaving - the 3 in 1 multifunctional assembly brings you a smooth, efficient and clean shave
---
Megainvo Rechargeable Electric Women Shaver
Best Wet and Dry Lady Shaver 
  Highlights -
3 in 1 Sharp Head
Advanced 3D Floating Foil 
Wet or Dry use
Rechargeable in 2 Charing Modes
Tired of cords and want something that will offer you more flexibility? Look no further than this fantastic model. Sleek and easy to handle, you'll have no problem working this little wonder around your body - it even works beautifully as a ladies face shaver. Check it out. 
The Good
This model of shaver has an ergonomic blade that allows for smooth yet flexible shaving where the blade glides over your skin with minimal effort. It uses stainless steel hypoallergenic blades that can be used on every part of the body - including your neck and face.
Thanks to the floating foil blade, you can also experience a close shave without any pain or discomfort from snagging. You can use it in wet or dry conditions, making it good for use in the shower, and the body has been designed so that wet hands won't cause you to lose grip.
There is also a straight blade and a curved one for better precision across the body as well as an LED light so you can spot missed areas. Two hours of charge gives you two hours of use; it's consistently accessible.
The Not So Good 
It could provide a closer shave according to some customers, but you can also run over the area a second time to achieve this. 
Features - 
Brand: Megainvo
Cordless: Yes
Charging time: 8 - 10 Hours
Charge time in use: up to 40 mins
Accessories: 1 x Protective Cap, 1 x Replacement Floating Foil, 1 x Charging Stand, 1 x Universal usb cable, 1 x Cleaning Brush, 1 x Storage Pouch, 1 x User Manual
Our View 
This shaver is nice and affordable, as well as completely free from cords to make it easier for you to use. It might not always achieve that perfect shave on the first try, but you can rest assured that another pass or so will fix that. It has some fantastic additional features, like the LED light, to make life easier for you and is certainly worth trying out for a clean shave. 
Good For:
Wet or dry uses - Can be used for both a quick convinent shave or in the shower time consuming shave.
Rechargeable in 2 Charing Modes - charged by stand or connect adapter to power socket directly
Megainvo Guarantee - Fully return policy without reason and lifetime sale service
---
Best Lady Shaver's Buying Guide
Ready to buy your new lady shaver? Well, before we get into the products and the details, it's important to take a look at some of the information surrounding them. What should you be looking for? What types are out there? Which is the best lady shaver? All of this and more is answered in the section below. 
Electric Lady Shavers Vs Conventional Razors
Here's a top question - is an electric lady shaver better than a conventional razor? Well, let's look at a few pros and cons to see if we can make that clearer for you. After all, if you are making the transition from manual to electric, it can be hard to let go of the method you are most comfortable with. See which one suits you most with our pros and cons below. 
Electric Razor Pros:
Shave faster and more efficiently 

Easier to take with you and can be used anywhere (some even have a travel lock)

No special grooming items needed, you can even dry shave

More versatile in terms of where they can shave and often have multiple blades 

Reduces the risk of skin irritation, cuts, and ingrown hairs 

Cheaper in the long run because a good quality one lasts much longer 
Electric Razor Cons:
Don't always get as close a shave with an electric razor 

They can be a little noisy and may take some practice 

They need charge in order to work and require more maintenance 
Conventional Razor Pros:
Often provide the closest shave for the longest period of time 

Easy to replace the blades

Easy to clean and travel with 

Cheaper one-off payment than electric 
Conventional Razor Cons:
It takes longer to shave, especially as you need grooming products

Increased chance of cuts, ingrown hairs, and skin irritation 

Less versatile and always require a wet shave
---
Types of Lady Shavers 
Pretty much every lady shaver has the same set of features and blades. This means that out of the two types of shaver, foil and rotary, we tend to have more foil options available. This is because rotary shavers are better suited to coarse hair, and so they tend to be targeted more towards men. 
Male facial hair can be extremely hard to cut through, and rotary blades are better designed to handle this challenge. Foil shavers use multiple blades that move side to side in order to get a close and clean shave that will leave skin as smooth as possible. We're going to take a look at both types of shaver to give you a clear idea. 
Foil. This is the most gentle type of razor because it has a foil sheet that acts as a buffer between it and your skin, allowing for a clean shave without the irritation. It also pulls the skin taut so that you can get a close shave with ease, and also reduces the risk of skin irritation. 
They are fast and efficient, as well as much easier to clean and maintain than their rotary counterparts. However, they are also pretty noisy which can be irritating when you have a lot of areas to shave. Many foil shavers are restricted to either horizontal or vertical use, but there are quite a few out there that are more flexible for the curvier areas of your body. 
Rotary. These are perfect for those with thick or coarse hair, and they actually work better on longer hair as well (don't be ashamed, we've all let our legs go in the winter). They have several blades that rotate, so if you have hairs that grow in different directions, this is a great choice. 
They are slower than their foil counterparts though, and if you have sensitive skin we don't recommend them. This is because they are much more likely to cause irritation and potential nicks. They also don't get as close a shave as the foil ones, so you may need to go over the same area a few times. 
---
How to Choose the Best Lady Shavers 
It's good to have a few key features in mind before you buy so that you can narrow down your choices. Here are some of the things that are sure to help you when determining how to choose the best lady shaver. 
Ease of use. Is it easy to hold and reach places like your underarms? Does it have a strong grip so that it won't slip out of your hand in the shower? Having a shaver that is easy and stress-free to use is an absolute essential. 

Shaving quality. A close shave helps you to feel good and gives your skin that wonderfully smooth touch once you're finished. Look for something that will deliver these kinds of results so that you can look and feel your best. 

Sensitive skin. If you have sensitive skin, you need a shaver that is able to accommodate this when you are shaving. Look for things like hypoallergenic blades and foils that will be kind to your skin. 

Versatility. Does it work on different parts of the body? Will it be gentle on your underarms yet thorough on your legs? You need to be sure that it will be able to reach tricky areas effectively and without too much fiddling. 

Wet/Dry shaving. The vast majority of shavers will allow you to use them in wet or dry conditions, but some are water resistant for use in the shower and others can be used in the bath. Check out the product description before you buy to make sure. 

Battery life. It's good to have a shaver that has a long battery life, both for those big jobs and so that you can just pick it up when you are ready for those quick touch-ups. Plus, if you forget the charger while travelling, you will want the longer battery life. 

Durability. You want it to last a long time. Survive being dropped on the bathroom floor once or twice because you're clumsy. Pick something that can last through travel, extensive use, and will serve you well throughout it all. 

Replacement heads. Every shaver needs replacement heads at some point, so look at how easy it is to do this on your chosen model. If it looks like it might be too fiddly and time-consuming, perhaps take a look at another model. You can also check out the price of replacement heads to see how much you'll be forking out.
---
Frequently Asked Questions
How do you use a Lady Shaver ?
Knowing how to use a lady shaver doesn't take a lot of effort, and pretty much every model will come with some handy instructions to show you how to make the most of it.
However, it is usually as simple as pressing the power button and getting to work. Switching between blades and accessories is also pretty quick for the majority of models. 
How Oftren do Blades need to be Changed ? 
A traditional razor will only be good for 14 applications, but when you have a good quality electric shaver, you will find that you can go as long as 12-18 months without needing to change it.
Really, a lot of it is down to common sense, and when the blades start to feel blunt you should take a look at getting them changed. 
Can I Shave Against the Grain when using my Lady Shaver ? 
Yes, you can shave against the grain with a lady shaver. This is often welcome news because it means that you can achieve a closer shave that will leave skin feeling silky smooth. 
Will I get Ingrown Hairs from Shaving ?
No, it is highly unlikely that you will get any ingrown hairs when you use a lady shaver. This is because electric shavers provide a cleaner cut that helps to prevent this from happening. Similarly, they also reduce the risk of cuts and skin irritation. 
Can I Take my Lady Shaver in my Hand Luggage on the Aircraft ?
Yes, you absolutely can. While it is important to check out the regulations before you fly, it is only traditional razors that are not allowed to be carried on a plane. You should be fine to bring your electric model, and many even have a travel lock to keep things secure. 
Can I use a mens Razor even though I am Women ?
Yes, you can. Razors for men and women are petty much the same, and yet it is often the case that the model for women is more expensive. So, you are perfectly fine to use a razor that is marketed towards men. 
To Conclude 
Hopefully, this guide has been able to help you to determine what you are looking for in a shaver, as well as one from the list that you might like to try out. It's not an easy choice, but our selection of best lady shaver UK should narrow things down a bit for you. 
Out of all of these, it's hard to choose a favourite because they all have their own strengths and weaknesses. The Phillips is a solid choice because of the extra features and the exceptionally close shave that it provides. Plus, if you use the correct motion while shaving your underarms you won't cause any irritation or bleeding. 
If we had to choose from each of our chosen models, this would be our top choice, but every single model is perfectly suited to a whole host of situations, and there are plenty that has been selected with those who have smaller budgets in mind. You also have a whole load of lady shaver reviews that you can check out. 
What did you think of our guide to the best lady shaver? Have you found the perfect model, or are you still struggling to choose? We love hearing from you, so leave us a comment below.