Best Quiet Hair Dryer Models Review (UK)
If you don't dry your hair after washing it, you usually end up with a pretty flat style that leaves you feeling down about your hair.
While hair dryers are the best solution, the standard ones on the market can be incredibly LOUD, and not everyone finds it easy to deal with.
Especially if you are someone who wakes up early to get ready for your day and everyone else in your housing is still sleeping.
That's why we have taken the time to show you that there's another way – hair dryers that are super quiet.
Same power, less noise. (No need to wake the children … or the Husband).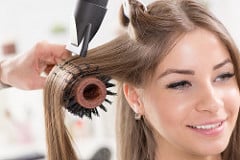 Of course, you still have the difficult task of trying to find the right hair dryer's for your hair, but you aren't alone.
We are here to help you, and also to offer some advice, so that you can find the best quiet hair dryers in the UK.
With so many hairdryers available on the market we really have put them through their paces, with 30 hours of rigorous analysis, comparing 40 models to make sure they lived up to expectations. We are sure we have found the best.
We have put this guide together, compiling all of the relevant silent hair dryer reviews in one place.
So you can find the right model for you and your hair whether it is straight, wavy or curly there's a quiet hairdryer for you.
Best Quiet Hair Dryer Review (In Order)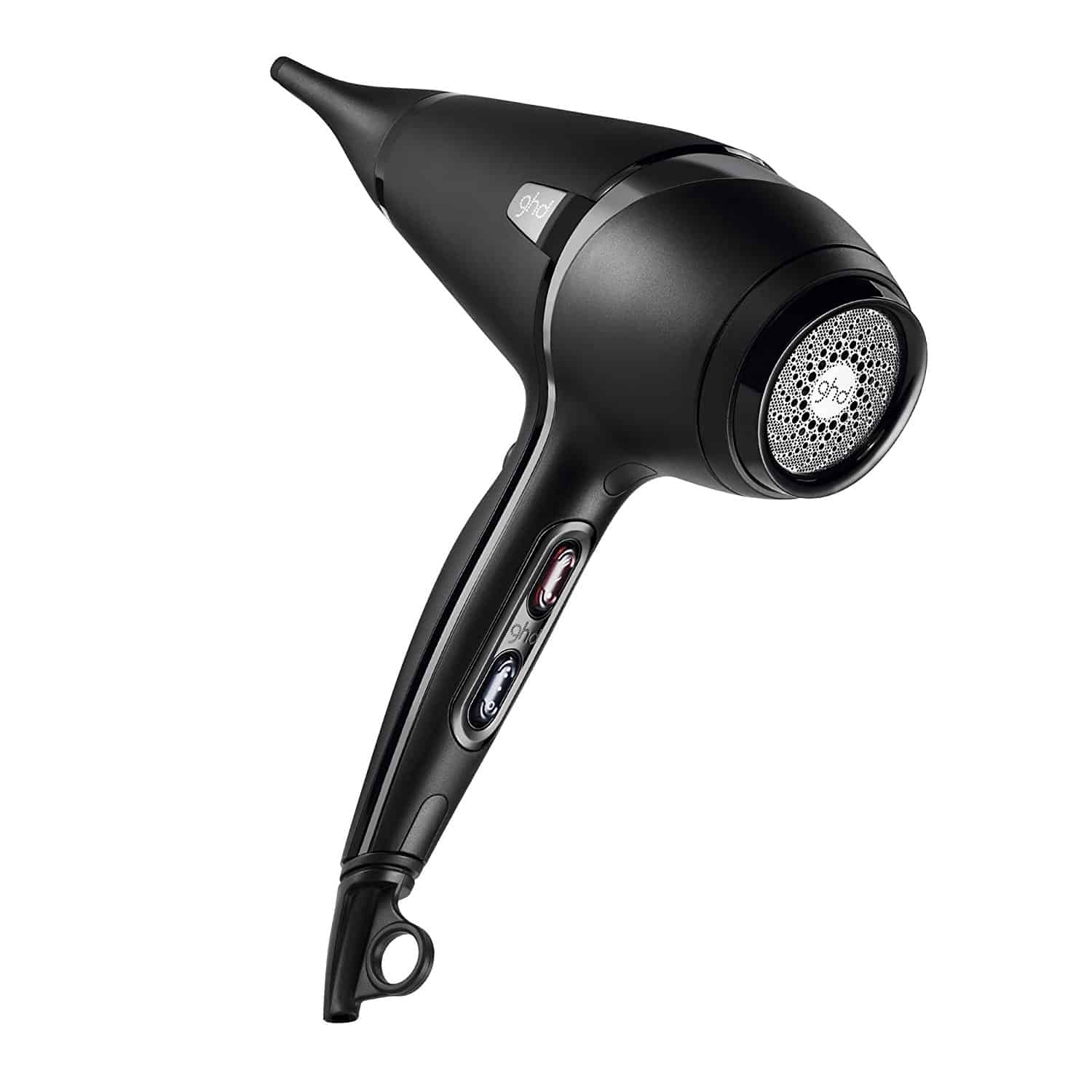 1. GHD Air Hair Dryer
Editors Pick – Best Quiet Hairdryer
Highlights –
Professional Results
Suitable for all Curly Hair types
Trusted Brand – GHD
Great Value
Ionic technology
Very Quiet Hair dryer
If you are looking for professional quality and results, GHD is an AMAZING brand to go for.
Trusted by many and known for its reliable products, it's one to consider when in need of a quiet hairdryer.
Take some time to read the reviews below and see if it's going to work for you.
The Good
This hairdryer benefits from quiet running, which is great if you don't want a noisy model.
It comes in black and had a sleek design, as well as a slim and comfortable handle that is easy to grip and won't leave your arm feeling sore when you have to spend ages drying your hair.
Plus, the power cord is a great length, which means you have a little more flexibility.
There are two concentrator nozzles, allowing you to play with your style and find the one that suits you best.
Alongside the variable speed settings and the ability to control the amount of heat produced by the hairdryer, you will be on the road to gorgeous hair in no time at all.
There is even a diffuser attachment to help prevent frizz and keep your hair looking great.
The Not So Good 
There have been no issues with this particular model of hair dryer so far.
Our View
This hair dryer comes at an AMAZING price, especially when you take the time to consider the brand and the quality that is produced.
It comes with several different attachments to help make drying time and styling your hair an easier task, as well as a long cord to allow you more flexibility when you are getting ready.
With the quiet running that you have always wanted, you won't be bombarded with noise, and you can rest assured that your hair will be left looking better and healthier than ever before.   
If this GHD air hairdryer is just beyond your budget, then keep quiet and were tell you about our budget pick Inoo tech hairdryer
Good For:
Quick Dryer – 100 Watt AC motor at 240 v
GHD – Trusted Brand in the Hair Buisness
All Cury Hair Types – Variable power and temperature controls
Healthy – Ionic technology for smooth shiny hair
Styling – A cool shot button
. 
---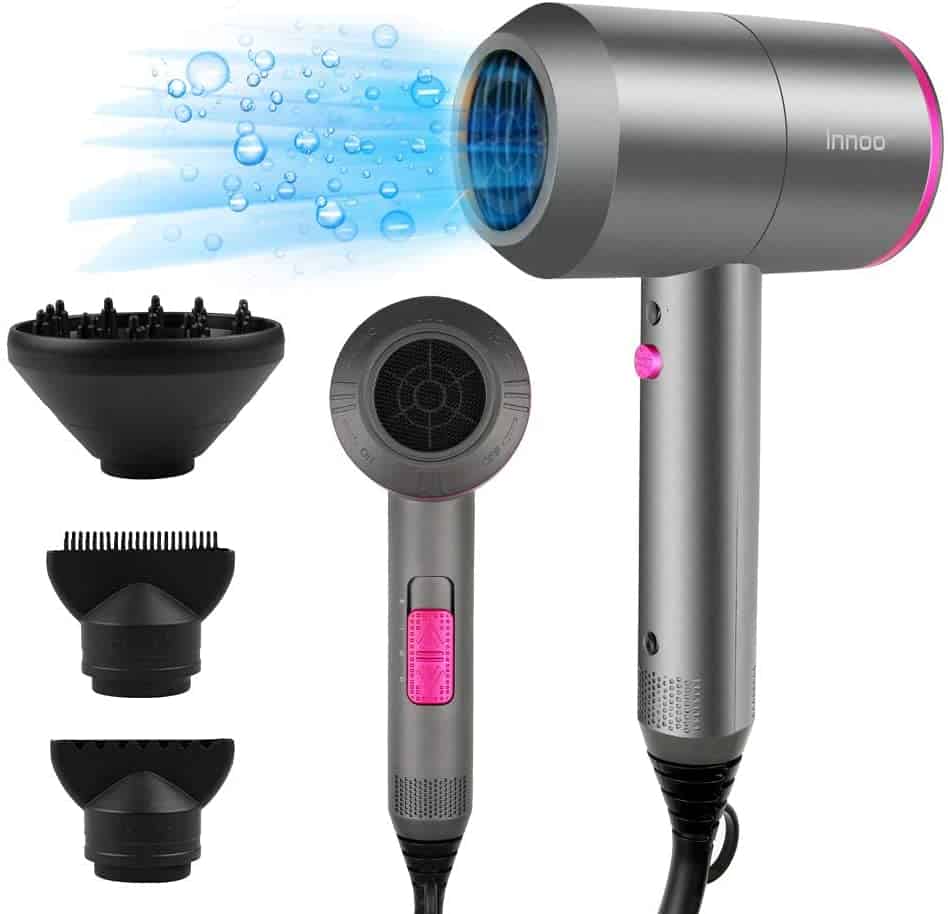 2 . Innoo Tech Hair Dryer
Budget Pick
Highlights –
Powerful digital motor
Healthier Hair
Quick drying time 
Comes with attachements
Variable settings
Quiet Hair dryer model
If you want a hairdryer that is capable, efficient, and incredibly quiet, you don't need to look any further.
Have a read below and see what you think of Innoo's latest creation.
The Good
This hair dryer comes in fuchsia pink with a grey handle, ensuring that it matches nicely with the other products that you own.
The handle itself is comfortable to hold, and you will find that it sports a futuristic and cool design that is not unlike their famous fans.
Plus, the cord is a decent length so that you don't need to worry about not being able to reach the mirror.
The motor is powerful, producing a strong blast of hot air, giving you everything you need to achieve your desired look.
There are three-speed settings and four temperature options, ensuring that you have the freedom to create a number of different styles from the comfort of your home.
It even comes with a smoothing nozzle, concentrator, diffuser, hanger, and a heat mat for your convenience.
The Not So Good 
There is no negative feedback as the point of reviewing this product. 
Our View
This hair dryer is practically silent when it runs. The price is suited for those on a budget, still offering everything you need and more for perfectly styled hair.
With a range of accessories for use and storage purposes, there is nothing that this hair dryer can't do – and it even comes with a number of different heat settings and speeds to give you even more versatility. 
If your Innoo Tech Hairdryer is not LOUD enough for you, (see what I did there) then check out our next model the Babyliss Pro Italia Hairdryer. 
Good For:
Power – Powerful digital motor in handle, Magnetic attachments
Faster – Helps you maintain shinier, healthier hair, Fast drying with Air Multiplier technology
Attachements – Comes with smoothing nozzle, styling concentrator, diffuser, non-slip mat and storage hanger
Variable – 3 precise speed settings & 4 precise heat settings
---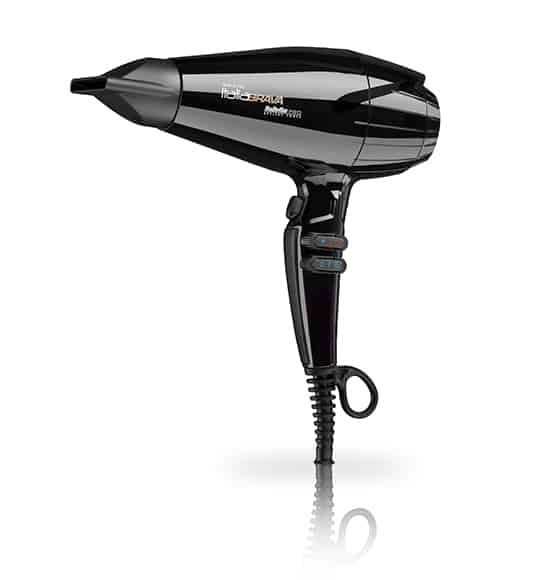 3 . Babyliss PRO Italia Hairdryer
Best Durable Quiet Hair Dryer
Highlights –
Low Vibration for a quiet model 
12 months warranty 
Last 10 x longer than other models 
6 speed and temperature options
BaByliss is one of the biggest brands when it comes to products and tools for turning your hair into the best it can be.
If you are searching for a quiet hair dryer that gives professional results, this could be the one for you. Take a look below and see if the reviews take your interest.
The Good
This hair dryer comes in classic black and has a modern style that will fit in with the rest of your hair and beauty products.
The handle has been designed in such a way that it is easy and comfortable to hold, preventing soreness and fatigue. 
It features three heat settings and three speeds, alongside a cold setting so that you can achieve any style you want.
The ionic technology is heat balanced, producing a beautiful finish and healthy appearance, as well as ensuring your hair is not left frizzy.
With a powerful motor for fast drying, you will have the results you want in no time at all.
The Not So Good 
It is on the higher end of Babyliss price range for their products.
Our View
This hair dryer is beautifully quiet when it runs, and also ensures that you end up with the salon-quality hair you always wanted.
It comes at an affordable price too, which is great for those who do not want to spend too much.
While the diffuser can be a little harsh on the scalp, especially those with sensitive skin, it still makes an excellent and powerful option for anyone who wants great looking hair from a brand that is trusted and reliable. A perfectly silent hairdryer.
Good For:
Value – Ferrari designed brushless motor lasts up to 10x longer
Strong Air – 2400W and a lock-in turbo boost for stronger air pressure and 15% faster airflow
Lightweight – 20% lighter for comfortable balance
Quiet – Low vibration for quieter hair dryers operation
Top Quality – Nano Titanium & ionic technology
Variable – 6 speed and temperature settings
Warranty – All BaByliss PRO products have 12 months warranty.
---
Further Models of Quiet Hair Dryers UK –   
Here are some further models of the quietest hairdryer, just in case the ones above do not quite meet your requirements.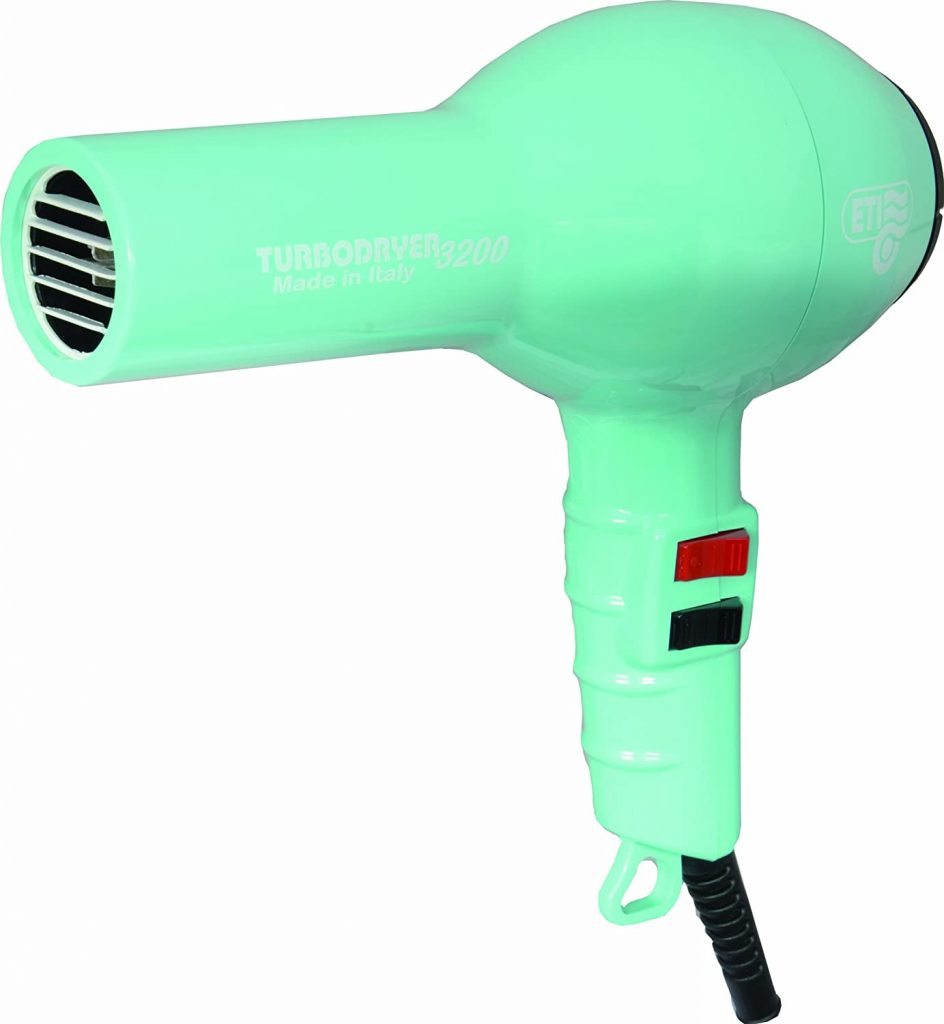 4. ETI Turbo Salon Professional Aqua Hair Dryer
Highlights –
Quiet model
4 settings 2 Speed 4 Heat (good heat and speed)
1900 Watt
Full 1 Year Guarantee
Salon Length Cord
Professional Salon Hairdryer
This hair dryer comes in an amazing range of colours, so you will have the choice of just about any shade in the rainbow – perfect for those who want to add a little flair to their daily routine. 
It is a professional quality hair dryer that will leave your hair looking and feeling amazing.
With two speeds and four heat settings, you will be able to achieve any style you like, and the long cord means that you have more flexibility while you work.
It comes with two different nozzles to allow for the ideal blow-dry, and is also available at a very reasonable price, which is great for your bank account.
---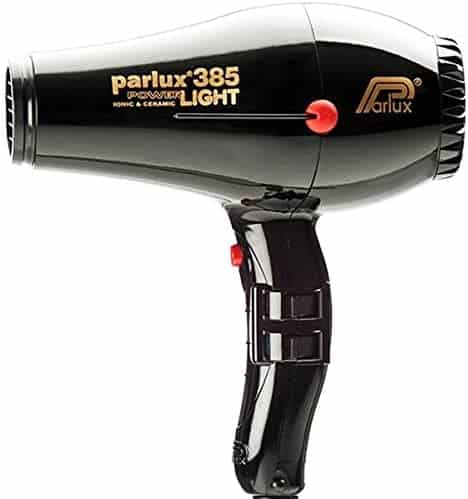 5 . Parlux Powerlight Black Hair Dryer
 Highlights –
Quiet model – built in silencer
Lightweight
perfect balance
Ionic technology and ceramic
3 metre cable
Cold shot button
This hair dryer is not just quiet, it also has a really sleek and modern design with an ergonomic handle that makes it really comfortable to hold and use.
The balance is perfect, and it is also incredibly lightweight, which ensures that your arm and hand won't become sore and fatigued if you are trying to dry long hair.
The airflow is fantastic, providing a strong blast that will not only leave your hair looking amazing, but also completely free from frizz.
It features two different speeds, heat settings, and also a cold blast should it be needed, so you have everything you could want in one compact machine.
To Conclude
Hopefully, this guide has helped you to find the quietest hair dryers, and the hair dryer reviews gave you some extra information.
Hair dryers are a key piece of equipment for anyone who wants great looking hair, but the noise level can be pretty intolerable, especially if you have sensitive ears.
In this guide, we have covered models from big brands and smaller ones alike, so we know you will find something a low noise level hair dryer that is right for you.
Plus, we have catered to a range of budgets to ensure that everyone reading this can find the best hair dryer that is going to work best for them, and also produce the desired results. 
If you would also like to know how its best to keep your hairdryer clean then head over and read our information page, you wont be dissapointed. 
What did you think of our quiet hairdryer guide? Are there any that you would have liked to see or recommended? We love hearing from you, so make sure to leave us a message in the comments below.