1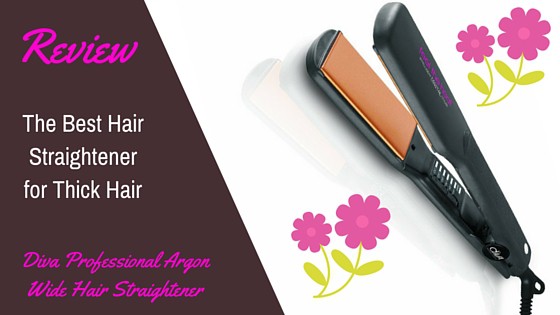 Diva Professional Argon Wide Straightener Review
Diva professional styling feel the heat wide straightener is a new, high quality hair straightener unit that emphasizes on attention to detail and at the same time it focuses a lot on performance.
This product produces top results, with a professional finish. It's a modern, sleek design with quality kept in mind, which does help take the experience to new heights.
It's nice to see that the design does complement the results of your hair and it's amazing to see how refined and detailed this product really is.
What is the best material ?
The floating ceramic argon oil infused plates, gently hug the hair and surround it with heat to give you professional control with results to match. Smooth, snag-free plates mean that hair is protected from any damage (this is how split ends are caused).
We have to say that the product does go that extra mile to make sure it manages to deliver all of the top material and durability.
It's a really good, fast and reliable straightener that is also suitable for most types of hair due to its variable temperatures.
---
What features do these straighteners hold?
Considering how small and light the Diva professional wide straightener is, considering most hair straighteners design with wide plates are bulky and heavy, this straightener seems to be packed with all the amazing and necessary features and that on its own makes it more than impressive.
Of course, the ability to heat up in a matter of half a minute and six heat settings makes it an even better choice for yourself.
It also has an auto shut off switch which we think is a very important feature to have, especially in case you forget to turn the straighteners off when going out.
It is essential to have the knowledge that after 10 minutes of no use they will automatically switch off, safety always comes first!
These hair straighteners are designed with wide plates, so that they can cover a large amount of hair in a shorter amount of time, perfect. This will be great time saver for your thick hair, normally with a large amount of hair it would need to be put into very small sections to get the best results your looking for whichever style you are creating. 
With these wide plates you wont need to section the hair so small so this is a great feature to have on this product to speed up the process of styling your thick difficult hair.
Another great feature of this product is that they are portable. This alone makes it one of the best hair straightener for thick hair and it all comes down to how fast you want to get the job done.
You can take it with you during travels and the travel adapter works great in this regard, but it also manages to deliver an immense value because of the quick speed it delivers a top quality finish.
---
What is the temperature ?
The Diva professional straightener overall does an amazing job, not only does it offer you the ability to heat up the device very fast (10 seconds), but it also delivers a stellar, customizable interface that helps you modify the temperature really fast.
A variable temperature is very important when looking for a suitable hair straightener for your thick hair as a higher temperature is always better which you can achieve from this particular product.
---
This is an amazing hair straightener, I have afro type hair, very thick, and these straighteners glide through with ease. Only takes 10mins to straighten hair rather than 30 - 1hr with the babyliss straighteners I previously owned. Just as good as GHD's if not better. very impressed.​
Danigirl 
Prices
Diva professional wide straightener does manage to come with a very low price too, which is amazing in its own right. Because of that, you get more value than what you would expect and the outcome is nothing short of astonishing to say the least.
At a price of £66.13 and a star rating of 4.5 on amazon ,you are most definitely choosing the right straighteners for your hair, what's not to like its suitable for difficult, thick hair and it's still under the £100 mark, amazing!
---
Our verdict
As a whole, this device is well recommended if you want the best hair straightener for thick hair you should take it into account. It has everything you would want for your hair type, wide plates, high temperatures, ceramic plates, quality and durability. It's a great purchase for sure, especially with one-year guarantee!
Things we like:
1 year guarantee
Short heating time (30 seconds)
Automatic shutdown safety option 
high quality design
best hair straighteners for thick hair
portable - travel adapters included with the product
Things we don't like:
The only down fall we have found with these straighteners is how specific they are to thick, frizzy, difficult hair types. If you have short hair for instants, you would be choosing thinner, longer plates to be able to cover the short amount of hair you hair right from the roots down to then ends.