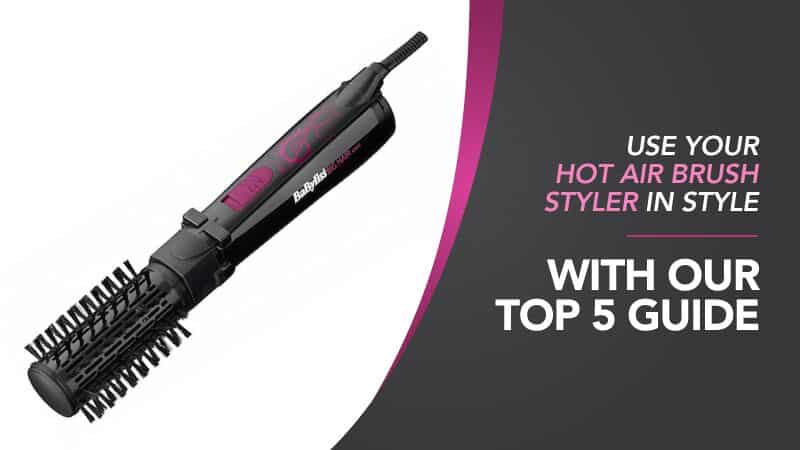 Discover The Best Hot Air Brush Review (Dry & Style Your Hair)
Half the fun of finding a new style to suit you is EXPERIMENTING.
With your hot air brush tool, you can both experiment and recreate styles that you know and love.
It's a great way to style your hair, and the hair dryer tool is able to tackle multiple areas of your hair in one easy use.
2 in 1 hair tools are a life saver for TIME!
Plus, there is a great range to choose from, and from a number of different hot air styler brands. 
By using a hot air brush it acts like a hair dryer and a straightener all in one saving your effort and time all in one. 
Of course, you have the difficult task of trying to find the right air brush for you, but you aren't alone.
We are here to help you, and also to offer some advice, so that you can find the best hot air brushes. 
With so many air stylers available on the market, it hard to know which will suit thin hair, this is why we really have put them through their paces.
With 30 hours of rigorous analysis, comparing 20 models to make sure they lived up to expectations. We are sure we have found the best.
We have put this guide together, compiling all of the relevant hot air brush reviews in one place, so you can find the right model for your haircare needs.
Best Hot Air Brush (In Order)
1. BaByliss PRO Titanium Expression Big Hair Pro Hot Air Styler
Editors Pick
  Highlights -
Less Damage than a hair dryer
Easy to style with
Superior titanium finish
For all hair types
700W power performance
12 months warranty 
Chosen as our top pick, we believe this product is the best hot air styler on the market.
Its price is reasonable, with a 12 months warranty, from a trusted hair brand Babyliss - Can you blame us for choosing this model?
The Good
Create volume and shape as you dry with the Big Hair Pro hot air styler featuring a 50mm titanium barrel with rotating hot air action for a smooth blow-dry finish.
Ionic conditioners deliver exceptional frizz-control for flawless results with incredible shine.
The Not So Good
There have been no customers complaining about this product - Bonus!
Our View
Being able to save time, drying and styling your hair in one, is a game changer. So choose our chosen product as you wont be dissapointed.
It is a top quality hot air brush, that is easy to use and control for styling your hair.
You also have the confidence when spending your money that you will have this product for the next two years as its under warranty. 
Good For:
Quality - 50mm barrel with superior titanium finish
Easy to Style - Soft bristles grip the hair for styling control
Less Damage - Ionic conditioning technology for smooth results
All Hair Types - 3 heat/speed settings for enhanced heat protection on all hair types
Variable - 3 heat/speed settings for enhanced heat protection on all hair types
Gaurantee - All BaByliss PRO products have 12 months warranty.
---
2. TRESemme Keratin Smooth Hot Air Styler
Best Hot Air Brush on a Budget
  Highlights -
Great Value for Money
Trusted Brand 
Suitable for all Hair Types
Creates Bouncy Curls 
Great for Short Hair
Easy to Style for Thick Hair 
no need for a hair dryer
TRESemme is a leading and trusted brand that is known for its salon quality goods at affordable prices – making the professional products more available to the public.
If you have short hair and are looking for the best hot air brushes, this could be just the one for you. Have a look below and see for yourself.
The Good
This hot air brush comes in a classic black with a gold hair dryer head, making it both stylish and iconic in terms of its appearance.
The handle is comfortable to hold, preventing fatigue while you are working on your hair, and the cable is a good length – so you don't end up stuck to the wall just to get your hair right.
It heats up quite quickly, allowing you to get to work in a short amount of time.
In addition to this, there are three heat settings available, allowing you to choose the one that works best for both your desired style and the type of hair that you have.
The firm bristles ensure complete control over your style, and it even comes with heat protection spray that will keep your hair safe as well as gorgeous.
The Not So Good
There were a couple of customers who found that they overheated at times, and this was unexpected.
Our View
This really is the best hot air styler, it comes at a very reasonable price, and could certainly be considered a budget model.
Considering it comes from such a trusted and reputable brand, it's a deal that will be hard to miss, and one that will leave your hair feeling more than a little thankful.
While some customers have had overheating issues, these are very uncommon, and many have found that the heat adjustment settings work excellently to prevent this. It's a great model at an amazing price.
Good For:
Control - Frizz-control ionic technology
Variable - 3 heat settings including cool
Easy to Style - Firm bristles for blow dry styling control
Creates Bouncy Curls - 50 mm tourmaline-ceramic barrel
Free - Includes Keratin Smooth Heat Protection Shine Spray
---
3 . Wahl Hair Stylers Hot Air Stylers 3-in-1
Best Hot Air Brush for Volume
  Highlights -
Suitable for  Different Hair Types
Volume
Ionic Conditioning
Designed to Last
great alternative to a hair dryer 
Wahl is another great brand to go for, and one that will appeal if you are in search of something that does a great blow dry for volume.
If you think this could be one that interests you, take some time to have a read of the reviews below and see if it suits your needs.
The Good
This particular hot air brush comes in a deep shade of black for a classic look, but also has a silver brush head for a stunning contrast.
It has two different  attachments, the smaller of which is perfect for short hair, as well as a concentrator nozzle for a stunning finish that is completely free from frizz and maintains a beautiful shine.
The three-metre swivel cord also ensures a lot of flexibility.
It heats up quite quickly so that you can get started with your styling, and you will be pleased to know that there are two heat settings and a cool function so that you can choose the right one for your hair type and the style you want to achieve.
Additionally, the ionic effect ensures that damage to your hair from the heat is massively reduced whilst still being able to style thick hair with ease. 
The Not So Good
Some customers found that the handle was a little too thick for use, which could make it a little uncomfortable to hold.
Our View
This hot air brush is ideal for those who don't want to spend a great deal but also want a model that is reliable and effective.
While the handle can be a little clunky and uncomfortable, it is certainly something that you can get used to once you have worked with it a few times. 
The variety of functions, as well as the excellent results, are a testament to just how good this model can be.
With three great attachments, it's perfect for those with long hair.
Good For:
Variable for Different Hair Types - Two heats plus a cool setting like a hair dryer
Volume - Features 42 mm ceramic barrel with soft brush bristles for ultimate volume and shine
Take Care of Your Hair - High-shine ionic technology conditioning
Styling - Multi-directional spinning brush
---
4. REVLON RVHA6017UK Tangle Free Hot Air Styler
Best Hot Air Brush for Fine Hair
  Highlights -
Creates Tight Curls
Under £15 
Reliable Brand
Ensures Tangle-free
Easy to Style
no need for a hair dryer
It is true that fine hair often needs a little extra love and a gentler touch, especially when it comes to heat-based styling.
Revlon is a good and reliable brand, and one that you can trust with your thin hair.
Take a moment to read through the reviews below and see if this hair dryer brush could benefit you.
The Good
These hot air brushes have been designed to care for thinner hair, minimising the damage and providing it with a gentle touch, you can dry your hair without the damage of your hairdryer and styler.
It comes in a sleek black with pink detailing, and features a lower wattage of 200 in order to care for finer hair effectively.
Plus, it has worldwide voltage that makes it perfect for travelling.
It has two heat settings and speed settings, which is ideal for use with different styles and hair types – so you always get the results that you set out to achieve.
The curl release switch ensures that you are left with beautiful hair and no tangles, for stunning results.
It has two brush attachments to work with both long and short hair, but also provides a comfortable grip.
The Not So Good
A few customers found that the cable was shorter than they had expected, and they would have preferred one with more length. 
Our View
This excellent hot air brush styler for fine hair comes at a very low and cheap price, ideal for those who are on a budget. 
Plus, it works excellently for fine hair, minimising the amount of damage caused by the heat, and also ensuring that there are no tangles once the job is done.
While the cable is a little short, it is possible to purchase extension cords for a little more reach of it is needed.
Not to mention that it's a generally comfortable product to handle.
Good For:
Fine Hair - 200 Watts - For a gentle blow dry of thin hair or for finishing styles
Easy to Style - 2 Heat/Speed Settings - To dry your hair and styling flexibility
Tangle-free - Curl release switch - Ensures tangle-free curls
2 brush attachments - 19mm : creates tighter curls and waves in shorter hair styles & 25mm : creates full curls and waves in all air styles
Further Models of Best Hot Air Brushes
Here are some further models of the best hot air brushes, just in case the ones above do not quite meet your requirements.
5. Remington Volume and Curl Hot Air Brush
Remington is a popular brand that is known for producing good quality products at an affordable price – and this hot air brush is no different.
It comes with two different speed settings, allowing you to adjust the temperature to suit not only the style that you want, but also the type of hair that you have.
Plus, you have the option to use a cold setting if that is needed at any point, the same as you would get the option on a hairdryer.
The air styler itself comes with four attachments: anti-static, ceramic, tourmaline ionic technology, and smooth glide, giving you all the options you need for perfect hair. 
Each of the attachments comes with a protective coating against the heat, and the styler itself is very light and comfortable to hold compared to the average hair dryer.
6. BaByliss 2777U Big Hair Dryer Rotating Hot Air Brush
From leading brand BaByliss, this hot air brush comes at a reasonable price, especially considering the brand as well as the additional features that this brush holds.
It has super ionic technology conditioning, which prevents frizz when you have dry your hair and styling your hair. Bonus no need for a hair dryer ! 
The soft bristles of the hair dryer brush ensure that you are left with incredibly smooth hair and an irresistible shine that will leave everyone feeling jealous.
The ceramic barrel is suitable for most types of hair, and it comes with two heat settings, rotating hot air setting, and a cold feature, providing you with everything you need for the best possible hair.
To Conclude
Hopefully, this guide has helped you to find the best hot styler, and that the hot styler reviews gave you some extra information. 
Hot air brushes can be incredibly useful, not only can they act as your hair dryer, they can also create some seriously impressive looks for your next big event or night out on the town.
In this hot hair brush guide, you are sure to find a wide variety of makes and models, one of which we reckon will catch your eye.
Additionally, we have made sure to cater to a wide range of budgets, so that even those who want or need to stick to a tight amount are able to find something that is both cheap and excellent quality.
What did you think of our hot air brushes guide? Are there any that you would have liked to see or recommended? We love hearing from you, so make sure to leave us a message in the comments below.