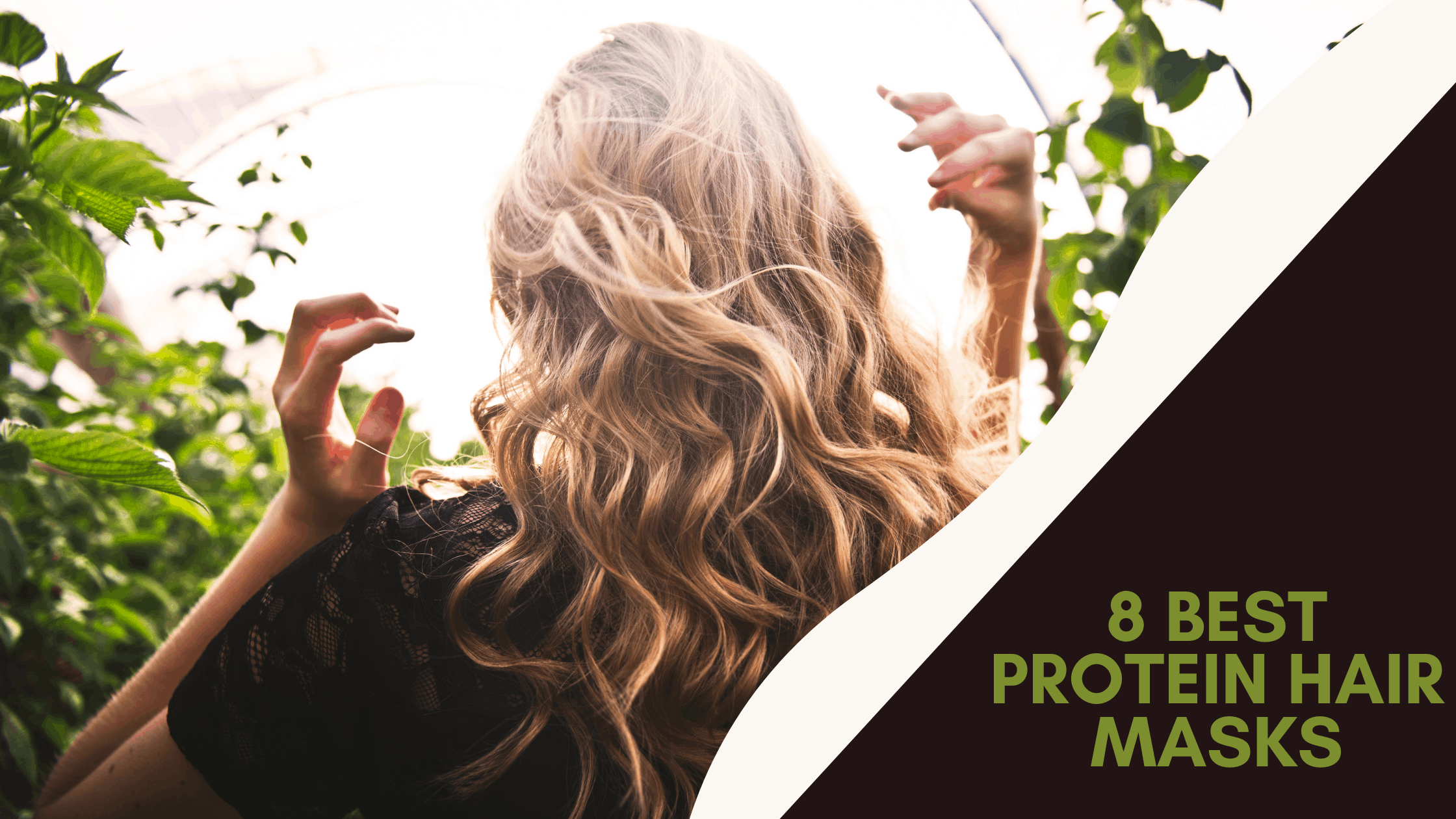 8 Best Protein Treatment Hair Masks to Repair Damaged Hair
HAIR MASKS are the paracetamol to your headaches. 
Making the problem dissapear. Repairing any damage to the hair.
Keeping our hair healthy whilst trending with all the current celebrity's perfect styles, is very important to most of us but can also be HARD work.
Therefore, it's vital to know which products are known as the top protein masks for your damaged split hair and why.
In this day in age, we use so many different heated tools and products that damage our hair daily, sometimes without even realizing.
From having our hair chemically straightened to simply blow drying our hair, over time this weakens and damages the hair follicles and form gaps throughout the follicle which is where our protein masks come into place to RESCUE your hair.
What is Protein Treatments for Hair?
Firstly, let's explain how it can very simply regenerate and repair damage split hair.
Proteins are molecules that are produced from washing your hair and will last from one wash to the next but sometimes more protein is needed to fill in the missing spaces where the hair has been damaged or even missing some amino acids giving it less porosity and causing gaps.
Keeping your porosity levels high, will help create a lovely strong, healthy, length of hair.
It is very important to consider that too much protein isn't great for your hair, it can almost fill too much into those gaps from the damaged follicle and cause it to break off.
So, it's essential that you follow each individual instruction of how often and how long to leave the mask in for as the instructions are there for this very important reason.
Signs that your hair could need protein treatments?
Your Hair is Coloured Treated
Your Hair Has Lost its Elasticity
Breakages and Shredding
Your Hair is Limp and Stringy 
Low porosity
Heat Damage
Now let's get to the fun part which 8 protein masks are the best for damaged split hair and why? Below I am going to have a countdown from best to worse – good luck!
Best Protein Treatments Hair Mask (In Order)
1. Redken Extreme Strength Builder Plus Protein Treatment Mask
Best Mask for Split Ends
  Highlights -
Ceramide- Strengthens hair fiber to prevent breakage
Hair is 96% stronger after just 3 applications
High Amino acids
Quick and easy to use
This product is a strength building mask and is recommended by many professional hairdressers as this mask contains silk proteins which are proven to help your hair grow faster.
Described as a miracle rescue for your hair, it helps repair your damaged split hair and give that healthy glow you are looking for.
It has an impressive 4.5-star rating and is highly recommended.
Although this product is a little higher in price than others, you will only need a tiny amount to massage into your hair, so would last you longer than you think.
After you have shampooed your hair, you only need to leave in for 5-15 minutes and rinse.
2. Art Naturals - Natural Hydrating Repairing Protein Treatment Mask
Best Protein Masks for Coloured Hair
  Highlights -
Argon oil mask 
For all hair types
Deep conditioning and Moisturizing
Guarenteed money back
Restorative formula
High Amino Acids
Suited for coloured hair
This Art Naturals Argan Oil Mask is one of amazon top choices, which is reassuring that customers are buying and loving this product.
With all the benefits from this mask, it is great value for money and well worth the investment.
This mask provides completely natural conditioning such as the argon oil.
Argan oil is known for its ability to help hair restore, enhance and grow.
The natural moisturizer will help repair, dry, brittle and damaged hair from blow drying, flat ironing and sun exposure.
This product contains argon oil proteins which help to build strength back into the damaged follicles, it will repair those damaged locks within no time.
If you're still unsure whether to choose this mask this brand offers 100% money-back guarantee if you're not satisfied with their product.
This gives such confidence that this product is as great as everyone is saying, so give it a go.
---
3. Dabur Vatika Egg Protein Treatment Hair Mask
Best Budget Protein Hair Mask
  Highlights -
Egg - helps repair and strengthen hair
Honey - coats and helps condition the hair
Provides extreme hydration
Budget Price - Under £6
The Dabur Vatika naturals egg protein deep conditioning mask is an outstanding product for anyone with damaged hair.
The main purpose of this mask is to help repair your dry and damaged hair and turn it into soft, silky, healthy hair.
It has outstanding reviews , stating that within 4-5 uses they have all seen a massive difference and couldn't live without this product.
Simply apply post washing/ shampooing your hair and leave on for 15 minutes, wrap in a towel and rinse. Easy.
All in all, this is a great purchase, hearing all the tremendous reviews and fabulous results, it is well worth a go in our books. Especially all for under £6, its most defiant value for money.
---
5. Vitamins Mask Keratin Protein Treatment Conditioner Hair Mask
Best Protein Mask for Afro Hair
  Highlights -
Sulphate free conditioner
Protects the scalp and strengthens hair
Ideal for thick hair
Suits Thick Coarse Ethnic or Afro Hair
Vitamins Mask Keratin Treatment is there to care for thick coarse ethnic and afro hair.
It's a professional salon-quality keratin hair treatment deep conditioner, enriched with a unique intensive formula, containing keratin extract, Moroccan Argan oil, wheat germ oil and vitamin E.
This mask offers Hair Protein Treatment For Dull, Brittle Coloured & Bleached Hair. Anti Frizz Intense Hydration for Moisture, Volume & Shine.
At a resonable price and good customer reviews this is a great product to choose to replenish your hair. 
---
6. Lanza Urban Elements Hair Repair Formula Protein Hair Reconstructor
Top Protein Treatment Hair Mask for Thick Hair
  Highlights -
Gentle on your hair 
Notice a difference after one wash
Reasonable price
Coconut scent
Easy to use in your daily hair routine
L'anza KB2 Protein Reconstructor is a gentle coconut based cleanser that contains nutrients and protein that helps with repairing damaged split hair.
As this is cleanser rather than a mask, you will need to apply it onto wet hair so best to include it into your routine of washing your hair every few days.
Many customers feel they noticed a difference after only one wash, leaving their hair looking and feeling healthy.
It is also known for its lovely, long lasting coconut scent it leaves behind.
At a reasonable price, it's not too expensive for a great smelling, easy to use, shine leaving cleanser it's worth the investment to give your hair the protein it needs.
Conclusion
Overall, Art Naturals Argan Oil Mask is our clear winner when looking for the best protein hair mask for damaged hair, not only is it proven by being one of amazon best sellers but the fact that it uses all natural products.
Natural Products include keratin protein, it has great value for money, as well as 100% money-back guarantee, this is just an incredible deal. 
But if this one isn't for you, I have given my best hair pick from the top 8, at least one of these products will reach your individual needs. Happy choosing for your hair care!