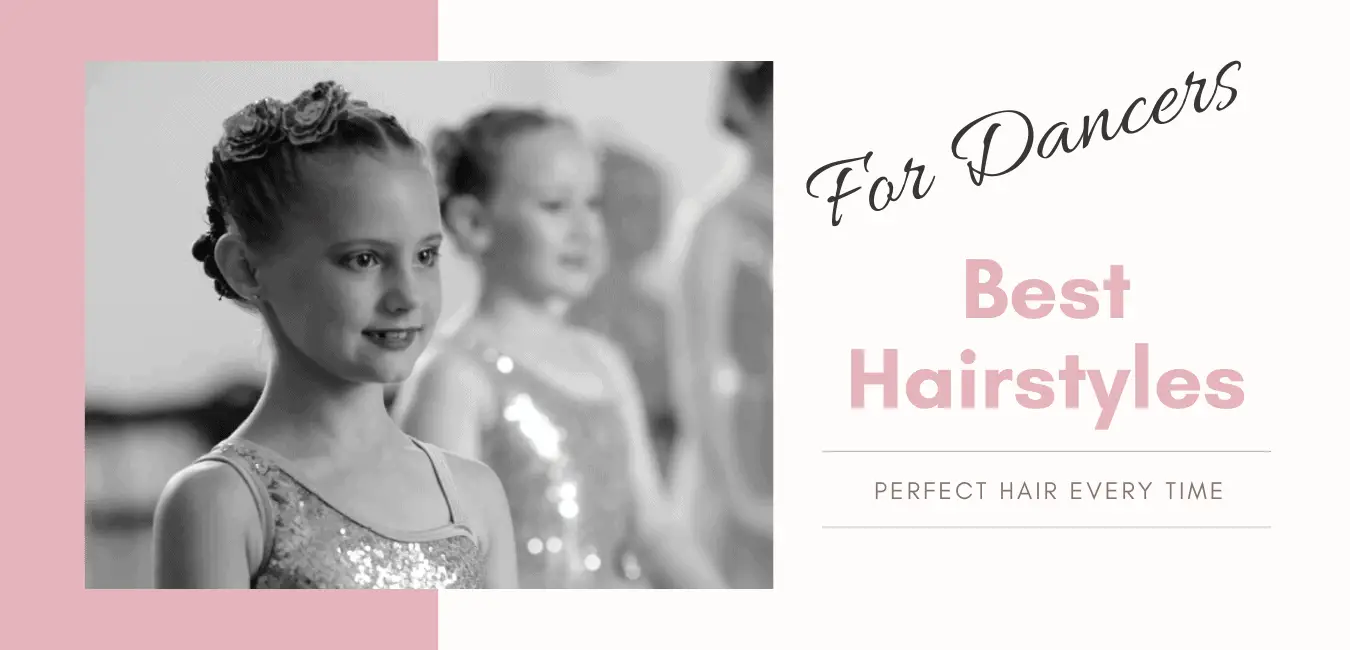 Best Hairstyles for Dancers 2020 - Perfect Hair Every Time
Having two daughters who dance four days a week, it has become apparent to myself how many "Dance mums" struggle with the different requested hairstyles for class. Every dance schools hairstyles will vary when it comes to show hair, exams and everyday classes as this is down the teachers dicretion. 
My daughters Millie and Mia attend ECPA School for Performing Arts, we have been a part of this school for the last seven years and my girls love it. 
Watching my girls blossom at dancing has been amazing, Millie has changed from a shy, timid little 4 year old - to a confident 9 year old, dancing on her own for medals, pushing herself in every class and happily pushing through her grades. 
My now 5 year old Mia is also following in her sisters footsteps, she is very commited and enjoys her dance classes. She has already acheived 3 exams, medal tests and a show in such a short amount of time, to say I am proud would be an understement.  
Both girls hair are completely different, poor Millie had hardly any hair untill she was around 3 and Mia has always had long hair and is still beating Millie now with the length. This means doing dancing hairstyles with different hair types gives me an insight on how to style short curly hair to styling long straight hair. 
At ECPA the hair for class is strict, but really this shows my girls to follow rules, learn to present themselves with the correct hair and uniform, but most of all its importance for safety whilst dancing. 
So to go through each dance hairstyle with simple instructions should help to give you some guidance and ideas, if you are struggling with your childs dancing hair requests. 
By reading through our best hairstyles for dancers guide you will get images and videos along the way, so even begginers can watch and learn. 
Hair Requested for Classes, Shows and Exams - 
Ballet - A classic ballet bun is requested during ballet. 
Jazz - A neat bun or french plaits are requested for Jazz.
Tap -  A neat bun or french plaits are requested for Tap.
Acrobatics - Either one or two french plaits. 
Show Hair - Two neat french plaits pinned up. 
Exam Hair - Depending on the dance and grade you are taking will depend on the hairstyle you will be asked for. 
Preps and Primary - Cross over plaits 
Grade 1 and above - Bun or two french plaits pinned up
Ava, Chloe, Amelie, Lexie, Esme, Charlotte, Grace and Millie - Show Night
Dancer Hairstyle Ideas - 
Classic Ballet Low Bun - 
Creating a classic low ballet bun is just as simple as a high bun, if anything it is easier.
Due to starting with a parting it is easier to find its correct place to pin the bun. 
Step 1 -
Brush hair and make sure there are no knots. Comb a middle parting.  
Step 2 -
Use a brush to make a low ponytail.
Step 3 -
Add a hairband to your ponytail. I suggest using a strong band to support the bun.
Step 4 -
Twist the pony tail clockwise.  
Step 5 - 
Twist the hair into a circle.
Step 6 -
Add your bun net from the bottom twist at the top and double over the bun to make a tighter bun. 
Step 7 -
Last but not least is adding the pins. It important how you place the grips as this is what makes the shape and secures the bun. 
So as seen in the video you need to grab the hair with the grip and then pull it the outside with the grip to pull it tight. 
Kirstie - Ready for Pointe Class
Classic Ballet High Bun - 
Creating a simple ballet bun which is usually a high bun, is one of the most easy hairstyles to create.
Even if you think you arn't good at hair, following these steps you should be able to create the perfect ballet bun (with a bit of practise).
Step 1 - Create a neat high ponytail, brushing the top and bottom to get rid of any bumps. 
Step 2 - Add your strong hair band tight to hold the bun.  
Step 3 - Spray your hair to keep it neat
Step 4 - Twist your hair clockwise
Step 5 - Wrap your twist into a circle to form your bun
Step 6 - Add a bun net to form the correct shape for your bun 
Step 7 - Add your pins to secure the bun
If you are struggling with any of these steps them watch the examples of steps for the low ballet bun, as it uses the same techniques. 
Amelie, Millie and Kate - Ready for Lyrical Carosal Rehersals
Tallula and Millie - Ready for Grade 2 Ballet Exam
Ballet Bun Using a Donut - 
Using a donut in dancing is a popular choice, especially for children who dont have as much hair as others this can create the perfect bun look.
Using the donut can take some getting used to and some practise to get right, but follow the simple steps below and get learning. 
Step 1 - Create a ponytail 
Step 2 - Add your donut to create your bun (watch video below if you need help)
Step 3 - Add a hairband to secure the donut ready to add your pins
Step 4 - Add your open pins 
Make sure you order the same colour nets, grips and bands for the colour hair you are styling.
French Plaits Pinned Up (Show Hair) - 
French Plaits tucked up can be daunting knowing where to begin and which method is best to acheive the neatest show hair. 
Therefore I have created a youtube video below to show you step by step how I create my girls hair, including all the products I suggest using. So watch and watch it again untill you get it perfect!
Mia - Results of 2 x French Plaits Pinned up (Video Below)
Alicia, Mia, Nyla and Millie - Ready for Movie Mayhem Show 
Using a tooth brush on your hairstyle after you have finished will get rid of any whispy bits
Harper - Prepping our Toddlers hair for our Upcoming show Spellbound 2020
French Plaits - 
French Plaits look more complicated than they really are. Above I have created a video for french plaits pinned up. 
This is a great video where I show which peice to add in from where, Step by step and how to make them immaculate.
Millie - Hair Wash Sundays, French Plaits for the Next Few Days!
Cross Over Plaits (Exam Hair) - 
Once you have been shown how to create this hairstyles it is really one that cant go wrong. 
The main part to focus on is right at the start. The parting has to in middle and straight, or the whole thing will be wonky and doesnt look neat.
Making sure your Pigtails to start are sleek and tight for the base of your plaits. 
Step 1 - Create neat high pigtails
Step 2 - Plait both pigtails as far down as you can
Step 3 - Cross over and pin each plait as seen in picture
Millie - Cross over Plaits
Medal Tests - 
Medal tests are about the only time you have free rein on hairstyles, so have fun with it, find accessories to add to the hair to match outfits, make it big, showy and Glittery. 
I will list a few of the hairstyles I have used on the girls past medal tests with a few pictures along the way to show some ideas. 
Millie, Elena, Rohan and Elina - (Naughty Pixies) Ballet Medals and little Elina ready for Ballet (Mothers washing)
Millie - Donut High Bun - Along with a flower headband
Elena - Two dutch plaits tucked up with pretty flowers pinned in
Rohan - High ballet bun with matching accessories
Elina - Two french plaits
Eloise - Contemporary/Jazz Medal Test
Eloise - Two Dutch Braids into a bun
Maisie - Ready for her Sunday Reharsals
Maisie - French Plaits into a high bun
Amelie and Millie - Gold Tap Medals Copacabana - Dancin' Fool
Amelie and Millie - both have a low ballet bun with a donut for effect, sometimes less is more when they have such beautiful costumes and makeup.
Millie - Gold Medals and Mia - Bronze Medals
Mia and Millie - After Finishing all their Medals
Millie, Ruby, Amelie, Lousia, Ava, Jasmine, Naomi, Mia, Kirstie and Harper - All supporting kirstie after her patomine performance
Conclusion - 
I hope from the information I have given you above you may be able to get an idea how to create the basic styles for your pretty ballerinas, or for whatever occassion it may be. Whether its for competitions, shows, exams or everyday class all of the above styles can be used. 
Do you have any more hairstyle ideas? Let me know. If there are any hairstyles I have yet to cover please let me know as I would be more than happy to create a video or step by step guide to help you acheive those perfect hairstyles everytime.