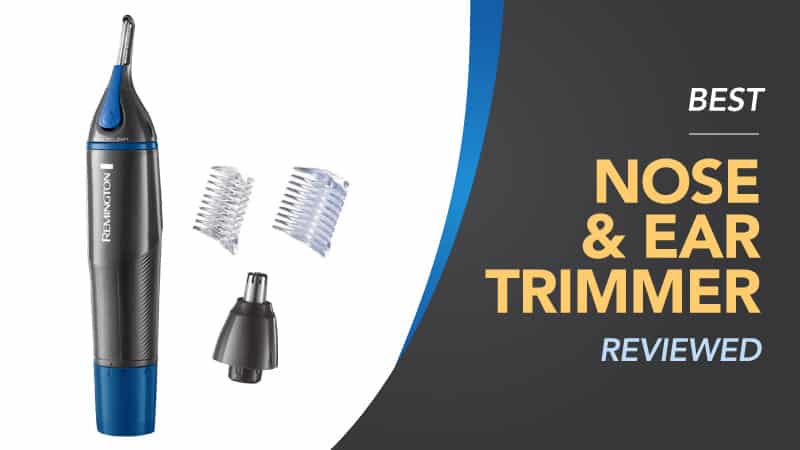 Best Nose and Ear Trimmer – Uk Review Guide
You're getting ready for work, half asleep, and look in the mirror to see… oh no.
That's right, you can see nose hairs poking out from your nostrils, or perhaps some stray ear hairs hanging out to say hello. Not the look you want for work, but what can you do to rectify this? 
Panasonic ER-GN30 Wet & Dry
FITFORT Nose & Ear Trimmer
Well, lucky for you this guide will help you to find both the best nose trimmer and the best ear trimmer on the market.
Tired of waking up to overgrown fuzz? These trimmers make it an easy task, allowing you to always look and feel your best without worrying about those pesky strays.
Best Nose and Ear Trimmers (In Order)
---
1. Panasonic ER-GN30 Wet and Dry
Editors Pick - Best Nose Trimmer
  Highlights -
Dual-edge Blade
Detailed trimming
Vortex Cleaning System
WetandDry Operation
Perfect for travelling
A classic brand, this trimmer from Panasonic is the perfect choice if you are in search of a versatile model that can cater to your entire face. 
Affordable and flexible, this could be exactly what you need to get rid of those irritating hairs.
This nose and ear trimmer are able to cover both of these areas as well as your eyebrows and facial hair. So, when you are prepping in the mornings you can cover every patch.
This is made even easier by the way the blades approach from the top and the sides for your convenience. 
The blades used are hypoallergenic, which is great for those who have sensitive skin. Additionally, the blades do not pull or tug, leaving you with a smooth and painless experience.
It's also easy to clean after use thanks to the vortex design, so no hairs are left lingering. 
Features
Blade Type: Dual-Edge
Power: Battery
Wet/Dry: Yes
Min. Length: 0.5mm
Areas Used On: Nose, Ears, Eyebrows, Facial Hair 
Accessories: Cleaning Brush
If any replacement parts are needed, they can be a little on the expensive side.
This brilliant model remains an affordable choice that opens up an incredibly versatile range of grooming options.
While replacement parts can be a little pricey, the hope is that you won't need them considering the durable and resilient design that this model sports. 
Made for regular use, this powerhouse is sure to keep you going through every situation. 
---
2. FITFORT Ear and Nose Hair Trimmer
Best Value Nose Trimmer - Budget Pick
  Highlights -
Versatile
Dual-Edge Spinning Blades
Waterproof & Easy Cleansing
Energy Saving & Whisper Quiet
We all need a good budget option in our lives, and that is exactly what this model is able to provide.
Bringing a new meaning to the word affordability, it can slip into any budget with absolute ease. The best part? No need to sacrifice the features you love for a lower price.
This budget trimmer is a great option for those who want to be able to keep their nose hair, ear hair, and eyebrows under control at all times.
It's easy to use, with a comfortable handle that helps you navigate those tricky nasal cavities. It offers quick and simple trimming. 
It can be used in the shower or over the sink before work, with wet and dry capabilities that add to its versatility.
Additionally, its small size means it's easy to carry around with you when you want to travel, and it is made from high-quality materials to minimise irritation to your skin. 
Features
Blade Type: Dual-Edge 
Power: Battery
Wet/Dry: Yes
Min. Length: Not Stated
Areas Used On: Ear, Nose, Eyebrows
Accessories: Cleaning Brush
There are no instructions, so cleaning it can be a case of trial and error.
This model of trimmer is a fantastic way to keep everything in order so that you always feel your best. It comes at an incredibly low price, one that you won't want to miss out on.
The lack of instructions can make cleaning a little tricky, but once you figure it out it's all smooth sailing. Overall, it presents a brilliant opportunity to keep on top of your grooming without the price.
---
3. KEMOO Nose Hair Trimmer
Best Rechargeable Nose Trimmer
  Highlights -
Versatile



USB Rechargable

Environmental Friendly

Spinning Dual-Blades System

Easy to Clean


Great for travel 
Battery power isn't for everyone, and there are times when a rechargeable model really comes in handy - especially if you are travelling.
If a rechargeable trimmer is what your nose and ears need to look their best, you won't need to go any further than this great piece of kit.
This trimmer is great for its versatility, providing you with the ability to effortlessly trim your nose, ears, eyebrows, and facial hair with one handy device.
Furthermore, it is comfortable to use and provides you with a long battery life once fully charged, as well as a nifty USB charging cable.
It comes with four fantastic trimming heads, allowing you to switch between them so that you can get the trim you want.
The stainless steel blade ensures it is gentle on the skin, while also giving a smooth trim that doesn't pull or tug. Plus, it's very easy to clean after you've used it. 
Features
Blade Type: Dual-Edge
Power: Rechargeable USB
Wet/Dry: Yes
Min. Length: Not Stated
Areas Used On: Nose, Ears, Eyebrows, Facial Hair
Accessories: Four Trimming Heads
There have been no negative reviews for this model at the time of writing.
This brilliant trimmer is completely rechargeable so that you don't have to worry about buying batteries on a regular basis.
It is versatile enough to cover the whole face without causing discomfort, and also provides a gentle touch for sensitive skin. 
Available at a very low and reasonable price, it remains a highly affordable option that you just can't say no to. 
---
4. Ceenwes Nose Hair Trimmer
Best Travel Nose Trimmer
  Highlights -
Excellent cutter design
Good painless experience
Helpful LED Lights
Easy to clean & Easy to use
Meet the daily needs
If you're looking for a little trimmer that you can carry along with you when travelling, look no further than this handy piece of kit.
From business trips to family holidays, this is the perfect accessory to keep those bushy hairs on the down-low while you kick back and relax.
This nifty trimmer is a great way to stay on top of the nose and ear hair situation.
You can say goodbye to unwanted strays and tufts, as it is easy to use and has a dual blade that reaches all around to keep the area clean. Plus, there is even an LED light to help you make the most of it. 
It offers a painless experience so that you don't have to go through any pulling or tugging, and for those with sensitive skin, the stainless steel blades help to prevent a reaction.
Once you are finished using it, the cleaning process is incredibly simple so that you can get back to your day. 
Features
Blade Type: Dual-Edge
Power: Battery
Wet/Dry: No
Min. Length: Not Stated
Areas Used On: Nose, Ear
Accessories: LED Light
It would have been nice if it came with a travel bag, but otherwise no downsides here.
This model is highly affordable, making it one of the best choices if you are in search of a sturdy and reliable trimmer.
It's durable and made to last, while also offering you access to features such as an LED light - something not commonly seen on trimmers.
Perfect for sliding in your carry-on or luggage, this model will go everywhere with you and never disappoint. 
---
5. Braun Ear and Nose Trimmer EN10
Best Ear Trimmer
  Highlights -
Efficient and safe
High performance
60 minutes trimming time
Fully washable 
Great value for money
Braun is one of the best when it comes to home appliances and accessories, so why should its top ear trimmer be any different?
If you are searching for a cure for those wizard ears, this is exactly what you need to be adding to the bathroom cabinet. Don't believe me? Take a look. 
This trimmer offers a comfortable grip that allows you to keep a precise aim on where you're going and what you're trying to cut.
Additionally, the blades move gently around the interior of your ears and nose without causing any tugging or pulling sensations for a painless trim. 
It's highly efficient, leaving you with a close shave that doesn't feel prickly as the hairs start to grow back. It is also very easy to clean after use, so you can keep on top of hygiene.
The blades are hypoallergenic to ensure that those with sensitive skin don't have a reaction. 
Features
Blade Type: Dual-Edge 
Power: Battery
Wet/Dry: Yes
Min. Length: Not Stated
Areas Used On: Nose, Ear
Accessories: None
It can be a little slow to trim and there is no cleaning tool included with the trimmer.
This trimmer remains a very basic model, but simplicity is often the best way forward.
It is very affordable, making it great for those on a budget, and it is highly efficient at trimming ear and nose hair. 
While it can be a little slow, there is no doubting that it delivers fantastic results that you are sure to be pleased with. Plus, the maintenance is exceptionally simple to undertake.
---
What Makes a Great Nose and Ear Trimmer? 
There are a few features that make a nose and ear trimmer stand out from the crowd. Before you buy, it's a good idea to check this quick list out and make sure you know what you want and what you're looking for. 
The Brand. This is important in the sense that brands are backed by reputation and years of consumer research, testing, and review. 
While the brand isn't everything, it adds a sense of reassurance and trust to your purchase. Not to mention reputable brands have great warranties. 
The Trimmer. The actual trimming part of your nose and ear trimmer is a pretty key aspect. After all, this is the part doing the work for you. A good trimmer will be sturdy and a comfortable size for use in the opening of your nose. 
Additionally, it should be able to cut through both thick and thin hairs with great ease, while also ensuring there is no damage to the skin. 
The Power Source. Interestingly, you will find that most nose and ear trimmers have been designed to be powered by batteries. 
It is very rare that you will find a rechargeable cordless model or even a corded one. This is because batteries are more convenient. 
Most people don't want the hassle of a rechargeable model, or the irritation of a mains power cord. Furthermore, people forget just how long batteries actually last - they can go for months if you use high-quality ones. 
A manual trimmer is also an option. However, these can be quite cumbersome to use, as well as increase the risk of discomfort as they are not as smooth and gentle as an electronic version. While manual is often cheaper, we recommend something with more power.
The Construction. The build is absolutely a key feature. You want it to feel comfortable in your hand and have a solid build that makes you confident when using it.
Quality materials are a must, adding to the durability and overall feel of your nose and ear trimmer. 
The Versatility. Nose, ears, eyebrows - three places we like to trim regularly. The thing is, you don't want a separate tool for each, do you?
Having a trimmer that is versatile enough to cover multiple areas is exactly what you need. It saves you money and keeps things convenient. 
Final Thoughts 
Finding the best nose trimmer is not an easy task, there are so many great choices on the market and they are backed up by fantastic trimmer reviews.
We hope we've made your task an easier one with our excellent and varied selection. 
Of course, our favourite has to be the model from Panasonic. It's so versatile, able to cater to every part of your face, while remaining easy to use and very affordable.
Of course, you also have the FITFORT, which provides a budget option that still holds that much-needed versatility. 
What did you think of our trimmer review guide? Have you been able to find a way to control your facial forest, or are you still on the hunt? We love hearing from you, so leave us a message in the comments below.