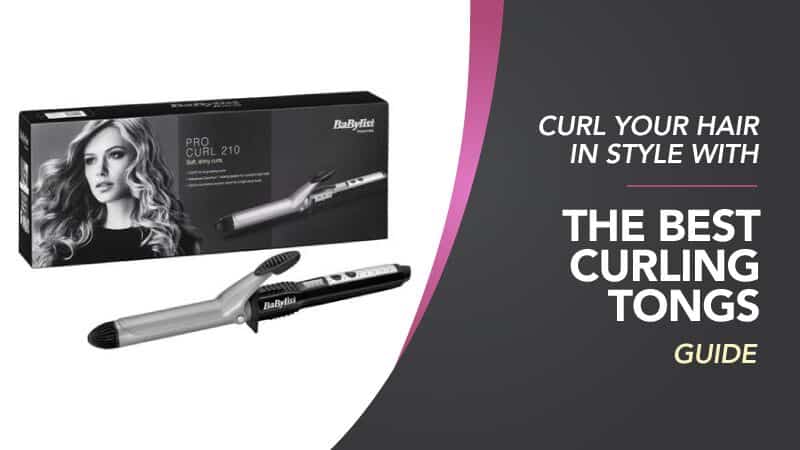 Best Curling Tongs for Fine Hair Uk
IT'S TRUE. 
Curls and waves help to create some of the most fantastic styles around.
Currently, curls are all the rage (Keeping up with the trends is not easy, right?).
It might seem difficult to achieve the level of style you see in hair posters and magazines when you have ANNOYINGLY fine hair, but it's actually much easier than you think.
All you need is a curling tong and a little patience to get started. 
We are here to help you, and also to offer some advice, so that you can find the best hair curling tongs for fine hair.
Therefore when you have fine hair you need to consider the different aspects that can make them suitable for your needs.
With so many straighteners available on the market, it is hard to know which will suit thick hair, this is why we really have put them through their paces.
With 30 hours of rigorous analysis, comparing 20 models to make sure they lived up to expectations. We are sure we have found the best.
We have put this guide together, compiling all of the relevant curling wand reviews in one place, so you can find the best hair tongs model to style that flat fine hair.
Best Curling Tongs For Fine Hair Uk (In Order)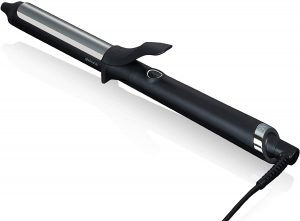 1. GHD Curve Classic Curl Tongs
Editors Pick – Best Premium Curling Iron
Highlights –
Healthier styling
Suitable for all hair lengths
Professional curling iron
long-lasting curls
Transformative design
This GHD curling tong is fab for creating smaller curls with its medium-size barrel. 
The barrel is suitable for all hair types and lengths including shorter hair.
GHD is a well-trusted brand and screams out QUALITY. So read the good, the not so good and our view to find out if this is the curling wand for fine hair.
The Good
This curling iron offers perfect curls without causing any damage to your hair due to its 185c optimum styling temperature to help create beautiful shiny, long-lasting curls. 
The protective cool tip provides a safe place to hold the curler whilst you curl and the built-in safety stand allows you to store the wand during/after styling.
The Not So Good 
Some customers have pointed out the price difference to other curling iron, but we feel you get what you pay for and these really are the premium pick. You will not be disappointed. 
Our View
This curler has unique Ultra-zone technology as it recognises each section of hair and maintains the 185ºC optimum styling temperature to minimize hair damage.
Other than the higher price range this really is an overall winner for all to use to achieve your Barrell style curls. 
If this GHD curve is just too much to spend on curling your hair, then there's no need to worry take a look at the Tresemme salon shine curling wand which is perfect for those on a budget. 
Good For:
Suited for all – Suitable for all hair lengths including shorter hair and great for beachy waves
Transformative design: Medium 26 mm barrel for soft tumbling curls
Healthier styling: 185 ºC optimum styling temperature minimizes hair damage to create shiny, long-lasting curls
Additional features – Protective cool tip, automatic sleep mode after 30 minutes of non-use; 2 year ghd manufacturer's guarantee; swivel cord for comfortable styling; universal voltage; styling glove included.
---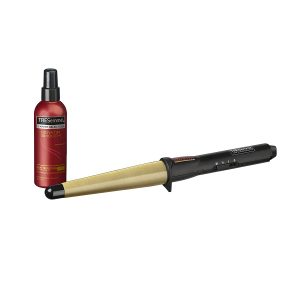 2. TRESemme Salon Shine Waves Curling Iron
Budget Pick – Fine Hair Curling Iron
Highlights –
Ultra-fast heat up
Controls frizz for up to 48 hours
Up to 200 degrees C for fast results
With 32-19 mm conical ceramic barrel
2.5 m swivel cord
TRESemme is a brand that promises salon quality at an affordable price, and its products tend to be incredibly popular.
If you have long hair and are looking for a set of curling tongs that will leave it looking wavy and luscious, this could be just what you need. Have a read below and see for yourself.
The Good
This model of curling iron heats up fast and hot, providing you with the perfect temperature to start styling your hair just the way you want it
(no need to wait around).
As well as allowing you to get styling quickly, it also has a fast heat recovery.
There are three heat settings for you to choose from, so you can pick the one that works best for the style you want.
It comes with a bottle of keratin smooth heat protection spray that you can apply before you start styling – giving your hair shine and also protecting it from the heat.
There is also a heat protection mat and glove included for your safety. The curling tong comes with a brilliant swivel cord as well to prevent tangles.
The Not So Good 
Some customers have found that the curling wand can struggle a little with thick hair. 
Our View
This curling wand comes at a very affordable and low price, so it will fit nicely into just about any budget.
It heats up very quickly so that you can start styling almost immediately to achieve the look you want.
While it can struggle a little with thick hair, it does work fantastically on most other types, so you are sure to find a way in which it can work for you.
Plus, it even comes with some heat protection spray to keep your hair shiny and healthy.   
Read Here : Best Heated rollers for Short Hair 
Good For:
No waiting around – Ultra-fast heat up and heat recovery curling irons
Versatile – Three heat settings
Included – Keratin Smooth Heat Protection Shine Spray
Curls – great for tight curls with a smaller barrel
---
Read Here: Best Hair Straighteners for Curling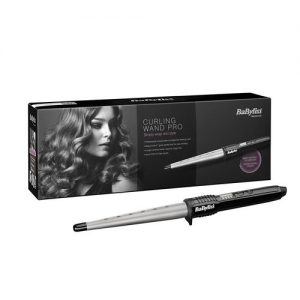 3. BaByliss Ceramic Curling Tong Pro
Best Hair Curling Iron for Thin Hair
Highlights –
Easy to use
5 digital temperature heat settings
 natural looking curls
Non-slip Wrap Control
Extra-long barrel curling iron
BaByliss is one of the leading brands when it comes to hair products and accessories. 
They are known for producing some of the best quickly items on the market, so we know you won't be disappointed with this one. If you have thick hair that you want to be curled, look no further.
The Good
This Curling iron model features an incredibly versatile wand that will provide you with lovely, natural-looking, curls or waves.
It heats up relatively quickly, so you can get started in good time.
Plus, there are five heat settings to choose from, which means you are sure to find the perfect one for the style that you want.
The barrel is extra-long for those who have long hair and still want curls, and it also features a handle that is comfortable to hold to prevent fatigue.
The wrap control technology holds the hair in place gently for perfect curl formation, and the whole thing is very easy to set up and use, so you shouldn't have any issues with it.
The Not So Good 
Some customers have noted that it is much better suited to long hair than short hair. 
Our View
This model of curling wand comes at a very low and reasonable price, so you should not have any trouble fitting it into your budget.
Plus, it comes from a brand that you know you can trust, which is always a bonus. 
While it is better suited to long hair, that doesn't detract from the fact that this is the best wand on the market for thick hair, and you will definitely find it a very beneficial model. It's a great piece of kit at an excellent price.
Good For:
Long Lasting – Versatile wand for natural looking curls that last – great for tight curls
Easy to use – conical 25-13mm barrel, simply wrap and curl
Non-slip Wrap Control – gently holds the hair around the barrel for perfect curl formation. Ceramic barrel infused with Macadamia and Camellia oils
---
Further Models of Curling Tongs for Fine Hair – 
Here are some further models of curling irons, just in case the ones above do not quite meet your requirements. Take a look at our step by step guide for curling with your hot air brush.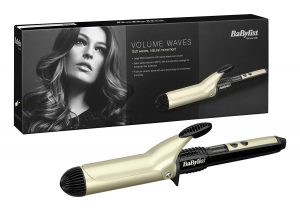 4. BaByliss Volume Waves Ceramic Curling Iron
Highlights –
High heat performance 
5 digital temperature heat settings
loose, natural looking waves, bouncy curls
Another one from leading brand BaByliss, this ceramic curling wand comes at a low and affordable price that is sure to fit nicely into any budget.
Once you have used this curling wand, you will be left with loose curls and natural-looking waves – perfect for long hair.
The lever is easy to use and will hold your hair softly while you use it.
Plus, there are five different temperature heat settings, so you are sure to find one that is right with you, offering a consistent temperature.
With safety features like automatic shutdown and a fast heating time, you are sure to love this model.
---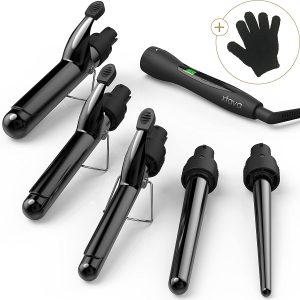 6. Xtava 5 in 1 Professional Curling Iron and Wand Set
Highlights –
5 in 1 Satin Wave Hair Wand 
5 detachable barrels
9 precise temperature settings
60 minute auto shut off
2 YEAR WARRANTY
Multiple curling wands
This curling wand comes at a reasonable price, and also has five different barrels to choose from.
They are interchangeable and come in five different sizes, so you can choose the one that suits your hair type and length best.
There are also nine waving settings to accompany it, so you can get the perfect style in no time at all.
The wand heats up very quickly, making it ready to use in very little time, and there is also a range of safety features to prevent fires or damage to your flooring – namely in the form of the automatic shutdown.
---
Read Here: Best Hair Roller Review Guide
To Conclude 
Hopefully, this guide has helped you to find the best curling tongs for fine hair, and that the curling wand reviews gave you some extra information. 
It's not always a simple task, finding something to tackle your curls, but in this guide, we have a fantastic range of products for you to choose from.
Whether you are on a really tight budget, or you have a little more to spend, there are options here.
Similarly, we have a selection of top brands and ones that are lesser known for you to explore so that you can discover something you are comfortable with. We hope you found what you were looking for.
What did you think of our best curling wands guide? Are there any that you would have liked to see or recommended? We love hearing from you, so make sure to leave us a message in the comments below.