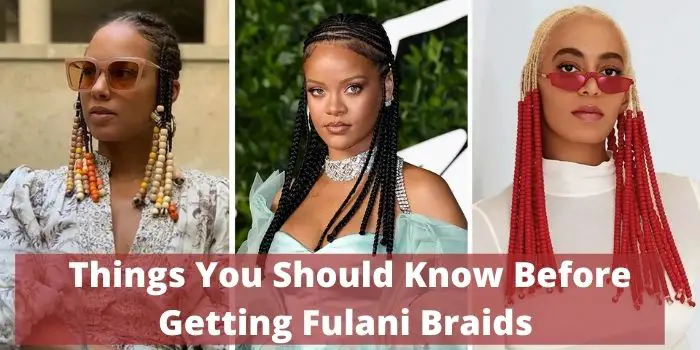 Things You Should Know Before Getting Fulani Braids
Fulani braids came into fashion by the Fula people of West Africa. The traditional Fulani braids symbolize the status and culture of Africans. These braids are also known as tribal braids, are considered a protective hairstyle and require low maintenance.
Ash brown, burgundy, balayage hair colours fade away over time and make your hair rough and dry, so instead of spoiling your hair with chemicals, try the unique braiding hairdos that are the trending hairstyles of 2021 and look different.
Ready to go with versatile Fulani braids? Here is the complete guide for you, along with some things you should know before getting started with Fulani braids.
 Make Sure Your Hair Is Ready To Get Braided
It is essential to moisturize and prepare your hair before getting them tied for a long time. So that after braiding with Fulani braids, your hair looks stunning.
Moisturize your hair with good quality virgin oil and use a sulfate-free shampoo to prevent hair fall. In the end, use a hair serum to avoid tangled hair. It is the fundamental and first thing that should be kept in mind before getting Fulani braids.
 Now you are all set for the tribal braiding look. 
Search For The Best Braiding Hairstylist
The second thing to know before starting with Fulani braids is to appoint an expert professional hairstylist to get the best braiding done. Research and go for an experienced hairstylist after reviewing the customer's responses. Search for a hairstylist who knows all braids styles and is perfect for giving your simple old hair a new look.
After you have appointed the hairstylist, now it is time to select which braids to go for.
Choose the best suitable braiding style.
The tribal Fulani braids have many varieties to choose from, like the jumbo Fulani braids, box braids, braided swoop, and many others in-line.
Straight–back Fulani Braids – This is an elegant yet classy look. In addition to the cornrows that are made at the back of the head, putting on the colourful beads at the end of the tribal braids will add colour and a different look to your braided hairdo. No doubt it is a very famous straight-back hairstyle of 2021.
Goddess Braids – These are known as the thinner cornrows that volumize the hair. It is a good option in the summers. These last for two weeks and are a perfect hairstyle. Goddess braids are preferable for long hair but can suit bob-cut hair as well. For that, you can try bob goddess braids.
Knotless braids– These braids are pain-free and give less worry to the scalp area. It lasts for around 4-6 weeks, so yes, it is also a good braiding style to try. It is a variation of box braids. It also helps hair growth and is known as a protective hairstyle. There are also small knotless braids and big knotless braids hairstyles available.
Check and inform if braids are too tight.
The African ladies have a habit of too tight braided hair, but if you are trying it for the first time, then it might be painful for you. The tribal braids must feel comfortable when they're done. So do not hesitate to inform your hairstylist that you are facing any trouble. After all, it's a matter of weeks.
Take proper care of your Fulani braids.
Regularly you will have to take care of your stylish tribal braids as we care for a newborn. As advised by your hairstylist, take all the measures to keep your braid last for a longer time. 
Footnotes
Finally, now you are all set to go and meet your hairstylist. Also, remember to take along a picture of the braids you wish to have. You can also try pop smoke braids and blonde braids to give a more modern look.
But if you are scared to go and spend on Fulani braids and are not sure whether it will suit you or not. Then you can learn how to make Fulani braids with the help of online video resources. So here, let me mention some links to help you in trying tribal Fulani braids at home.
I hope it was a pleasant journey learning about important things you must know before getting started with Fulani tribal braids.
Happy styling!